Lemonade's pet insurance product launched less than three years ago, during the summer of 2020, but you would never know how new it is. It's been media catnip since Day 1. And, why not? The prices are infinitely better than the rates Trupanion is charging, yet Lemonade's offer seems more or less the same as Trupanion's. Right? 
On Oct. 20, NYC-based Lemonade upped it profile still more by announcing a partnership with Chewy, the Florida-based, multibillion-dollar online pet retailer Chewy that many veterinarians loathe and that was the original and still current partner of Seattle-based Trupanion.
The Lemonade-Chewy alliance seems to complement each other's strengths. Buzzy "insurtech," "Gen-Z" friendly Lemonade cuts prices and teams up with incumbent leading retailer. Chewy folks may want to pay attention, though, because we've seen this movie before with Nationwide's axing of its popular all-you-can-eat, 90-percent reimbursement plan. 
The Rate Fallacy
There's a reason Trupanion's rates are sometimes higher – but also sometimes lower – than what's standard for Trupanion's competitors. It's poorly understood. Trupanion's pricing is built around the cost of veterinary care where you live; at your dog's age at enrollment. When I first enrolled Nellie at 2 1/2, the premium for a zero deductible was  under $100. If I get a quote for a 2 1/2 year old Lab in my zip code, the rate it spits out is what I'm currently being charged for my 8 year-old Lab, about $360/month. But: If I enrolled Nellie at age 8, the premiums would be $627/month. That matters because when you have a company that's vet-centric down to its data, it means that everything revolves around paying your claims with strong customer support and vet direct pay as opposed to chat bots and waiting for a check to arrive by mail.
There's also no magic occurring in Lemonade's pricing: Lemonade is losing money because its products aren't priced appropriately, as this June 2022 filing for New Jersey shows. At some point, the music will stop.
United in Secrecy
Chewy declines to discuss acerbic relationship with veterinary professionals
Unlike executives at Trupanion who describe themselves and the company as "an open book" and cite transparency and accountability as core values —  Trupanion is TCR's largest subscriber despite the unrelenting coverage —  no official at Chewy, including CEO Sumit Singh, or communications chief Diane Pelkey, would respond to TCR's phone and email requests for comment for this story or for TCR's deep dive in June into the Chewy-Trupanion partnership and implications for the pet insurance market.
Similarly, TCR has been pressing Lemonade's leaders since the first weeks of the company's pet insurance launch in 2020, yet Lemonade's leaders have declined repeated requests to speak when asked about the company's loss ratios and, moreover, how its inexpensive pet insurance product will remain solvent five, ten, fifteen years ahead without substantial changes its offer. And those changes are at least hinted at in a clause embedded in the Lemonade insurance contract.
Lemonade declines to discuss high losses, cancel clause language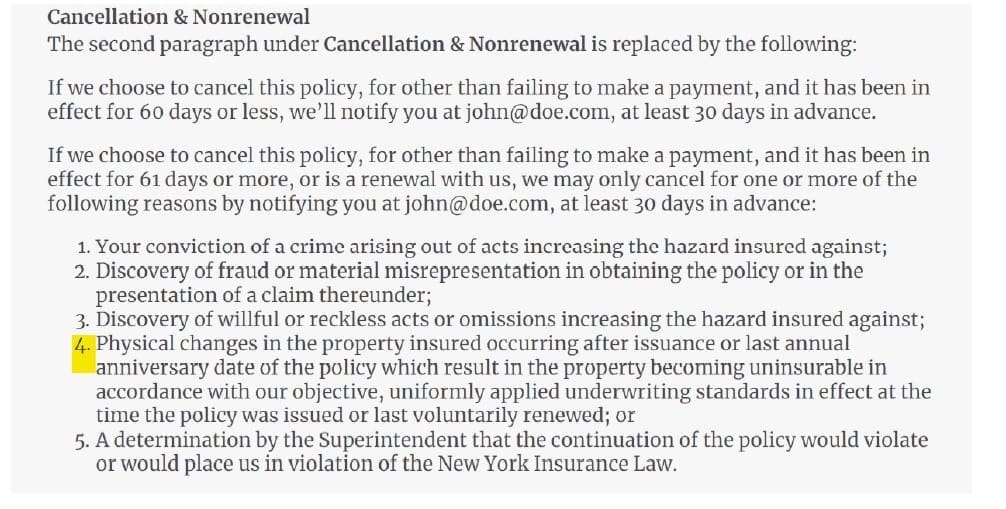 Above is Lemonade's cancel clause.
We call this the "emergency escape hatch" cancel clause. And, it's guaranteed to be somewhere deep within the lines of each pet insurer's fine print–with the exception of Trupanion's core U.S. brand.
[NOTE TO ALL CANADIAN READERS: Trupanion's underwriter in Canada is not its wholly owned subsidiary and this may be why the fine print in Canada does contain language CEO and founder Rawlings himself refers to as "shitty." More reporting on that issue to follow.]
What's the significance of the escape hatch clause? It basically says the company can cancel your dog's insurance if the dog gets sick. Even more notable, when TCR asked Lemonade's customer service representatives to explain the company's cancel clause language, is that the agents provided perhaps the most creative answer to date, which is that the reason for the cancel clause language relates to New York state law and not to Lemonade.
Again, Trupanion has no such clause, yet sells insurance in New York–where, according to Lemonade, the clause is required, which is Lemonade's explanation for the clause's presence in the fine print. So, I asked a Lemonade customer representative in an email exchange to explain.  Here's what I got back:
Hi Emily,

Thank you for your follow-up and apologies for the delay in my response as well!

That's a great question. I reached out to my Underwriting Team for guidance – and we're a little perplexed.

Our best guess is that as we're the new kids in town and only recently got involved in Pet coverage, laws have changed as of Trupanion's last re-filing. Unfortunately, we cannot speak to what NY has mandated for other companies – but we can confirm what they have required from us.
Ominous Forecast or Good Riddance?
The same day of the Lemonade-Chewy announcement, Trupanion's (NASDAQ:TRUP) stock tumbled after analyst John Barnidge of Piper Sandler responded to the announcement by issuing an ominous forecast to clients, citing new competition from the Lemonade-Chewy arrangement. The investment blog Seeking Alpha wrote:
The Chewy-Lemonade partnership means there will be "competition for TRUP on the Chewy shelf space, which is a negative for TRUP in our opinion as it suggests the potential for less rapid growth through the online distribution channel vs. previously & commoditization of Chewy's shelf," Barnidge, who views TRUP stock as a Neutral pick, wrote in a note to clients. 
"We didn't think that Walmart could help grow the category," Rawlings added. Trupanion's point of view, he explained, was that 'Chewy was going to come to the marketplace no matter what:'
Here's our point of view. Think about this from a veterinarian standpoint. We knew that Chewy was going to come to the space. Imagine if they came with [Pet Insurance Company X]. So imagine Chewy that has brand strengths tells people to buy a product that doesn't cover hereditary issues. And uses a fee schedule. Like, that would be really bad for the whole category. And then we said, you know, Chewy is trying to do a bunch of things that can take revenue away from veterinarians. But if they go with Trupanion and we pay the veterinarians directly, people aren't going to buy through Chewy's Pharmacy. They're going to buy directly from the vet because we pay them directly. So, our point of view was from a veterinarian's perspective, if Chewy was gonna come to the marketplace regardless, it was in the veterinarian's best interest and our best interest that it was with us.
When asked if, ultimately, getting Trupanion intertwined with Chewy resulted in angering veterinarians was helpful for anyone, Rawlings paused for several seconds before answering: "Us doing the Chewy decision was hard. Because, listen, we said no to 1-800-PET-MEDS. That was easy because we did not think it had the potential to actually increase the category.
"If Chewy is going to come to the marketplace, did we do the right thing by being the first one and having them choose us? Because if a perception is that Trupanion shouldn't have done something with Chewy," Rawlings added, "the deal could have been a lot worse."
Rawlings says when he asked veterinarians about partnering with Chewy, the answer from was emphatically, "Fuck, no."
In June 2022, TCR published a story raising questions about Trupanion's deal with the Chewy "Devil," given Trupanion's vet-centric identity and business model and, of course, the negative opinion many veterinarians hold towards Chewy. "Some of our decisions on the surface may be a head scratcher," Rawlings said last week of the deal with Chewy, "but we're very thoughtful. We may not always make the right decision, but we're very thoughtful about it." He added: "When we looked at Chewy, we thought, this is a brand that could really help grow the category and wouldn't it be great if they had more transparent, high-quality insurance that could pay the hospitals directly? We thought that was good for veterinarians and the ecosystem, but we also knew at the time that they may decide to bring on others. That's why we have a contract that said it was mutually exclusive that if they went with others, we could go to other retailers."
A correction was made on Nov. 20, 2022
Because of an editing error, an earlier version of this article did not quote much of the conversation between the reporter and Rawlings which provided critical context showing that Trupanion's and Rawlings' point of view with regard to the decision to do a deal with Chewy was conflicted and multifaceted. An earlier version of this article, therefore, mischaracterized Trupanion's point of view by reporting only that CEO Rawlings described Chewy "as if he were describing stage 4 pancreatic cancer," leaving out that Mr. Rawlings also explained that Trupanion ultimately decided to move forward and do a deal with Chewy: "When we looked at Chewy, we thought, this is a brand that could really help grow the category…"
Related:
Trupanion's Deal With The Chewy "Devil": Veterinary Medicine's Savior Or Insurance Industry Sellout?