Nationwide is cutting its losses–literally. The company's 90%-reimbursement, unlimited pet insurance offering has been deep-sixed, spokeswoman Karen Davis confirmed to TCR. The genesis of the decision, although seemingly crystallized in recent company statutory filings with state insurance regulators (see below), is not something Nationwide CEO Kirt Walker would comment on. Now, consumers can take their pick between 50% or 70% reimbursement levels. And, they can take the $10,000 annual limit whether they like it or not.
Nationwide chief executive officer Kirt Walker declined a series of requests to comment when asked about the genesis of the decision to drop the popular plan, including whether it had been difficult for the company to price such a high value product or if the apparent difficulty the company encountered in pricing had to do with limitations in Nationwide's historical data — limitations created by exclusions such as hereditary medical conditions and fee schedules capping losses instead of data based on real world veterinary invoices.
"We're adjusting our product offerings to reflect the changing demands of the marketplace and to help us provide the best pet protection at a competitive price," Davis wrote in email when asked about the genesis of the decision to drop the high value offering. She added: "Our data shows the highest levels of satisfaction from customers enrolled at the 70% level." No data accompanied Davis's answer.
For existing policy holders of 90% unlimited reimbursement plans with Nationwide who may be panicking, the good news is that according to Davis, they can keep their policies. However, because Nationwide's data on pet health is apparently so flawed that the company is struggling to price high value insurance plans appropriately, the company is paying more on veterinary invoices than it is taking in. In other words, the company significantly overspent and will likely need to raise premiums to make up for the losses. What you see in the documents at the end of our reporting is how the company's actuaries justify increasing your rates to insurance regulators.
The Proof is in the Filings
In those filings TCR found the following description of the plan in question:
"Due to significant underperformance of the overall loss ratio, rate inadequacy among certain rating variables, and to avoid further adverse selection, the Company decided to file an overall rate increase resulting from multiple rating variable changes and a base rate change for the plan as noted in the Summer of Proposed Changes…"
There are a few key takeaways from Nationwide's filings, all of which indicate that the company failed to analyze data correctly and, therefore, failed to price its product correctly.
First, the company reported historical loss ratios, adjusted to on-level premium and losses, between 96.7% and 106.3% in the past five years.  Further, prior to any rate changes proposed, the company projected a 101.8% loss ratio.  This means it projected it would pay out more than 100% of what it received in premiums. This does not count administrative, sales, and other expenses. That figure is a weighted average loss ratio for the most recent years, and represents what Nationwide expects the loss ratio will be in the period for which this rate filing applies, prior to any proposed rate increases. In other words, the company's numbers are in the red and making a radical change like removing a high exposure plan would be the most likely response to these numbers. Another change, as reflected in this filing, is premium hikes for existing policy holders.
Second, the "permissible loss ratio, 75.6, in the filing is what the company had targeted – proof that it catastrophically failed to balance premiums with costs. The company had planned for 75.6 cents of every dollar to go towards paying claims when in fact with the rates it was charging the company would end up paying $1.018 in loss for every dollar in premium. One had to wonder which heads will roll as a result.
Third, thus, the main takeaway: Nationwide significantly exceeded its target. This means that the company had planned for 75.6 cents of every dollar to go towards paying claims. In fact, with rates as they are, 1.018 would be needed to pay claims.
Follow the Competition
In 2010, little-known Trupanion started offering pet insurance plans without limits that covered 90% of covered expenses, the first in the market to do both. Nationwide's Whole Pet program was viewed by some insiders as an attempt to copy its competition.
It's not clear when Nationwide, which began as Veterinary Pet Insurance in 1982, America's largest pet insurance provider, decided to stop offering its popular "Whole Pet" insurance plans  — the 90% co-insurance, with unlimited reimbursements, and Nationwide would not comment when asked to provide an exact date.
Nationwide's brusque exit from the highbrow market is notable because the giant insurer only entered it nearly five years after then-underdog Trupanion.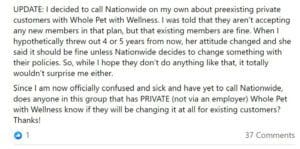 Meantime, Trupanion, Inc. continues to challenge America's collective rejection of an insurance industry marked by contentious policy debates and customer service ineffectual enough to make anyone cynical. The Seattle-based insurer announced its third quarter earnings yesterday ( "Loss Ratio" is "Veterinary Invoice Expense" in Trupanionese):
From Trupanion's Third Quarter 2021 Earnings, released 11/3/2021: Trupanion aims to pay 70-72 cents out of every dollar members spend on premiums. The company is consistently on target and attributes this to several advantages.
The company is consistently hitting its target. "We like paying claims," CEO Darryl Rawlings has said at least half a dozen times in the past year.

Trupanion has been able to price its product – and there's only one plan – more accurately than Nationwide, apparently. This  may have to do with Trupanion's proprietary software and the one-of-a-kind treasury of data that helps to guide the company's actuaries.
Selling the revamped plan: Wellness, Wellness, Wellness!
I wanted to understand how Nationwide was explaining the change to consumers, so I called the company's customer contact center without identifying myself as a reporter. (TCR's ethics code requires reporters to identify themselves in all cases with specific exceptions, including consumer reporting work which this constitutes.)
The wait time to speak with an agent about enrolling was approximately thirteen minutes; all the while, a striking message was playing on a loop: "An independent survey confirmed that four out of five veterinarians who recommend pet insurance recommend Nationwide."
I made a note to ask for the name of the entity that published this survey. I was skeptical, to say the least, because if the survey were legitimate and existed, why not source it by name?
Finally, I heard Christina at Nationwide's customer contact center on the line. I asked if Whole Pet had been dropped at the ninety percent reimbursement level and what the options were now. Christina told me, "We have a one-hundred percent plan."
"One-hundred percent with unlimited reimbursement?"  I asked.
"No. We've made some changes. "And then options for wellness…" she added. "Let me find out if you're eligible…"
In fact, I heard the word "wellness" so many times, at one point, I nearly hung up. It became clear to me that the strategy was to stay as far away as possible from any conversation about anything regarding actual insurance. The name of the game was wellness.
Next, I was asked for my state, phone number, name, all of which I provided, but since this was now taking almost thirty minutes, I tried to move her along. "I'm just trying to get some information," I said.
"As far as coverage for her," the agent said, referring to Nellie, my Labrador, who has been insured by Trupanion since 2017, "definitely sounds like there's a priority with wellness. And what kind of wellness expenses does she have?"
What? I started the conversation with a question about Whole Pet. I told her I already have a wellness plan through my general practice veterinarian and that I was calling about insurance, not wellness.
A few weeks ago, the National Association for Insurance Commissioners' Pet Insurance Working Group completed a years-in-the-making draft of what would be America's first significant piece of pet insurance legislation; the new law contains an entire section that requires all kinds of disclosures from companies selling wellness products, including that the companies make clear to consumers that wellness products do not constitute insurance.
Here's how the Pet Insurance Model Law defines "wellness" program:
"A subscription or reimbursement-based program that is separate from an insurance policy that provides goods and services to promote the general health, safety, or wellbeing of the pet."
"I'm not looking for wellness. I'm looking for insurance," I told her politely but firmly for the third time. Still no success:
"Wellness is a product that we sell," she said. "You had some quick questions about wellness … [No, I never posed any questions about wellness.] So, I was wondering maybe what you might be looking for."
"I'm trying to choose between the Whole Pet policy and what Trupanion does," I said.
Remarkably, we still were not getting anywhere. "I understand. In order for me to kind of get to a point where we're looking at different types of coverages that we offer, it's helpful that I get some information about what you might be looking for."
"I already have wellness through my vet," I said,  referring to VCA's Care Club program, which is, in fact, an unbelievably good deal, so good, I am reasonably certain it, too, will be dropped. Unlimited wellness exams? For Nellie? Are they kidding? Nellie should be paying VCA rent. But wellness programs can be purchased separately, and too many consumers get blindsided because they focus on whether an insurance policy covers an exam fee instead of stepping back and evaluating larger, more important questions about the insurance provider.
Who is underwriting the insurance policy? 

If you'd rather not pay Trupanion's prices – and I would think carefully about what you lose – perhaps you should try to match what they're selling.
Pet's Best, for example, is underwritten by Trupanion's wholly-owned subsidiary, American Pet Insurance Comany, Inc. Therefore, the least likely cheaper option to go Petlan on you would be Pet's Best, based on our reporting. That could change, and we'll update our reporting accordingly.

How many underwriters?

Nationwide has so many underwriters, we would need a new server to catalog them. That's important, for one reason, because one entity is accountable as opposed to nine, ten, or thirty.
It's also worth checking how many underwriters a company has had in the past five years. Petplan has switched underwriters several times since 2015, for example.

Equally if not more important, who administers the insurance? 

Who are the people you'll have to deal with to file a claim? And is there a phone number?
Take note of this section. Reporters aren't the only people who can do consumer reporting. Consumers can do exactly what I did. Call the phone numbers of the companies and evaluate them.
How long do you wait before a person is speaking with you?
This question is our job, an we're working on it as we build our database of pet insurance intelligence: how are the people you talk to trained and where are they based? See how much you can find out.

Where does the buck stop?

What kind of people work at and lead the company? You can apply this question to any evaluation. Unfortunately, it's more necessary in pet insurance than in other markets to be dilligent about your research because how pet insurance is marketed remains relatively unregulated, pending the long-awaited pet insurance legislation.
Who is the CEO? Before you buy an insurance policy, look up the biography of the CEO. What are his or her interests and qualifications as far as animal health?
"So, I'm just interested in the insurance part."
"Okay. If you'd like some more information about our wellness plans, I find that they're less expensive. So that's why I usually inquire about what you're usually spending wellness on….So it's like a no pressure situation. We're just talking about options…I guess your original question was, uh, do we still offer a 90% plan? You're looking for a high reimbursement. It sounds like."
"Yes," I told her, I was looking for "high value insurance."
"So, my suggestion is if you're unsure, which is no problem, cause I don't expect anybody to know exactly. Maybe we can just go over both plans and I can go over some of the drawbacks and outside of both."
There was no hint of uncertainty from me that I was aware of at any point in our conversation. Finally, after what seemed like an eternity, Christina described the newly revamped Whole Pet plan:
The options, she explained, are seventy percent or fifty percent reimbursement levels. Both options come with an annual limit of ten-thousand dollars. (The old plan was unlimited.)
Next, Christina mentioned Nationwide's twelve-month wait period. "There's a twelve-month wait period where we require you to wait to add something called 'ACL coverage.'" Now this was new. "They include it at no additional charge…There are a lot of people who don't cover it. We have a 12 month wait period and we cover both legs." Next, Christina quoted me at $78.91, a far cry from the $287 monthly premium I pay Trupanion, but there was no comparison between the two products –not to mention the customer service.
"And then alternatively, we have a product called major medical, which is a combo of injury and illness coverage as well as preventative care, major medical coverage…"
This was the legacy pet insurance plan with fees already assigned to various illnesses, injuries, diagnostics, etc.
I asked how that would work for someone living in a high-cost area like New York City or its suburbs.
"Totally up to you," Christina said, later reiterating, "We definitely recommend the major medical plan. It has the best combo of most of the things that you're actually going to use…You have a kind of combo package of everything. And we know that, you know, does sound like the, what we do offer and what we do cover is not typical in the industry."
I told her I was leaning heavily towards Trupanion, which was basically the truth.
"But Trupanion doesn't have wellness."
I told her I'd called to discuss the Whole Pet product and since it had been radically changed, I wasn't sure there was much more to discuss.
"Well, we changed it because our members were overpaying for something that they could get a lot less expensive elsewhere. So, it's maybe through the grapevine, it sounds like something that's, you know, more value because it covers 90%, but in reality, major medical coverage, the same in those that those it's a hundred percent. [Note: She did not mention the exclusions for pre-existing conditions.]If, in the rare case, you reached a limit, you know, now that whole pet has a limit, but it's half the price is what it was because not a lot of members are needing the wellness because they just get it done at inexpensive places."
We were going on thirty-minutes, and she lost me. There was something in there about incentivizing members to use low-cost general practice veterinary care that seemed like a story on its own for another time. My interpretation of it was that the way members stay within the $10,000 limit was by going to low-cost general practice vets?
Christina added: "Like if you're going to a private practice, I totally understand [your reluctance to sign up]. "Cause I go to private practice for my emergency stuff or my more expensive stuff, because I have a policy that covers me more in that area. And I just go to no cost or low-cost clinics, like an SPCA."
"I just don't want to have to like, worry about like hitting a limit or something because like everything around here," I said, referring to the New York tri-state area, "as soon as you walk in the door, it's like hundreds or thousands of dollars."
Before I could end the call, Christina made one more attempt to outsell Trupanion:
"I do want to mention though, with medical insurance, you may be aware of this, with Trupanion, they may have had you do a physical exam [no, they didn't] and maybe get some stuff done before you actually had to enroll. We don't require that." Then, she made her move again: "Did you just want to start off on the major medical plan with wellness? It's a much lower down payment."
"I'm not signing up for anything right now because I need to read," I cut in, advising that she send me an email with the policy language. I should note, by the way, that I have yet to hear from Christina.
"Okay. Just trying to attempt to do the medical record review. Cause that's the first step here. So, like your pet could be totally healthy, but it still requires a formal medical record review to find out if they're eligible or if they do have preexisting."
End