America's second-largest pet insurance provider, Trupanion, Inc. (Nasdaq: TRUP) has launched a "time-limited," low-cost pet insurance brand in Canada, PHI Direct, which will launch in the United States later this year, along with another insurance product at a medium price point, Furkin (much more on Furkin in the coming days). But unless you follow insurance closely or read TCR, you may never know that Trupanion is the parent company.
That's because the marketing materials for the lower-tier products make no mention of "Trupanion's" name, branding, or even its founder and CEO Darryl Rawlings, who started Trupanion 21 years ago while living on a boat in Vancouver, British Columbia. "Eventually, I was able to move off the boat and into an office," Rawlings explained in the story on Trupanion's website. The Rawlings legend is also notably absent from PHI's website.
None of this is to suggest that there's anything nefarious going on with the Seattle-based provider of "medical insurance for pets." It does, however, highlight a unique challenge for Trupanion, whose leaders have always been quick to seize opportunities to draw distinctions between Trupanion and every other brand.
Like Trupanion, PHI Direct is starting out in Canada. A press announcement is scheduled for release today, according to Randy Valpy, who is overseeing both new insurance brands in Canada. Valpy is listed on Trupanion's website as President of Canadian Underwriting, but the information in his biography on Trupanion's website omits "PHI" as well as 'Furkin."
TCR was provided with a copy of the otherwise-embargoed release and has interviewed company leaders for this story and a related reporting project over the course of the past several months.
'Fluff-Free'
"PHI" is a commonly used acronym in the pet insurance industry for "pet health insurance." PHI Direct will offer two what it calls "fluff-free" options: "Direct 5" and "Direct 10". The "5" signifies an annual maximum payout of $5,000; the "10" signifies a plan offering an annual maximum payout of $10,000. Pet insurance policies with annual, lifetime or per-incident limits are common. In fact, Trupanion is one of few insurers that only offers unlimited coverage; most insurers try to steer consumers into policies with limitations because, of course, there's less risk exposure for the insurer.
Insurance regulators slam the "time-limited" policy design of PHI
Beyond the payout ceilings, though, PHI embraces the art of streamlining or "fluff-free" policy design. PHI policies are "time-limited," meaning anything that happens to a dog that results in a covered claim during one year will not be covered in the following year. Instead, it will be considered pre-existing under the policy terms. In other words, if a dog is diagnosed with cancer in the eleventh month of a policy year, it would be covered during that month, but it would be considered a non-covered pre-existing condition in the following year, even though the policy would be "renewed."
American insurance regulators representing about two-dozen states who are part of a task force within the National Association of Insurance Commissioners (NAIC) called the Pet Insurance Working Group whose mission it is to draft America's first pet insurance model law. During a virtual meeting on April 29, Mr. McKenney argued for a proposal to require insurance companies that offer one-year policies to issue a formal notice to consumers that current coverage will not continue.
"I can't imagine anyone anywhere that could, with a straight face, say, 'I've been covering these claims the last six months. I'm not going to do it anymore, but your policy renewed,'" Mr. McKenney scoffed as he explained his support for requiring that companies issue "non-renewals."
"So, all that we're saying," he continued, referring to his proposal, "is you have to issue a non-renewal to do that," he said.
Trupanion's response is that its advertising and marketing of the policy will be totally upfront about what a "time-limited" policy means. Here's an example from PHI's website: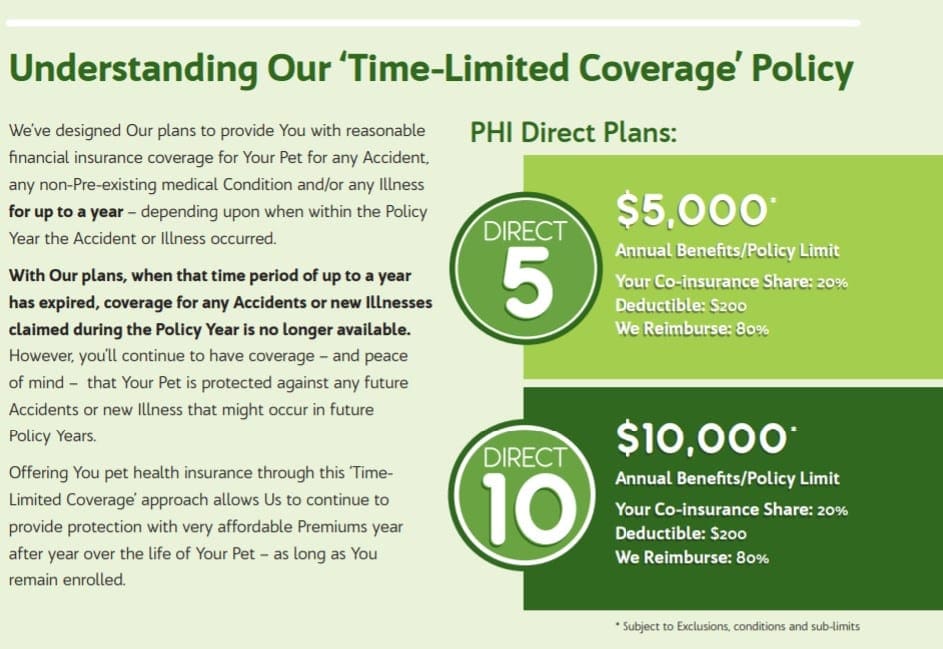 Long before we saw images of PHI's website, at a shareholder event in early May, we asked Rawlings how he plans to make certain that the consumer understands the policy, let alone reads the material. He expressed and reiterated his commitment to educating consumers and to transparency, but of course, there is only so much any of us can do to encourage consumers to read. What happens when a consumer chooses not to read?
New products to "cannibalize" others in the market "because we will do it in a transparent way"
"If you can imagine right now, a consumer searching around," he said, "they look at 20 different brands. Those other brands are not saying, 'Oh, by the way, the reason we're cheaper is because we don't cover this…' We will be going to the markets and informing and educating them on what is covered. ….Our two new brands will cannibalize the other 19 brands because we will do it in a transparent way…And if it succeeds, great. If it doesn't succeed, that means that there's no company in the market that should be able to do it in the long-term sustainable way."
Rawlings, along with Co-Presidents Margi Tooth, who served previously as Chief Revenue Officer, and Tricia Plouf, who previously served as the company's Chief Financial Officer, also noted on more than one occasion over the past several months that the new insurance products would be marketed totally independently and apart from Trupanion.
All of this seemed sensible and, of course, many companies have brands that "swim in separate lanes." However, in this case, keeping the brands in their own lanes may prove more challenging: However inexpensive, the PHI pricing structures will offer "the same value proposition" as Trupanion, Rawlings told shareholders in the long letter outlining the company's 60-month vision for expanding into lower-tier insurance products, as well as a pet food product intended to appeal to Trupanion members that will offer those who buy the supposedly more nutritious pet food a discount on their pet's insurance premium.
By value proposition, Rawlings was referring to the fact that Trupanion aims to pay out 71 to 72 percent of the total dollar amount that members spend in premiums over the course of a policy, whereas the industry average is closer to 52 percent. In other words, Trupanion strives to meet significantly higher standards than any other entity in the market.
How can PHI offer Trupanion's value proposition without Trupanion, which is so intrinsically tied to its maverick founder?
We don't need to say that a family of companies are [paying out 71 or 72 cents on the dollar]," Rawlings told TCR on Sunday. "We'll say it individually, by brand.
But why the total absence of Trupanion as well as his name from marketing materials? Rawlings had a cogent response which took him all of about 1/8 of a second to volley back:
I don't want consumers to have brand confusion. I don't want them to think that we'll be paying the hospitals directly [as Trupanion does]. I don't want them to think other things. Just from a consumer standpoint, we just want them to be in their own swim lane. So a consumer doesn't get confused.
From the perspective of a Trupanion member, which this reporter is, all of this sounds great. Instead of taking the Petplan trajectory and increasing profit margins (or, at least attempting to do so) by making significant cuts across the board — from claims payouts to customer service to training –, that would inflict pain on members. Trupanion continues to be a great business story about animal health fanatics and 98 to 99 percent retention rates  — the percentage of members who renew their policies each year. In that regard, it's worth noting that no other pet insurance company to date has provided TCR with its annual retention rate–and we ask frequently.
However, the irony will not soon be lost on shareholders or veterinarians that Rawlings is launching a less-than-comprehensive insurance product without his name on the press release. Or that the "fluff-free" description promoting the new policy implies that Trupanion's core product is "fluff."
Longtime shareholder "happy to see the 60-month plan…"
Nonetheless, Rawlings and his team do not appear to be on thin ice with shareholders, although questions about whether adding new products is defensive versus offensive strategy have peppered webinars and will inevitably persist.
Asked for his thoughts on the company's 60-month plan and, specifically, if and why he thought Trupanion was adding low-cost products to its high-brow brand, a longtime shareholder who asked not identified said that for an "outside observer," a big question might be, "Why are they doing that [launching cheaper pet insurance brands] or why would they do that? Whenever a company tries something new, someone's out there saying, 'is this because what they were doing before isn't working, and this is a defensive thing and they need to do this because the core isn't working or they see something we don't see?'"
The shareholder continued by answering the hypothetical:
What I would say is that I don't think that at all; if you look at the facts, the core business is accelerating. And, also, the company really cares about helping the veterinary community and helping pets…I think it's just the natural extension of their mission and every great company– every really, really great company–comes out with these things that look like this. So I was so happy to see the 60-month plan.
To be fair, the only reason TCR is able to give you all of this information, including the fact that Trupanion is launching a product without Trupanion is that Trupanion, unlike many of its competitors in a typically secretive industry, has given us access to its key players, including Rawlings, as well as to the person overseeing the new insurance products in Canada, Randy Valpy. He provided us with an unpublished copy of Monday's press release, which says in part:
PHI Direct's, new Fluff-free Pet Health Insurance™ launched today in Canada for pet owners looking for introductory coverage for their pet at affordable price points. Designed to be in a class of its own, PHI Direct offers premiums starting as low as $10.19 for cats and $15.20 for dogs.
No more taunting the competition
Trupanion's website has featured numerous videos of Rawlings answering "frequently asked questions." In one particularly memorable video, Rawlings addresses pet insurance pricing and makes a cost/benefit analysis argument for Trupanion by comparing pet insurance companies to cans of tuna. Trupanion, he explains, is the highest quality, best sourced can of tuna with the most robust quality control. Rawlings proceeds to lay out one tuna can after the next, each can containing a cheaper, lower grade of fish than the one before as he compares cheaper cans to cheaper pet insurance. He points out that at first blush, the tuna cans might appear similar, much like how cheap insurance products market their brands as being just like Trupanion, but as the consumer opens the cans and unveils the contents, the reality of the pricing categories becomes clear.
Why did we need to describe that video to you from memory rather than simply quote the transcript or link to it? Coincidentally, as this story was going to press, TCR discovered that Rawlings' epic video taunting cheap pet insurance has been disappeared from Trupanion's website.
We reached out to Trupanion spokesman Michael Nank and have not heard back.
Asked earlier if he would ever make a video for the PHI website introducing himself or speaking directly to PHI members, Rawlings replied with an emphatic "NO."