This story has been updated 9/15/22.
Seattle-based pet insurer Trupanion spent Labor Day weekend licking its wounds after publishing a series of posts on its social media platforms followed by what many members have written off as a non-apology apology. The result: Many pet owners – purebred dog lovers and breeders in particular – were barking mad.
Marketing trainwreck or triumph?
The statements came in social media posts promoting and accompanying a virtual podcast-style event spearheaded by Trupanion's newly hired senior vice president for conversion marketing, Tom Vaughan, who is also currently by default, the company's most senior officer in the marketing department's chain of command.  Vaughan, whose hiring was touted in a June press release, describes his role at Trupanion in his LinkedIn profile as, "Recruited to lead marketing and conversion efforts, overseeing all aspects of acquisition, retention, and branded communications and campaigns." Following publication, Trupanion spokesman Michael Nank told TCR in an email that Vaughan did not spearhead the event, but declined to say who did.
The Purebred Statement
One statement Trupanion posted was particularly controversial:
"Even though every dog's health is unique, mixed breed dogs are often healthier than purebred dogs," America's second largest pet insurance provider asserted in the series of social media posts across its platforms during the last week of August. The posts appeared on Trupanion's Facebook, Instagram, and Twitter pages. They were not attributed to any individual. In the wake of the controversy, Trupanion declined to make anyone in the marketing department available for this story for comment.
Chelsey Scott, a longtime Trupanion member and owner of two purebred Borzois, including a puppy she intends to show competitively, says she is now rethinking Trupanion for her dogs.
"I definitely think they could have done better and definitely more in the sense that they didn't post any of the research where they got their numbers until people in the comments got angry…And it's more of the fact that they omitted a lot of the information just to push the 'Adopt Don't Shop' narrative."
'We stand by our data'
"We also stand by our data," Trupanion declared from its social media feeds even after taking down its post, "which supports that purebred dogs are often more likely to have hereditary conditions passed down from their parents. This doesn't mean we think any differently of them, we want the very best for all dogs and cats."
Perhaps if Trupanion's marketing team had published the data it referred to, this statement would make more sense.
But before anyone accuses the company of 'pushing an "Adopt Don't Shop" narrative,' it's worth noting that Trupanion's two most senior officers, founder and CEO Darryl Rawlings and President Margi Tooth, are English bulldog lovers.  And to anyone who says the data is not published or available, Rawlings points out that the company is required to file the information with departments of insurance and says when his own friends ask him which dogs are healthiest, he encourages them to plug scenarios into Trupanion's website to generate different price quotes.
The event itself which can still be accessed here,  and has drawn over 40,000 listeners to date, according to its Twitter page, was a one-hour podcast-style "Busting Dog Myths" virtual show featuring Trupanion's chief product officer, veterinarian Dr. Steve Weinrauch. It was co-hosted by social media influencer Matt Nelson of WeRateDogs, a Twitter account with 9.3 million followers. (Mr. Nelson would not respond to detailed requests for comment. )
Dr. Weinrauch, who also did not respond to requests for comment, made no mention of health data of purebred dogs versus mixed breeds during the show itself, but unlike the statements Trupanion published from its social media accounts, Dr. Weinrauch' s language was more nuanced. In his discussion of pit bulls, for example, he drew from personal experience, including his dog, "Bug," whom he lost last year, rather than stating positions as facts.
But days before the show, Trupanion's marketing team posted this slide asserting that a dog's environment is more likely to shape its behavior than its genetics to promote the event, generating almost as much controversy as the statements comparing health of mixed breeds and pure breeds: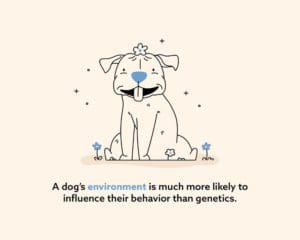 "A dog's environment is much more likely to influence their behavior than genetics…" Not surprisingly, a statement dismissing the significance of genetics and therefore health testing, which good breeders spend a significant amount of time and money on, struck a nerve.
"Why do Herders herd and Pointers point?" Shana Horovitz wrote on Trupanion's Facebook page. "Environment of course [laughing emoji]. This is a bold statement to make without any research to back it…"
And the statement that caused the most controversy: "We love dogs of all shapes, sizes and breeds! Even though every dog's health is unique, mixed breed dogs are often healthier than purebred dogs."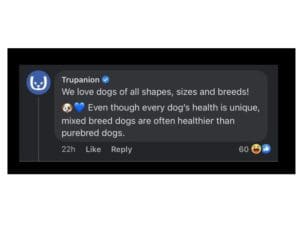 Laura Reeves is a purebred dog breeder personality whose popular podcast is sponsored by Trupanion, and Ms. Reeves works closely with Trupanion's Breeder Support program, whose enrollment numbers could be most impacted by the company's snafu. The program develops partnerships with breeders who then recommend Trupanion and explain it to their buyers, whose puppies may then come home already enrolled.
Trupanion is a really big organization and has a very diversified client base. It was disappointing to see that type of misinformation about purebred dogs circulating out in the blogosphere," she said. "I was impressed that the company reacted very quickly and took it down."
Trupanion's event was Wednesday, September 1. Within twenty-four hours, the slides asserting mixed breed dogs as healthier than pure breeds had been removed, but not before igniting an uproar.
As someone [who is] part of your breeder support program that just sat with ALL of my new puppies owners to make sure they signed up before they left, wow am I disappointed," Demi Flowers wrote on Trupanion's Facebook page. She added: "The parents pedigrees of my litter have been health tested since health testing became available decades ago. The sire's breeder and my girl's breeder have spent so much time and resources to ensure they produced healthy dogs, and I did the same. The lack of nuance and hard numbers is deafening."
Still, Laura Reeves, who runs the popular podcast Pure Dog Talk sponsored by Trupanion, says Trupanion is "turning this into a teaching moment at all levels of the corporation," adding:
I work in the breeder support program space and, you know, yes. I was upset to see that post, but I see long term benefit because it gives voice to purebred breeders that can be heard at the corporate level and trust me, they have heard it. I think that that's very important."
 "Just a random Joe Blow from the street"
"I would like an explanation for how they're going about their social media in general," Borzoi owner and longtime Trupanion member Chelsey Scott said of the insurer in an interview. "Like, is it seriously just a random Joe Blow from the street?"
Mr. Vaughan clearly demonstrated his ability to boost user engagement on Trupanion's social media platforms — but at what cost to a company that defines itself as "vet-centric" ?
Lost in Translation
Founder and CEO Darryl Rawlings stands by the substance of what was communicated, pointing out that no company to his knowledge has better animal health data than Trupanion.
Asked how Trupanion can use insurance data to make statements about the general dog population when less than 5 percent of dogs in the United States are insured, Rawlings says he cannot think of another company in the world that would rival Trupanion's data, which he points out, spans more than two decades and nearly 2 billion dollars in veterinary invoices.
"It's accurate for all accidents and illness [claims]," he says, "because we cover everything with no limits and caps."
"We're not, we are absolutely not prejudiced. I've had mixed breed dogs and I have two English bulldogs," he added.
Rawlings says the data is impartial and reliable because it has to be vetted by state departments of insurance when the company files its requests for rate changes or any other changes to its products. That's true, but none of this context was brought into any part of any discussion being led on Trupanion's Facebook, Twitter, or Instagram feeds.
Given a time machine, would he do it differently? "You have people who are moving at a high rate of speed," Rawlings said. "And this is all they think about. They may think it's obvious. But for people not breathing it in every day, maybe it's not intuitive. So, sometimes it just takes a little translation."
On Thursday afternoon, Trupanion announced that it had removed the content comparing purebred dogs to mixed breeds from its platforms. The company posted the following anonymous statement on its social media platforms, a statement some of its constituents found as problematic as the statements:
"Our post on purebred dogs inspired some passionate discourse. We hear you. We know many of you own and love purebred dogs and we apologize for any harm this post may have caused. That was certainly not our intention and we have decided to take the original post down. Myth-Busting is tough and pet health is an incredibly complex topic. Sometimes looking at data doesn't provide the full picture for such a nuanced topic and additional context is needed."
"This kind of reads like 'sorry you got offended' and not really 'we're sorry for spreading harmful and misleading propaganda," Chey Chien wrote on Trupanion's Facebook page.
"The goal of the myth-busting series [was] to dig into topics that are often over simplified or inappropriately generalized, using insights and data," Trupanion president Margi Tooth said in a statement through spokesman Michael Nank.
But that data was never presented, discussed, or even summarized despite being constantly cited by the company's marketing team in social media posts.
Related:
Nationwide axes popular pet insurance following significant losses as Trupanion soars on similar plan
Trupanion CEO breaks ranks with pet insurance industry trade group, says "Trupanion is totally aligned with the AVMA"