As the stand-off continues between veterinarians and pet insurance companies, Trupanion CEO breaks ranks with industry trade group,
saying "Trupanion is totally aligned with [veterinarians]" on pre-existing condition language now being debated in regulator working group charged with writing a model law. 
Last Thursday, state insurance regulators, as well as pet insurance and veterinary industry stakeholders held the first Pet Insurance Working Group meeting of 2021, resuming the work of drafting what could be the first important piece of legislation for the pet insurance industry as it matures into a major business. Donald Beatty, Virginia's Deputy Insurance Commissioner, and the Working Group chair, told TCR he felt confident that the group could complete its work before the end of spring.
He may have spoken too soon.
Last week's meeting, a public virtual session attended by TCR, ended with the two key stakeholders – the veterinarians, represented by the American Veterinary Medical Association (AVMA) and insurance companies, represented by the North American Pet Health Insurance Association (NAPHIA) – deadlocked about how "pre-existing condition" should be defined.  In fact, by the end of the meeting, the two camps seemed more at odds than when the meeting began.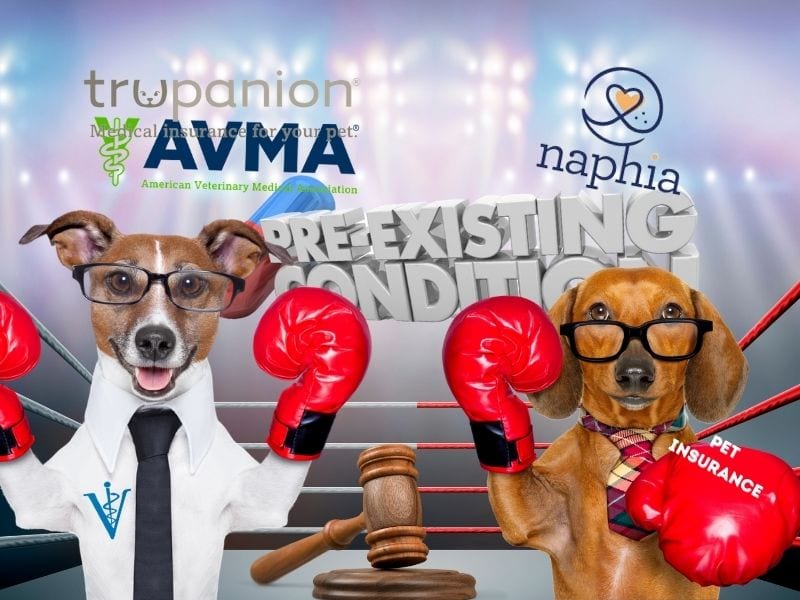 Frustrated Referee: 'I'll buy you both a drink.'
Beatty, the chair of the Working Group, expressed his frustration with the stalemate to the group: "I don't want to make a career out of being the pet insurance working group," he told the two parties during the meeting as it became clear that they were not going to resolve anything that day. "If you guys worked something out, if and when the NAIC [National Association of Insurance Commissioners] ever has an in-person meeting, I'll buy both of you a drink." Beatty continued for two minutes about the type of wine or beer he might offer them.
In fact, Beatty may also have to buy drinks for NAPHIA's members to get them to agree amongst themselves – because one of their leaders appears at odds with his NAPHIA colleagues and is siding with the veterinarians.
'Contemporaneous' Or Not?
Here's the core issue: Veterinarians, through the AVMA, are advocating for a narrower definition of "pre-existing condition" for pet health insurance policy language, whereas NAPHIA, the trade group representing the insurance companies, opposes the qualifier language that places limits on the industry's use of the preexisting condition definition that would allow insurers to avoid paying a claim. As of the end of last week's meeting, the gap between veterinarians and pet insurance companies would seem unlikely to be eased any time soon.
Dr. Gail Golab, speaking for the AVMA, summarized the group's position at the meeting this way:
"We're pleased with the incorporation of 'contemporaneous' and the definition, but we wanted to make sure that 'and' was used, rather than 'or' to make sure that 'related' and 'contemporaneous' are congruent," Dr. Golab explained. "The reason for that is that we believe that both of those conditions need to be present in order for a clinical sign to be appropriately associated with a particular animal's condition."
The AVMA's published statement offers a more detailed explanation of its position on why "contemporaneous" is so important:
"'Contemporaneous' was added to address the concern that multiple clinical conditions may cause similar clinical signs and that past observation of a non‐specific clinical sign, in and of itself, should not be grounds for denying coverage. For example, an animal that was lethargic at one point in time due to pain from an injury, should not be denied treatment for cancer, cardiac or respiratory disease at a later date because this same clinical sign, lethargy, was exhibited in conjunction with the latter condition. We recognize the North American Pet Health Insurance Association (NAPHIA) has expressed concern about the addition of "contemporaneous with" and shared the issue of waxing and waning clinical signs that may be associated with chronic conditions as the basis for its objection. While clinical signs may wax and wane, they are likely the reason the animal has been presented for evaluation and diagnosis in the first place and, as such, they will be not only 'related to' the condition, but also 'contemporaneous'. If there are no observed clinical signs, but the condition is discovered on routine bloodwork, then that would appear to fall under the "…a veterinarian provided medical advice…" criterion in the proposed definition.   We believe it is important to narrow the definition of preexisting condition, as much as possible, to ensure that the clinical sign observed is indeed associated with the preexisting condition to be excluded from coverage."
Responding to Dr. Golab and the AVMA, NAPHIA lawyer Kate Jensen characterized AVMA's position regarding "and contemporaneous with" as "really problematic" for NAPHIA members. "Our reasoning in the letters we've submitted still stands," Jensen said, referring to statements posted to the working group's website. (Jensen declined to speak following Thursday's meeting, as did NAPHIA director Kristen Lynch.) "We've actually had extensive conversations with the folks at AVMA on this issue," Jensen continued, adding that "The 'contemporaneous' [AVMA's proposed qualifier] language, in our veterinary team's view, is not appropriate because it actually is not an accurate indicator of what may actually be going on with the pet…The inclusion of 'and contemporaneous with' in the definition of pre-existing condition, from NAPHIA's perspective, is really problematic."
Dissent In The Insurance Ranks
However, at least one insurance company, whose brand and business model is intertwined with veterinarians, a fact we highlighted recently, is rejecting the industry trade group's position and favoring the AVMA's. Speaking to TCR by phone yesterday, Trupanion founder and CEO Darryl Rawlings said, without any hesitation, that the company is "totally aligned with the AVMA" on the discussions regarding "pre-existing condition" language.
Asked about NAPHIA's characterization of the AVMA's position as "really problematic" Rawlings expressed empathy for his NAPHIA colleagues, explaining that, in fact, he founded NAPHIA with two other people in order to give the industry "a consistent voice" and to "help the category move along."
"Trying to do things in a committee is impossible," Rawlings said. "It's just hard," he added. "You've got 10 different people, 10 different opinions, and you have one person who was hired to try to represent all of them."
Pet insurance market and historical context
When Rawlings said that he founded NAPHIA to "help the category move along," he is likely referring to an issue that has long frustrated and bewildered stakeholders in the pet insurance industry: its meager market penetration rate in the United States–or the percentage of Americans who buy pet insurance. The U.S. pet insurance market has seen 15-20% growth every year for at least the past five years, yet the total number of insured cats and dogs in the U.S., as of 2019 (2.52 million), represented a mere 1.7% of household cats and dogs or, a 1.7% market penetration rate, according to NAPHIA and Vetnosis. However, Kristen Lynch of NAPHIA points out that if we take cats out of the equation [TCR has no objection to that], 2.8% of U.S. household dogs are insured as of 2019.
Pet insurance is still relatively new in the United States. The first pet insurance policy wasn't sold until 1982 and that company, VPI, mostly had the market to itself until more companies started appearing in the early 200o's. Trupanion only started operating in the United States in 2008. In  Europe, pet insurance has been around longer, which may explain why the numbers are radically different: In the United Kingdom, about 30% of dog and cat owners buy pet insurance.
"Medical insurance for pets, not pet insurance"
Trupanion refers to itself as "medical insurance for pets," not "pet insurance." Trupanion is creating its own paradigm – the company even has its own underwriter – as animal health people in the insurance business, not insurance people doing animal health.  In all of its marketing language, the term "medical insurance" is ubiquitous as the company offers line-by-line analysis of its competitors' policy language, noting the many pitfalls that Trupanion's language avoids. The company is also eager for any opportunity to underscore that its ethos centers around animal health: "We fundamentally believe that support from veterinarians is critical to driving broader acceptance of medical insurance for pets in North America," the company explains in a presentation for investors. "We have built our success around this belief."
However, NAPHIA, Trupanion's trade group, is taking positions regarding pre-existing condition language that equate a veterinarian with a dog walker or dog trainer. Here's the excerpt from NAPHIA's letter:
"To better reflect these medical realities, we encourage the Working Group to adopt NAPHIA's approach requiring that Clinical Signs be "related to" the stated condition. Notably, NAPHIA's suggested definition of "Clinical Sign" would further clarify that the sign must be an observable manifestation of a particular condition, as identified by a veterinarian, recorded in the pet's medical history, or observed by another individual familiar with the pet (e.g., an owner, dog walker, trainer, etc.). Collectively, NAPHIA's definitional framework provides appropriate parameters and clarity around Preexisting Conditions."
Asked about NAPHIA's arguments that the AVMA's proposed language would hurt all pet owners because an insurance company's ability to calculate risk is compromised if there's language that ties its hands insofar as exclusions (which means more risk exposure, ergo higher premiums), Trupanion's Rawlings says, "That's not universally true," and that it's certainly not true in Trupanion's case.
The Vet-Friendly Insurer
Trupanion's software, Trupanion Express, which integrates with a veterinary hospital's practice management software, is one of the company's most advertised assets. "Trupanion is the only company with the technology to pay your veterinarian directly in minutes at the time of checkout," its website proclaims:
Imagine no more paying out of pocket, submitting paper claims, then waiting for approval and reimbursement. All you have to do is pay your portion of the bill and we take care of the rest, directly to your veterinary hospital.
There's a catch, though. Trupanion Express is dependent upon the blessing and trust of veterinarians. Those relationships are hard fought. Veterinary hospitals have long been the primary channel through which new Trupanion members are courted. (According to this 2018 presentation, 49% of new members are referred by veterinarians.).
Others in the industry may be angered by Trupanion's stance, but for all of the talk from Nationwide's Dr. Benson and NAPHIA representatives about how the AVMA's more restrictive language would result in higher premiums for pet owners across the board (Rawlings says that's not the case for Trupanion), the argument they've yet to refute, which Dr. Golab and some of the regulators underscored, is that, as regulators proposing a model law, they should prioritize language that protects consumers over language that everyone can pronounce. 
Trupanion has so often seized an opportunity to throw its support behind the veterinary industry in various debates over the years (such as a 2017 stand against big box store pet pharmacy services) that the debate over the definition of preexisting conditions, which is of such significance to veterinarians, and to pet owners, that it was another obvious place for the company to take an industry-unique stance. It's a question which, given Trupanion's veterinary-centered ethos and business model, it should want to answer, and its founder and CEO did. The question now becomes, where are other individual insurance companies on the same issue?
"Trupanion's point of view is that it needs to be as black and white, and as explicit and as easy as possible for consumers to understand," Rawlings told TCR, referring to the preexisting condition escape clause. "And that's what anybody would want, it's what the AVMA wanted—I can't speak for everyone that's part of NAPHIA," he added. Asked about the example discussed at the meeting of a dog that vomits as a puppy with a condition that has nothing to do with an illness it presents with as an adult such as cancer, Rawlings said:
"Trupanion wouldn't deny a claim for cancer because [the dog] vomited before [when it had xyz condition as a puppy]. Nobody would. I mean, that's insanity! You just wouldn't do it. The question is, how do you write that in a way that is clear for everybody? That's the challenge. So, everyone will figure it out. What happens right now is, there are some companies that maybe have more of a grey line."
Nationwide is on its own side
One of those companies with more of a "grey line" may be America's largest pet insurance provider, Nationwide.
Doubling down on NAPHIA's argument during last week's meeting, Dr. Jules Benson the chief veterinary officer of Nationwide took the position that a dog walker, dog trainer, et al. is part of a pet's clinical picture that should be used to approve or deny claims. Dr. Benson also argued that if companies are restricted in this area, everyone would be hurt because companies face more risk exposure, ergo premiums increase.
When you say that it can only be a veterinarian who has diagnosed or looked at that pet and diagnosed it, it's putting the book at massive risk and increasing premiums through adverse selection…" (Jules Benson, Nationwide Pet chief veterinary advisor and advisor to NAPHIA)
Nationwide CEO Kirt Walker, Dr. Benson, and spokeswoman Karen Davis declined repeated requests for comment.
"Every insurer that I've worked and that I know of in NAPHIA have veterinary professionals on their teams that analyze these medical records," Nationwide's Dr. Benson explained at the meeting."
Dr. Benson was responding to Louisiana regulator Warren Byrd, who asked, in essence, how NAPHIA's definition of "pre-existing condition" protects consumers and guards against egregious denials of coverage, citing the example of a wellness visit when a dog is a puppy during which the veterinarian suggests products such as a shampoo that may inadvertently treat or prevent condition X. 'Should that exclude that dog from coverage of X if the insurance company can find X shampoo was discussed with the veterinarian in the record?' In other words, what was guarding against the misuse or abuse of "preexisting condition" for claims denials without the AVMA's proposed qualifiers? "The burden is on us," Dr. Benson added. "We know that we have to prove that beyond any reasonable doubt that these connections exist," Dr. Benson explained.
There may, indeed, be a burden of proof on insurance companies and, yes, when a consumer files a complaint with an insurance commissioner, the insurance company is asked to respond. However, the veterinary industry, including veterinary support staff, are also burdened as they are frequently asked to help clients dispute claims that are denied for pre-existing conditions.
Burden of proof is also on veterinarians: "Huge time suckage!"
"I have many frustrations with insurance claims being denied because of "pre-existing conditions", one New York veterinarian told TCR. "One company denied payment on a claim for Inflammatory bowel disease workup (IBD) because when the dog was a puppy it had diarrhea from parasites. I had another patient (a cat) that had chronic kidney disease and ended up becoming a diabetic down the road and they were trying to say there was a link between the two which of course there is not. I had to write letters to the insurance company for both and for the cat and had to talk to a veterinarian of the insurance company. Huge time suckage! There are many other cases but those two stick out."
Echoing those examples of the extent to which a veterinarian – at least, a good veterinarian – is often invested in the outcome of a claim, the AVMA's Dr. Gail Golab emphasized that the AVMA's main objective in its language was consumer protection. "What the AVMA is proposing by wanting to make sure that 'clinical sign' on which a claim has been either agreed or denied is consistent with the actual condition that the veterinarian decides to treat, this is actually a position that is supportive of both the consumer and the veterinarian because it reduces the number of claims that potentially could have been denied."
"Really problematic"
"Our reasoning in the letters we've submitted still stands," Kate Jensen, an attorney for the NAPHIA, said during the meeting. Jensen declined TCR's requests to speak following Thursday's session, as did NAPHIA's Kristen Lynch. "We've actually had extensive conversations with the folks at AVMA on this issue," Jensen continued, adding that NAPHIA's position, that "signs of some conditions do wax and wane" was not something the industry was willing to negotiate.
And that is the crux of the stalemate.
AVMA chief veterinary officer Golab explained during the meeting that although the AVMA's primary concern was incorporating "contemporaneous," AVMA also wanted to make sure that 'and' was used rather than 'or' to make sure that 'related' and 'contemporaneous' are congruent," she explained. "The reason for that is that is that we believe that both of those conditions need to be present in order for a clinical sign to be appropriately associated with a particular animal's condition."
Dr. Golab's and AVMA's position did not meet any substantive criticism from during the meeting from the various state regulators on the panel — who are supposed to be the impartial referees. There were some comments from NAPHIA about whether a lay person would be able to pronounce "contemporaneous" or understand it, but Connecticut regulator George Bradner refuted those comments, asserting that protecting consumers was more important than offering language that was easy to pronounce or understand.
"My concern," he explained, "is that we need to make sure that there's language in here that prevents the situation that was described by the AVMA, where a dog is throwing up a year ago for something completely not associated with the symptom that's happening today. I know contemporaneous is a hard word for some of us to pronounce and I have to look it up, but when I looked up the definition, I was like, whoah, makes a lot of sense to me."
Bradner also rejected the argument made by Dr. Benson of Nationwide that consumers and regulators can be confident that pet health insurance companies would not misuse "preexisting condition" to deny claims because the companies have veterinarians on staff.
"NAPHIA saying that they have veterinarians on staff—the first thing that came to mind when he said that is workers' comp," Bradner said.
"You know, listening to the conversation around 'contemporaneous' and NAPHIA saying that they have veterinarians on staff," Bradner said, referring to Dr. Benson's comments, "the first thing that came to mind when he said that is workers' comp." At that point, Don Beatty, the Chair and Virginia regulator started laughing audibly.
The idea of worker' compensation is risk mitigation for employers, while offering limited compensation to injured workers.  The tradeoff is significant: It's a type of insurance that provides wages and medical costs to employees unable to work due to injury on the job. However, the upside for employers is that employees must waive their right to sue for negligence in exchange for those guaranteed benefits.
"Insurance companies," Bradner continued, "have doctors on hand and they refer patients to them because they know that they're going to get the outcome they want," meaning less likely assessments of injury or serious injury.
Michael McKenney of Pennsylvania, speaking after Bradner, added his support for the AVMA's definition of "pre-existing condition" and derided what he says is overly broad language in NAPHIA's proposal:
"I keep hearing this 'dog vomiting' situation. 'Oh my god. Dog vomiting. They throw up all the – and to think, you know, my dog ate a battery and threw it up, and then two years later, it could be used as a preexisting condition for cancer. I think that's what we're guarding against. I appreciate the thought of 'well, we haven't had these issues.' We still have to guard against them when we're making a model law."
Brendan Bridgeland from the Consumer Insurance Research nonprofit explained that he had "real trouble with the way clinical signs" are defined by NAPHIA, calling the terms "incredibly broad." "When I hear the word 'clinical,' Bridgeland says, "it means it's been diagnosed by somebody with a degree. But if you look at the NAPHIA letter, it refers back to the individual, regardless of whether they have training or not. It refers to trainers, dog walkers. In a life insurance application, you're asked a lot of questions about your health or what you've been diagnosed with, but you're not allowed to say, 'have you, in the last 30 days, been on the web and self-diagnosed your headache as a brain tumor?' And there are reasons for that.'"
Asked how discussions with the AVMA were progressing since last week's meeting, NAPHIA executive director Kristen Lynch wrote the following statement by email yesterday: "Per Chair Don Beatty's direction on the last NAIC pet insurance working group call, NAPHIA and representatives from the AVMA are productively engaged in discussions around a workable and viable definition for Pre-existing Condition."
Responding to the same question, AVMA spokesman Michael San Filippo by email today: "The AVMA understands that defining what is or is not a pre-existing condition is complicated, and looks forward to continuing to work with NAPHIA on a path forward that ensures pet owners can obtain the care their veterinarian recommends and their pet needs, while delivering a reasonable operating environment for the pet insurance industry."
In a brief telephone call after last week's meeting, Working Group Chair Beatty told TCR that if, for whatever reason, the AVMA and NAPHIA are unable to reach an agreement, "the Working Group will have to come up with its own language" or, to it plainly, "decide for them." Beatty declined to provide a deadline the parties had been given but noted that it would depend in part on the date of the next meeting, which is not yet scheduled.
Rawlings did support other voices in his industry who are making the argument that the word "contemporaneous" may not work well for the average consumer. His concern, he explained, isn't the substance of the AVMA's language, but rather that the language is clear and straightforward for consumers. "I personally don't think the word "contemporaneous" is a good word because it's not consumer-friendly. Do I think the intent of it is fine? Yeah. Can you write a different word or different sentence [that accomplishes the same objective]? There's more than one way to do something," he said.  "I would say there's alignment [between Trupanion and the AVMA] in making sure consumers understand what they're getting," said Rawlings of Trupanion. "I've been fighting for that for 20 years."