Updated  America's most popular retailer, Walmart, is adding to its recently launched suite of pet products and in-store pet services by teaming up with the most popular pet insurance provider, Nationwide.  On January 29, Walmart and Nationwide announced a partnership in which Nationwide's roughly 900,000 members will now be able to fill commonly prescribed pet medications at any of Walmart's 4,700 pharmacies with the added convenience of having insurance claims for covered pet drugs rapidly processed at the pharmacy counter, the same way covered drugs for people are purchased through health insurance.
However, the new Walmart-Nationwide alliance may have come as a surprise to Walmart's other pet insurance partner, Petplan –  including Petplan CEO Paul Guyardo.
Back in November, Guyardo discussed his company's new alliance with Walmart (announced on Nov. 12) with TCR, explaining that Petplan would administer Walmart-branded insurance.
Walmart's partner, waiting at the altar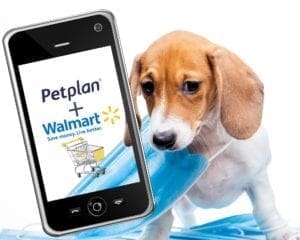 Walmart's announcement with Nationwide comes almost exactly three months after Guyardo described, so enthusiastically, the factors that had brought his company together with Walmart. Petplan, the country's fourth-largest insurer, was – and, perhaps, is still intending to – provide the administrative skeleton for Walmart pet insurance.
Yet, strangely, although the insurance product bears Walmart's name and continues to appear on Walmart's website, it's not clear that the product has the support and backing of Walmart, or even Petplan. Those who buy Walmart pet insurance – unlike those who buy Nationwide –are not able to have their claims processed at Walmart pharmacy counters in real-time. And their reimbursements will continue to take weeks, not minutes.  Walmart's namesake pet insurance product will not offer its members the same benefits and conveniences in Walmart stores. It's a situation that neither Walmart, nor Petplan, nor Nationwide commented on.*
"I think, at the end of the day, what Walmart is all about is providing great value to their customers," Guyardo told TCR in November. "And Petplan shares that mission." Whether the companies continue to 'share' a mission, or anything else, is unclear.
Guyardo and Petplan spokeswoman Samantha McKinnon both enthusiastically corresponded with TCR late last year following the Walmart announcement with Petplan, even inviting TCR to interview Guyardo with the Petplan team at the company's Manhattan offices. For the past week, however, following the Nationwide announcement, Guyardo and McKinnon have been radio silent, declining multiple requests to comment about the Walmart-Nationwide announcement, including whether the Petplan product would also offer in-store claims processing.
Guyardo and McKinnon also would not comment simply on the accuracy of Nationwide's press release, which promised that its product was the only pet insurance product offering in-store claims processing.
Melody Richard, the merchandising vice president for Walmart's pet division, also did not return requests for comment when asked whether and when the Walmart-Petplan insurance product might eventually offer in-store claims processing for Walmart insurance members.
Brick-and-mortar struggles to compete with e-commerce, setting its sights on America's $9.8 billion pet medication market
As Walmart and other brick-and-mortar giants like Petco struggle to compete with e-commerce platforms like Chewy, which launched its 'Connect With A Vet' telehealth service along with compounding pharmacy services last November, big retailers are now turning their attention to alliances with pet insurance providers and other veterinary health services as part of an effort to capture a bigger piece of the $9.8 billion pet medication market, about 74% of which is currently being captured by veterinary practices, according to research firm Packaged Facts.
"Preferred pricing and the opportunity to have claims for covered drugs processed at the counter of a major retail pharmacy is a first for the pet health insurance industry," Nationwide said in its press release announcing the partnership.
The cost of pet medications when purchased directly through veterinarians, in-house, is substantially higher with average markups of 100 to 200% plus dispensing fees for veterinary prescriptions, according to a 2011 American Animal Hospital Association article.  And since no pet insurance product apart from one is able to pay insurance claims on the spot, prices matter. Ironically, the failure of the pet insurance industry to pay claims the same way covered claims are supposed to be paid is what is helping to create opportunities for retailer giants.
Taking pet prescriptions to retailers and chains where prices are significantly lower fills an understandable need for pet owners and that benefit becomes great when retailers add incentives like pet insurance claims processing and additional discounts on medications.
However, it's worth pointing out that the ability of insurance providers to process claims quickly, at veterinary hospitals (only one provider, Trupanion, currently offers real-time claims processing at veterinary hospitals) is equally if not more important than whatever the discount might be, especially if the medications are covered by insurance.
Of the $9.8 billion in annual revenue generated in U.S. sales from dog and cat medications, brick-and-mortar stores currently glean only about 11%. Walmart has apparently tuned in to the lucrative and fast-growing veterinary health services market, even as the retail giant apparently neglected to involve its earlier partner, Petplan.
Who cares what veterinarians think?
For all the excitement about the narrowly penetrated U.S. pet insurance market getting unprecedented access to American consumers via Walmart, one pet insurance company has been adamant about urging customers to buy pet medications in-house, directly from veterinary hospitals:
"With the proliferation of big-box store and non-pharmacy based pet pharmacy services," America's second-largest pet insurance provider proclaimed in an October 2017 press release, "Trupanion continues to stand apart from the rest of the pet medical insurance industry by encouraging pet owners to buy pet medications directly at their veterinary hospitals." Spokesman Michael Nank confirmed this week that the 2017 statement is still in line with Trupanion's thinking on buying pet medications in-house at veterinary hospitals.
At about 580,000 policyholders (this number is according to the company's Feb. 10 fourth-quarter earnings report) Trupanion trails Nationwide's 900,000 members significantly. Still, in other ways, the pet insurance industry, including Nationwide, is trailing Trupanion, the only pet insurance company, in its ethos and business model, that critically relies on strong relationships with, and the confidence of, veterinarians. Its proprietary software, Trupanion Express [1],  which integrates with veterinary practice management software and facilitates claims processing and reimbursement within minutes, requires the blessing of veterinary hospitals. And veterinary hospitals have long been the primary channel through which new Trupanion members are courted (according to this 2018 presentation, 49% of new members are referred by veterinarians). Considering that Trupanion has only been operating in the U.S. for about a decade (Nationwide bought VPI, which has been selling pet insurance since 1982), Trupanion should be much farther behind Nationwide than it is.
But the Nationwide-Walmart deal, in no way, relies on the blessing of animal health professionals.
'Deeply discounted' veterinary health services
Nationwide Pet Rx Express raises another issue, which is whether pet owners should be concerned about getting what they pay for, as the saying goes. "Deep discounts" is an attractive alliteration, especially when the discounts refer to groceries, appliances, or furniture. The phrase seems misplaced, somehow, in a health care context.
Although errors exist everywhere, including especially veterinary hospital dispensaries, it's hard to make a sound argument for taking pet prescriptions or human prescriptions for that matter, to understaffed, overwhelmed chain pharmacies like those at Walmart.  Within the past year, pharmacists at chains have been vocal about the frequency of medication errors and life-threatening incidents resulting from dispensing the wrong dose or drug. Similarly, there has been an onslaught of low-cost, pop-up, walk-in veterinary clinics that attract young and relatively inexperienced veterinarians and support staff. Retailers are starting to offer veterinary services and telemedicine as if they were offering car waxing.
Indeed, large retailers with in-house pharmacies have had problems demonstrating that their standards are sufficient when it comes to dispensing pet medication. In January 2020, the New York Times published a devastating report in which "many pharmacists at companies like CVS, Rite Aid and Walgreens described understaffed and chaotic workplaces." Pharmacists at major chains told the Times they felt that a combination of factors had made it "difficult to perform their jobs safely, putting the public at risk of medication errors. They struggle to fill prescriptions, give flu shots, tend the drive-through, answer phones, work the register, counsel patients and call doctors and insurance companies, they said — all the while racing to meet corporate performance metrics that they characterized as unreasonable and unsafe in an industry squeezed to do more with less," The Times reported.
Stuart Feldman is a pharmacist and owner of the Cross River Pharmacy, a reputable compounding pharmacy in Northern Westchester County, New York, that physicians and veterinarians in the area send clients to. Feldman, who says he was, at one point, a veterinary technician, says the issue is the chain pharmacies, not whether the pharmacist is dispensing drugs for animals versus people.  Echoing the Times' reporting, Feldman explains the difference between the thought process at his pharmacy versus a place like CVS: "If I'm dispensing something that's like, 'Wow, I've never heard of this stuff,' which is very possible these days because there are so many of these biotech drugs coming out, it's 'Stop. Look. Listen.'" He added: "Is there a possibility for error? We can take three steps back and say, there's a huge possibility for error due to the demands put on the pharmacists in the chain stores."
"As far as the big chains go, it's just another prescription for them. For me, it's not," Feldman asserts.
"Nationwide Pet Rx Express offers Nationwide's pet insurance members savings and convenience that are not offered to pet owners by any other carrier today," Nationwide spokeswoman Karen Davis wrote to TCR in an email. "With Nationwide Pet Rx Express, members may pick up their pet's prescription medications at any Walmart in-store pharmacy and receive preferred pricing, below Walmart's everyday low prices, and have the pharmacy submit their claim for reimbursement to Nationwide on their behalf.  The combination of preferred pricing and the opportunity to have claims for covered drugs processed at the counter of a major retail pharmacy is what makes Nationwide Pet Rx Express unique in the pet health insurance industry."
Whatever the implications for the veterinary profession and animal health, the Nationwide Walmart partnership represents an important opportunity for every participant of the country's pet insurance industry as far as consumer awareness. In the United States, the pet insurance market, despite seeing healthy and steady growth, continues to trail other wealthy countries with less than 5% of American pet owners currently participating. For a country with a surging population of pet owners and in which the cost of veterinary care is rising exponentially, it would seem that the pet insurance market is long overdue for an introduction to American consumers.
Following publication, we received the following in sequential emails from Petplan's Samantha McKinnon:
We do not currently offer direct billing with Walmart Pharmacies as part of the Walmart Pet Insurance / Petplan partnership. However, our pet insurance does cover prescription medications–no matter how you choose to have your pet's RX filled.
Walmart's partnership with Nationwide does not change the Walmart Pet Insurance / Petplan partnership and definitely did not "leave us at the altar."
The pharmacy business runs separate and apart from our partnership with the digital group. This new program with Nationwide brings more optionality to the Walmart customer—very much in the same way you have multiple detergents on the shelves, this is another choice in pet care for the consumer.
In the spirit of partnership and transparency, the Walmart team made sure our team was aware of the collaboration with Nationwide before the news breaking last week. This announcement did not catch us off guard. [TCR has reached out to Walmart to confirm that Guyardo was given a heads up before the announcement. So far, Walmart has not responded.]
[1] Trupanion has declined to provide exact figures when asked how many veterinary practices are equipped with Trupanion Express. However, a recent investor presentation put the number around 5,000 or approximately one-sixth of America's veterinary practices.