On Friday, Feb. 11, writing from the email address "AskCVM," normally used by the FDA's Center for Veterinary Medicine to field questions from the public through its website — and not an email address this publication uses to communicate with individuals at the FDA — FDA's "Anonymous" reversed what had been a long-standing policy regarding the release of basic health data and refused to say how many diagnosed DCM cases had been reported to date, declaring that this information had somehow become "not relevant."
FDA statement to the Canine Review 2/11/2022:
Updated dog death data "not relevant"
It's understandable why no individual would want to attach a name to such a statement, but it's a disappointing posture given the reality on the ground with cases like Briar's.
In 2018 and 2019, the FDA's strong warnings about "grain-free" food tried to underscore that although the exact connection had not been determined, the foods shared key commonalities. The overwhelming majority of the foods were labeled and marketed as "grain-free" and contained high concentrations of pulse ingredients like peas and lentils.
The warnings were a classic function of the FDA, much appreciated by the veterinary community who could point their clients to the FDA's credible, authoritative assessments. The warnings were also appreciated by consumers, who would otherwise have no clue about a danger apparently lurking in what otherwise seemed to be a health-enhancing product.
However, as is now clear, these warnings were not at all appreciated by those who make their livings farming and selling peas, chickpeas, and lentil products. 
"Briar Jack" was lost by his loving owers, who thought the grain-free food was making him healthier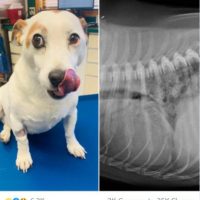 Last week, as this story was being reported, the sudden death of yet another dog came to light. In Texas, 8-year-old Jack Russel terrier "Briar Jack" was lost by his loving owners who thought the grain-free food they were feeding was making him healthier.  As we report, Briar's owners are sadly among hundreds with similar stories. At the request of his owners, his veterinary practice posted his story which was shared nearly 40,000 times in less than one week:
"Our clients have asked that we share a heartbreaking case with you all in hopes to prevent this outcome in other furry loved ones. Briar Jack was a previously healthy 8-year-old terrier that came to us as a daytime emergency when his owners noticed him progressively having difficulty breathing…He was diagnosed with Dilated Cardiomyopathy (DCM), a disease that is extremely uncommon in small dogs like Briar. After digging further into his history, it was brought to our attention that he was being fed a grain free diet. Unbeknownst to his owners, this was the likely cause of his heart disease…The exact correlation is still unknown, but if caught early and switched back to an appropriate diet, the heart can remodel back to a healthy state. If not caught in time, such as in Briar's case, it can lead to Congestive Heart Failure and result in permanent cardiac damage. Unfortunately, despite Briar's loving owners and our best efforts to treat him, he passed away."  Granbury Animal Clinic – Facebook
FDA reverses course, goes silent
As The Canine Review reported in October and November of 2020, the FDA ultimately issued an update on its own website regarding compelling new data about DCM and diet: Reports to the agency of DCM cases in dogs more than doubled in the past year. However, the agency issued this update several weeks after publishing the new research to an industry conference folder. The materials were first discovered and published by veterinary student Caitlin Holly,  after which The Canine Review began making the first press inquiries.
The data was startling, and alarming. Reports of DCM cases in dogs had more than doubled in a year. 
In what now seems to be a harbinger of what has since become the FDA's cut-off point of its last DCM data update, this important new 2020 data was not announced or reported on FDA's website until after TCR started making inquiries about the conference materials. To reiterate, the FDA's release of this startling new data was not issued by the FDA to the public on its website until after the agency was preempted by veterinary student Caitlin Holly when she discovered PDF files in an industry conference folder, including files belonging to the FDA.
After the conference materials were discovered by Holly, she subsequently posted about them on her blog "Doc Of All Trades," after which The Canine Review inquired about the documents, including a question about why the agency had elected to publish such critical information impacting America's millions of dog owners to a conference folder before issuing an announcement on its website to the public. FDA spokeswoman Anne Norris told TCR that it was always the agency's intention to release the data on FDA's website, and that CVM would be making an announcement "soon." However, neither CVM Director Dr. Steven Solomon nor Norris would comment when asked specifically about Dr. Solomon's "Opening Remarks" and whether they had intended to make this document available on FDA's website. Dr. Solomon also declined to comment when asked to elaborate specifically on his expression of empathy to industry stakeholders about the impact CVM's research had had on their "bottom line."
"Although CVM's investigation must be driven by science and our public health mission, we are acutely aware that promoting transparency and public awareness may not be kind to everyone's bottom line," Dr. Solomon said, adding, "I empathize with those of you who have experienced adverse consequences in your businesses, and with those of you in the veterinary community who have had your own challenges in sharing your scientific findings and trying to determine what type of diets to recommend to your clients and their pets."
Through all of 2021, no new data on DCM was released. 
Biden Administration promises transparency, commitment to science
But FDA demonstrates the opposite
At the time of the FDA's September 2021 Listening Session on pet food regulation, the last data update the Center for Veterinary Medicine provided, which was based on data through April 2019, was 29 months old.
The data is now 33 months old. And now the FDA's position is that any new data is "not relevant."
The Canine Review has repeatedly asked HHS and FDA officials to cite the statutory basis for refusing to provide an updated number of cases in what now amounts to more than two months of email exchanges. No individuals at the Department of Health and Human Services, including now incoming FDA Commissioner Dr. Robert Califf or his office, have responded to requests for comment about the FDA's stonewalling, let alone cited any reason based on the law.
This week, a group of open government advocacy groups issued a joint letter to President Biden calling on the administration to clean up its act on issues regarding transparency and, specifically, with regard to the accumulating pile of FOIA (Freedom of Information Act) lawsuits –  a pile The Canine Review will likely need to join in order to obtain the DCM data – on the administration's watch.
The most astonishing part of the email from FDA's "Anonymous" to The Canine Review is that it doubles down on the agency's previously stated refusals to comply with federal law (FOIA) while, in the same breath, asserting that the agency values transparency. And we should note here that no official at HHS has provided a statutory basis for refusing to provide updated information on DCM cases despite repeated requests to do so over more than two months of email exchanges.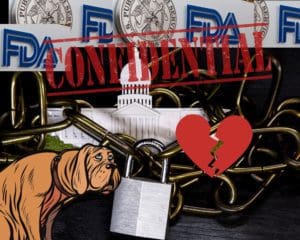 So, it's disappointing that The Canine Review's first FOIA litigation is likely going to involve an agency with which, one year ago, seemed as if it was in full alignment with this publication's mission to serve the public with the most comprehensive, accurate, authoritative version of events.
"Not relevant" enough to monitor and update the public, but traumatic enough to need a private support group"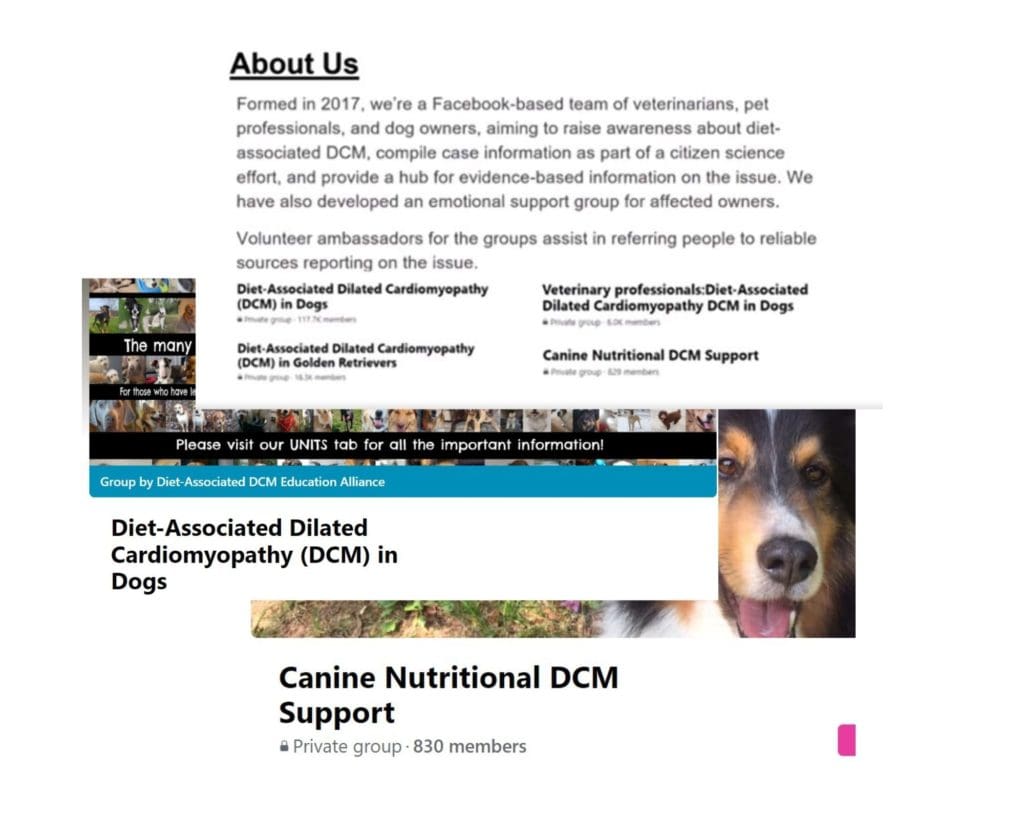 With over 100,000 members in its main Facebook group, the Diet-Associated Dilated Cardiomyopathy (DCM) in Dogs Education Alliance is a testament to the impact of diet-DCM. There is also a private group of 830 members, its access carefully controlled by its eleven administrators and moderators. The group carefully screens its members to provide a safe space for affected owners. Veterinarians review the dogs' records to verify the diagnoses.
"Not knowing of the FDA warning, issued in 2018, about grain free food, I was stunned to learn that the food I had been feeding both my beloved dogs since puppyhood had apparently caused them to develop a fatal heart disease," Martha Martin told the FDA in comments she submitted to the September 2021 Listening Session. She added: "No one but those of us who have been forced to confront this unconscionable situation can fully comprehend the devastating impact of being told that the expensive food you chose to nourish your dogs was, in fact, slowly killing them."
Another victim pointed the blame more directly at the FDA: "The FDA's tepid warnings regarding DCM were insufficient to warn me," Elizabeth Eilender of New York City told the FDA in her comments submitted to the Listening Session.
Defining the Diet-DCM problem in scope, substance
Nobody knows the full extent of the DCM tragedy because the FDA refuses to update the number of cases reported to the agency since the "more than 1100 cases" figure was released in the conference folder upload.
The FDA's silence in this regard has created a universe of challenges that directly impact America's 65 million dog owners, some tragically, chief among them the fact that as collective memory of the warnings from 2018 and 2019 fades, the less likely it becomes that owners and even veterinarians will report new cases.  
There are at least 280 Americans who do not have to imagine being in a situation like Briar Jack's owners because their dogs' deaths resulted from DCM. But that's only the number released by the FDA data in 2020. What the number is today, nobody knows. Is it much higher, given how muted the FDA has been and how widely "grain-free" has been marketed?
According to the FDA's final release of information in 2020, the total was already at more than 1100 cases.
Their hearts stop pumping
Dilated cardiomyopathy or DCM has a high mortality rate, especially in dogs, because it's not easily detectable in its early stages, however also not impossible. Indeed, a silver lining of this atypical DCM  – one that veterinary cardiologists say is especially telling – is that when caught early enough and dogs change diets, the disease can be reversed. However, this makes it all the more inexcusable that the FDA's new posture has been to remain mute.
DCM is characterized by heart muscles becoming progressively weak, and therefore less able to pump blood. The end stage of DCM is congestive heart failure. In dogs, large breeds such as Irish wolfhounds and Doberman pinschers used to be the most common cases. However, as Briar's veterinary practice points out in the Facebook post, which has been shared nearly 40,000 times and has accumulated over 2,000 comments in less than one week, the condition was rarely if ever diagnosed in smaller breeds like Jack Russel's—until "grain-free" pet food took hold in the market.
Fact, not opinion
Seven peer-reviewed scientific studies conducted by people whom most veterinarians regard as leaders in veterinary cardiology and nutrition (the two specialties that apply to DCM) have produced a body of evidence that shows a connection between DCM in dogs and certain diets marked by high concentrations of legumes or pulse ingredients. The cases veterinarians are seeing in which the dog was eating "grain-free" food are notably atypical because unlike traditional DCM, veterinarians and owners are finding that diet-DCM is reversible if and when the condition is detected at an early stage and, most important, the diet is changed, and taurine supplements are added. Taurine is the amino acid dogs with DCM are sometimes found to be deficient in. "Thus far, taurine deficiency does not appear to play a primary role in this current investigation into diet-associated DCM, although it could still have a secondary role," leading veterinary nutritionist at Tufts, Dr. Lisa Freeman, explained on her blog, "Petfoodology."
"One of the most difficult battles we face in veterinary medicine is the constant countering of misinformation regarding pet food."

– Dr. Catherine Cole, DVM
FDA's silence leaves door open for misinformation
Vets who challenge misinformation regarding nutrition become targets
Veterinarians struggle with depression and suicide at significantly higher rates than average: 1 in 6 veterinarians contemplate suicide at some point and veterinarians are 2.7 times more likely to die by suicide than the general population, according to a study by the American Veterinary Association (AVMA) and Merck. And according to a survey conducted in 2014, about 1 in 5 veterinarians said they had been cyberbullied and threatened.
"We are acutely aware that promoting transparency and public awareness may not be kind to everyone's bottom line."

– FDA CVM Director Dr. Steven Solomon, in "Opening Remarks" (September 2020)
In the September 2021 FDA Listening Session, a presentation delivered by Catherine Castonguay on behalf of the DCM Education Alliance pointed out that the misinformation that fills the void in the FDA's absence on diet-DCM has a significant impact on veterinarians:
"Veterinarians in our Professionals group have repeatedly expressed struggling to counsel pet owners about nutrition due to the wealth of misinformation online, particularly mischaracterization of the FDA's statements. Additionally, many have mentioned receiving threats and intimidating letters or calls from local pet shops and pet food companies for making recommendations to their clients. Veterinary professionals are already at-risk of mental health crises and harassment."
Dr. Catherine Cole, who is also a moderator for the DCM Alliance, including for its small support group, provided the following comment for the Listening Session, also addressing the impact of misinformation on veterinarians and particularly on those who admirably try to combat misinformation in the absence of clear, dispassionate, authoritative guidance from the industry's regulator:
"One of the most difficult battles we face in veterinary medicine is the constant countering of misinformation regarding pet food. I spend a significant portion of my day re-educating well intentioned pet owners on just how little useful information is contained in an ingredient list, how there is no such thing as "filler", and why chicken by-product meal is an excellent source of protein. It is incredibly disheartening to have to continually identify and correct false marketing claims while simultaneously treating patients for a disease that could have been prevented. To then be accused of receiving kick-backs from various pet food manufacturers or have our extensive knowledge base in veterinary and companion animal nutrition questioned is exhausting and only adds to the compassion fatigue that currently plagues our profession." – Dr. Catherine Cole, DVM
And, it appears, those engaging in this misinformation are not necessarily disinterested parties.
Employing a bully who brags about discrediting science 
Industry consultant known for targeting veterinarians scores senior title at The Farmer's Dog
The Farmer's Dog is one of the most advertised grain-free dog food brands in history. Its ads are ubiquitous, for example, in New York City subways and can be seen and heard throughout the New York City tristate area – the most competitive market in the country – on cable television, radio, and broadcast.
The Farmer's Dog's new vice president of research and development is Ryan Yamka, a longtime pet food industry consultant who is known for criticizing veterinary academics who publish research about DCM. Shown below is a cartoon Mr. Yamka posted insinuating that veterinarians are in the kick-back business. "IF YOU THINK THERE IS A CONFLICT OF INTEREST….," Yamka wrote, "THERE PROBABLY IS!"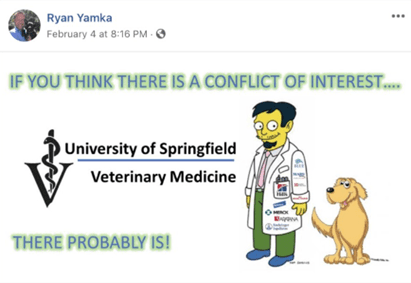 Mr. Yamka did not return email seeking comment for this story.
In May 2020, a group of renowned veterinary academics at the University of California, Davis led by Joshua A. Stern published new research about DCM in a reputable journal, PLOS ONE.  Mr. Yamka took to social media and organized a campaign to discredit the research and, in fact, succeeded, although the allegations Mr. Yamka submitted have never been adjudicated.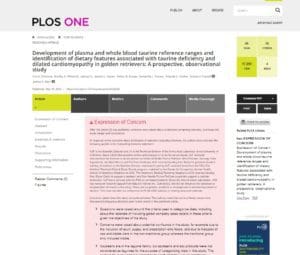 "You can do something when you spot 'bad' science with fatal flaws. I did!" He wrote.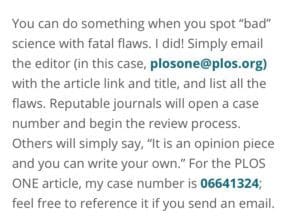 Bragging about results
Mr. Yamka of The Farmer's Dog, not only campaigned to discredit the work of veterinary researchers but proceeded to brag about it when their work was criticized and slapped with an "expression of concern" – literally, a red flag. "The editors do listen! Based off of feedback I provided along with academic veterinarians expressing the same concerns, the article I officially in review and can be potentially pulled," Mr. Yamka wrote on social media in September 2020.
While Mr. Yamka was able to compel the publisher to add the "Expression of Concern" to the article, no further action has been taken by PLOS and the "Expression of Concern" itself does not represent the conclusion of any formal adjudication process. PLOS did not immediately respond to an email seeking comment.
Dr. Stern no longer speaks publicly about DCM (probably because of attacks like this "Expression of Concern"), but he did provide a response to Mr. Yamka's "concerns" to the website "RetractionWatch.org" after the entity announced that the article had been flagged:
We stand by our work and do not believe the article should be retracted.   

The expansion of the COI section on our article was the result of honest oversight. We responded to the query by expanding the COI section to include any possible perceived conflicts of interests.  We remain committed to the statement that none of these disclosures impacted our data interpretation or conclusions.    

We are thankful for the opportunity to work with the PLOSOne editorial team to evaluate the other concerns and hope that a resolution to these concerns will include our full response and rebuttal. We believe that all concerns can be addressed, do not change the outcome of the research and certainly do not warrant retraction of the work. We are confident that most of these concerns were adequately addressed during peer review and appear within the discussion and limitations section of the work. Several points are already addressed through a pending article correction that we provided to the journal prior to any expressed concern. Other concerns represent differences in scientific opinion that may be shaped by a number of factors including the letter writers' own conflicts of interest or financial interests. 

This study represents a sampling of feeding patterns in domestic pet golden retrievers. This of course leads to confounding variables that should be controlled and evaluated in future prospective laboratory feeding trial studies. We believe the list of limitations in the study is comprehensive and the data gleaned from this work remains relevant. Nutritionally mediated dilated cardiomyopathy remains an emerging and serious disease of growing concern in dogs. We are committed to scientific integrity and look forward to continued research in this area to better our understanding of this condition. 
Again, Mr. Yamka did not respond to our questions seeking comment for this story, including at what point he began discussions with The Farmer's Dog about a senior position at the company, and whether he planned to add any disclosures to his own publications from the point when discussions with TFD began. The Farmer's Dog sells high-end "grain-free" dog food — thus, its interests would appear to line up squarely on the side of the positions taken by Mr. Yamka.
 

Verbal assault by mob
For the crime of writing about pet food industry misinformation, a renowned and well-liked veterinarian, Dr. Sherry Sanderson, was sentenced to verbal assault by mob. And although this example does not directly relate to dilated cardiomyopathy, it's another telling illustration of what happens when veterinarians try to enlighten the profession.
Sherry Sanderson is a well-liked, highly regarded board-certified veterinary nutritionist and professor who frequently publishes research about DCM and, in this example, made the mistake of publishing new research about pet food industry misinformation, which apparently struck a nerve with pet food blogger Susan Thixton. Susan Thixton publishes "The Truth About Pet Food," a blog known for conspiracy theories and anti-science rants. "Ms. Thixton is a vehement activist at war with the pet food industry, government regulators, and anyone who doesn't share her views about pet nutrition," Brennen McKenzie explains in 2018 on his popular veterinary blog, "The SkeptVet."
Following publication of Dr. Sanderson's article on pet food industry misinformation, Ms. Thixton published a guttural, insulting, and degrading rant attacking the veterinary profession broadly and Dr. Sanderson personally. 
"When veterinarians publish papers so full of false information, while accusing pet owners and pet websites as responsible for the false information – they are not only harming their own reputation, they are also damaging consumer trust in veterinarians in general. That is truly unfortunate," Ms. Thixton wrote.
Then, Ms. Thixton's followers added comments:
"[Veterinarians] will say ANYTHING that increases income – anything. Let's face it, in today's amoral and increasingly corrupt environment, our pets (which to us are family) are viewed as little more than 'furry wallets.' And a 'sick pet' is a 'profitable pet.'"

"Not to mention the way [veterinarians] gouge pet owners for medical care. It's become absolutely outrageously expensive to get even minimal routine care for a pet, while serious pet care costs are off the charts. And while they try to suck every last cent out of you or drive up your debt, they frown upon any amount of knowledge you may have gleaned from the net. Yes, there's lots of bad info on the net, so why don't these vets qualify what their patients have learned instead of being so disdainful of any knowledge at all? Because their greed has corrupted them. Most vets have next to no knowledge about nutrition and constantly push Science Diet. I am so, so grateful to people like Susan…"
Power to the peas
The FDA's warnings about a likely connection between diets with high concentrations of legumes and atypical cases of DCM in dogs  in 2018 and 2019 tried to underscore that although the exact connection had not been determined, the foods shared in common, the fact that they were major revenue sources for a sector of the farm industry called the pulse industry.
Here's an excerpt from the annual report of the Dry Peas and Lentils Council – the pulse industry lobby — in 2018 about how they waged war. Read how they brag about how they "have engaged in this issue with multiple trips to meet with the FDA and our champions in Congress: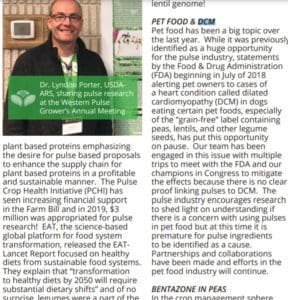 "Our team has been engaged in this issue with multiple tips to meet with the FDA and our champions in Congress to mitigate the effects because there is no clear proof linking pulses to DCM."
Tim McGreevy, the CEO of the U.S. Dry Peas and Lentils Council, did not respond to requests to comment for this story or answer when asked if he thought it was reasonable to conclude that the reason for FDA's refusal to update basic information about a a serious heart condition veterinarians has to do with his trade organization.
From 2018 through 2021, the [pea and lentil] Council reported spending $160,000 lobbying on Capitol Hill
TCR had not launched when pea and lentil lobbyists descended on th FDA following the third DCM warning, but here's a screenshot of Politico's coverage.
—
Pressure from the Senate
In September, 2020, the lobbyists' efforts produced a letter from a bipartisan group of seven farm state senators to the FDA, asking the agency to back off.  The letter refers specifically to the conference where CVM Director Dr. Steven Solomon would deliver those "Opening Remarks" highlighting the issues related to grain free foods and CVM.
"Today, we write to you regarding the FDA symposium scheduled for September 29….We would…appreciate knowing how…the symposium will be organized…on the topic of possible linkages between grain-free diets and canine DCM," the senators wrote, whereupon they requested details about the agenda, the abstracts, the witnesses, and other information that would be presented so that they could be assured that there would not be "any bias about causation of this disease."
Letters like this are typically the culmination of the kinds of "multiple trips to meet with…our champions in Congress," that the Dry Peas and Lentils Council CEO wrote about in his annual report.
From 2018 through 2021, the Council reported spending $160,000 lobbying on Capitol Hill.
Can new FDA leadership fix CVM?
This week, President Biden's nominee for FDA commissioner pick, Dr. Robert Califf, who served one year in the same position under President Obama, will face what appears as of this writing, to be an uncertain Senate confirmation vote. 
Update: On Tuesday afternoon, Dr. Robert Califf  was confirmed by a narrow vote. Dr. Califf has not responded to our requests for comment on his once and future agency's sudden about face on releasing this basic data.
The Canine Review also provided copies of our email exchanges with FDA communications officers to the offices of President Biden's chief medical adviser, Dr. Anthony Fauci, and to Health and Human Service Secretary Xavier Becerra's offices; neither Dr. Fauci nor Secretary Becerra has commented on the FDA information blackout.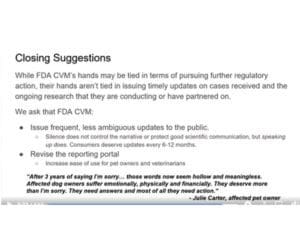 "We ask that FDA CVM issue frequent, less ambiguous updates to the public. Silence does not control the narrative or protect good scientific communication," the Diet-Associated Dilated Cardiomyopathy Education Alliance's Catherine Castonguay concluded in the presentation she delivered on the Alliance's behalf before an online audience of the FDA's September 2021 Listening Session. "Consumers deserve updates every 6-12 months," she added. When this presentation was delivered in late September, the last update on DCM from the FDA offered information which, by that point, was 29 months old. We're now 33 months out since "more than 1100 cases."
The case count involving a heart condition with a high fatality rate could be anywhere at this point. How is it possible that the information is "not relevant"? Of course the information is relevant, but whether Dr. Solomon or anyone else at the agency agrees that the information is relevant is unlikely to dissuade a judge from ordering the agency to release the information.
The question now becomes, not a matter of if the agency will release every last record pertaining to canine DCM, but when–and whether this is really an issue the FDA and the Biden administration want to litigate.