Controversy is swirling around a prominent science journal's article that defends the pet food industry against charges that one of its products endangers canines. Last week, the Journal of Animal Science — which describes itself on its website as "one of the most frequently cited peer-reviewed, agriculturally oriented research journals in the world" — and whose publisher is Oxford University Press — published an article that seeks to debunk the U.S. Food and Drug Administration's reports about its investigations into cases of canine dilated cardiomyopathy (DCM) – a progressive heart disease that can eventually lead to congestive heart failure – and possible links to certain types of diets.
Many such diets are labeled as "grain-free" dog food and contain "a high proportion of peas, lentils, other legume seeds (pulses), and/or potatoes in various forms (whole, flour, protein, etc.) as main ingredients," the FDA wrote in its June 2019 report.
A Direct Conflict of Interest
Since publishing our story on Friday about the controversy and the apparent conflict of interest embroiling its authors, The Canine Review has confirmed that BSM Partners, the article's funding source, has a client base that consists primarily of pet food manufacturers. These include Zignature, which the FDA named in its report last year as the type of dog food being second-most often linked to reported cases of DCM.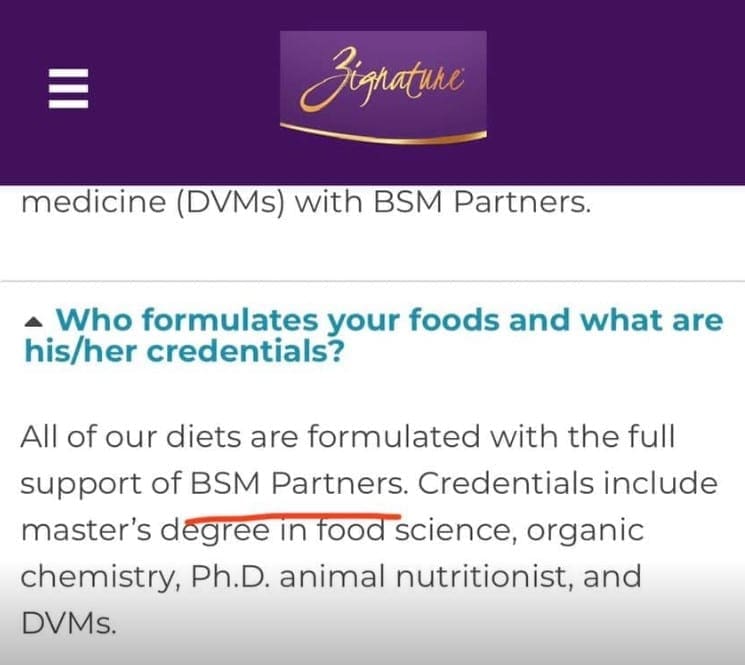 We have also subsequently discovered that Zignature's website lists BSM Partners as part of that food's formulation team ( https://zignature.com/our-story-2/ ).
We have also learned that one of BSM's staff veterinarians who works on that Zignature team, Bradley Quest, is a co-author of the article in question. Dr. Eva Oxford, another co-author, is also employed by BSM Partners, as is Dr. Renee Streeter, the third listed author. Indeed, all of the 'benchmark review article' authors are employed by BSM Partners, this according to BSM Partners' own website, DCMResearchProject.org, where the authors' biographies are published and where the Journal article is announced as the group's latest project.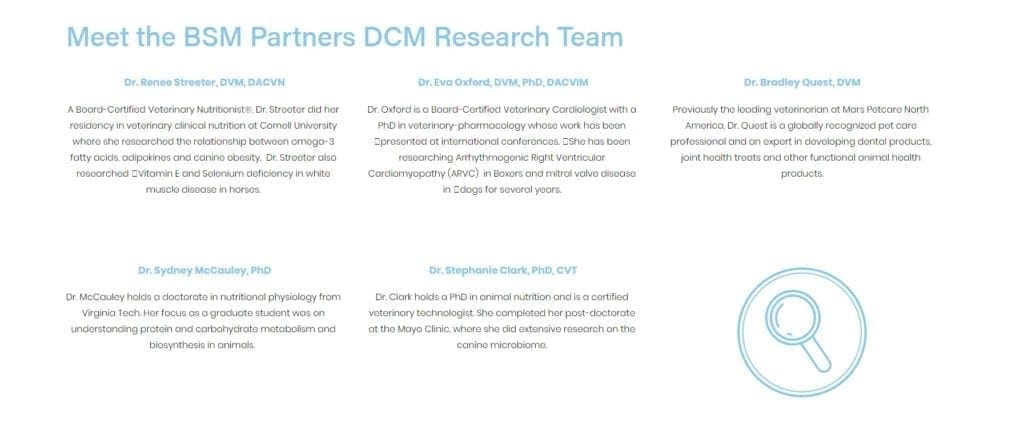 In short, the authors are funded by a consultancy that is funded by the industry that is the beneficiary of the article written by the authors, which contradicts the findings of the industry's regulator, the FDA. A direct conflict of interest by any standard.
This issue is not new or unique to veterinary academics, and the Journal of Animal Science is not the first – and it will not be the last – to be duped by a multibillion-dollar industry.
Financial conflicts of interest involving health care professionals and medical academics is a systemic and ongoing problem, so much so that journalism organizations like ProPublica dedicate entire teams to reporting about the subject. That's because these conflicts and disclosure issues affect high stakes public policy debates, consumer choices, and stock prices.
'[Taste of the Wild] basically asked me to not tell people to not feed their diet'
Board-certified veterinary cardiologist Dr. Steven Rosenthal of Chesapeake Veterinary Cardiology Associates (CVCA) is not surprised by the conflicts inherent in the DCM debunking article. He works closely with the FDA in its work on investigating possible links between DCM and diet. In an interview with TCR on Tuesday, he says that a few months after the FDA issued its third report in June 2019, he received a letter from veterinary nutritionist George Fahey, a consultant for Taste of the Wild (the food which the FDA's report listed as the third most linked pet food to DCM).  Rosenthal says Fahey's letter asked him not to advise against feeding dogs Taste of the Wild, telling him that there was 'no evidence of a relationship' [between DCM and diet]. "They basically asked me to not tell people to not feed their diet," he recalls.
Rosenthal adds: "I emailed him to say 'I disagree with you and I'm happy to send you evidence. I don't have controlled studies, but I can show you examples of patients who have improved when their diet was changed. And their response was 'Thank You.'"
Asked if he thinks the financial relationship between Zignature and the authors should have been explicitly spelled out to readers in a disclosure, Dr. Rosenthal says, "I would assume so, yes."
"I had never heard of them," he says of BSM Partners. BSM Partners is listed as the article's funding source, but no information is provided about BSM Partners or its funding sources.
JAS opens 'inquiries on potential inaccurate reporting of COIs,' says CEO
Oxford University Press, which publishes and presumably oversees the Journal of Animal Science, declined multiple requests to comment for our story on Friday, and today. Asked how Oxford University Press supervises its journals, how this scenario would not be a conflict that would concern OUP, and if OUP or the JAS made a mistake in not requiring that the conflict be disclosed, Oxford University Press spokesperson Sara McNamara would not comment.
The Journal of Animal Science's editor in chief, Dr. Sally Johnson, did not return phone and email requests seeking comment. However, the Journal's chief executive officer, Dr. Meghan Wulster-Radcliffe, eventually responded on the Journal's behalf with several colleagues cc'ed.
Asked by The Canine Review if the statement about conflicts that was appended to the article – that "the authors declare no real or perceived conflict of interest" –represents the kind of candid, full disclosure that its readers would expect from what is described as "the premier journal for animal science" published by Oxford University Press, Wulster-Radcliffe would only say that they are reviewing the matter.
Asked if she, as the editor, was aware of the conflicts outlined above or, if she was not aware of them, would she have wanted to be aware of them, Dr. Johnson, the editor of the Journal declined comment. Nor would she describe what conflicts of interest policies are in place at the Journal and how those policies are implemented.
Curiously, the Journal does appear to have written policies in place about conflicts of interest and disclosure. However, no editor at the Journal or representative of OUP would acknowledge the policies or point to them. Most important, our questions about how such policies are implemented went unanswered.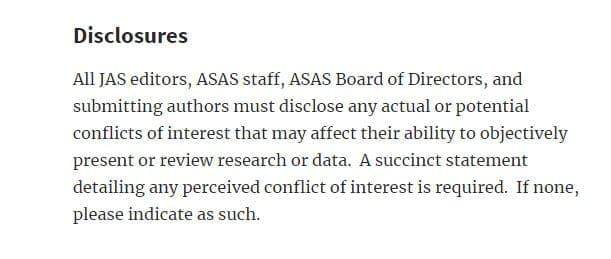 Although Oxford University Press is the publisher of the Journal, Wulster-Radcliffe is the chief executive officer of the American Society of Animal Science, the organization primarily responsible for producing JAS.  In an initial response to TCR's requests for comment, she suggests that there is no obligation to disclose conflicts of interest when offering one's opinion as opposed to "primary data," even when someone is being paid by a company that works for an industry and reviews "the literature" associated with criticism of that industry and comes to a conclusion that contradicts that of the primary regulator of that industry about the potential harm presented by its product, and even when the interests of the company funding the consultancy funding the authors line up squarely on the side of the article's argument.
Late Tuesday afternoon, Wulster-Radcliffe replied as follows: "There is no way for me to follow COPE (Commission on Publications Ethics) policies concerning inquiries on potential inaccurate reporting of COIs and get answers to you today. We should have a response to you by Thursday."
On The Canine Review's Facebook page, Dr. Wulster-Radcliffe has been less evasive. In fact, she has been actively commenting. Her proposed timeline for a response to our questions was more vague, too: "We will send answers after working through the process…hopefully completed this week," she wrote.
Asked by email to confirm if, by "inquiries" she meant  that an investigation had been opened into the article, including how it was peer-reviewed and edited, and whether to acknowledge that the conflicts of interest statement that was appended to the article, that "the authors declare no real or perceived conflicts of interest" was a mistake, Wulster-Radcliffe did not return email seeking comment.
"Please note, authors did not list a conflict of interest as they were not reporting primary data from a study they funded but rather a review of literature and they are very clear about their work affiliations in the article. Additionally, ASAS has gone back and looked at the peer review history of this review article, it was peer reviewed by multiple nonaffiliated academics before published," Wulster-Radcliffe wrote to an increasingly dynamic discussion of the article on The Canine Review's Facebook page.
Over the past 72 hours, veterinarians and dog owners have engaged in lively discussions on The Canine Review's Facebook page. Among those who have been actively participating in discussions is Caitlin Holly, a third-year veterinary student who writes a news blog about veterinary medicine.
"The interpretation could be perfect and this issue would still exist. It is specifically about the failure to disclose a present 'real or perceived' conflict of interest"
"This article was about diet-associated dilated cardiomyopathy, and the study authors work for a company that formulates for the second most frequently named dog food in the FDA's ongoing investigation into diet-associated dilated cardiomyopathy," Holly wrote in a response to Wulster-Radcliffe. Holly continued, "I do not understand how that does not represent a very clear perceived conflict of interest, and the bottom line is that it was not disclosed…The interpretation could be perfect and this issue would still exist. It is specifically about the failure to disclose a present 'real or perceived' conflict of interest."
In an earlier response to The Canine Review, Wulster-Radcliffe suggested that TCR's reporter submit a letter to the editor. Asking journalists to write a letter to the editor suggests, surprisingly, that Dr. Wulster-Radcliffe does not understand the function of independent journalism. So once again, a simple question: Should Dr. Wulster-Radcliffe have had the authors disclose their obvious conflict, or, perhaps, was Dr. Wulster-Radcliffe not aware of the conflict, just as many readers would have no way of being aware of it? After all, even Dr. Steven Rosenthal, one of the world's leading veterinary cardiologists, says he had never heard of BSM Partners. Admitting a mistake is the first responsibility of any editor who wants to deserve the trust of readers. It's not that hard.
Full Email Exchanges Between TCR and JAS
Update: Following publication, TCR received the following statement from Oxford University Press spokesperson Ella Percival:
 "Oxford University Press is committed to full transparency in our research publishing. We follow the guidelines of the Committee on Publication Ethics (COPE) and require all journal authors to declare any conflicts of interest. We take these issues seriously and are currently reviewing with the American Society of Animal Science (the owner of the Journal of Animal Science), the Editors of the Journal, and the authors of the article to determine whether updates or corrections are needed in this case."
Correction: This article originally misstated that veterinarian George Fahey is a board-certified veterinary nutritionist. He is a veterinary nutritionist Ph.D.