As of this writing, four months have passed since California's Veterinary Medical Board cited Ms. Dodds for practicing veterinary medicine without a license. Ms Dodds, who continues to be best known as "Dr. Dodds,"  also continues to advertise her bogus products and services, all sold through her 501 c3 tax exempt company, Hemopet.
For example, this advertisement appeared on Facebook on the day of this writing.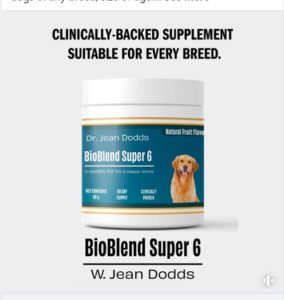 Ms. Dodds's business, Hemopet is still fully licensed, and remains up and running despite making so many bogus claims in one description of one product, we struggled to keep track of them:
Introducing the revolutionary pet supplement that took 50 years of extensive research and development by industry leading expert W. Jean Dodds….Our clinical trials have been able to confirm that the OS biomarker isoprostane level has come down after 3-5 months on the supplement…BioBlend Super 6 goes hand in hand with our NutriScan and CellBio tests that help indicate food sensitivities and other health markers, including but not limited to inflammatory bowel, skin, face, ear or mucous membrane inflammation. The first of its kind in the marketplace, BioBlend Super 6 provides health benefits for dogs of any breed, size or age. Supercharge your dogs well being with BioBlend Super 6.
On her Facebook page, 42,000 people continue to follow her "Hemopet" page on which "Dr. Dodds" remains the header.
In late December, the Veterinary Medical Board told The Canine Review through spokeswoman Michelle Cave that although Dodds did not appeal the citation, "the $5,000 fine assessed in the citation has not been paid in full." Cave and more than two dozen additional VMB staffers contacted today by email declined to say whether the fee had now been paid, or to elaborate on the amount owed. VMB staffers also declined to provide an update on the documents TCR requested three weeks ago for the second time (the original request was issued  in early November). In fact, it was only after TCR filed the second Public Records Requests on December 20, 2021 that Dodds removed the online menus and order forms for her products, including $200+ online consultations.
Related
Jean Dodds persists as "doctor" with apparent impunity, veterinary board tells TCR Dodds did not pay citation fine
Updated: California issues 'cease and desist' to Hemopet owner Jean Dodds for practicing without license