California has confirmed that Dodds was never licensed to practice in the state. TCR is now seeking information from the California Veterinary Medical Board about next steps for Jean Dodds, including whether a criminal investigation at the state and/or federal level is under consideration. Jean Dodds has continued to decline TCR's requests to respond to the citation, including whether she intends to contest it.
Now that California has confirmed that Dodds was never licensed to practice, key questions remaining include:
Dodds' website states that her services are eligible for #petinsurance coverage, so did Dodds facilitate insurance claims on behalf of clients? If so, is this significant with regard to the likelihood of criminal prosecution?
During the years Dodds was operating the blood bank and kept a colony of dogs, Dodds presumably needed supplies and medications for the dogs, so how were prescriptions facilitated?
What is the state's explanation to consumers who will want to know how someone was able to practice without a license for over two decades? What is being done to prevent it from happening again?
Has the California DCA made any referrals to the attorney general regarding "Hemopet" and/or any individuals associated with "Hemopet"?
What would trigger a federal investigation?
On October 11, 2021, the Veterinary Medical Board of California issued "a $5,000 citation" to Jean Dodds "for practicing veterinary medicine without a license."
Reached through LinkedIn's messenger service, by email through her website – Dodds has since acknowledged reading TCR's reporting and, presumably, receiving our inquiries in a series of public social media posts – Jean Dodds has not responded to TCR's request for a response to the citation, nor has she responded to questions about whether she is aware of any possible referrals to the attorney general's office.
The document lists specific examples through April 2021, including:
"On or about March 8, 2021, the respondent was listed on a NutriScan Report for animal patient "W" as "Jean Dodds, DVM." Such unlicensed conduct constitutes a violation of BPC 4825, as defined in BPC 4826, subdivision (f). 19. On or about April 28, 2021, the HemoPet webpage listed the respondent as a veterinarian and used the abbreviation "DVM" in connection with the respondent. Such unlicensed conduct constitutes a violation of BPC 4825, as defined in BPC 4826, subdivision (f)."
A spokesman with California's Department of Consumer Affairs, which oversees the state's Veterinary Medical Board, responded to TCR's request to clarify and confirm whether there was any record of Dodds holding a valid license to practice in California at any time. "The Veterinary Medical Board does not have record of a licensee under the name W. Jean Dodds," public affairs officer Matt Woodcheke told TCR in an email.
This is significant because Dodds has been operating Hemopet in California since the nineties, prior to which Dodds was based in New York. Based on NYSED search results (zero), we are assuming pending formal confirmation from New York that Dodds similarly did not obtain valid licensure in New York state, where she worked immediately following graduation from Ontario Veterinary College in 1964.
TCR is also awaiting confirmation from Ontario Veterinary College regarding our request for degree verification (Dodds's CV says she completed her degree in 1964).
Who is Jean Dodds?  Here's what the Skept Vet wrote: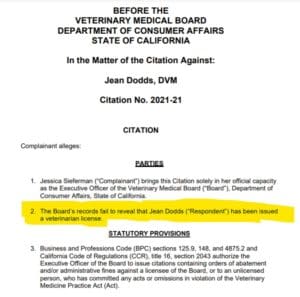 Dr. Dodds has a long history of promoting questionable and unproven tests and treatments. Real experts in veterinary endocrinology, nutrition, immunology, and other relevant fields rarely agree with Dr. Dodds beliefs or claims. Some of her recommendations are unproven (e.g. her beliefs about thyroid testing), others are demonstrably false (e.g. the Nutriscan food allergy test). 
The CellBIO saliva test for inflammation and oxidative stress is another unproven idea being sold well before it is properly tested. There is no specific published research showing the test is accurate, that its results are clincally useful, or that the treatments Dr. Dodds recommends based on using the test have any value. All of the claims for this test are based on theory, dramatic extrapolation from complex research evidence in humans and lab animals, or anecdote. 
Both the details of the claims made for this product, and Dr. Dodds track record, should inspire significant skepticism about the value of this test. Perhaps this will be the exception, a test Dr. Dodds promotes that is one day actually validated with strong research evidence, but based on the past I am not optimistic that this will happen, and I would not recommend using this test in the meantime.