Update: On January 13, 2022, The Canine Review received a selection of the records we had requested through the California Public Records Act. Among the documents requested were correspondences between Vet Board officials and Dodds/Hemopet. We're publishing the documents in case someone can add more context, in which case, please get in touch with editor@thecaninereview.com. Documents are below.
At 1:00 p.m. ET on Monday, January 10, 2022, a marketing email arrived from "Hemopet"  (pictured below)  the inexplicably tax-exempt entity founded by an individual whose veterinary board citation, cease and desist order, and all-around professional demise were more celebrated by more veterinarians than the end of emotional support animals.  As seen below, Hemopet's Jean Dodds even took the liberty of signing her name in the upper right corner of a dog portrait: "Dr. Dodds." Beneath the portrait, there was a promotion for "Dr." Dodds's most notorious product, her $298  Nutriscan test (veterinarians often refer to it as "Nutriscam").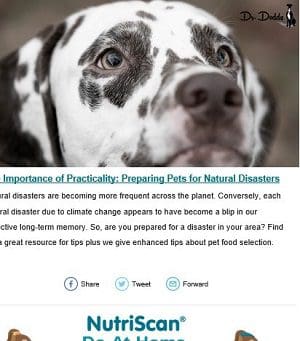 Brennen McKenzie, publisher of "SkeptVet," has been chronicling Dodds for about a decade and wrote about Nutriscan in 2015: 
"Her ideas about allergies, thyroid disease and, as we shall see, nutrition, are widely viewed as unproven, unlikely, or outright factually incorrect by experts in these fields, but Dr. Dodds has moved forward with not only books of advice but commercial diagnostic tests without apparently feeling any need to demonstrate her ideas are correct through scientific research. Despite the lack of scientific evidence to support them, Dr. Dodds' opinions have influence as a result of her standing and previous work. However, in science the final arbiter of what is true is not the intelligence or achievements of individuals but the results of controlled research and the verdict of scientific evidence."
When the marketing email from Hemopet promoting Nutriscan arrived three months after Dodds was cited by the VMB, it reminded me to follow-up with the California Veterinary Medical Board: What happened to those questions swirling around Dodds that I wrote about in October 2021, including the $81 million California says she owes in taxes (Dodds disagrees because, of course, she and Hemopet are tax-exempt), the complaint Seattle-based Trupanion's spokesman Michael Nank says his company filed with the California VMB in October 2020 after a large volume of claims activity from Dodds was red flagged? Or, how about the fact that Hemopet continues to be a licensed facility and is therefore subject to oversight even if the VMB is no longer able to take action against Dodds?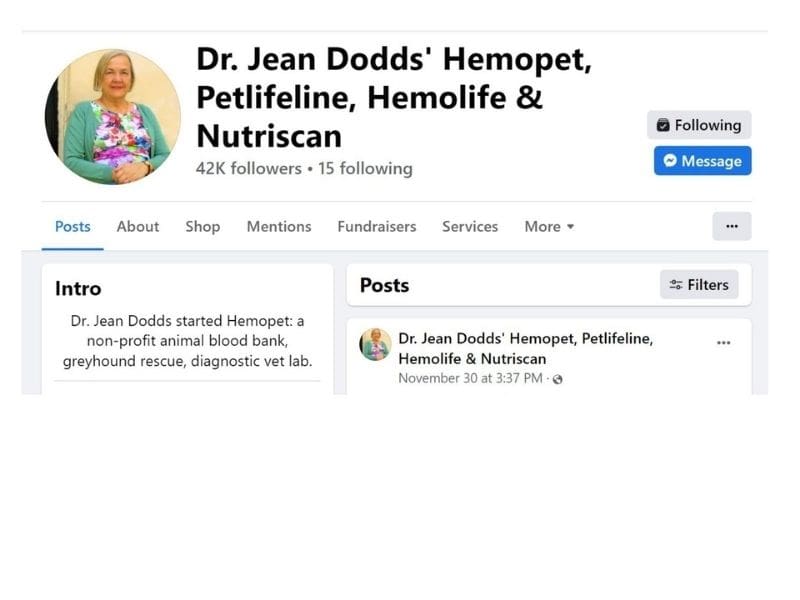 Jean Dodds has been practicing veterinary medicine in California without a license with impunity since the early nineties. Tomorrow, January 11, 2022 will mark three months since October 11, 2021, when California's Veterinary Medical Board issued Jean Dodds of Garden Grove, California a citation for practicing veterinary medicine without a license. On her Facebook page, where 42,000 people follow her, "Dr. Dodds" remains on the header. "W. Jean Dodds" has gained some ground, but not much.  And actions speak louder than words: In late December, the VMB told TCR through spokeswoman Michelle Cave that although Dodds did not appeal the citation, "the $5,000 fine assessed in the citation has not been paid in full." Cave and more than two dozen additional VMB staffers contacted today by email declined to say whether the fee had now been paid, or to elaborate on the amount owed. VMB staffers also declined to provide an update on the documents TCR requested three weeks ago for the second time (the original request was issued  in early November). In fact, it was only after TCR filed the second Public Records Requests on December 20, 2021 that Dodds removed the online menus and order forms for her products, including $200+ online consultations:
On December 16, 2021, "Dr." Dodds delivered a podcast that is still available on iTunes and elsewhere. Just over fifteen minutes in length (see below for rough transcript of podcast which we submitted as part of our records requests), "Dr." Dodds delivers an all-too-familiar canard that has undoubtedly contributed to the rising suicide and depression rates amongst veterinary professionals: that veterinarians do everything for monetary reward and are owned by drug companies. Her podcast 'warns' pet owners that their veterinarians may not have the best interests of their animals at heart and, instead, may be inclined to push dangerous flea, tick, and heartworm prevention because of influence from the pharmaceutical industry.
California Deputy Attorney General Jeffrey Phillips said he could not comment on "questions as to whether or not there are any pending investigations that relate to the subjects of your PRA request, since consumer complaint information and investigations are exempt from disclosure under the PRA…"
TCR is also waiting for a response from the Orange County District Attorney's office, where we have requested any court records pertaining to Dodds and/or Hemopet on the chance that, perhaps, the Veterinary Medical Board engaged the District Attorney. If so, nobody has shared this with TCR.
Jean Dodds has refused all requests to comment since October including a request for comment today. More to come.