Juliane Holz of Philadelphia, PA began our interview by asserting that she had always loved her pet insurance provider, Petplan, and recommended Petplan to everyone she knew–until recently.
Holz says it was her veterinarian who recommended U.S. pet insurance company Petplan when her now eight-year-old Bichon mix, Theodore, entered her life as a puppy in 2013. Holz remembers that the fact that Petplan was "very local" was a key reason behind the recommendation — that Petplan had been founded by "two people from the university [of Pennsylvania] …They're in the neighborhood, you know?"
And eight years ago, when Holz signed Theodore up for pet insurance, Petplan was in the neighborhood with a fairytale husband and wife co-founder, co-CEO British couple at the helm who were graduates of the University of Pennsylvania's Wharton School: Christopher and Natasha Ashton. The Ashtons were principled, mission-focused, and even proud in press interviews to highlight the latest and largest payouts to members, not investor metrics. Not to suggest that the company wasn't doing well.
"PLAUDITS FOR THE NATION'S FASTEST-GROWING PET INSURANCE PROVIDER GO ON AND ON," the University of Pennsylvania's Wharton School highlighted on its website. "Petplan is #59 on Forbes' 2015 list of America's Most Promising Companies, their third year on the list, and the only pet company represented; Natasha Ashton also made the 2014 Forbes list…"
The Ashtons' Petplan was a more customer-friendly product; the goal was, yes, to make money, but also to pay claims. However, when investors, looking for profits instead of plaudits, forced out its idealistic co-founders three years ago, the chaos began, leaving jilted customers enraged – at the same time that a company founded around the same time as Petplan with a similar story – Trupanion – has continued to demonstrate that they can make money without shortchanging their customers.
Mission-based – until the mission changed
They founded Petplan to solve a problem after they discovered that there was only one major pet health insurance company in the U.S. market at the time, and that company, VPI, seemed unlikely to solve it. The Ashtons were mission-based. Their goal: simple, clear pet insurance that allowed pet owners the assurance that their pet's sudden illness did not mean a choice between financial ruin or the sacrifice of their loved one.
"I don't care what it costs. I have pet insurance."
Jamie Webster, a veterinary technician, is now based in Arizona but was living near San Francisco when she discovered Petplan. She says she signed up in 2008 for one dog, a boxer, and when she adopted a second dog in 2011, "added her right away." Then, she says, her husband, Gary, lost his job, and they moved back to Arizona.
"Do we cancel because we're paying however much a month and money's really tight right now?" she remembers thinking. "And, so, we considered canceling the premiums, but I was like, 'no, I really don't want to.' And I'm so grateful that we did not because when we moved back to Arizona in the summer of 2013, not more than two weeks after we'd been back, Bosco, my guy who I had the very first plan with was like 11 at the time, developed bloat, which is super dangerous and deadly…And so I looked at [the veterinarian] and I literally said, I don't care what it costs. I have pet insurance."
"At that moment," she explained, "I was really grateful that we had not canceled," Webster added that in addition to the $4,000 surgery for Bosco, Hilton, a rescue, was later diagnosed with a splenic tumor, she says. "She had an emergency splenectomy and that was another hospitalization. And, so, in the course of those few months, I think we spent about $13,000" of which Webster says Petplan reimbursed between nine and ten thousand dollars.
---
A Mission-Based Contemporary: Trupanion
In 2008, two years after the Ashtons sold their first insurance policy, another insurance industry outsider, except for the few years his pet insurance company had been up and running in Canada (and doing well)–launched Trupanion in the U.S. market.
Darryl Rawlings, Trupanion's founder and still current CEO, and his story is almost identical to the Ashtons': a beloved pet with a serious, but treatable condition involving many thousands of dollars in veterinary bills. In Rawlings' case, it was a childhood pet and his parents couldn't pay: "That's the problem I'm trying to solve," he told TCR in an interview last March. It's the company's founding story. Here's what might be the most important part about his story: He explains, "Even if my family had 'pet insurance for Mitzy, it wouldn't have saved her life. There's no way we could have paid her $7,000 bill and waited weeks to get that money back." And that's the genesis, it seems, of Trupanion's "medical insurance" rather than "pet insurance" ethos. From the moment the company showed up, the messaging has been, 'We're not like the other insurance companies.'
Under the Ashtons, Petplan members recall fast, easy claims
Although Petplan was never able to pay claims at Trupanion's speed, Jamie Webster, the veterinary technician, and others interviewed insist that claims were simple and that money would show up within days, not weeks or months. Webster said that she recommended Petplan to clients at her practice frequently.
The Ashtons' cat, Bodey, fell ill in October 2001 while they were still in school. Bodey required thousands of dollars in veterinary care. The story of Bodey's illness and how the expenses challenged is the Ashtons' and Petplan's founding story. The duo frequently told the story to reporters in the company's early years as a way of explaining the company, its mission, and why pet owners should trust them. "We didn't really see any alternative," Christopher Ashton told The Philadelphia Inquirer in 2006. "We were willing to do whatever it takes. We moved apartments to pay the bills," Christopher Ashton told the Philadelphia Inquirer.
From 24/7 Live Customer Support to "Leo the Lion" Bot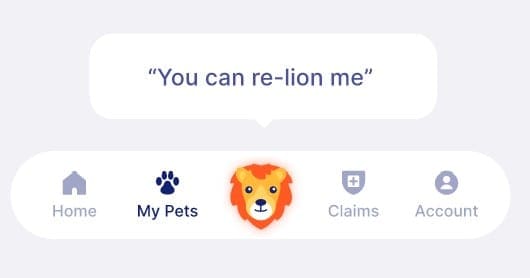 Like Trupanion, Petplan was defined by its people. Customers felt the difference. Some of the Ashtons' innovations took longer than others to be snuffed out after their departure. For example, Andi Vuicich, an operating room nurse in Minneapolis, found herself alone in a parking lot late at night this past summer outside of a veterinary emergency clinic with her dog inside. She grew anxious and tried to call someone in the building for an update, but nobody was answering. She had no way of knowing what was happening because of COVID curbside rules. Unable to reach anyone by phone inside the building, she called the people she trusted most with her dog's health care: Petplan.
"I called [Petplan] from the parking lot at 11:30 at night Central Time. Somebody answered and stayed on the phone with me. Then, they called the vet and said, 'Hold on, I'm gonna put you on hold. And I'm going to call the vet and let them know you're concerned….'"
Later in 2020, she says, the 24/7 phone support stopped.
Its replacement? The team at Petplan has been working on a "digital transformation." Anyone who visits the company's social media platforms or website is now offered a menu of "updates" and bulleted lists on efforts the company is making to "upgrade" the customer experience. Among those improvements, Andi Vuicich and most of the other customers we interviewed were keen to discuss, has been "Leo the Lion," a Bot.
The message above appears on-screen when you attempt to "chat" with Petplan outside of M-F, 8 am-8 pm. Notably, customers are advised to "call" for "immediate assistance" yet over two-dozen customers told us that messages are either returned weeks later or not at all.
On April 16, Petplan's weekly "Tech Blog" update from COO Danna Rabin announced that "Leo the Lion" Bot would be replaced "soon" with "new live chat." Other additions: "Enhanced customer experience for claim submission."
This reporter, a pet owner herself, cannot help but point out that pet owners do not want an "enhanced" claim submission experience; they want their claims processed quickly, easily, and with minimal effort required on their end. 
"It's this little bobblehead lion head on the bottom [of the screen]," says Vuicich, the operating room nurse. "I work 60 hours a week in an operating room. I don't have time to see HIM," she said, referring to the helpless Leo bot for 20 fricking minutes when I should be relaxing before I go to bed."
Recently, she added, she was trying to submit a claim and Leo timed out three times in a row, causing her to respond "You SUCK" (followed by another phrase we will not repeat here) in a customer satisfaction survey.
Thrown Out
The Ashtons fought hard to stop Leo the Bot before ultimately losing their battle with their investors. In 2018, the Ashtons' Petplan, to solve the same problem for owners they faced when Bodey fell ill, began to be dismantled by their venture capital investors, who were led by then-chairman Vernon W. Hill and the fabled Stephen A. Cohen.
The end of the Ashton era of pet health insurance for Petplan pet owners would not be subtle. All of the customers we spoke with who have been with Petplan prior to 2018 report that 2018 is when they first noticed changes in the quality and reliability of their insurance.
Even its new VC-installed CEO Paul Guyardo acknowledges the difference, although, as we will see, he passionately and admirably maintains that where he is taking the company is necessary for it to be a viable, high-quality business.
Between the year the Ashtons launched Petplan, in 2006, until the couple was stripped of their co-CEO titles and forced out on April 26, 2018 (exactly three years ago this week) customers we spoke with for this story had unmitigated praise for Petplan. Lately, they view the company with a mix of rage and disgust as they are forced to navigate a series of abrupt downgrades to all aspects of health insurance for their pets.
The $147,000 Cat
Petplan's founding CEOs were replaced by Guyardo, a key player in the New York digital media startup world with experience in direct-to-consumer marketing via his tenures at Direct TV, Discovery, and Nutrisystem.
According to accounts of court testimony in May of 2019 chronicled in The Philadelphia Inquirer, investors, including Petplan's Chairman Vernon Hill, testified that the Ashtons were not the appropriate people to lead a growing company because they were naïve and inexperienced.
Among the key players who testified in 2019 was then newly installed and current CEO Guyardo. According to The Philadelphia Inquirer: Guyardo said he'd been forced to address such pressing issues as a high claims-losses ratio — along with expired state licenses, a "very cheap" information technology system that threatened to "break " the company. "When I got there, it was pretty apparent that the business had outgrown [the Ashtons], and it had been mismanaged," Guyardo, said according to court testimony, as reported in the Inquirer.  According to the Inquirer [there is no known transcript or recording of the testimony]:
Claims by a small group of Petplan clients were driving up everyone's costs, Guyardo added. Under the Ashtons' regime, "one policyholder had an 18-year-old cat on life support for two years," costing $147,000 in claims while paying less than $12,000 in premiums, he testified.

Guyardo said Petplan should still enforce its "covered for life guarantee" and renew policies despite multiple claims — but those owners should be willing to pay, for example, a 30 percent deductible on renewal, instead of the original 10 percent, so they'd have to "think a little harder" before ordering costly procedures. Harsh? Better than having "to raise prices for all of your customers," Guyardo said, under questioning…
The Ashtons opposed the changes, Guyardo testified, but the company proceeded and, as a result, brought claims losses down and sales up. That might explain what happened to Juliane Holz of Philadelphia and her 8-year-old dog Theodore's (Theo) insurance policy.
Holz began by pointing out how great Petplan used to be. Theo spent several days in the hospital because of a "severe allergic reaction" in 2015, she says. "Within four days, I had a check for $2300." She asserts, "Claims were very easy. I could just email it to them using copy/paste. So, it was great. I loved it." That was 2015.
Holz said that was the last time she remembers filing a claim for several years or having any communication with Petplan. Then, she says, "a few years ago," unable to pinpoint which year, she remembers getting a phone call from someone at Petplan telling her that Theo's plan was no longer available and that they would be switching her to a different plan. At the time, she didn't make much of it, though she viewed the new policy as a "downgrade."
She was told that she was switched from a $100 deductible to a $200 deductible, and 90% coverage, yet the premiums would be higher. "I was like, fine, if it's not available anymore, it's not available anymore."
The main event, Holz says, was when she discovered that her credit card had been charged an annual policy premium of $700, up from $500 — and not once, but twice, somehow in the process of her attempt to change her policy to "the bare minimum" she told TCR, because she no longer trusted them with her money. The reason being that she was told earlier when she called to inquire about the premium increase, for which she received no notification she says, that her policy had been changed yet again. 
When she called and asked that they move her to a different policy so that she would pay the "bare minimum," the company charged her for that and continued billing her for the other.
"So, now, I am basically out $1400, right? And, so, I called them and they apologize. And they're like, you know what? It's going to be in your account within 24 hours."
That was a Friday, she says.
"So come Monday. I'm like, Oh, nothing. Nothing happened to my account. Oh my God. So I called them again. They're like, Oh no, it's actually three to five business days."
Holz says the business days come and go and, still, nothing. "So I called them. I'm like, how long does it take you? I know you say three to five, but I know when you take something out of my account, you take it out immediately. They apologize. So five days go by, nothing. On the sixth day, I called and I was like, What the hell? Like, I'm out all of this money!"
Then, Holz says, she was told she would be receiving an email. She asked for a supervisor, but–"So the supervisor comes on and she goes, 'Uh, we're so sorry. We have a computer problem. We switched computer systems, something, something back in like, I guess November, December. And it's been a hot mess.'"
She told the 'supervisor' that she understood that technical difficulties happen, but that nobody was communicating with her and she was now out $1400. 
Petplan's Metamorphasis: Becoming Fetch by The Dodo
With the Ashtons out of the picture, the investors and Guyardo could position the company for a sale, which is what they did even before the Ashtons were officially out.
Guyardo told reporters in October 2019 that Petplan had been growing at 15% since he came in. 
In October 2019, Petplan changed hands again: Warburg Pincus, the private equity firm, acquired the company for an undisclosed amount.
"This investment is a game-changer for Petplan," Guyardo said in a press release at the time.
Vernon Hill stepped down as chairman and was replaced by John Giannuzzi of Sherbrooke Capital as board chair. 
One year later, the company announced its strategic partnership with Group Nine Media and The Dodo. 
In a 2020 SEC filing, Group Nine Media, the parent company of The Dodo, a blog for animal lovers, offered the most precise language we could find about the terms of a deal that was announced in October 2020 between The Dodo and Petplan. Since the announcement of this deal, Petplan customers have been repeatedly told that they somehow signed up for rides on a "major tech transformation" adventure. The deal is described as, "a trademark licensing deal with Petplan…pursuant to which Petplan will be rebranded as Fetch by The Dodo…in exchange for which Group Nine Media will receive royalties and equity in the business. Group Nine will also receive compensation for content creation, promotion and marketing for Fetch insurance."
The Wall Street Journal reported in October 2020 at the time of Petplan's announcement of The Dodo deal, that "Petplan is approaching $150 million in gross revenue this year and is profitable," yet the attribution is "according to people familiar with the business." Let's assume, despite the unaccountable attribution, that the $150 million figure is accurate and call it $200 million for 2020: Trupanion's total revenue in 2020 was $502 million, up 31% compared to 2019, proof that a company can do well and do right by its customers. Also worth noting that Petplan under the Ashtons was also doing extremely well. Even Guyardo acknowledges Petplan's amazing growth and potential "for many years":
"Petplan, as it currently is, is a solid, high-growth business, growing at double-digits now for many years," Paul Guyardo told the Journal in October. "But candidly, we lack the mainstream brand awareness and credibility—a partnership with Dodo is the most effective and efficient way to attain that awareness."
Under the Ashtons, Petplan did not appear to lack credibility. The Ashtons' Wharton professors connected them to faculty at the U. of Penn's veterinary school. Those connections helped the Ashtons network with animal hospitals and animal welfare organizations. In fact, for a time, Petplan was the official U.S. Humane Society pet insurer.
Soon after Petplan announced the Group Nine Media deal, in late 2020, the technical "upgrades" and difficulties began, according to Petplan customers. By that point, 24/7 live customer support was no longer available. In the Ashton era, 24/7 customer service representatives were part of the package; that has now disappeared. What replaced those agents as the "tech adventure" began would prove wholly insufficient, even chaotic, especially when customers needed assistance.
'A Little Cartoon Lion'
"When you go to file a claim, it's a whole ridiculous process," says Petplan customer Shannon Collier. "Typically, when you go to open the app, you'll have to close out of it entirely and then open it back up and then close out of it entirely and open it back up and probably repeat that a couple more times before the page actually loads and you can, you know, see writing and information and so forth on it."
"Then," says Collier, "you log into your account and then down at the bottom, I think in the middle is a little cartoon lion. That's Leo [the bot]."
"Then," she continues "it opens up a new page and says something about, you know, 'would you like to file a new claim?' and then you click on yes. And then it walks you through steps: Do you have the invoice? How would you like to submit the invoice? How much was it for? What was it for this day? So, you can either take pictures of your invoices and your records, or you can upload them through files on your phone. So, you would take the picture. I usually take the picture of the invoice and then, um, wait for that to upload to their app–which sometimes doesn't happen. Then you have to close out of the whole thing and start again."
Collier of Roswell, Georgia says she's had "multiple policies with Petplan for over a decade and in the beginning, they were amazing!" Like almost every customer we spoke with, the same pattern emerged: that the IT failures over the past several months should be – had to be – understood in the context of the company's tumultuous past three years during which Petplan customers lost the Ashtons.
"A couple of years ago, things changed and the per-incident deductible grew, the percentage of coverage decreased, and the monthly cost greatly increased," Collier explained. Investor Hill might have been pleased, but the customers who can sustain his business over the long term weren't.
This past year, months before the technical difficulties were the focus, Collier, reflecting the experience of many customers TCR interviewed, said she has felt tortured by the claims process, which has apparently been restructured to facilitate the goals that the investors hired Guyardo to achieve:
It's extremely irritating and extremely frustrating…It literally takes two weeks between my getting a reply, then I send one, and then I have to wait two weeks for them to reply back…I think I've emailed back and forth with them, I don't know, three or four times….They're saying that I need to have a letter from my doctor stating that it's for [an illness that they've already agreed to cover and pay claims on] and then they'll review the claim. So, now, I'm having to have my doctor waste her time and type up the letter for them.
Collier's point: as frustrating as the "tech upgrades" have been, the disruptions would not be nearly as upsetting if not coming on the heels of so many downgrades and changes to benefits, all the while feeling trapped because of pre-existing condition coverage that would not allow them to transfer to a different insurer and have that condition covered.
Neither Guyardo nor company spokeswoman Robin Shallow would get into details – any detail – about the customer representatives. Both said that Guyardo is involved with the training but declined to specify how. They also declined to provide any information as far as numbers, apart from the 300,000 figure we were provided when asked for the number of active members.
Although we were unable to get much by way of data points from Petplan, here, this reporter thinks it's important to note that TCR measured the waiting time required to speak with a person when we called Petplan's customer line and we were pleasantly surprised: 91 seconds, with the caveat that we tested it last week, not when the chaos was unfolding earlier.
"The Launch of a New Smartphone"
One question, more than any other, seemed to touch a nerve with Guyardo and Robin Shallow, Petplan's spokeswoman. In the March 30 apology letter to customers, Guyardo compared the glitchy situation at Petplan to "the launch of a new smartphone."
It seemed appropriate to press him and give him the opportunity to respond simply because we're not sure we agree that pet owners dealing with veterinary bills, sick pets, and bad insurance would see the analogy with gadgetry, which is something you choose. And if there's any anticipated disruption, again, it's a choice. Here's part of the letter from Guyardo to Petplan members:
You selected us for our superior coverage and customer service. But lately, we've fallen short on service because of technical issues.  For that, we sincerely apologize. 

The difficulty you may have experienced when trying to contact us, or when using our app and website, is a result of a major tech upgrade that is taking longer than planned. We've been working to introduce all-new systems that will enable faster claims processing and more convenient customer care.  But these systems have been introduced with bugs, not unlike the launch of a new smartphone.  
TCR's question to Guyardo in full:
The analogy with "the launch of a new smartphone" in the March 30 letter suggests that you don't view insurance as a service industry. Aren't smartphones and pet insurance fundamentally different products? 
Perhaps that could have been framed in a less prosecutorial way, though it was not intended as such. The intention was to give the company a full opportunity to respond to criticism. Criticism from pet owners who have been unable to use their insurance to pay increasingly expensive veterinary bills. The comparison to a smartphone launch, regardless of intent, seems tone-deaf as does the focus on "digital transformation" that customers never signed up for.
"We've fallen short on service because of technical issues": But customer service has little to do with technical issues; in fact, one of the virtues of having people who are trained and invested in a company is that when technology or anything gives you problems, you can easily and quickly adapt to new challenges as they present themselves.
Guyardo underscored that the reason he compared insurance to a smartphone launch was that a smartphone launch was something he felt the average pet owner would be able to relate to. That seems reasonable if the product being compared to the smartphone isn't someone's pet unable to access health care.
Yet, if these leaders understood the business the way Trupanion's seem to understand it, they would know intrinsically that a smartphone launch has absolutely nothing to do with pet insurance unless you do not yet have any people or pets counting on your services. And that's the only stage where it would have made sense not to have 24/7 live customer support–before a launch; before you have customers.
In an earlier call, Shallow, the company spokeswoman, had more to add about Guyardo's smartphone analogy, namely that our request for them to elaborate on what they meant by it was "ridiculous."
This reporter reminded Ms. Shallow that it was not The Canine Review's analogy. It was Guyardo's analogy in Guyardo's letter to Petplan customers (one of whom was upset enough about it to email it to us) and that it was Guyardo who made the comparison. We were simply asking him to explain it, which he did.
"You referenced [the smartphone launch analogy] in here," Shallow said, referring to our question, "Aren't they [smartphones and insurance/financial services] fundamentally different products?" Which seems kind of ridiculous. The point is," Shallow continued, "this is a technology example that many people relate to. Sometimes, it goes bumpy and then it gets resolved, but that's all that's happening here. They've doubled down on customer service to make sure that they have the appropriate people to help our customers, which is the whole point. And they're continuing to create this better technology and we're on track to do that. And we'll take as long as it needs to take to get there. But there's, you know, you're taking a cross-section of people that you saw on social media and, and we don't want our customers unhappy and we're reaching out to people in real-time."
The problem is, we simply do not have any evidence or documentation to support Shallow's statement that customers are being helped in real-time. Even as this story was going to press, we were receiving updates from customers who thought their problems had been resolved, only to discover that the problems remain.
Update: Minutes following the publication of this story late Thursday morning, we received an update from Michelle Turner of Silver Spring, Maryland with an attached approval of a claim she filed on April 14 (the date was April 29):
"I'm stunned!" Turner wrote. "This is the FASTEST reimbursement I've yet to see."
To be clear, 15 days following the submission of her claim, Turner had received a notification that her claim had been approved, but the reimbursement would take several more days. And we should also note here that in the Ashton era, customers fondly recall having their claims processed in under five days. 
The CEO's 'Ghost Accounts'
On March 30, CEO Paul Guyardo sent an apology email to Petplan customers which included a list of promised steps he and the company were taking to address the technology glitches. Because Guyardo told customers in the email that he had increased the volume of call agents by 20% without additional details, we felt strongly that readers would want more information about what he meant, namely the number of people Guyardo now had answering phones versus before. Company spokeswoman Robin Shallow and Guyardo declined to provide the number of call agents; so, we don't know if adding 20% means adding a sixth person or adding 100 people to a 500-person team. Shallow, Petplan's spokeswoman, did say that since adding more agents, call volume is down to "October levels" though she declined to disclose any call volume numbers.
We also thought that given how many customers we spoke with interacted at length with call agents who were ultimately unable to assist them, it seemed reasonable to ask Guyardo about how the customer call agents are trained and the extent to which he's directly involved with the training.
But Guyardo declined to provide details about his interactions with customer service representatives, any details about how agents are recruited or trained, or even specify how many agents worked for the company, but as far as his own efforts toward quality control, Guyardo says that he has "several ghost accounts" with which he "personally" communicates with agents. "I'm personally receiving emails under an address that no one is aware of. And I've been doing that for two and a half years. In fact, when my email went out," he said, referring to the March 30 mea culpa to customers, "I knew my email went out because I got it in one of my ghost accounts."
Guyardo says he also makes himself accessible to customers. He personally monitors paul@gopetplan.com, he says. TCR encourages Petplan customers to see for themselves and report back, although he switched to "we have dedicated people looking at that inbox" several sentences later.
Still, neither Guyardo nor Shallow would get into detail – any detail – about the customer representatives. Both said that Guyardo is involved with the training but declined to specify how. They also declined to provide any other metrics except to say that they have approximately 300,000 active members.
Meanwhile, at Trupanion, the CEO's desk is in the call center
On another planet that Petplan customers from pre-2018 might find more familiar, the kind of company the Ashtons envisioned seems to be succeeding in a world called Trupanion.
"Our CEO's desk is actually right in the heart of our contact center," company spokesman Michael Nank asserted in an email when asked about the company's customer service agents. "This is very deliberate. As the founder of the company, he is very aware of the day-to-day questions and during times pre-COVID would often volunteer to jump on a call to speak to a member or follow-up with an agent after a call to help give advice or support as needed."
Nank also provided details about how agents, all of whom are full-time Trupanion employees, he says, are trained: "Their training consists of initial immersion training related to our product, our brand and our culture, as well as the technical skills needed to operate our actual systems, this is a robust and detailed program. As part of their ongoing coaching, we provide real-time call handling support and mentoring, as well as encourage education of all parts of the business to be as much in the know as possible so that they can be a true expert when they represent Trupanion to our members."
And on this planet, divulging the number of individuals who field questions from customers 24/7 was easy enough: "We have close to 100 team members dedicated solely to responding to questions round-the-clock, 24/7," says Nank. He added, "We are always paying close attention to our customer service agents and our ratio of members to supporting team members to ensure our level of support remains uncompromised."
As this story was being completed, Trupanion issued its 2020 Shareholder Letter outlining its impressive progress in a variety of metrics including profits and customer service, and, perhaps more important, outlining an ambitious and detailed five-year plan to expand its product offerings and geographic reach. The plan looks rigorously thought out. But we hope the story of Petplan acts as a warning to Trupanion CEO Rawlings and his investors. There were no mentions anywhere of bots or insurtech.
[Update: Following publication, several readers asked if this story is "sponsored." Short answer, no. Our funding explained here.]
'We'll Get Back to You'
Trupanion's regimen of training and availability are qualities that veterinary technician Jamie Webster in Arizona would have appreciated. Having no flexibility in her schedule and limited, if any, free time on weekdays during business hours, which is the only time Petplan's live customer agents are reachable, Webster began our telephone interview with a disclaimer: She adored her insurance experience with Petplan up until 2018, the year the Ashtons were removed.
She described how, in 2013, one of her boxers developed bloat, and how wonderful Petplan had been every step of the way. (Bloat is also known as GDV or gastric dilation-volvulus. Without emergency surgery, which is several thousand dollars, the condition is fatal.)
"So, I have recommended it to everyone…I had, really, no problems with them until fairly recently." Webster explained that in February, her boxer Zinc's annual policy is supposed to auto-renew and when she went to log in to check the policy documents, "I never received them, and I didn't think anything of it until I noticed a couple days after [the premium] normally comes out of our bank account that it hadn't deducted. And I'm like, that's weird. Let me call them and see what's going on."
Webster described the painful steps and attempts she made to get a human on the phone who could help her with what would seem like a relatively easy problem to solve by simply reactivating her dog's policy.
"Oh, well, um, it's with underwriting, it's with underwriting. And, um, you know, they're currently like reviewing your policy," she says she was told several times.
She pressed for clarification. If her dog's policy was not active and he requires treatment or care, "Are you telling me I'm not covered?"
The answer she says she was given by the call agent was, "No, no, but you don't have an active policy. There's no policy for him currently. There's no policy for us to renew right now."
At that point, Webster asked to speak to another manager. She says she was told that someone would get back to her. Days or weeks would pass between communications. 
"I wouldn't hear from them for a few weeks, and I'd call. And then it would be like, 'Oh, it's with underwriting. It's with underwriting, the legal department is reviewing it.'"
Webster, the full-time veterinary technician, says at one point, she ducked out of work to talk to yet another Petplan customer call agent as it had been weeks since she had heard from anyone at the company.
"This is an IT issue and there's nothing we can do…."
Webster said she soon realized that the IT person calling did not seem to be, in any way, aware of the facts of her problem.
"Oh, let me look.' And he's like, "Is this for Bohannon?"

"No," she said. "Bo renewed in October. This is for Zinc."

"And he's like, 'Oh, well, there is no current policy.'"

"And you don't sound like you're a manager, and I supposedly asked for a manager to call me."
Then, according to Webster, the customer care agent told her, "Well, this is an IT issue. And there's nothing we can do. It's out of our hands. The IT department basically has to fix whatever is preventing these policies from auto-renewing."
For almost two months, Webster tried and failed to get any human through any medium available to Petplan customers to assist her. Then, Webster's husband snapped and took to Twitter:
On April 5, Webster's husband tweeted:
"We are big fans of insurance for our pets! But I have to say stay away from @Petplan. They are THE WORST! We have been trying to update a renewal since Feb. 15th. Can't get it done or even have management give us a call! Avoid them!!!"
Webster says that almost within the hour of her husband's tweet, they were contacted by "Kelly" at Petplan, and several hours later, the issues were fully resolved.
Elated, Webster's husband informed Petplan's unofficial 24/7 helpline, on April 7, 48 hours later, that all was well:
"Gotta give a shout out to @Petplan!!! I came on here complaining about customer service. Kelly and her team came through for us! Thank you so much. It's great to be heard!"
'There Are Technical Difficulties'
For Cary Jackson of Manitoba, Canada, it was adding a puppy to her life this past January, she says, that pushed her to the breaking point where she felt compelled to take drastic action. It had been months, she says, since "I was really able to consistently even get into my account. I would try to log in and it would say that there were technical difficulties trying to access it, or I try to access my policy documents and it wouldn't load," Jackson explained. "So, I needed to get pet insurance]." What she meant was that she needed pet insurance she could count on.
Jackson says she did initially try to add Finley, but that around the time Finley entered her life was when she realized that beyond coverage, the nuts and bolts appeared to be coming apart, too. She says she was frequently unable to access her account:
I can't remember what the error message was. It would just say, "There [are] technical difficulties. You can't be logged in at this time." So it wasn't that there was an issue with your login credentials. It was just that you couldn't get in. I remember [the Fall] was when it kind of started. They were starting to change the interface of the website. So, when they took away the live chat feature, they were really kind of doing a push on the website to use the app [Jackson is referring to Leo]. But the app was the same thing. You couldn't log in on the app sometimes. Occasionally, we'll be able to get in. And then, eventually, I obviously did because then I added a family policy in January.
Jackson explained that almost immediately after putting her new puppy, Finley, on a family policy, "basically right after that, I just couldn't get into it at all. It completely stopped working."
So, what happened? Jackson says it came down to the decision that she needed insurance that functioned. By February, Jackson escaped to Trupanion, and even pulled her cats from Petplan, deciding that having 8-year-old cats not covered for pre-existing conditions but with insurance that worked was a better deal.
There's something else: After Jackson thought she had canceled her account with Petplan, the company continued to charge her credit card monthly premiums, and Jackson was stunned when, after trying again to cancel, the credit card charges continued. Jackson is hopeful that the accounts have finally closed, though she has yet to receive the written confirmations she was promised.
A Contrite CEO
To drill down on some of what CEO Guyardo said in the March 30 letter to customers, TCR asked Guyardo several questions. Much to his credit, Guyardo answered the questions – some of them, at least – himself in a telephone conversation.  Does he regret the deal with The Dodo? Is he having second thoughts? Is he worried that this might ultimately become a case study in how excitement about technology can ruin a product? Finally, we asked if Petplan might be the antithetical Lemonade story, referring to what seems to be a successful pet insurance product centered on new technology.
Guyardo said the glitches have not changed anything as far as his goals and how he plans to accomplish those goals with a technology rollout. "It doesn't change anything," he said. "We're trying to create the absolute best experience possible for our customers. What we're trying to do," he added "is what you used to have to pick up the phone and call a customer service representative for: You can now do it in the palm of your hand, on your smartphone, or on your laptop, and you can do it 24/7."
The problem is, of course, that beginning in about December, Petplan customers started experiencing everything from being locked out of their accounts entirely to frequent time-outs, to error messages coupled with an almost comical window of availability of live customer service agents: reachable only Monday through Friday, 8 am through 8 pm Eastern Time.
And, as Webster's case suggests, even when the agents are reachable, the training and extent to which the agents are equipped to solve problems for customers is unclear.
The Lemonade Alternative
When it comes to pet insurance and insurtech, the brightest star of 2020 was arguably Lemonade, which not only launched a disruptive pet insurance product during the height of the pandemic in July of 2020, but managed to secure steady guest bookings on CNBC, Bloomberg, and Fox Business Network, in which the topic of discussion was pet insurance, a marketing opportunity many pet health insurance companies never get.
Importantly, Lemonade's user experience (website, app, bot) had been in use overseas and, more recently, in the United States long before Lemonade launched its pet insurance product because it was used for other insurance products. Put simply, there was significantly more predictability when Lemonade launched the pet insurance product because they'd already launched other products on the same platforms.
"Lemonade's unique mix of value, values, and technology allows for a 'double whammy' of lowering costs and increasing customer satisfaction," spokeswoman Yael Wissner-Levy wrote in an email. She added, "Being built strictly on a digital substrate, where every part of the process is vertically integrated, is not at the expense of customer satisfaction but to the delight of customers. And if tech is unable to provide the solution, we have a human powered by empathy to help out." More from Lemonade spokeswoman:
The way we use tech frees up our human support team from mundane tasks so that they can provide excellent service in the moments when our policyholders really need it.

Both our CEO and COO (Lemonade co-founders) regularly participate in company-wide syncs and are widely active with our team on Slack (our messaging platform).
Lemonade declined to provide any numbers as far as pet insurance enrollees, and its earnings reports don't provide breakdowns. Still, if seamless, smartphone-friendly programming with artificial intelligence is Guyardo's dream, Lemonade would probably come closest to reality and has been able to demonstrate that there is a robust market for insurtech: 70% of Lemonade's 1,000,000 total customers are under 35, according to a 2020 SEC filing. The idea that insurance can be more user-friendly and more affordable, and faster by stripping out older infrastructure is the idea behind insurtech.
"Tech transformations are very, very difficult," Guyardo said, responding to the criticism of how his company has fared, "and in insurance and in any category, they are complicated. They sometimes go over budget and take longer than anticipated. This is not unusual. It's why many, many companies choose to stay legacy systems because it can potentially be disruptive," he added during a long interview last weekend.
They Didn't Sign Up for This
True, what Guyardo is describing is not unusual insofar as launching a new product. Guyardo is a creature of the New York digital media startup world and knows as well as anyone, including this reporter, that startups are messy, complicated, and loaded with surprises. What makes Guyardo's endeavor unique, of course, is that Petplan is not a startup. In fact, the company is one of the country's older pet insurance companies. Consequently, Guyardo has a customer base that didn't necessarily sign on for the ride Guyardo is asking customers to take.
Importantly, the technology glitches, errors, and persistent time-outs come on the heels of other significant changes Guyardo and the investors have made to the company that have had real impact in real ways.
The customer support infrastructure was put under a microscope when customers suddenly needed live agents to troubleshoot persistent problems with everything from accessing their accounts to processing a refund because the system charged a credit card twice for a monthly premium.
The company's Chief Operating Officer Danna Rabin has started publishing weekly "tech updates" to the company's social media feeds and website. "We're in the middle of a digital transformation during a revolutionary time in the insurance industry," she wrote in the March 24 update. "What does digital transformation mean? Ideally, it means making your experience with us as easy as calling an Uber." She added, "A major journey like this doesn't come without challenges along the way."
Next, customers are promised a bulleted list of coming improvements lacking language precise enough to make any of the promises meaningful. For example, "Faster reimbursement" as in less than the 30-day average?  "Claims can now be submitted through our app or web portal in as little as 30 seconds, whenever and wherever you are." That's simply not true according to Shannon Collier. Finally, "live chat" has a caveat, which is that it shares the same limited, cost-controlling Monday through Friday, 8 a.m to 8 p.m hours.
As of now, no U.S. pet health insurance entity is offering coverage for pre-existing conditions. That's Petplan's insurance against losing more customers. Those enrolled with the Petplan who have pets with a chronic condition like kidney disease, allergies, an orthopedic issue, or any number of conditions that require specialists and can amount to tens of thousands of dollars in veterinary bills have to choose between pressing forward with Petplan and hoping things improve or, they can do what Cary Jackson did: They can cancel with Petplan, start with a new insurance company, and lose coverage for their pets' pre-existing conditions. The insurance companies know that.
However, they might not be factoring in people like Cary Jackson who figure out that, in the end, a business that replaces 24/7 live customer support with "Leo the Lion" is not a business that's putting customers first, and probably not worth her business.
Update:
Hours after this story was published, Lisa D'Alton took to Twitter and wrote the following comment to Petplan's handle @Petplan:
Have to agree that your website is the absolute worst. I cannot fathom what happened to it since the beginning of the year. I have made several requests to fix issues with my pets DOB, missing payment info, missing auto payments and now my pet info is gone. Horrible!
Have to agree that your website is the absolute worst. I cannot fathom what happened to it since the beginning of the year. I have made several requests to fix issues with my pets DOB, missing payment info, missing auto payments and now my pet info is gone. Horrible!

— Lisa D'Alton (@Lisa_B_DAlton) April 30, 2021
Update: May 4, 2021
TCR questions to Petplan in red. Note: Follow-up report planned for late June/early July
The 'weekly' Petplan tech blog was notably radio silent from April 23 – May 4. On Tuesday, May 4, Petplan updated its blog for the first time in nearly two weeks, still leaving many more questions than answers, so we will pose our questions inline in red. 
"This week, we wanted to give you all context on what's been happening behind the scenes," Chief Operating Officer Danna Rabin wrote.  "As of recently, our biggest focus is, and has been, stabilizing our platform."
[What does this mean for customers? When can they expect to have functioning insurance? Can you now provide a timetable? Will you engage on the questions about customer service training?]
"We don't just want to fix bugs for the impacted population of our customers who experience issues, but rather get it right for all of our customers. This, combined with improving our communications, in particular around claims, has been where our team is most concentrated. Our entire technology team, including our executive team, as well as our key partners, Global Logic and Sapiens, meet daily for actions and improvements. 
More specifically, below are some of the items the team has made progress on in the past week: 
Continued work towards stabilizing our platform, which is currently acting as the backbone of our work.
Any details? Can you say why this has been going on now since November/December? 
We've eliminated the 15-day waiting period notice for new policies.
What is the waiting period now? If there is no waiting period, what does that mean? Does that mean at the time of enrollment, a member cannot cancel? 
Claims process optimization, which includes improving how we communicate with our customers when they submit a claim.
What does "how we communicate when they submit a claim" mean?
Heavily work to improve our new live chat experience to replace Leo, which is launching soon.
What is the "live chat experience" that will replace Leo? Are cost-cutting measures sometimes worse for a company?
Deployed customer satisfaction surveys across our mobile app. Our live chat and call centers are collecting ongoing feedback from our customers to help us prioritize our improvement.