Where Nationwide, ASPCA, and Trupanion succeed–and fail.
The pet insurance market remains a relatively brave new world for American dog owners, the majority of whom continue to opt-out. Why the percentage of Americans who buy pet insurance remains so low relative to France, Sweden, or the UK is a question a sociologist could spend a lifetime researching.
In early December of 2020, about nine months after this story was originally published, TCR reported that a group of state insurance regulators who formed a Pet Insurance task force under the auspices of the National Association of Insurance Commissioners (NAIC) in 2019 was approaching the finish line of a working draft for what could ultimately be America's first significant piece of legislation for the fast-growing pet insurance industry. Legislation that would bring all of the providers under one set of rules and policies that speak in one language.
In the meantime, pet insurance in America continues to be a relatively free-wheeling industry. The Canine Review put three of America's major pet insurers under the microscope and found hidden clauses, marketing ploys, cryptic exclusions, and deceptive behavior. We also found one company, Trupanion, that appears to be doing well and doing good.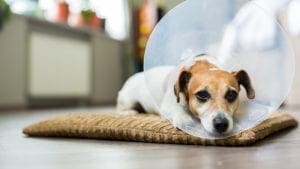 Trupanion founder and CEO Darryl Rawlings spoke with TCR one week after the Seattle-based pet insurance brand announced that its employees would begin working remotely amid the COVID-19 pandemic, "reinforcing its commitment to provide 24/7/365 support for pet owners." It's a commitment the company takes seriously.
Unlike the cumbersome claims process and detestable customer service experience with which Americans are most familiar in the human health insurance world, Trupanion is like stepping through the looking glass, with its helpful, eager, and readily available customer service associates, not to mention Trupanion's one-of-a-kind, fast-tracked, quick and effortless claims process that almost feels like having your own, VIP airport security lane for vet visits. Especially when you realize that only your insurance can do real-time pre-authorizations. 
In 2019, Americans spent $29.3 billion on veterinary care, almost double the amount spent in 2015, according to the American Pet Products Association. With the cost of veterinary care rising as treatment options become more advanced and more widely available, and as veterinary medicine as a profession becomes increasingly well-compensated and specialized, more Americans are purchasing pet health insurance policies hoping to offset some of those costs. In fact, that's the reason Darryl Rawlings says he decided to start Trupanion.
"My dog's stomach had twisted, which is common. And my parents didn't have the money to pay. And we left without our dog. And, I thought, that was horrible and wrong. And, it wasn't as if my parents were bad pet owners."
Rawlings says that he founded Trupanion in the nineties when he was 28. In 2008, he says, Trupanion sold its first policy in the United States.
Unlike most insurance products, pet insurance providers operate in the United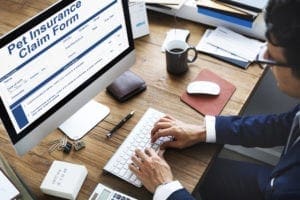 States without federal oversight. About half of the states have active regulatory oversight of insurance companies. For the most part, though, given that pet insurance providers do not operate under any federal law, American consumers are on their own to navigate a complex web of marketing ploys and policy pitfalls, sometimes leaving them unexpectedly on the hook for significant veterinary bills that they believed their insurance would cover. In other cases, it is not so much the claims-denials, but substantial rate increases – regardless of whether the increase is done in accordance with what's stated in the policy – that creates customer-dissatisfaction.
And then, there's so much that so many of these policies do to minimize exposure from the outset. Pitfalls that consumers may not be fully cognizant of, the best example being reimbursement limits. 
According to the North American Pet Health Insurance Association, or NAPHIA, there were approximately 90 million household dogs in the U.S. in 2017. Of those 90 million dogs, approximately 1.5 million were insured in 2017, or less than two percent. Still, between 2016 and 2017, according to NAPHIA, the number of American dogs on pet insurance increased by 17.3 percent.
If you thought you were the only person who wished you could sign up for health insurance coverage with your dog's provider, think again…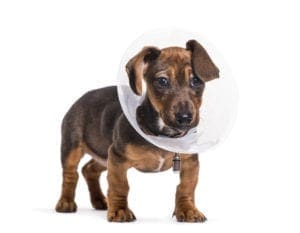 What's also interesting — and surprising — about this niche market is that even in the absence of almost any consistent oversight and consumer protections, the free-wheeling world of American pet insurance has produced a level of consumer satisfaction that does not exist in the human health insurance world.
There are, to be sure, egregious examples of pet insurance brands with deceptive language and practices. We also found that even the gold standard, Trupanion, with the better customer service, fast and easy claims processes, clearer language, and user-friendly plan, there can be unexpected and dramatic rate hikes.
However, Rawlings walked us through how the company calculates premiums. He explained that rates are based on two data points and only two data points: breed and zip code. In fact, he proved it to us, as will be discussed. Trupanion and even arguably some of the less reliable pet insurance brands offer clearer language, better networks, and much better customer service than United Healthcare, and the other highly regulated human insurance companies.
Nonetheless, there are a variety of ploys and pitfalls in the U.S. pet insurance market, including those used by ASPCA Pet Insurance and Nationwide Pet Insurance (formerly VPI). We wish to emphasize that there are nearly two dozen pet insurance brands in the U.S. marketplace. 
For now, TCR has examined a cross-section of pet insurers to give readers a better sense of what to look for when considering a policy. To do this, we picked the two most popular insurers in the U.S., which are Nationwide and Trupanion. We also wanted to look at ASPCA Pet Health Insurance, which offers one of the least expensive options, starting as low as $16 per month for an accidents-only policy for a four-year-old Labrador Retriever in a New York City suburb.  ASPCA Pet Insurance is also administered and underwritten by Crum & Forster, the same company that administers Pumpkin Pet Insurance, Spot Pet Insurance, and a few others.
For a "complete coverage" plan, ASPCA's premium remains significantly lower than most other insurers, at $36 per month.
A$PCA Pet Health Insurance: What's in a brand name?
ASPCA Pet Health Insurance Clients: "They do not pay claims."
Tim H. Orlando, FL ASPCA Insurance 12/23/2019 Yelp
"When I have submitted my claimes it took about 6 weeks or more to have the claim paid. I have another company that my employer offers some great rates with and they fee is taken out of my check. I called today to cancel. First I waited more than 20 minutes, but had the system call me back. It called me back and as I answered the call must have gone to voicemail. I got the message from an agent and called back. Eventually after another hold I was able to reach someone and as luck would have it, it was the same person."
Rick T. ASPCA Insurance Yelp 2/11/2020
"I can't believe ASPCA sells their name to an insurance company this bad. Compared to other companies like Trupanion ASPCA doesn't even compete. They will argue every charge, they never pay out as advertised, God for bid you do have to put a claimant takes up to four weeks to get a return. Trupanion has a turnaround time within two days. I've been a customer of ASPCA for 11 years. Unfortunately my dog is too old now to change plans to another provider so I am stuck with them. My new dog is under Trupanion and I couldn't be happier. It's because of this insurance I realized how ASPCA basically sells their name and has nothing to do with it. The name ASPCA represents people being on a animals side. This company will say no to everything it's not on the customer side is trained to fight you in every cost. I already pulled my monthly donations to ASPCA because of this insurance policy. I'd rather have my money to go someplace local that I know cares about the people and the animals."
Marty S Yelp ASPCA Insurance 6/17/2019
"Let me state that I was the Director of Insurance for the State of Maryland/Treasurer's Office, so I know all about insurance. ASPCA Pet Health Insurance is run by a bunch of scoundrels. They take your money and then do not pay claims. The have absolutely no consideration for their policyholders and use every loophole possible to shortchange or deny legitimate claims. I am not sure how they got licensed here in the state of Maryland but I assure you, I will use what influence I have to see that they lose their license and ability to underwrite insurance in Maryland. If anyone has a legitimate complaint with ASPCA Pet Health Insurance, I advise them to contact their state Insurance Commission to have their license to underwrite insurance in their state revoked."
Ashley D Yelp ASPCA
"Our first vet visit came around and they decided to change what they initially said by extending the waiting period which means our deductible was not met. I have called and spoken to a number of associates who were both extremely rude and argumentative. In 5 months we have paid an insane amount of money for both vet bills and insurance costs. Yet we have seen no return in compensation from our plan that clearly states we get compensated 90% once our deductible of $250 is met. Which we originally thought wouldn't be an issue because you easily pay $250 each vet visit. Over the phone they told me that their system is sophisticated enough to know the ins and outs of our policy and that I clearly don't understand the policy that is very well laid out. Rude!! First of all I'm not idiot (well I am for choosing them) I can read. Their policy is a bunch of mumbo jumbo that doesn't make sense."
12/16/2019 Alice C. Wappinger Falls, NY ASPCA Insurance Yelp
"It was extremely difficult getting the claims processed. The monthly fee is expensive and just not worth it unless the dog has a major accident or major surgery. We just lost our female shepherd who was on the most expensive plan STILL they only ALLOWED $323.48 of euthanasia and cremation charges.AND THEN ONLY PAYED 80% OF THAT!!!!!!! Give me a break. Absolutely disgusting to pay 80% of cremation and euthanasia. It's not a disease. DO NOT GET THIS INSURANCE IT IS NOT WORTH IT TRY SOMETHING ELSE. We are disgusted with this company and am glad we took the other dogs off the insurance months ago. Let me tell you THAT WAS A DIFFICULT TASK BECAUSE THE INSURANCE KEPT TRYING TO CONVINCE ME NOT TO DISCONTINUE THE POLICY. Meanwhile they are getting $4000/year and we were getting 80$ of the well vet visit AFTER the deductible. Out of $600. we only received $160. NOT WORTH YOUR MONEY OR TIME"
In 2018, according to ASPCA's financial filings, the non-profit earned $9.4 million "in royalties, licenses, and other." Much of that came from a partnership in which Crum & Forster, a global multi-product insurer — pays licensing fees to sell pet insurance under the ASPCA name. Put simply, the company uses the ASPCA name to market pet insurance, potentially swaying consumers to purchase the product based on name recognition, not coincidentally selecting a brand that is associated with animal welfare.
Licensing a prominent brand name to sell a product is standard business practice. The question then becomes whether that brand is deceiving customers by lending its name to a product whose own values and quality match those for which the brand stands – or, worse, is implying that it has more of a link to the brand and what it stands for than a simple payment to use its name.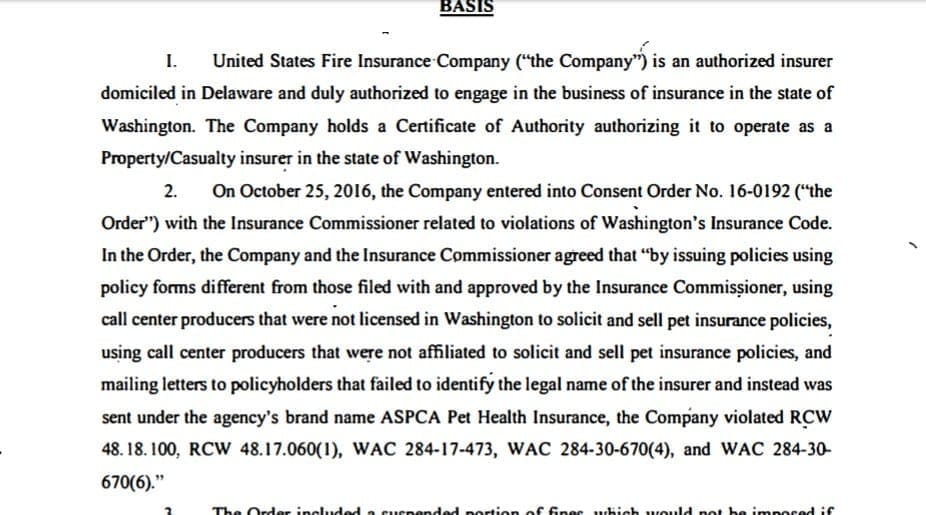 In 2019, the state of Washington's Insurance Commissioner cited the United States Fire Insurance Company, which sells pet insurance using the name  "ASPCA Pet Health Insurance", for, among other violations, practices seemingly designed to fool consumers into believing they were entering into an insurance relationship with the Association for the Prevention of Cruelty to Animals (ASPCA). "United States Fire Insurance Co., Wilmington, Del.; fined $25,000, order 16-0192 United States Fire Insurance Co. sells pet insurance under the brand name ASPCA Pet Health Insurance," the state regulator's press release said in April 2019.

The Canine Review conveyed detailed email and phone requests for comment about the nature of the arrangement between ASPCA and Crum & Forster to ASPCA president and CEO Matthew Bershadker as well as ASPCA spokespersons, Crum and Forster spokesman Travis Reynolds, and Crum and Forster CEO Marc Adee. All parties declined multiple requests to comment, including when asked whether there are any conditions apart from an exchange of fees to which Crum and Forster must adhere when using ASPCA's name; what the license fees are; whether there exists any written or oral agreement between the ASPCA and Crum and Forster to administer insurance in keeping with the core values of ASPCA's mission; how the insurance policy's cancel clause and pattern of claims denials would be in keeping with that mission; and if it would be possible for The Canine Review to read ASPCA's license agreement with Crum & Forster.
ASPCA the 501 (c) 3 punted to Crum spokesman Travis Reynolds, who did schedule a telephone interview, only to cancel that interview, saying, "We have decided to not participate in this interview."
Crum & Forster sells its pet insurance through subsidiaries which include ASPCA Pet Insurance, Hartville, and PetsPremium. By far, one of the biggest potential traps is the hard-to-find, but easy-to-understand clause the company inserts into all its policies, which gives the company the right to cancel a policy with 30 days advance notice for reasons that include "a material change that substantially increases the probability or severity of a covered loss."
In other words, if your dog gets sick, the clause in ASPCA's policy is written in a way that gives them broad discretion to cancel your insurance. What's also interesting about ASPCA Pet Insurance is the way in which prospective policyholders appear to be steered away from buying policies that come with the most exposure for the insurer while arguably offering the best coverage for the insured. 
Indeed, ASPCA Pet Insurance does not offer policies through its website without annual reimbursement limits. Reimbursement limits may be one of the most significant pitfalls in pet insurance, in part because new pet owners simply are not aware of what's available or what things cost in veterinary care. $15,000 might seem like more than enough for a single year to a less experienced pet owner.
What most distinguishes ASPCA Pet Insurance, however, is the high volume of consumer complaints that the insurer was either too slow to process claims or altogether refused to pay what consumers say were legitimate claims. We found Marty S. on Yelp: "Let me state that I was the Director of Insurance for the State of Maryland/Treasurer's Office, so I know al about insurance. ASPCA Pet Health Insurance is run by a bunch of scoundrels. They take your money and they do not pay claims…"
To get a front-line view of how ASPCA Insurance represents itself to customers, TCR posed as a prospective policy-holder in telephone calls to the insurer's customer service number, without identifying ourselves as reporters. Here are excerpts from the calls that we made, including how the company's representatives attempt to reassure prospective customers about the cancellation clause, as well as how it markets the "strategic relationship" with ASPCA:
 TCR: Are you the same ASPCA that's on the commercials?
 ASPCA Insurance: We are the pet insurance provider for the ASPCA, so we are not the actual ASPCA. We just help with ASPCA brand. Our insurance company is Crum & Forster pet insurance group.
 TCR: Suppose I get this today and god forbid my dog gets cancer and can be treated but it's going to be like long term and expensive… Can you cancel my policy in a case like that?
ASPCA Insurance: so, this I guess is a standard clause in any insurance policy, but it would not be a typical situation for most of our customers….So, you can be reassured that we would never cancel a plan due to the number of claims a customer would submit,
ASPCA Insurance: In regard to that clause that we have within our policy. In 7 years, that I have been here I have never seen anybody canceled for something that was a severity of covered loss, that it increased a need for … You know like cancer or anything like that. If it were a malicious thing then yes, because that is something that we don't promote so we would definitely have the right to cancel. It's more or less giving us a right to cancel for a situation like that but when it comes to those claims for injuries and severity of illnesses, those types of things you know, that you have no control over I have never ever seen anything canceled for that
 TCR: asked how many policies they cancel in a given year.
ASPCA Insurance: Never heard of anything where we cancel ourselves – typically what might happen is a customer decides that they don't want to be with us anymore or something like that – but I have been here 7 years and have not seen policies canceled for those kinds of reasons
The people who sell insurance for Crum are not able to explain the clause beyond stating, emphatically, that it's not a clause that's ever been applied. Which begs the question: Why does U.S. Fire, the underwriter for Crum, have a clause that says the company can terminate the policy if there is "a material change that substantially increases the probability or severity of a covered loss." In other words, the clause seems designed to address exactly the cancer hypothetical we asked about.
A second ASPCA Insurance customer representative, "Jordan," whom we reach by phone echoed Sharon J. when asked about the relationship between the ASPCA and Crum & Forster, explaining, "We are the only insurance co-partnered with the ASPCA." He added, "We use their branding and they use our product." Nonetheless, Jordan insisted that ASPCA Pet Health Insurance "would never cancel a policy due to their dog's health deteriorating."
TCR could not find any examples of complaints online referring to the "cancel" clause, but ours was a relatively cursory review and our public records requests for consumer complaints were still pending at press time.
There were, to be sure, numerous complaints taking issue with the insurer's use of the ASPCA name.
"I can't believe ASPCA sells their name to an insurance company this bad," Rick T. from New York City wrote on Yelp in February 2020. "The name 'ASPCA' represents people being on a animals side. This company will say no to everything it's not on the customer side is trained to fight you in every cost. I already pulled my monthly donations to ASPCA because of this insurance policy. I'd rather have my money to go someplace local that I know cares about the people and the animals."
The majority of complaints about the insurer appear to be about unpaid or painfully slow-to-process claims. Alice C. of Wappingers Falls, New York wrote on Yelp that, "It was extremely difficult getting the claims processed…We just lost our female shepherd who was on the most expensive plan STILL they only allowed $323.48 of euthanasia and cremation charges. AND THEN THEY ONLY PAYED 80% OF THAT!!!!!!!!! Give me a break. Absolutely disgusting to pay 80% of cremation and euthanasia."
After The Canine Review provided the ASPCA Insurance website with the kind of information a potential customer is asked to provide, a deluge of marketing emails followed, attempting to sell insurance, all bearing the ASPCA name. Only in the fine print at the bottom of the marketing materials are consumers made aware that the non-profit organization is not in the pet insurance business.
Trupanion as a pet insurance test case: Doing well and doing good
Trupanion is a standout among pet insurance brands in that it arguably offers the clearest, simplest, most user-friendly insurance. There is only one policy option on Trupanion's menu. The only variation is on how much of a deductible a customer chooses to be responsible for, which will affect the monthly premium. The language is easy to read. And, if you call their customer service line, they are quick to email the policy materials, unlike VPI/Nationwide. There are no hidden clauses, and no discrepancies because there's only one plan. Most important and perhaps more than any other insurer, Trupanion reliably pays legitimate claims and pays them quickly, much unlike ASPCA.
But there is one recurring grievance that The Canine Review found across multiple online review sites and social media platforms, which is that Trupanion clients often complain about premium rate increases.  Founder and CEO Darryl Rawlings told The Canine Review that Trupanion's premiums are reflections of actual costs based on breed and geography. "If you were comparing us with ASPCA or VPI Nationwide," Rawlings explained, "Just use VPI Nationwide as an example because they're larger – – they don't cover if the pet is sick or injured from congenital or hereditary issues…What they should be saying is, 'the things most likely to happen to your dog will not be covered.' Because, in essence, what they're saying is, they're defining 'congenital' or 'hereditary' as the things that are common with your breed. The vast majority of plans do it that way."
In a wide-ranging interview, Rawlings walked us through the company's business model and exactly how a client's rate is determined, why rates fluctuate, why one rate would be higher than another, and why one client's rate would increase significantly in a brief timespan.
Fundamentally, Rawlings argues that Trupanion's business model is unique in its commitment to paying claims, which is why Trupanion's system puts a premium on proprietary data it uses to determine a client's premium. "Let's say the average cost if a pet becomes sick or injured – I'm going to use easy math – is $100 a month. Then, what I charge to that pet owner is going to be about $128. And, of that $28 margin that I have, I spend about half of that on providing the 24/7 support. And then the other half is the money that I have to run, operate, and grow the business. So, now you have our pricing promise, which is that we understand the underlying cost, we target to pay out about 71-72 cents on the dollar, which, by the way, the average in the property/casualty insurance industry is 53 cents…."
One of the smartest advantages of Trupanion's business may be its ability to integrate with veterinary practice management software. In addition to facilitating claims processing and then directly paying the veterinary practice within minutes as opposed to having the client pay out of pocket and wait weeks to be reimbursed, this also allows Trupanion to collect data, both insured and uninsured, according to Rawlings.
"We're not like an HMO that's trying to control the cost of care," Rawlings continued. "We're just saying, you can use any veterinarian that you want and we pay 90% of the invoice with no limits [it you choose the 10% coinsurance plan], and we don't want to penalize the pet owner if [the pet] becomes sick or injured." A 5-7 percent rate change per year is "normal" and to be expected, he says. However, if a client is seeing a rate change greater than 20%, one of two things is likely happening: either the zip code did not get a rate increase in the prior 12 months and that could be because the state insurance commissioner was slow to approve the rate change. "Or," he added, "it could be because, in some circumstances, we are now getting our data more granularly." Asked what the difference would be between ASPCA's and Nationwide/VPI's escape clauses that give the companies broad discretion to terminate policies and Trupanion's practice of not capping premium increases, and if one could argue the latter is effectively the same as a cancel clause if a client cannot afford the higher rate, Rawlings said:
"If the average cost needs to be $200 a month, then, if you don't have insurance, you need to be putting in that amount of money in a piggy bank. And you better hope that your pet is absolutely average, and you better hope that your pet is average and only has medical problems in a systematic, monthly way while you put the money in the piggy bank. We do not try to control the cost of veterinary care or try to sell a product for a certain price. Because if you do that, what you're doing is you're putting in all of the slimy things that means that people aren't going to have the coverage when they need it. What we're saying is, we're sharing the risk equally. If somebody was to say, I can't afford what the monthly cost is for Trupanion, then, in essence, they're saying they can't afford the average amount of accident and illness coverage for veterinary care for where they reside for the breed of pet that they have."
Rawlings said that there are examples of clients who cancel because they're "mad" about a rate increase; often, he explained, "these are clients who had a small claim in the prior 6-8 months let's say a $100 claim, and then the rate increase comes and they say, 'Oh My God, this Horrible company. I only had one claim for $100 after being with them for four years and they increase the rates for a $100 claim?' And it is absolutely not true. I mean, if any of those people went on the internet and went to enroll a new pet at the same age, same zip, they would find the exact same rate that they're paying now."
TCR Head Blogger and veterinary hospital frequent flyer Nellie Brill, a five-year-old purebred Labrador Retriever in Katonah, New York zip code (10536), has a zero-deductible plan. Her monthly Trupanion premium is now $281.86 (up from $188 in 2018). If we plug in Nellie's age at the time of enrollment (2) to get a rate quote on the website, we are quoted at a monthly premium of $281.86, exactly the same rate. 
Mary S., a professional dog trainer who lives in Washington state says that she has owned dogs for over three decades and told The Canine Review that she felt hoodwinked by Trupanion's rate hikes. Trupanion raised her premium, she says, from $60.90 to $96 in a single year, a 33% rate increase the year her Belgian Malinois, Jazou, turned 8. Mary says that she suspects that either Trupanion made a mistake or that they hiked the rate because of the type of dog she owns. "I have to say," Mary told The Canine Review, "a 33 percent [rate hike in her monthly premium] in one year is unconscionable. I'm STILL mad about it!" Mary continued, explaining how she felt trapped into her Trupanion policy:
"Here's the kicker, right? I can't just get mad and pull my dog off that policy and find a different coverage because everything would be pre-existing. So, I elected to stay with Trupanion for this dog and I increased the deductible to $750, which reduced my premium to about $60, $65 a month…What was interesting to me," she added, "was that I was a more educated than average consumer about this kind of insurance, and I think one of the reasons that really triggered me was, I am a dog trainer, and so I have lots of student contact…. So, I was able to poll people, and I had not come up with another person that had as huge an increase as I had. And people, like, right in my region had, maybe, a nine or ten percent increase. So, that's what started me questioning them so much…. I did, I mean, I did a ton of research. I've had dogs for 35 years. This is the first one I ever got pet insurance on. And it was very calculated. My other breed is German shepherds. So I have spent thousands on bloat surgeries, torsion surgeries and I just thought okay, well , this is my first Malinois, and I know I'm heavily involved in dog sports and…they hurt themselves….This is something that came out of the blue that people have absolutely no protection."
TCR wanted to find out if, when asked about the possibility of rate increases, the customer service representatives at Trupanion would be as forthcoming as their CEO, and acknowledge that rates could technically increase by any amount. A customer service representative named Travis was disarmingly candid:
Rate increases, Travis said, are "gradual over time but there's no limit to how much rates can increase….The ones that have substantial increases are the ones that have birthday pricing, where they're going to automatically [increase] every year, as well as the ones where they don't accurately collect enough data to accurately price from the start. So, they will basically underprice and then they will get a bunch of claims and payout and be like, 'man, we really priced too low for this and we're going to have to do a big increase."
"So, there's no cap?" we asked, "So, technically speaking, I could be paying $60 one month and $500 another month?"
"You could, but it wouldn't happen. But, technically, yes."
Travis explained that rate increases are "typically closer to $20 or $30 and they would [apply to] everybody that has a policy, but yeah, it could potentially go up. I've seen people that have been enrolled since like 2009 or 2010 and their rates have gone up every year, but a small amount. During that lifetime I have seen policies where it stayed the same, and I've seen cases where it's gone down. It's based on the year ahead, and you would get 30-60 days' notice."
Not the kind of clear, candid explanation you're likely to get from Aetna or United Healthcare.
'Pay First, Then Read The Fine Print'
The pet insurance industry has satisfied customers like John Warren of Dallas, Texas who says that he did his homework before purchasing health insurance for his three poodles. Warren, who says he ultimately selected PetPlan, another brand of pet insurance available in the United States, advises that dog owners identify their pets' needs, then read every line of a prospective policy before signing up.  "Don't be afraid to call and ask questions," Warren added. "I think a lot of times, the clause that lets companies deny claims is in the policy somewhere, but customers aren't reading the fine print. You have to read the fine print," Warren added.
But, 'reading the fine print' may be easier said than done, at least when it comes to Nationwide Pet Insurance, which, at least, according to two different customer service representatives, does not release insurance policies for review unless and until a prospective client has provided credit card information and gone through an elaborate sign-up process.
"a material change that substantially increases the probability or severity of a covered loss"
In search of policy materials....
Nationwide pros customer unable to obtain full-text of policy
When it comes to dogs, Nationwide may not be 'on your side'
VPI (or Veterinary Pet Insurance), founded in 1980, was the first company to sell pet insurance in the United States. In 2009, the company was purchased by Nationwide.
Nationwide/VPI has been and remains the largest and most popular pet insurer in the U.S. market, with 36.33% of the market share, according to NAPHIA.
While it may be the oldest and the most popular, TCR also found that it had some of the worst pitfalls of any insurer.
For starters, there appears to be a directive in place instructing customer service/insurance agents not to send even sample or boilerplate copies of the company's pet insurance product to any individual who is not a policyholder. In other words, prospective customers are refused requests for sample policies. And it's not as if the website makes it easy to find a copy of a policy.
So, beyond the unexpected pitfall of having a company that has a policy of not providing policies to prospective customers (we wondered if we would need to enroll to do our reporting and, instead, ended up having a family member of one of the reporters provide us with her policy), there was little or no information on the company's website about obtaining a full-text copy of a policy to read before enrolling. 
Nationwide senior spokesman Adam Fell and spokeswoman Karen Davis declined detailed requests for comment when asked why policy texts are not provided prior to purchase and about discrepancies between the policies. Davis did point us to a link that, in fact, does provide policy materials, but the link would be considerably unlikely for a prospective customer to happen upon because it is labeled "Get Claims Forms" not "Get a quote" or "Read our different policies." 
After several failed attempts to locate the policy materials ourselves, we tried to sign up for a rate quote on the presumption that, perhaps, providing the website with contact information would prompt an email containing policy materials and options, but after we entered information, we were taken to a screen and prompted for credit card information. We were baffled. We had not been able to read or compare policy materials, so how could we be asked to sign up for a policy? We called customer service. Because we were also examining how insurers represent themselves through their customer service, we did not identify ourselves as reporters.
Following is an excerpt from TCR's exchange with "Chris" at Nationwide's dedicated telephone number for prospective clients:
Nationwide: I'm sorry – we don't send out our policies in advance because they are tailored to your pet.  We are the only company that does a medical review in house…We do the underwriting in-house. We are the only company that does that.
The Canine Review: I can't see what I am buying before I buy it?  I am interested. I plan to purchase insurance — I just like to compare, to be able to see what I am getting.
Nationwide: Well, we offer a money-back guarantee. You can get your money back within 30 days if you're not happy with the policy…You have 30 full days to review the policy and if you are not fully satisfied with the coverage… Unfortunately, we do not send out policies until you are signed up because we do a full in-house medical review before the policy goes into effect.
The Canine Review: I don't understand. Why do you need my credit card for that?
Nationwide: Well, we ask for medical information.
This exchange went on for several more minutes, in circles, to no avail.  TCR's experience is apparently not rare.
In multiple online forums, we encountered consumers voicing the same issue: they had been physically unable to obtain fine print materials for Nationwide Pet Insurance and they had all been told the same thing TCR was told by company representatives, which was that they simply do not distribute policies to people who are not yet enrolled. 
"I'm just as confused as ever," Jodi Levie Arbus wrote on Yelp about Nationwide. "Spent time on the phone with nationwide, they were quick and abrupt and when I asked about limitations, they wouldn't say they said you have to sign your policy in order to see it." Another person wrote, in response, to Ms. Arbus, "They wouldn't let you see a sample policy before signing up?! If so, that's crazy."
This is especially important because Nationwide's pet insurance plans vary dramatically based on cost. There are three tiers of plans. The most comprehensive, most expensive pet insurance option is "Whole Pet" with the optional wellness plan. It's likely what a veterinarian would recommend, assuming the veterinarian wasn't bold enough to steer the client towards Trupanion (the better product) instead. However, the mid-level option, which they call "Major Medical " is different in a few important ways that would be almost impossible to understand without being able to read the print. Importantly, as Trupanion's Rawlings was keen to point out, this plan does not cover the pet if the issue is caused by a congenital or hereditary issue:
What [Nationwide] should be saying is, 'the things most likely to happen to your dog will not be covered.' Because that, in essence, is what they're saying; they're defining 'congenital' or 'hereditary' as the things that are common with your breed. The vast majority of plans do it that way."
Like ASPCA's insurance policies, Nationwide's mid-level plan also has a clause that permits the insurer to cancel when, as stated in the policy: "there has been a substantial change in the risk covered by the policy."
Asked to explain the meaning of "there has been a substantial change in the risk covered by the policy," a spokeswoman for Nationwide, Karen Davis, explained that "the circumstances that may trigger a cancellation are evaluated on a case-by-case basis. For example, it could be a case where a policy that may have been written for a dog should have been written for a cat and that would need to be canceled and rewritten as a feline policy." Davis says that Nationwide's "Whole Pet" policy is the group's "most popular and comprehensive policy," and it appears to be the one cited and referred to in Nationwide's marketing materials. Rates vary by state and breed, but the Whole Pet Contract's cost in Florida is nearly double the cost of the cheaper policy. It also offers a higher degree of coverage. Davis, unlike the customer service representatives, did provide TCR with a copy of Nationwide's Whole Pet Contract without requiring credit card information.
The Whole Pet Contract also does not contain the escape cancellation clause that is included in the less expensive, "Major Medical" policy. Also, interestingly, the online "Major Medical" policy Davis's link pointed us to was also missing the escape cancellation clause which gives the company broad cancellation discretion.
Nationwide CEO Kirt Walker, spokesman Adam Fell and spokeswoman Karen Davis all declined detailed requests for comment when asked why both the sample policy provided to TCR and the sample policy online were missing the escape cancellation clause TCR found in an actual Nationwide customer's policy (activated within the past three months).
Asked why the company's customer service representatives would not provide policy materials, Nationwide executives also declined to comment, except for the email from Davis providing us with a link to the policy material that neither we nor many consumers are able to find.
And, interestingly, despite the customer service's refusal to provide a sample policy because each policy is "individually tailored", the plan we viewed came from an actual customer who failed to identify the breed, sex and age categories which simply are filled in as "unknown." The only identifying information in the policy, aside from the owner's information, is the dog's name.
While ASPCA Insurance seems to be the most egregious example of consumer deception and abuse (with the misuse of a name and high unlikelihood of paying claims) it is not alone. Importantly, however, ASPCA Pet Insurance is at a significantly lower price point than most other pet insurers.
The New Frontier: Pet Insurance 2.0
Although pet insurance is legally classified under "property and casualty," the majority of dog owners do not consider their dogs "property." Yet, the insurance industry has yet to evolve in recognition of this, and, as a result, pet insurance providers are regulated, if at all, by property and casualty insurance rules and typically classified under the "inland marine" category.
In Florida, for example, pet insurance shares its inland marine classification with other "live animals," bridges, tunnels, power and phone lines as well as antiques.
The National Association of Insurance Commissioners (NAIC, a group of state regulators) has recognized that in most states pet health insurance remains a 'Wild West' of vague regulatory frameworks and oversight.  As a result, in 2016, the state regulators' group created a task force to study the industry and look for solutions that would provide uniformity. This Pet Insurance Working Group published a white paper last year and is now working to draft model legislation that is intended for states to take into consideration during their next legislative session.
Until those recommendations are adopted, you can expect that your dog's insurance will continue to be loosely regulated. Then again, it will also likely be less frustrating and less complex than your own health insurance, especially if companies like Trupanion continue to succeed.
*Update*
Update:

Following publication, TCR received the following statement by email from Nationwide spokeswoman Karen Davis: 
"Thank you for sending that screenshot for specific reference. I'm told that the language you see on form VS-346-FL is required by the state of Florida. That document is a state amendatory endorsement which supersedes the language of the policy to be in compliance with Florida regulations. Florida Department of Insurance allows insurers to cancel a policy if there has been substantial change in the risk.  The majority of states have specific requirements regarding cancellation or termination of insurance.  An amendatory endorsement may be required for other reasons also and each state notifies insurance companies of what is required in their state.
It is important to point out that Nationwide has rarely canceled pet insurance policies for increased risk. The company usually relies on that provision when the pet owner neglected to disclose serious symptoms or problems that their pet had before they applied for insurance. An example of such material misrepresentation would be if the pet owner didn't disclose at the time of enrollment that their pet had cancer."