Working with apparently no publicity, a group of state insurance regulators who formed a Pet Insurance task force under the auspices of the National Association of Insurance Commissioners (NAIC) in 2019 is approaching the finish line of a working draft for what could ultimately be America's first significant piece of legislation for the fast-growing pet insurance industry.
The Pet Insurance Working Group, part of the Property and Casualty Insurance Committee, states on its website that its purpose is to "complete the development of a model law or guideline to establish appropriate regulatory standards for the pet insurance industry."
The task force of commissioners from 13 states plus the District of Columbia has quietly reached near completion of nine proposed sections in a model draft for a pet health insurance law, first drafted in September 2019 – but not without drawing significant opposition to some aspects of the proposed regulation from the North American Pet Health Insurance Association (NAPHIA), the trade association of pet insurers. We'll be providing in-depth reports on these remaining issues in upcoming stories.
The law would require all kinds of insurance disclosures and policies from providers that would, in turn, address the kinds of pitfalls we reported on in March and what our reporting will address in an upcoming story that focuses on the wave of newcomers to the U.S. pet insurance market within the last three years. We'll also be covering the lobbying in state capitals sure to follow the completion of the draft, which can only become law if state legislatures approve it.
Remaining challenges for pet insurance model law
Asked what, in its view, was the most significant remaining issue ahead for the regulators to resolve before the law could be adopted and recommended to states for implementation, a spokesperson for NAIC did not address any of the substantive issues being debated but only pointed to a debate over whether the task force – the Pet Insurance Working Group – had jurisdiction to address the issue of license reciprocity between states.
"There was a lot of discussion on the licensing section," the spokesperson wrote in an email on Tuesday, pointing to comments offered in the sub-sections of the law from various states, along with stakeholders such as Trupanion, the American Veterinary Medical Association (AVMA), and NAPHIA.  A letter from Washington state insurance regulator Mike Kriedler to the Producer Licensing Task Force also addresses the licensing debate.
The task force formed at the NAIC's Summer National meeting in 2019, following a prior working group that had written a now-widely circulated white paper, A Regulator's Guide to Pet Insurance. "The issue has been actively discussed at the NAIC since December 2016," the spokesperson, told TCR.
Asked about next steps, the spokesperson told TCR that NAIC is hoping for regulators to vote to approve the draft in April 2021 at its Spring National Meeting. After that, the action will shift to state capitals across the country.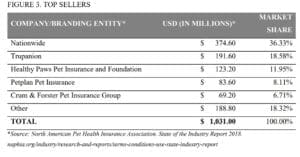 "The Working Group will continue working through comments over the next few months, and finalize a draft that hopefully will be accepted by the whole NAIC at the Spring National Meeting," the spokesperson said in an email.
[Activities of the Pet Insurance Working Group, including conference call minutes and comments from states and stakeholders on the draft law's nine sections can be found here.]
Until those recommendations are adopted, as TCR reported last March and as we will show again this month in our upcoming story about startups, American consumers should expect pet insurance to continue to be loosely regulated with vague and fluid policy language — even as pet insurance companies grow, having demonstrated total resilience to economic and social uncertainty as Americans spend more time and money on their pets than ever in 2020.
On October 29, the Seattle-based Trupanion reported $99.4 million in subscription revenue for its third-quarter ending September 30, an increase of 20% compared to the same period in 2019. 552,909 pets were enrolled in Trupanion policies as of September 30, 2020, an increase of 15% compared to the same period in 2019. Nationwide, America's largest provider, is up from 750,000 subscribers as November 2019 to 880,000 in November 2020, Karen Davis told The Canine Review.
What continues to be more true today than when we reported on Trupanion, Nationwide, and ASPCA Insurance in March, as the pandemic was beginning to rage, is that pet insurance in the United States, despite the regulatory gaps, is still likely to be less cryptic and frustrating than health insurance for people, especially if a company like Trupanion, with its stellar customer service and lightning-fast claims process, continues to do well amid the flurry of new competition, such as pet insurance from Walmart.
*Update: Following publication, Donald Beatty, the Chairman of the task force, responded to TCR's questions seeking comment in an email:
We expect to have several more conference calls – the next call will discuss Section 7B having to do with waiting periods. We hope to conclude our work before the NAIC Spring Meeting in 2021. The most significant issue has been making sure that consumers understand the product before they buy it."