United says ESA's are 'wheels down'
United Airlines joined a growing list of U.S. carriers yesterday in announcing that it would no longer accept reservations for emotional support animals after January 11.  For customers who already hold reservations to travel with ESA's, United says it will continue to honor such reservations until February 28. After January 11, reservations on all United flights will be permanently closed to all emotional support animals. Cabin access will be limited to service dogs that can meet the service animal requirements.
No More Breed Restrictions, Only Service Dog Requirement
Asked if United was maintaining its 'pitbull ban,' United spokesman Charles Hobart told TCR in an email: "We no longer restrict any breed as long as it's a service animal and the customer has the proper documentation."
A spokesperson from the Department of Transportation (DOT) confirmed with TCR on Friday that under its new rules, it makes two official DOT forms available for airlines to require from customers. The first form requires the passenger to attest to the dog's health, behavior, and training. The second form, the 'animal relief form,' requires the passenger to attest that the dog will not relieve itself in flight if it will be on board for eight or more hours.
Forms 2.0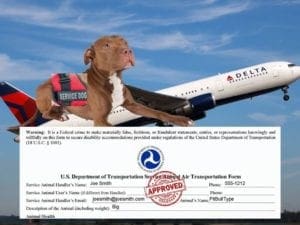 What's unclear is whether and how the DOT forms protect the system from the kind of abuse and misuse that created so many problems with emotional support animals. The only required signatures on DOT's forms are from the passenger.  In this way, the DOT forms are significantly less cumbersome than the ESA forms, which required one form to be filled out and signed by the dog's veterinarian, another by a physician (the result was effectively a cottage industry of "ESA" websites offering "ESA medical packages" including letters from internet therapists), and another by the passenger.
Friday's announcement from United Airlines (Delta announced its new policies Thursday afternoon; American on Wednesday; Alaska the week prior) and other U.S. carriers follows the announcement of major changes to the Air Carrier Access Act by the U.S. Department of Transportation (DOT) in early December, notably the part of the law that required airlines to accommodate emotional support animals accompanying a passenger who submitted the required documents.
In a company statement, United said on Friday:
United will limit the type of service animal permitted on board to dogs that have been specifically trained to assist people with disabilities, in accordance with new rules from the U.S. Department of Transportation. This change will further ensure a safe and accessible travel experience for our customers. Our new policy goes into effect on Jan. 11 and – beginning Feb. 1 – United passengers will be asked to complete a DOT-authorized form prior to travel that confirms their service animal's training, health and certification. With this change, United will no longer accept emotional support animals on new reservations beginning Jan. 11. However, we will continue to accept emotional support animals for customers who booked tickets – and were approved for emotional support travel – before Jan. 11 for travel through Feb. 28. We are reaching out to customers impacted by these changes to discuss their options.
 You can read more about these policy changes on united.com:
https://www.united.com/ual/en/us/fly/travel/special-needs/disabilities/assistance-animals.html