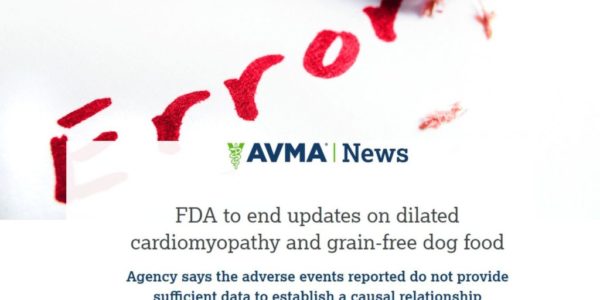 On Monday, February 7, misinformation about animal health came from a surprising source: the American Veterinary Medical Association (AVMA).
"FDA to end updates on dilated cardiomyopathy and grain-free food,"  AVMA writer Coco Lederhouse's headline declared.  She explained that, the FDA had decided that the reports "do not supply sufficient data to establish a causal relationship with reported product(s)." In other words, the reports don't indicate that there's a problem, so the FDA is no longer going to provide new reports.
Coincidentally, on the same day of the AVMA's story, preeminent veterinary nutritionist Lisa Freeman at Tufts updated her highly regarded Petfoodology blog with an article that makes the best case possible for the urgent need for these records to be updated consistently and made public.
The AVMA's press officers declined to provide contact information for Ms. Lederhouse, whose name is in the byline of the AVMA story. TCR contacted president Lori Teller, chief veterinary officer Gail Golab, head of policy Isham Jones, and four different press aides at least twice each over a three day period for comment regarding the erroneous story and did not receive any response.