The total dollar amount Trupanion, Inc. is now estimated to have spent  on the pet insurer's joint pet food venture with Rayne Clinical Nutrition, Inc. is believed to be north of $15 million dollars, according to current employees. We've been unable to get a number from any person at Trupanion willing to go on the record. The dollars spent is one of several questions we've been pressing CEO and founder Darryl Rawlings. And, it's unclear as to how much of that cash was directly contributed to the Landspath project or to the Rayne Nutrition initiatives. What is clear is that the website for the project has been taken off line.
On the evening of June 15, 2023, as The Canine Review was pressing Seattle-based pet insurer Trupanion for the total dollar amount spent on its apparently delayed (or maybe even shelved) pet food venture, Landspath, we discovered that the Landspath website had been quietly pulled down. Trupanion CEO and founder Darryl Rawlings has not responded to phone calls, emails, or text messages seeking an explanation for the suddenly missing website.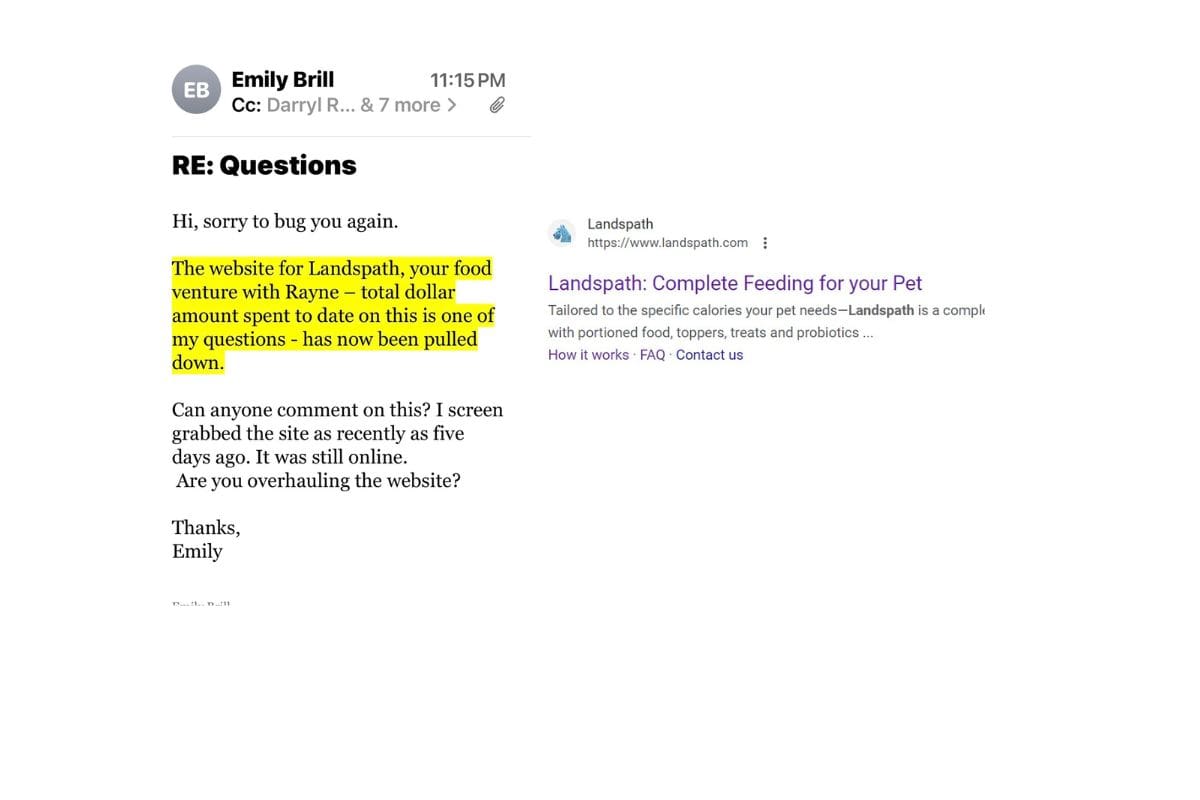 Four emails over the past week have also been sent to all members of Trupanion's Board of Directors seeking answers to questions about Landspath. John Phelps, CEO of Trupanion's partner Rayne Clinical Nutrition, Inc. did not return calls seeking comment. In a text message, Mr. Phelps wrote:
"I am not sure on the latest but the project leader will know and be able to help — Michael Retter at Trupanion. He took over the project a while ago."
No individual at Trupanion has returned calls, emails, or texts seeking comment.
Another question we had been pressing the leaders on with respect to Landspath was whether Dr. Donna Raditic was still a key advisor. Dr. Raditic said in an interview with her colleague Karen Becker as recently as 2022 that she receives funding from notorious pseudoscientist Joseph Mercola, whom the New York Times dubbed "The Most Influential Spreader of Coronavirus Misinformation."
"I can't thank you and Healthy Pets, Mercola for all the support, the funding. It's been amazing," Dr. Raditic told Dr. Becker in an interview.  "Currently, we are, through your support, we are funding and supporting two new
nutritionists. They're going to be board-certified veterinary nutritionists, like myself, but they're going, they're a different breed. They're a different breed. They are open-minded. They're asking the tough questions that we've always been asking. They're embracing new ideas, and they're going to be out there."
When we first began making inquiries about Dr. Raditic's involvement with "vet-centric" Trupanion's food venture and how that would square with veterinary professionals, we discovered that Dr. Raditic's name and the other veterinarians advising Landspath had been subsequently removed from the site, but neither Mr. Rawlings nor Ms. Tooth would comment on whether Dr. Raditic was still an adviser.
Much, much more reporting on this and our other inquiries to come in a longer story.
Related:
Can Vet-Centric Trupanion Continue to Deliver? High-Flying Insurance Maverick Hits Headwinds