To crystallize how urgent the matter is to a significant portion of the general population (about 70 million American households include at least one dog, according to the American Pet Products Association), The Canine Review made the decision to publish the chart below against the wishes of its authors who oversee a Facebook group, Diet-Associated Dilated Cardiomyopathy (DCM) in Dogs, which now has more than 127,000 members. A more elaborate explanation of our decision is in the next paragraph. The data we published illustrates that cases of diet-associated DCM in dogs are being reported in association with some of America's most heavily marketed, best-known brands of dog food.
The Canine Review made the decision to publish this chart against the wishes of its authors for the following reasons:
We feel strongly that the data clearly meets what the law defines as the kind of "fair use" that allows for such publication. "Fair use" is an intellectual property doctrine that justifies the use of others' content when used for a transformative purpose — in this case, journalism on an important issue. The Canine Review is an online news service that disseminates facts and information. In the case of our reporting on diet-associated dilated cardiomyopathy in dogs, in addition to our fast-growing audience of veterinary professionals, industry leaders, and pet owners, we are also sharing the news we gather with The Washington Post.
This chart has already been published and disseminated extensively. The chart has been available to a Facebook group with a membership of more than 126,000 individuals for more than three years.
There is a significant and urgent public interest in the content of the chart. Many of the dog foods listed in this data are among the most popular, heavily marketed brands used by those 70 million American households, including The Farmer's Dog, Blue Buffalo, Taste of The Wild, Acana, Merrick, Nutrisource, and many more. American consumers are largely unaware of any potential problems associated with these brands, let alone a fatal heart condition. The information void with respect to DCM that has resulted from the FDA's unprecedented information blackout has been replaced by disinformation and, equally problematic, the sometimes unintentional parroting of that disinformation, such as the AVMA's bungled DCM story.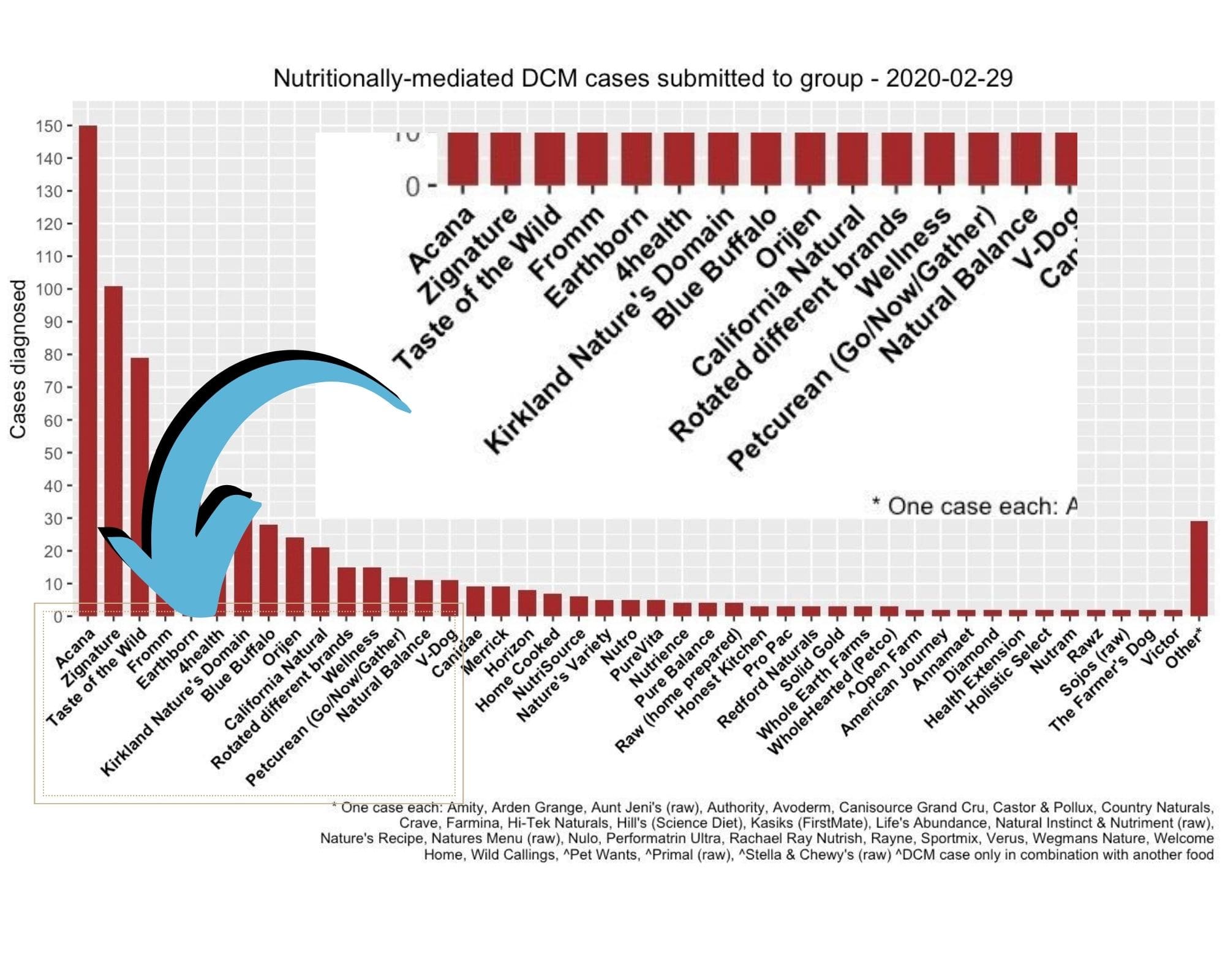 Here is how the chart is explained by the individuals who published it who moderate this Facebook group.
Updated 2/29/20: 698 dogs diagnosed with nutritionally-mediated DCM, including 138 deaths from DCM

These are echocardiogram results reported to us by owners. Many have submitted their echocardiogram reports to veterinarians in the group for review. Many have also submitted to the FDA. All are either "confirmed" or "suspect" nutritionally-mediated DCM at this time.

We have stopped showing normal echocardiogram results on this chart. The previously-charted "normal" echoes were from a few dogs that were part of the taurine table. Now that most incoming reports are DCM cases (not taurine-tested) the graphing of DCM vs normal echoes became more misleading. Additionally, our veterinarians are backlogged with the reported DCM cases and do not have time to review the "normal" echoes.

This also somewhat mirrors what the FDA is doing: taking case reports, not attempting to log normal echoes. Members who have received good news are encouraged to share on the 'Happy Hearts' post!

This is not a controlled study, thus we have no way of estimating the actual percentage of dogs affected in the overall population.

The overall tie to certain diet types and increasing DCM is important. It is more difficult to tie DCM to specific diets when they only have 1 or 2 cases correlated with that brand or formula.

This is particularly true with a brand with low case numbers and the caret (^) mark. This caret indicates the only cases reported are when that diet was PART of the diet history.

Why we name brand names and not formulas:

There are simply too many formulas to fit on the graphs at this point.

As time goes on the correlation continues with companies that do not meet WSAVA guidelines for research, expertise, etc. Although obviously not every formula of these implicated companies is correlated with DCM, their other formulas are usually not well researched either. Both grain-free and grain inclusive diets are represented here.

To date, we are not aware of any brand that has taken responsibility to recall a formula correlated with DCM, to compensate owners for medical costs, or to provide scientific evidence why their other formulas are a safer option."
– https://www.facebook.com/DietAndDCM/
Diets And Foods To Avoid
Brands Most Named In Reports Of DCM To FDA As Of 2019 (Note: TCR is requesting all case reports)
2019 FDA
Acana: 67
Zignature: 64
Taste of the Wild: 53
4Health: 32
Earthborn Holistic: 32
Blue Buffalo: 31
Nature's Domain: 29
Fromm: 24
Merrick: 16
California Natural: 15
Natural Balance: 15
Orijen: 12
Nature's Variety: 11
Nutrisource: 10
Nutro: 10
Rachel Ray Nutrish: 10
Other points from DCM Alliance:
Adding taurine into a diet is not sufficient risk mitigation.
Because the exact cause of diet-DCM in dogs is not yet known as research is still ongoing, veterinarians recommend a strategy of risk mitigation. Here are the red flags the DCM Alliance has identified:

Diets lower in market share could mean less expertise in formulation
Pulse legume ingredients including beans but not soy beans
Grain-free
Note: there are also cases reported in brands with a large market share
Related Reporting
TCR challenge to FDA blackout of DCM intensifies with help from top lawyer. UPDATED