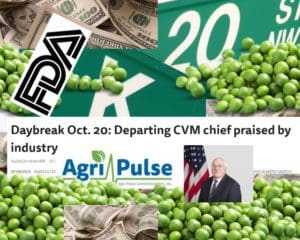 An online trade publication, "Agri-Pulse," which serves stakeholders in America's agriculture sector, is marking the upcoming retirement of FDA Center for Veterinary Medicine's Dr. Steven Solomon. "Departing CVM Chief Praised by Industry" reads the headline from October 20.
There were times when not all was well in the relationship between industry and FDA's Center for Veterinary Medicine during Dr. Solomon's years at the helm. In 2018 and 2019, the FDA's strong warnings about "grain-free" dog food tried to underscore that although the exact connection had not been determined, the foods shared key commonalities. These warnings were not at all appreciated by those who make their livings farming and selling peas, chickpeas, and lentil products.
Out of the 2019 warnings came a lobbying campaign to muzzle regulators —  and it worked. Here's a page from a pea lobbying group newsletter bragging about how a team has "been engaged in this issue with multiple trips to meet with the FDA and our champions in Congress…"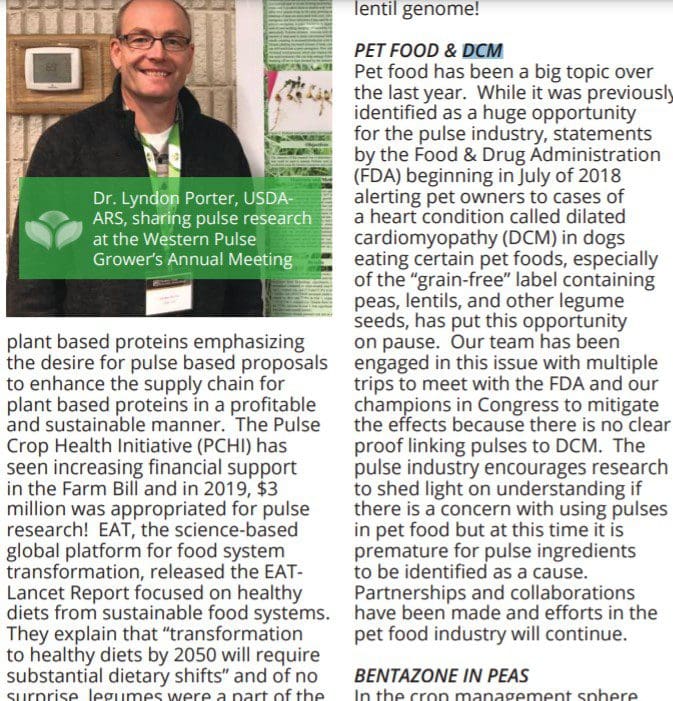 Then, in September 2020, farm state senators issued a letter to Dr. Solomon's then-boss, Dr. Stephen Hahn directing him to filter the Center for Veterinary Medicine's presentation materials for an upcoming industry conference at Kansas State University.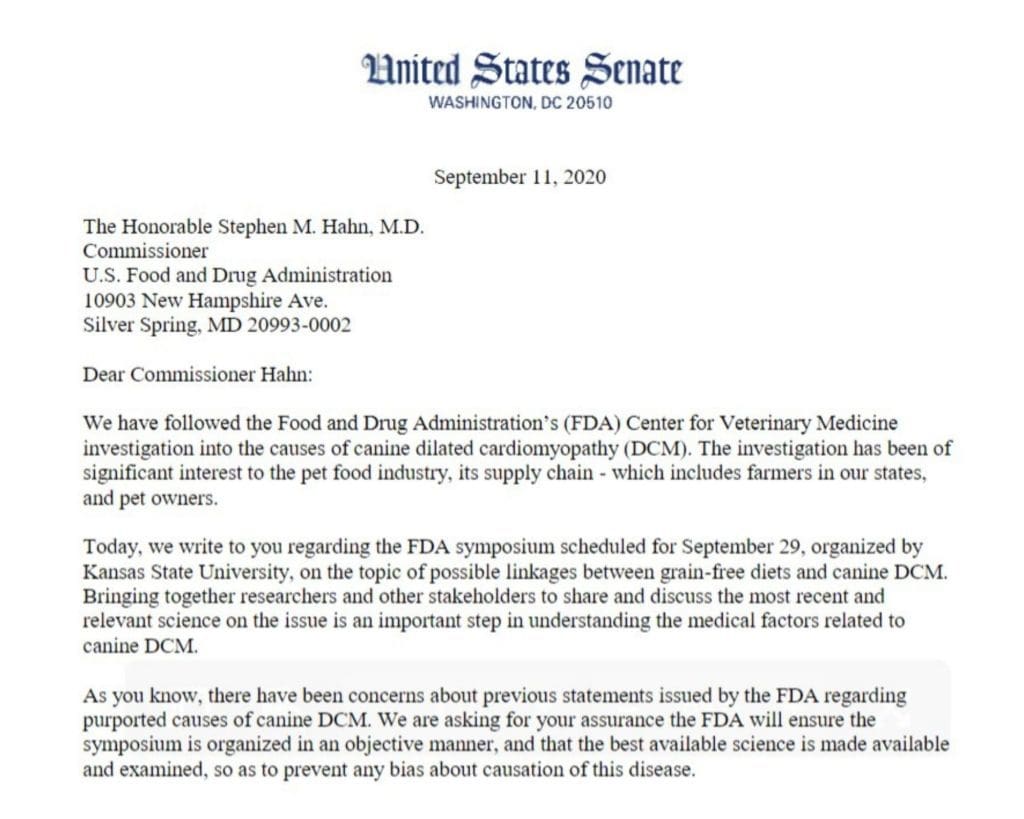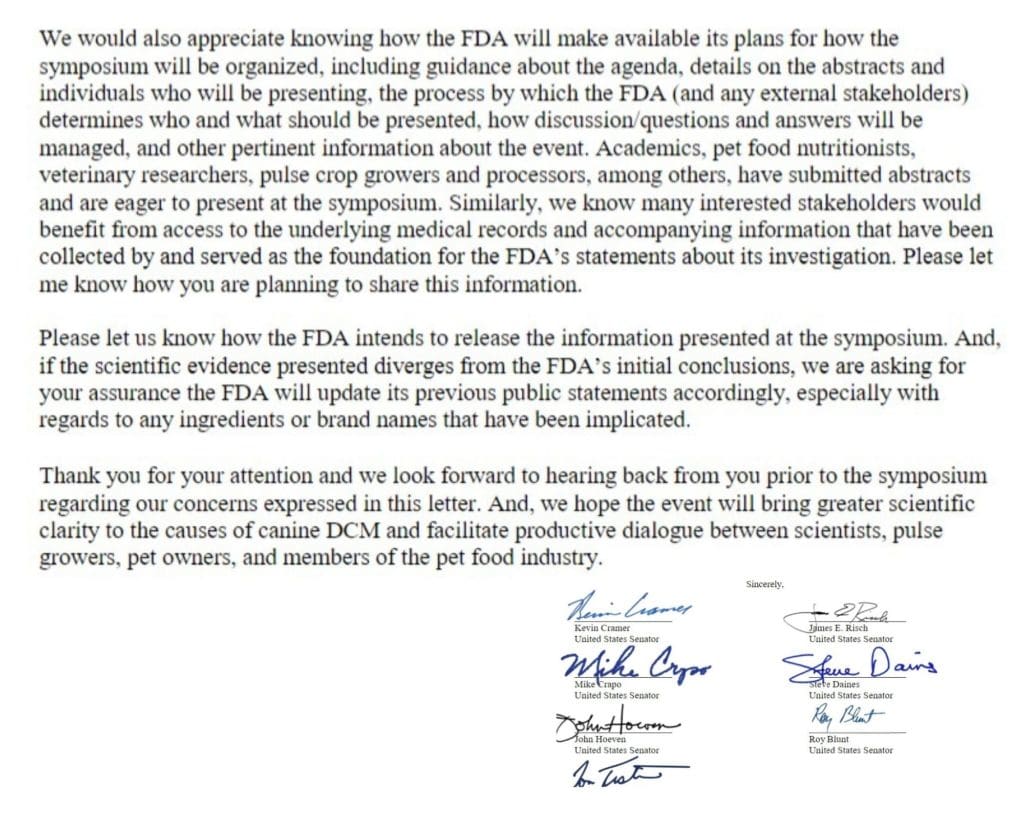 The materials for the conference included DCM cases in dogs more than doubling from 515 cases when the FDA issued its announcement in June 2019  to 1100 cases that year (2020), which, to remind everyone, is the last time the FDA updated the DCM case count.
Here is the benchmark vow "not to speak on this topic publicly" from Dr. Solomon to stakeholders at a conference in 2020, part of his opening remarks:
We have tried to be careful in our messaging, and we recognize going forward not to speak on this topic publicly unless we are clarifying information or have something substantive to share….Although CVM's investigation must be driven by science and our public health mission, we are acutely aware that promoting transparency and public awareness may not be kind to everyone's bottom line."
The Agri-Pulse article reads more like a press release than an objective news article. It's difficult to tell which parts are directly quoting Commissioner Califf's staff memo and which parts are from the article itself.
Under the direction of Solomon, CVM has played an increasingly important role in the FDA's One Health initiative, the cross-agency effort focused on developing comprehensive solutions to critical public health issues that include human medicine, veterinary medicine, and environmental stewardship, building on the increasing connections in discovering between the health of people, animals and the environment, Califf said, adding that Solomon's greatest legacy may be the time spent building the culture of CVM to "reflect the values of diversity, equity and inclusion, and the commitment to both human and animal health."
According to Agri-Pulse – it's notable that they broke the news – Deputy Director Tracey Forfa will become acting director of CVM.
During Dr. Solomon's tenure, which began in 2017, pressure from pulse industry stakeholders whose sales were impacted negatively as a result of the FDAs warnings in 2018 and 2019 compelled the FDA CVM to go from sounding the alarm in three major national warnings to a full-on information blackout so egregious that the agency has even refused to comply with numerous outstanding Freedom of Information Act requests for which the law clearly requires disclosure. Last month, after eleven months without so much as a status update responding to our FOIA despite numerous follow-ups, attorney David Schulz began advising The Canine Review.
Sarah Kotler, who directs the agency's FOIA office, has vowed to provide the information requested in the FOIA by the year's end. With the sun setting on Dr. Solomon's tenure and Mr. Schulz waiting in the wings, impacted dog owners and veterinary professionals finally have some hope that the FDA will update the canine DCM case count for the first time in years.
Related
FDA has now vowed to disclose the current dog DCM case count within six weeks. Hundreds of dogs and nearly three years have passed since the last update.
As more dogs die, pea lobbyists muzzle FDA; FDA continues information blackout of often fatal heart condition tied to dogs' diets; in new statement, FDA says hundreds of dogs' cases 'not relevant'