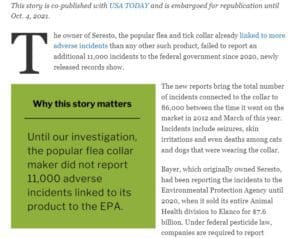 USA Today editor Emily Le Coz reached out to Elanco this morning to inform the company that a September 24 story about Seresto flea and tick collars that Elanco had been disputing emphatically, and for which it began demanding corrections immediately after the story was published, has now been "updated" two weeks later, though without admitting the updates are corrections. USA Today–which is owned by America's largest newspaper company, Gannett–published the story in a partnership with little-known Midwest Center and, until today, had, for the most part, been directing Elanco and TCR to the outsourced entity.
The story alleged, falsely, that Elanco "failed to report an additional 11,000 safety-related incidents to the federal government since 2020." This lede was highlighted in the green sidebar originally appearing in the story which has now been removed, although nowhere is the removal noted. Relatedly, a March 2021 article, also published jointly by USA Today and the Midwest Center and written by Hettinger, alleged that Seresto collars were responsible for fatally poisoning at least hundreds of dogs and, at best, that the collars were unsafe. This March article resulted in a critical report by TCR quoting boarded veterinary toxicologists and others vouching for the collars. The use of raw incident data to make conclusions about causal relationships without requisite investigative work was denounced across the veterinary profession.
TCR has reached out to Chairman and CEO of Gannett Co. Michael Reed, Gannett standards editor Michael McCarter and USA Today editor Emily LeCoz for additional comment and have not received any responses as of press time. More precisely, they were asked why the changes were characterized as updates when they are corrections, why the information was characterized as "new" when it had been provided long before publication, and how the "updates" comport with their corrections policies. We've also asked about the decision to remove the sidebar text box without noting its removal.