Alaska Airlines is first to announce new policies on traveling with animals. A full ban on emotional support animals will take effect starting Feb. 28. Delta is set to announce new policies next week, a spokeswoman told TCR.
Alaska Airlines, today, became the first U.S. carrier to announce new policies for passengers traveling with animals: "Under our new policy, no emotional support animals will be accepted for reservations booked on or after January 11, 2021, or for travel after February 28, 2021," Alaska said in its press release.
Alaska's statement follows the Department of Transportation's (DOT) announcement earlier this month that it would no longer require airlines to accept emotional support animals, per the Air Carriers Access Act.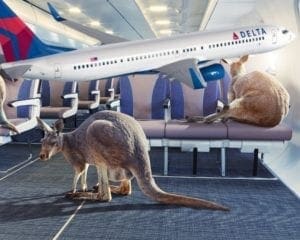 The new rules are the result of a hard-fought battle waged by the airline industry. Sara Nelson, International President of the Association of Flight Attendants, issued what was probably the defining statement of that effort: "The days of Noah's Ark in the air are hopefully coming to an end," Ms. Nelson said January 22, 2020, in a press release following the DOT's proposed rules.  She was referring to what she and her colleagues successfully argued were unintended consequences of requiring airlines to allow everything from birds to rabbits to miniature horses in the cabin, exacerbating an already chaotic atmosphere.
Delta Leads, Others Follow
In July 2018, acting on what the airline's leadership say they believed was in the best safety interest of passengers and crew,  Delta took the unprecedented step of declaring that it was "no longer accepting pit bull type dogs as service or support animals." Delta's pit bull ban generated outcry on social media, especially from animal rights activists. The Atlanta-based carrier's 2018 decision followed what was, according to spokesperson Lisa Hanna, a "sharp increase" —an 84% jump, according to the airline — in bite incidents or attacks aboard Delta flights involving pit bulls in 2016 and 2017.
One particularly gruesome mishap on a flight from Atlanta to San Diego in 2017 was likely the straw that broke the camel's back: a passenger was viciously attacked by another passenger's pit bull that was traveling in the cabin as an emotional-support animal. Not surprisingly, the passenger subsequently sued Delta:  The complaint can be read here.
Good Riddance, 'Noah's Ark in the air': DOT proposes new rules in January 2020
In January 2020, the Department of Transportation proposed changes to the rules about emotional support animals under the Air Carrier Access Act. The proposed changes sparked a national debate and drew thousands of public comments.
The final decision on those changes was announced by DOT in early December:  Although the new rules give airlines more discretion over which animals they are required even to consider allowing inside the cabin, the new rules continue to require that airlines not have policies that restrict service dogs on the basis of breed. It's an important victory for breed-specific legislation opponents, particularly members of the animal welfare community and individuals involved with pit bulls.
"We applaud the Department of Transportation (DOT) for acknowledging the concerns that Delta and many other stakeholders have repeatedly raised and for finalizing the new service animal rule.  This rule will allow airlines to put safety first for all of our customers and employees, while protecting the rights of customers who have disabilities and need to travel with trained service animals," Delta Airlines said in a statement earlier this month, following the DOT announcement.
Neither Delta nor United has issued policy changes since the DOT announcement on December 5, which means that, for all intents and purposes, both airlines' bans on pit bulls remain in effect. Whether the policy language will be amended to reflect that a pitbull-type service dog is now eligible to fly remains to be seen.  What's clear is that the airlines are satisfied with the DOT's changes.
"We appreciate and applaud the Department of Transportation for issuing this common-sense rule which will improve the safety of our customers and crew," United Airlines spokesman Charles Hobart told TCR in an email immediately following the December 5 announcement. "We are reviewing the DOT's ruling, and at the moment our policies remain unchanged," he added.
Changes now appear to be imminent, however. Delta spokeswoman Lisa Hanna told TCR this afternoon that Delta intends to announce its new policies on January 7. Last week, United Airlines spokesman Charles Hobart advised that TCR follow-up in early January.