Anna Marie Chwastiak is the owner of black Labrador Emlin, who has an unconfirmed case of Copper Associated Hepatopathy (CAH). Diagnosing CAH requires a liver biopsy, which Ms. Chwastiak has, so far, declined against the recommendations of her internists. More on that in an upcoming report about owners, but what you need to know for now is that Dr. Sharon Center and colleagues such as Dr. David Twedt contend that the cost to diagnose and treat canine copper storage disease is  part of the reason why CAH should be regarded as an urgent animal health crisis.
FDA Virtual Listening Session on the Oversight of Pet Food- Center -Slides for FDA SA Center Copper Canine Dog Food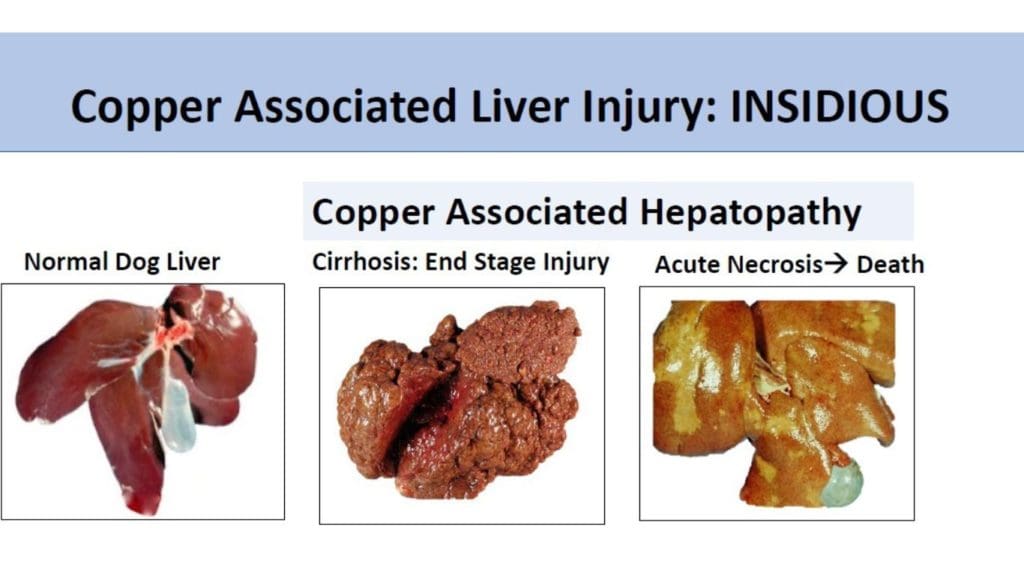 says that when she learned that her dog's illness was possibly connected to copper in her diet, she wanted to know exactly how much copper had been in the food Emlin was eating. She started calling companies of foods she's fed Emlin over the years and as she posted her findings to Facebook, friends asked her to find out about the foods they were feeding. Ms. Chwastiak called the companies through their listed consumer/customer contact phone lines. The numbers the consumer reps reported to Ms. Chwastiak are staggering, first because there's no reason a company would exaggerate the amount of copper in its ingredients and, second, because Dr. Sharon Center of Cornell has established in her research that a safe level of copper in dog food is 7 mg per kg, yet most of the numbers provided were above this level. Here are just a few of the copper numbers Ms. Chwastiak says she was provided by customer service representatives at the companies, including one of the dog foods with the highest known amount of copper, Stella and Chewy's with more than 66 mg per kg, nearly 10 times what Dr. Center at Cornell says is safe.
4Health:                                                                       22    mg/kg
Acana Light and Fit                                                    14.8 mg/kg
Annamaet Encore                                                       15.39 mg/kg
Blue Buffalo Salmon Blue Wilderness                   21.48 mg/kg
Candidae All Stages Multi-Protein 15.40, Chicken 15.1, Turkey 16.63, Lamb 16.61
Diamond Naturals 16 mg/kg
Grandma Lucy's Chicken                                           22 mg/kg
True Pet Food Averages                                             24 mg/kg
Wellness Heath Grain Free                                        29.80
Rachel Ray Chicken and Vet                                      20.39
Royal Canin Hepatic Formula                       7 mg/kg
Stella and Chewy Surf and Turf                              66.56
As of September 1, we have emailed the press offices of Purina and Colgate Palmolive (the latter is the parent company of Hill's) and asked them to comment on the numbers, including the more than 15 mg per kg amounts for Purina Pro Plan. We have also asked the FDA to explain why Ms. Chwastiak needed to sit on hold for hours, call up companies herself and fight for information that is clearly significant and should be on every label of every pet and human food. We have not received any immediate responses ahead of the holiday weekend. We will be going to each company Ms. Chwastiak called for comment in the coming weeks.