Veterinary professionals are underpaid, overworked, and in short supply. So, a reliable website where veterinarians can direct their demanding clients with pet insurance  questions is one less headache, right? That's a simplified version of the idea being pushed by Pawlicy Advisor, the company whose website "guarantees" veterinarians and pet owners that they are "100% devoted to finding you a great plan at the best possible price" and that "the money we make comes from the insurance company [technically true], not you. No hidden fees, no upcharges, nada," Pawlicy Advisor pledges in its 'Buyer's Guarantee.'
The Problem Is What Pawlicy Doesn't Disclose
Pawlicy earns a commission when a consumer buys insurance through links originating on Pawlicy's website. This information is disclosed and it's accurate.
But there's a catch: Not every pet insurer participates with Pawlicy Advisor. In fact, the two leading carriers, Nationwide and Trupanion, have never participated.
Healthy Paws and Lemonade also do not participate.
If a pet insurance market share report from IBISWorld Value Market Research is correct, these four insurers represent more than half of the U.S. pet insurance market. Nowhere in the literature are veterinarians told about the missing carriers, or that carriers can pay more to be featured on the website more prominently.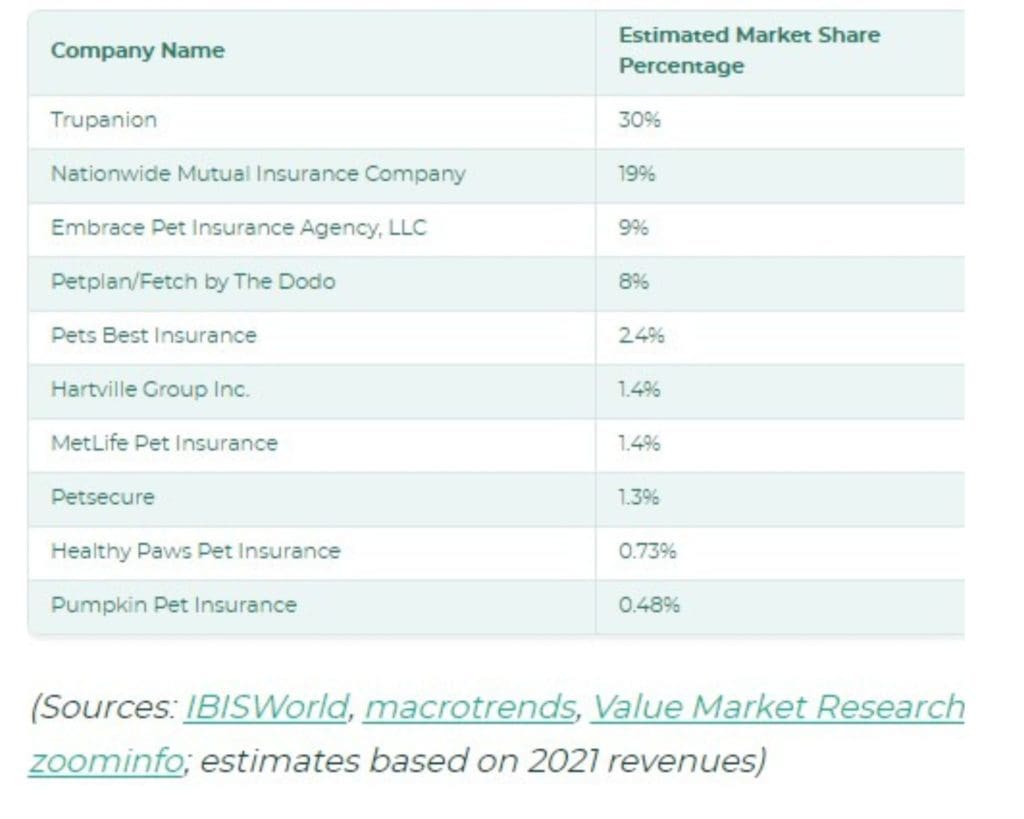 Although Pawlicy seems to be speaking to an audience of non-veterinary professionals or pet owners, Pawlicy focuses its marketing efforts on veterinary professionals, appealing to them by promising that Pawlicy offers dispassionate, objective, reliable advice for their clients using a fancy algorithm. If that seems too good to be true, that's because it is. And Pawlicy executives seem determined not to face skeptical questions about that.
How To Target Vets: AAHA
"Following AAHA standards means [veterinarians are] doing the best for the patient… every single time!" the American Animal Hospital Association says on its website. "Since AAHA's founding in 1933, everything we've done has been with one goal in mind: to help veterinary professionals provide exceptional care for companion animals."
It's not clear when exactly the American Animal Hospital Association began licensing its name and brand through the "Preferred Business Providers" program, but the description on its website seems to be directly contradicting how Pawlicy is using the partnership in practice.
AAHA's Preferred Business Providers offer unique benefits to AAHA members and pay a royalty fee to AAHA for the use of its intellectual property. These fees are used to support AAHA's purpose of simplifying the journey toward excellence for veterinary practices. Some Preferred Business Provider offers are subject to change and may have restrictions.

AAHA does not endorse any products or services.
Despite the claim that the AAHA "does not endorse any products or services," TCR not only found numerous examples of Pawlicy Advisor press releases in which Pawlicy states, "Pawlicy Advisor is recommended by the American Animal Hospital Association," we were unable to find examples of usage in which Pawlicy does not indicate that AAHA endorses Pawlicy. And, because consumers are not told they are only being shown a specific group of pet insurers which have paid fees for prominence in Pawlicy's rankings, and the veterinarians who recommend Pawlicy to their clients are not told, the AAHA-Pawlicy endorsement is another example of how Pawlicy hoodwinks veterinary professionals.
When asked to comment on AAHA's relationship with Pawlicy, including what, if any terms AAHA requires businesses to follow in order to keep and maintain an AAHA endorsement, or whether it was disclosed that the three largest pet insurers in the market are not part of Pawlicy's marketplace or algorithm, AAHA's leadership did not return requests to comment.
An Unusual Marketing Tactic: Excellence by Decree
The Canine Review obtained a copy of an unusual term sheet Pawlicy's senior director of marketing Edwin Plotts submitted to a podcast host for the host's signature pending his appearance as a guest on the podcast. The host passed the document to us.
The term sheet is a dizzying and, indeed, ironic list of demands on the journalist/talent/producer giving Mr. Plotts and Pawlicy a soapbox. For example:
 "Producer shall not directly or indirectly, make any negative, misleading, obscene, or disparaging statements against Guest maligning, ridiculing, defaming, or otherwise speaking ill of Guest, and its business affairs, practices or policies, standards, or reputation (including but not limited to statements or postings harmful to Guest's business interests, reputation or good will) in any form (including but not limited to orally, in writing, on social media, internet, to the media, persons and entities engaged in radio, television or internet broadcasting, or to persons and entities that gather or report information on trade and business practices or reliability) that relate to this Agreement or otherwise portrays Guest in a negative light."
Mr. Plotts declined nearly a dozen detailed requests to comment when asked to discuss the term sheet and other aspects of Pawlicy's marketing strategy using veterinarians.
Why Pawlicy Targets Vets
Woody Mawhinney is the co-founder and CEO of Pawlicy Advisor. He also declined detailed phone and email requests to discuss the no-critical discussion document his senior marketing director had begun issuing to veterinary podcast producers and hosts.
Mr. Mawhinney declined all requests to cooperate for this story, including updated questions regarding Pawlicy's business model. However, Mr. Mawhinney had spoken with TCR in April 2022 in a conversation during which he was asked about some of the issues that came to light again in this story.
"Vets are the most trusted person in pet health," he told TCR in a telephone interview in 2022. "Whether or not they are the expert on the topic that they are talking about," he added. "A lot of pet insurance is influenced by a vet indicating that they think it's important to consider. Pawlicy Advisor is an online marketplace and brokerage firm for United States pet insurance carriers Mr. Mawhinney launched in 2018 while pursuing his MBA at Columbia University in New York City.
"I've been asked as of late, 'What are you going to pay us? If we're going to promote you or if we're going to talk' and, I said, you know, we don't want to do that…. "We're not here to pay vets," he told me last year.
It seems that Mr. Mawhinney's attitude has changed.
That's exactly what Pawlicy is now doing.
Veterinarian Dr. Kate Boatright, for example, confirmed that Pawlicy is one of her "clients," although the articles about Pawlicy on her website are not indexed as "sponsored."
"I currently write for numerous blogs and veterinary magazines as a freelance author," Dr. Boatright responded over LinkedIn's electronic messenger, "and have a policy not to comment on my arrangements with individual companies."

"I write for their blog so they are one of my clients," she added. Dr Boatright declined to comment when asked if she was aware that Nationwide, Trupanion, and Healthy Paws were not represented and that companies could pay to enhance their prominence in the listings.
"Buyer's Guarantee"
Let's revisit what Pawlicy publishes as its "Buyer's Guarantee:"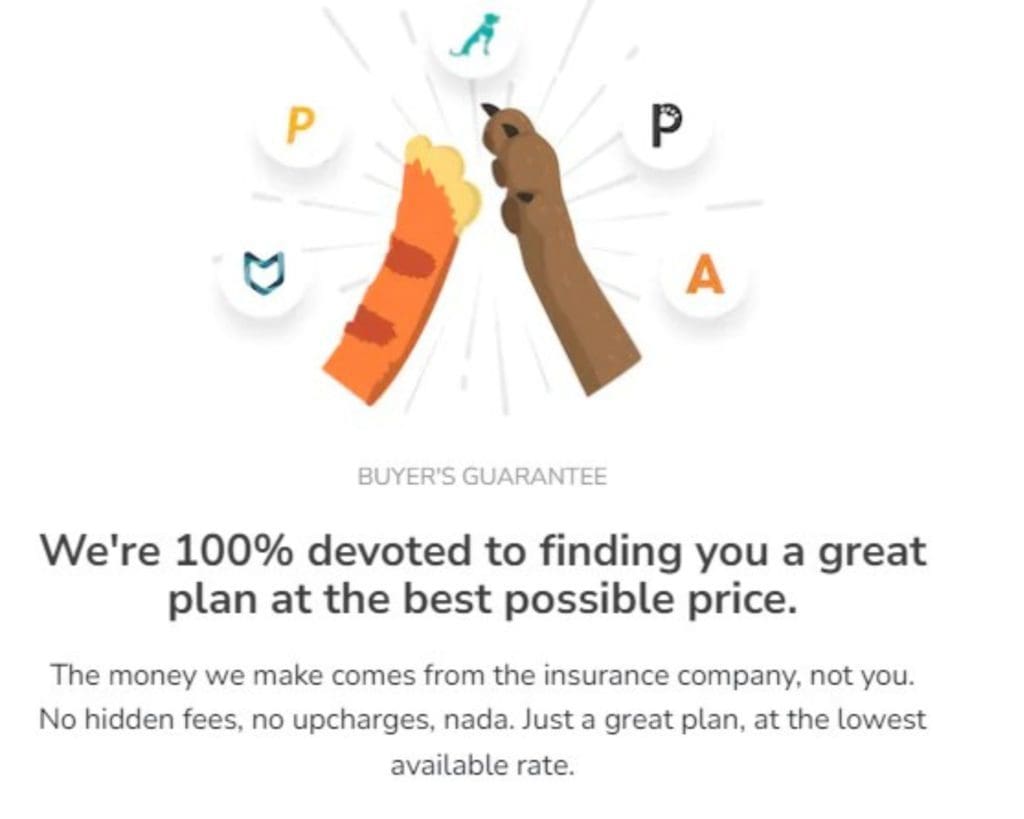 "The money we make comes from the insurance company, not you." Yes, that's accurate. Insurance companies pay Pawlicy for conversions (sales) resulting from people who click and ultimately purchase an insurance policy. "No hidden fees, no upcharges, nada. Just a great plan, at the lowest available rate."
No hidden fees. Only glaring omissions.