Welcome to TCR's first edition of "Paws and Clauses."
The American Kennel Club is not the entity responsible for the administration, marketing, sales, or underwriting of "AKC Pet Insurance" — but the AKC does make money from licensing fees in exchange for allowing PetPartners (PPI) to sell insurance using AKC's branding. AKC President and CEO Dennis Sprung has not returned our requests seeking comment when asked if the organization is comfortable with PetPartners' use of AKC branding in its marketing which touts the coverage of pre-existing conditions:
No pet insurer covers pre-existing conditions, so when The Canine Review happened upon AKC Pet Insurance's homepage recently and noticed the marketing about pre-existing condition coverage, we became curious.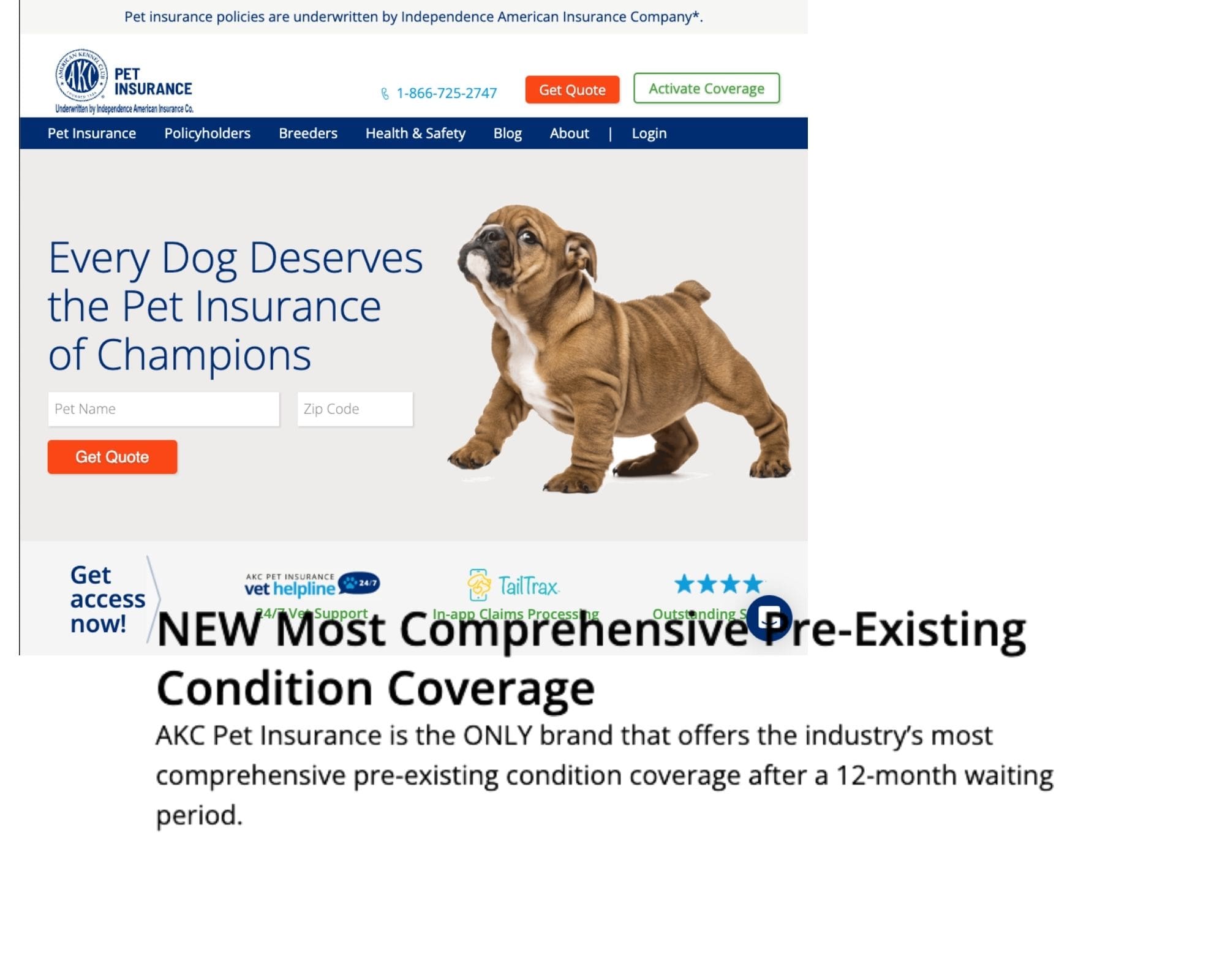 What Does The Policy Actually Say?
Here's a link to a sample policy on AKC Pet's website. Here's a screenshot:
"Pre-existing condition means any illness or injury which occurred, reoccurred, existed or showed Symptoms, whether or not diagnosed by a Veterinarian, prior to the Pet Original Start Date, Coverage Period or during the Waiting Period. Pre-existing Conditions are only eligible AFTER [Emphasis: The Canine Review] three hundred and sixty-five (365) days of continuous coverage and only for treatment that occurs AFTER [Emphasis: TCR] three hundred sixty-give day waiting period."
In other words, if TCR Head Blogger Nellie, who spends a lot of time with veterinarians, had enrolled with PetPartners at age 3, she would still need to pass a 365-day waiting period for allergies to be eligible for coverage because allergies would be considered pre-existing. "Treatment that occurs AFTER waiting period" means that Nellie
In two different telephone conversations with different sales agents, we were told that the 365 day waiting period does not require the pet to be asymptomatic of the condition in order to be eligible for coverage. In other words, even if one's dog has an allergy flare-up during the 365-day waiting period, the dog is, nonetheless, eligible for coverage of allergies by Petpartners' policy upon completion of the 365-day waiting period according to the company's salespeople.
More to come.