Just over a year ago,  on March 2, 2021, USA Today, whose parent company Gannett became America's largest newspaper publisher when it merged with Gatehouse in 2019, printed a thinly sourced story declaring Seresto flea and tick collars,  to be killer collars. The story was castigated by veterinarians and other health professionals — including board-certified veterinary toxicologists we interviewed.
The story alleged that the blockbuster collar, of which 40 million have been sold to date according to Seresto parent Elanco, had fatally poisoned and sickened approximately 1,700 cats and dogs. The report was produced in conjunction with the little-known "Midwest Center for 'Investigative' Reporting," which, despite its name, neglected to talk to the go-to authorities about whether the chemicals used in Seresto collars are capable of causing the clinical symptoms described in the USA Today story (everything from paralysis to seizures to death).
USA Today's factually irrelevant document dump
Nonetheless, despite significant pushback from veterinarians, USA Today has continued to publish misleading stories about the collars — still without input from veterinary toxicologists and still drawing on raw EPA data:
On March 24, 2022, USA Today published what amounted to a massive document dump (it can also be read here) — hundreds of pages — of intra-office EPA email exchanges obtained through the Freedom of Information Act, including emails between EPA staffers reacting to the 2021 story.
"EPA questioned its ability to regulate pet products with pesticides, like Seresto, records show.

EPA internally questioned its ability to properly regulate pet collars linked to tens of thousands of injury reports," a text box in the story echoed."
"Looks like the sh** has hit the fan," EPA biologist Nicholas Mastrota wrote on March 3, 2021 to colleagues about last year's Seresto ambush. While, no doubt, intriguing to pore over such emails, none of these emails lend credence to the notion that the collars have a causal relationship with serious illnesses and deaths in pets.
Once again, veterinarians, the actual authorities on determining the existence of a causal relationship with regard to health outcomes in animals, are ignored. Coincidentally, the document that proves why the EPA emails are not factually significant is the document that refers to this publication:
"The Canine Review is now investigating this. One of the things they are doing is asking veterinarians to contact them to share their experience with adverse side effects…This is such an obvious thing to do, but as far as I know, EPA has never done anything like that," the EPA's Mastrota wrote in a group email.
EPA spokeswoman Cathy Milbourn and several other EPA officials who are quoted in last week's USA Today story did not immediately respond to email questions seeking comment, including whether anyone at the EPA was aware of any veterinarian-corroborated case of a Seresto collar causing serious illness or death. An EPA spokesman said the agency intended to get back to us sometime tomorrow in which case, the story will be updated.
Another premise of the latest Seresto ambush is that EPA staffers somehow attempt to reclassify Seresto collars as a food, drug, animal food, or cosmetic, which is what would need to happen for the product to be regulated by the Food and Drug Administration (FDA).  "Indeed, the FDA is now assisting the EPA in a review of a popular pet collar that is the target of consumer complaints," Jonathan Hettinger, whose name appears in the byline and has, in the past year, continued to write frequently about the flea and tick collars.
Asked what if any role  FDA was playing with regard to the collars, Center for Veterinary Medicine spokeswoman Siobhan DeLancey provided the following statement to TCR:
"FDA provides its expertise to assist EPA with reviewing safety data upon request. As in this case, each agency provides expertise to the other on an as-needed basis. EPA has requested FDA's assistance in reviewing safety data associated with the Seresto collar, and FDA has agreed to provide consultation to EPA in a limited capacity on the review of this information.

The review is currently on-going. Because FDA involvement is limited to consultation, comprehensive analysis of the data and resulting conclusions remain under the purview of EPA. This means that any conclusions about potential connections between use of the collars and any adverse outcomes would be EPA's. "
Unlike the FDA and EPA, however, USA Today failed to extend anyone at Elanco an opportunity to comment. "No one at Elanco to my knowledge was contacted for the story," Elanco spokeswoman Colleen Dekker told TCR in a brief interview last Sunday. Mr Hettinger did not respond to our emails seeking comment, nor did Gannett standards editor Michael McCarter or CEO Mike Reed.
In journalism, one of the most basic rules of the road is that when someone or something in your story is criticized, the reporter is supposed to allow an opportunity to respond to the criticism before going to press. This would seem to be a basic requirement of any "investigation" carried out by an outfit that claims to do "investigative reporting."
Don't take our word for it. Take Gannett's. Here's the company's editorial code:
Because of timeliness or unavailability, it is not always possible to include a response from the subject of an accusation in a news story. Nevertheless:
We should make a good-faith effort to seek appropriate comment from the person (or organization) before publication.
When that is not feasible, we should be receptive to requests for a response or try to seek a response for a follow-up story.
Top vet toxicologist dismantles USA Today Seresto 'reporting' — again
Dr. Ahna Brutlag is one of America's leading veterinary toxicologists. Board certified by both the American Board of Toxicology (ABT) and the American Board of Veterinary Toxicology (ABVT), she has worked with the Pet Poison Helpline since 2004.
In a telephone interview with Dr. Brutlag last week, she told us the Pet Poison Helpline had recently completed a data review of Seresto from when it launched in 2012 through March 31, 2021.
"The intent of that was to see what story our data had to say," she said.
"We have felt like the product has a reasonable safety profile based on our experience with it, but it's a different thing when you pull all of your data together and really support that fact," she added. "In the end, looking at everything that we pulled together out of our data, we still felt that there was a very good margin of safety with these products. And one of the main takeaways from our data is that many of the cases that…we have in our data set involved oral exposure, like chewing on the collar or actually ingesting pieces of or the entire collar."
Dr. Brutlag reiterated what she had told TCR over one year ago, which was that when animals ingest topical products, there's significantly higher risk exposure, and therefore, it's an opportunity to understand the highest risk scenario of a product. Now having gone through all of the data – every phone call to the helpline since the collars launched – Dr. Brutlag said that there were no fatalities linked to collars.
"No fatalities"
In total, Dr. Brutlag says there have been 408 Seresto-related calls to the Pet Poison Helpline since the products launched, 86% of which involved oral exposure to the collars. "There were no fatalities," she stressed. "And that's where, again, you really expect—I mean, if we're going to have fatalities with a pesticide that's topical, you expect you're going to see more of them when it's ingested."
Dr. Brutlag says the worst clinical symptom her organization has observed following ingestion of the collar is seizure, which they observed in three animals of the 408 cases. However, she added, "In those three cases, we did not think the seizures were related to the Seresto." Also observed after ingesting the collar, though rare,  was  ataxia – unsteady gait – which was observed in 3% of the 408 cases. Other more common symptoms observed were diarrhea, anorexia, lethargy, and vomiting.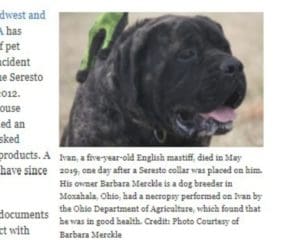 USA Today mentions a veterinary medical record
In August 2021, Jonathan Hettinger, the USA Today 'investigative' reporter whose name is on the Seresto story bylines, apparently got around to reading documents and finding someone who had filed a report with the EPA who was willing to discuss a veterinary medical record, although there's no indication that he was able to verify the document and he doesn't say.  He  also failed to cross-check the account with a veterinarian. "Ivan, a five year-old English mastiff, died in May 2019," Mr. Hettinger wrote in the caption of a photograph of the a dog appearing in the August story,  "one day after a Seresto collar was placed on him. His owner Barbara Merckle is a dog breeder in Moxahala, Ohio, [SIC] had a necropsy performed on Ivan .. which found that he was in good health."
Asked what she made of how Mr. Hettinger had presented Ivan's case and whether anything appeared to be missing, Dr. Brutlag said, "To me, left out of that blurb right there is, what did the necropsy find? Did they have a diagnosis? Were they able to determine the cause of death? So, the fact that the animal was in good health is certainly something that would be noted. You'd always note the status of health. But then you would detail everything that you find."
What a veterinarian who treated or examined Ivan the dog would say about the necropsy remains a mystery to readers.
USA Today retroactively adds veterinarians to 2021 Seresto reporting
Another item we felt was worth noting – and one that we pressed Mr. Hettinger and his editors about, although they did not return repeated requests for comment – is that now, more than one year after publishing a story so many veterinarians found problematic in large part because the original story did not mention or quote any veterinary professional, Mr. Hettinger's latest story retroactively describes his reporting last year as having included "reports from pet owners and veterinarians about adverse incidents linked to the popular Seresto collar."  When asked about the factually inaccurate description he provided of his original story, he declined to comment. Mr. Hettinger also declined to name any veterinarian to whom his writing was supposedly referring. Gannett's Standards Editor Michael McCarter and Gannett CEO Mike Reed also would not respond to email requests for comment.
Elanco doubles down on Seresto safety
Asked if Elanco had changed its position with regard to the safety of the collars, Colleen Dekker, the company spokeswoman, doubled down on the company's pushback, providing the following emailed statement on March 28, 2022:
"As pet owners and lovers, Elanco takes the safety of all our products seriously. We have policies to ensure any concerns related to their use are investigated and addressed as appropriate. Elanco unequivocally continues to stand behind the safety profile of Seresto as a proven solution with nearly 40 million collars used worldwide to help protect dogs and cats from fleas and ticks, which can negatively affect pets' quality of life and may act as vectors of dangerous disease."