Last week at the 2022 Western Veterinary Conference in Las Vegas, PetDx exhibited its "liquid biopsy" canine cancer test, OncoK9, which the company launched in a joint press release with Petco last May.
Since then, the company has refused to make any of its leaders available for interviews or allow us to observe any of its marketing events targeting veterinarians. Yet veterinarians continue to ask TCR to cover OncoK9 marketing events.
The Canine Review took the opportunity to visit PetDx's booth at WVC.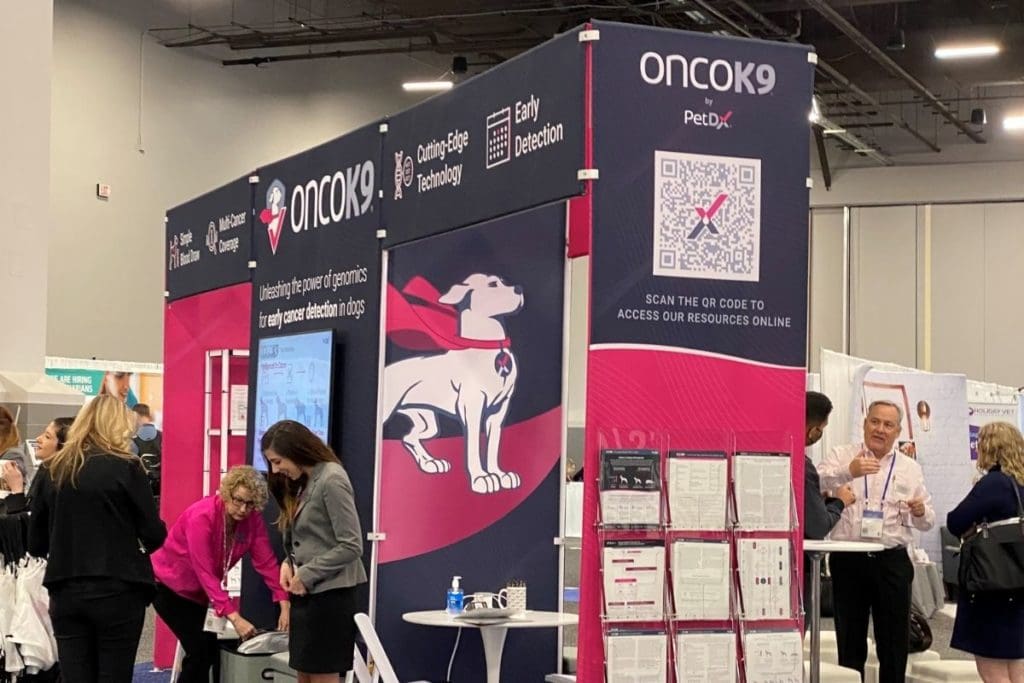 We met chief medical officer and co-founder Dr. Andi Flory for an unscheduled interview at OncoK9's booth. Dr. Flory, who, along with CEO Daniel Grosu, had declined repeated requests to comment for nearly a year. Asked what would be recommended if an otherwise healthy dog tested "positive" for cancer according to OncoK9, Dr. Flory said that the next step would be to undergo a series of imaging and diagnostic tests, and assured us that this would be detailed in the presentation later that afternoon (where neither she nor Dr. Grosu were anywhere to be seen). PetDx's Dr. Angela McCleary-Wheeler, who delivered the first of two presentations at the conference, said that the company's recommendation would be to go on a "cancer hunt," responding to TCR's question during the presentation's brief Q&A.
Co-founder Dr. Daniel Grosu did not make himself available at the company booth for interviews and was nowhere to be found at the company's presentations on Tuesday, March 8. Dr. Grosu also declined to comment when asked if he was comfortable with the term "cancer hunt."
In a brief conversation at OncoK9's exhibition booth, we also pressed Dr. Flory for information about the widely publicized clinical trials announced earlier this year with BluePearl, a network of highly regarded veterinary specialty hospitals.
Dr. Flory said that the trials had not yet started due to "paperwork" delays. BluePearl co-founder Darryl Shaw did not respond to requests for comment or clarification regarding the status of the collaboration with PetDx, and PetDx's Grosu has continued to decline all requests to comment. "That's something we're not allowed to talk about," another PetDx staffer at the company's booth told TCR when asked about the BluePearl collaboration.
BluePearl aside, herein lies the main head-scratcher: A positive result on this test provides no information about what type of cancer might be lurking or its location. Thus, there's no limit as far as scope for diagnostics; a veterinarian would still need to rule out every possibility and therefore test until there are no more tests.
Given that the test does not narrow the scope, what's the argument for using OncoK9 before using the diagnostics which you would need to use regardless to diagnose and/or rule out?
Neither Daniel Grosu nor Andi Flory would comment when asked about criticism from prominent, boarded veterinary oncologists who were puzzled by OncoK9's product launch, given the absence of clinical testing. In late January 2022, PetDx announced that BluePearl would fund the first clinical trials for OncoK9; however, as noted, BluePearl has not proceeded with the trials.  These trials would have been an exciting and significant development for veterinary medicine.
And then there's still this dilemma that we noted last June; By the company's own account the test will only detect about 50% of cancer cases, and the company refused to estimate the false positive rate – or, put differently, the number of false-alarm "cancer hunts" people will go on once they pay their $599.
Petco CEO Ron Coughlin also did not immediately respond when asked for comment.
See below:
In case you missed it:
June 28, 2021 This story has been updated.
Petco (NASDAQ: WOOF) is getting into the pet cancer business.
For $599 per test, a Petco spokesperson told TCR this week, dog owners can now find out, well, not much.
At least, that's what seems to be the consensus of veterinarians TCR reached for comment.
Thirty-one select "full-service" Petco veterinary clinics around the continental U.S. are now offering Petco's OncoK9 cancer tests, touted as "a groundbreaking multi-cancer early detection test for dogs," in a May 18 Petco press release. However, the announcement made no mention of the $599 price tag for the "groundbreaking" product.  In fact, as far as we know, this is the first time the price of the test is being reported.
Other tests for disease threats – such as the Cologuard screening for possible colon cancer in humans – routinely provide accuracy and error percentages in all marketing language and communications.
Asked what the accuracy rate was for OncoK9, Dr. Daniel Grosu, MD, the founder, president, and CEO of the test's developer, PetDx, said, "OncoK9 detects approximately 50% of cancer cases when used as a screening test at a single time point." Dr. Grosu declined to specify the false positive rate — the percentage of tests that will result inaccurately in an indication of cancer.
Petco isn't just asking customers for $599 per test. Petco is hoping to charm veterinarians into condoning the tests. According to an oncologist who received an invitation, webinar invitations contained stickers and stationery. Beyond the swag, there's the messaging, which Dr. Grosu discussed in a series of emails with TCR intended to explain his and Petco's decision to close the webinar to an industry reporter.
(Petco CEO Ron Coughlin also did not answer questions seeking comment about the decision to deny an industry reporter access to a widely publicized product post-launch webinar.)
"These are scientifically and clinically complex topics," PetDx's Grosu told TCR in one of several lengthy emails intended to explain why TCR would not have access to the webinar. "We need to ensure the accuracy of the messaging," he continued, "by delivering the content directly, or by going through highly specialized channels that have the appropriate level of expertise (such as peer-reviewed journals that can appoint reviewers who have formal training in veterinary oncology and subordinated topics such as cancer epidemiology, genomics, and screening)."
Here's more from another of the three rejection notes from PetDx:
"As all companies that take their public image and messaging seriously, PetDx uses a PR agency that handles media inquiries, schedules calls, provides in-call support, etc. This is similar to our use of a Legal firm to ensure our Legal matters are handled appropriately, or our use of an Accounting firm to ensure that our financial matters are managed correctly.
We have had a number of engagements over the past few weeks with high-profile media outlets including CNET, GenomeWeb, San Diego Union Tribune, Veterinary Practice News, etc. They were all managed by Lewis, our PR agency. From your representation below, it would seem that you are managing a reputable media organization and have extensive personal experience in the field; as such, I am sure that you will understand and respect our process.
The webinar is offered exclusively to veterinary oncologists as a "peer-to-peer" presentation, and is not intended to be a press conference or a source of information for media stories.  If you have a veterinary oncologist on your staff, they may register to attend.
Our website (especially the Resources section) and press releases (including the one issued by Petco) provide a wealth of information about the science and the clinical utility of our test."
Here's what another veterinarian had to say about the new test on his popular blog, The Skept Vet:
"It is really never a good sign when a miraculous new breakthrough in veterinary medicine is announced on the internet. That isn't where true scientific breakthroughs show up. Legitimate science is a slow, detailed process where even brilliant, revolutionary ideas have to go through a long, rigorous process of critique and exploration before they are accepted. Public relations press announcements are about making money and generating hype, not about exploring good science.
It is even less inspiring of confidence when the supposed breakthrough is offered by a person or institution with a track record of promoting pseudoscience.
In the case of OncoK9 Liquid Biopsy, such red flags abound. Press announcements with hyperbolic language like "pioneering," "revolution," and "breakthrough innovation" are not only meaningless but outright misleading when the only evidence offered to support them is a company study that supposedly "will be submitted for publication in a leading peer-reviewed journal" someday. Legitimate science does not start with press releases and then move to possible publication in the scientific literature."
One part of Petco's email to TCR appeared to address the decision to restrict the webinar to veterinarians: "Educational opportunities for veterinarians and vet support staff will be offered by PetDx as the company continues to grow," the Petco spokesperson told TCR in an email. "As part of our mission to improve the lives of pets, Petco remains committed to helping veterinarians detect and diagnose cancer early, so pets have a better chance of becoming survivors."
Finally, the spokesperson added, "While Petco does not yet have a vet hospital at 860 Broadway in New York City," the spokesperson continued responding to our request for the exact price of a test at the company's largest Manhattan location, "OncoK9 is $599 at our nearest vet hospital located at 1610 Ave. Y, Brooklyn, N.Y. 11235."