On the evening of Thursday, January 13 at about 7 p.m. ET, The Canine Review heard back by email from Anne Norris, who directs communications for the FDA's Center for Veterinary Medicine (CVM). With cc's to Dr. Steven Solomon (the FDA CVM director), and to Tara Rabine, a senior FDA spokeswoman, Norris wrote in part:
I've conferred with Tara and Dr. Solomon, among others at the FDA, on your messages. We understand that you are eager to obtain this information and we are glad to provide it to you, but we are all in agreement that must be done through the same official channels that any other reporter or citizen must follow.
It is FDA practice to provide case counts and/or reporting information about dilated cardiomyopathy (DCM) when publishing a public investigative update. An exception to this is if we are fulfilling an official request under the Freedom of Information Act (FOIA). As of today, 1/13/22, we have no record of a request from you on this. If you are interested in obtaining DCM information beyond what has been published on FDA.gov, we suggest that you file an official FOI request.
 Of course, the point of our inquiry was that the FDA had, for no articulated reason, stopped publishing those updates. And, we should note here, as we did in the story yesterday, that this is wildly uncharacteristic for the FDA. Among government agencies, the FDA has always had a well-deserved reputation for being exceptionally transparent across the large range of its activities and responsibilities. For example, its website contains a wealth of documents and data related to its work evaluating drugs [here's Apoquel and here's Metacam ] and inspecting drug manufacturers.
As readers know, we decided to ask FDA officials why and not simply for the update, which, to be clear, we have been pressing them for since August as the email exchanges show (see below).
And any judge applying FOIA law and cognizant of the FDA's otherwise cooperative posture in response to inquiries like ours would surely construe our email request as triggering a FOIA response.  There is no statutory requirement that someone file a document through a website or fax machine or any specific way, and the FDA's own practices typically do not have such requirements.
Besides, the subject heading of the emails we've been sending the FDA for the last two weeks say, with no hint of irony "FOIA ATTACHED."
We want to stress again how uncharacteristic this kind of opaqueness is for the FDA.
One reason for the atypical FDA resistance could be because in 2020 Dr. Solomon, the FDA CVM director, made what he apparently believed was a private vow to the pet food industry in Opening Marks given to a conference at Kansas State University in September of 2020. The vow was that FDA CVM would not issue any more updates about DCM in dogs. The only reason the vow became un-private is because veterinary student and publisher of "Doc of All Trades" Caitlin Holly happened upon the remarks and subsequently published them on her blog about the veterinary profession after which The Canine Review broke the story.
The vow followed pressure that was applied by a group of farm state senate Republicans (and Democrat Jon Tester of the farm state of Montana) in a letter to then FDA Commissioner Hahn. The letter seems to have been the result of lobbying from the pulse industry — peas, chickpeas, lentils, and other ingredients that are often substituted for grains and/or proteins in "grain-free" dog foods — the same foods the FDA warned the public about in 2018 and again in 2019, but has since gone radio silent, for the most part.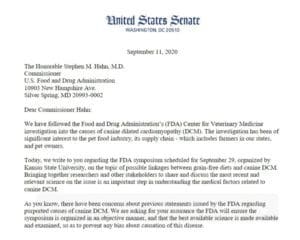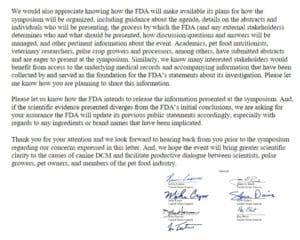 We reached out to FDA's chief spokesman — and every other individual we could identify on the FDA's communications payroll — this evening and have not heard from him. More to come on Tuesday.
Veterinary professionals and owners should continue to report DCM cases  to the FDA here  .
For your reference: