How many cents per dollar does your pet insurance provider aim to pay out in veterinary invoice expenses and what do they actually pay out? It's called loss ratio data, and Trupanion wants every pet insurer to be required to disclose that information to you. So far, no other pet insurance company will take a public position.
On Wednesday afternoon, your dog's insurance provider was asked to stand for or against a new framework dedicated to greater transparency for insurance companies that would serve you and your dog, including disclosure of how much money insurance companies spend on actual claims payouts.  Those comparisons are thought by many consumer advocates to be a good barometer of how well these companies deliver.
Representatives from pet insurance companies, state insurance regulators, veterinarians, and consumer advocates will meet online for what could be the most consequential Pet Insurance Working Group meeting to date. On today's agenda is an item for which America's second largest provider of pet insurance, Trupanion, says the company "has been advocating" for years: disclosure requirements for all pet insurance companies to help you make more informed choices.
Remarkably, no other insurance company has commented for this story, including Dr. Jules Bensen of Nationwide who declined multiple email requests to respond.
And the trade association of which Trupanion is a member continues to duck on whether to overhaul the financial disclosure requirements for the industry with a new framework that would radically improve pet insurance industry transparency.
Asked if the industry trade group stands with Trupanion, the North American Pet Health Insurance Association (NAPHIA) could not have been more unhelpful. NAPHIA has worked hard to make sure we have no idea how individual pet insurance products perform. NAPHIA Board Director Rick Faucher refused to comment when asked if the NAPHIA opposes or supports more disclosure requirements that would make the industry more transparent. NAPHIA spokeswoman Kristen Lynch also did not respond.  Update: Just as this story was going to press, we received a statement from Lynch, which has been added (see below).
NAPHIA's determination to duck this issue is significant in and of itself because the issue unambiguously boils down to this question: Is the industry pro-consumer or anti-consumer when it comes to the most basic transparency requirements?
Unlike most of his peers, Trupanion CEO Darryl Rawlings likes to talk about transparency, he says, and Trupanion's payout ratio is among his favorite sub-topics. Here, in Trupanion's Q3 2021 earning statement, is the "veterinary invoice expense" which is Trupanion's euphemism for loss ratio target. Rawlings says the company doesn't view payouts as "loss."
That metric – how much of every dollar you pay in premiums an insurance company is actually spending on paying claims versus 'other stuff' is a key metric for consumers, and unlike human health insurance companies, pet health insurance providers are not only not required to meet a minimum of 80 cents for every dollar going towards medical invoices but they are also held to strict reporting requirements so that loss ratio data is easy for the public to access.
Here, a filing in 2021 from underwriter IAIC shows that the underwriter aims to pay only 49.5 cents for every dollar pet owners spend on premiums. To obtain it, I need to navigate through almost two dozen screen unless I have "SERFF" bookmarked, which no lay person or even many reporters would be familiar with. "SERFF" stands for "System for Electronic Rates and Forms Filing." The databases are organized by states. As a reporter, rather than select states and form filings at random or go through all of the states, I focus on the states with the highest percentages of insured pet owners, which are New York, California, and Florida. Other states where pet insurance is more popular are Texas, Pennsylvania, New Jersey, Connecticut, and Massachusetts. Before I even get as far as pet insurance in a given state, I needed to know that pet insurance is regulated as a property and casualty line of insurance. How did I figure out how to navigate SERFF? The answer is that I had help from CEJ's Birny Birnbaum, who spent an hour showing me how to use the database.
Petfirst does offer loss ratio data and we can see clearly that the target is 49.5%. Trupanion's appears, from the filing above to be over 70%.
Lane Kent of IAIC responded to an email request for comment when asked if the company would support more streamline disclosure by declining to comment.
When asked about greater transparency requirements including specific disclosure requirements of loss ratio data, Birnbaum cautioned that the data would not necessarily be reliable or meaningful for consumers unless companies were required to report what they aimed to pay and what they actually paid out in claims as well as what occurred over at least a three-year timespan and not simply within the past year.
"From a business standpoint of view, I don't care what the category is,"  Trupanion Co-President Margi Tooth says. Pet insurance is not classified as a health insurance product. Rather, it is classified under "inland marine" — the same category under which insurance for pianos, xerox machines, motorcycles, boats, and paintings are sold. And "inland marine" is a sub-category of property and casualty insurance. "It doesn't make sense to hide any of it and would just make the industry better if we could be upfront about it all," Tooth added.  Because pet insurance is classified as property type insurance, it is inherently less regulated than it would be under the health insurance category. The reporting requirements are what they are for pet insurance, mostly because the products are regulated the same way  insurance for your piano is regulated.
"I would prefer that the target [loss ratio] of each product be stated on the front page of everybody's [filing] and on their website at the point where [customers] enroll," Rawlings explained in August in a conversation about waiting periods. "I would love that. And [Trupanion] is trying to make that happen," he added, referring to Trupanion's general counsel Gavin Friedman, who is also the company's representative on the Pet Insurance Working Group. "The chances of that happening are really low because every single insurance company would shit their pants," Rawlings added. 
Current reporting system not built for consumers
Matthew Gendron of Rhode Island's Department of Insurance explains the current reporting system in an email to TCR: "Financial data for pet insurance companies has been captured for as long those insurers have sold pet insurance. Financial data is primarily captured for regulators to analyze the solvency of an insurer," he wrote in an email.  "Sometimes market regulators can use that data for non-financial matters. Sometimes the financial data isn't sufficiently clear for market regulators, and we require additional information, such as information collected via a Market Conduct Annual Statement. Because the MCAS  development process takes some time, I did not personally believe it was a good use of my time to work on developing an MCAS until we were fairly certain about the contents of the model law," he added, referring to the legislation the Working Group completed weeks ago and will present to the full committee this month.
ACA Architect: Loss ratio is the most important metric
Unlike pet health insurance companies, Ezekiel Emanuel's world is crystal clear with respect to transparency and the importance of loss ratios. As one of the chief architects of the Affordable Care Act, Dr. Emanuel's structured exhaustive reporting requirements for health insurance companies focus on Medical Loss Ratio data. Setting aside completely any discussion about the actual products, including customer service or lack thereof, below is an image from CMS.gov. It is  world away from the spelunking to which I am accustomed in the world of pet health insurance. Here, there's not much to figure out. You can search by state, provider, year and, yes, the MLR (medical loss ratio) is not only  information the companies are required to report regularly, but must meet a minimum of 80/20. In other words, with the exception of Trupanion members, American consumers of pet insurance products get significantly lower payouts in the pet insurance category.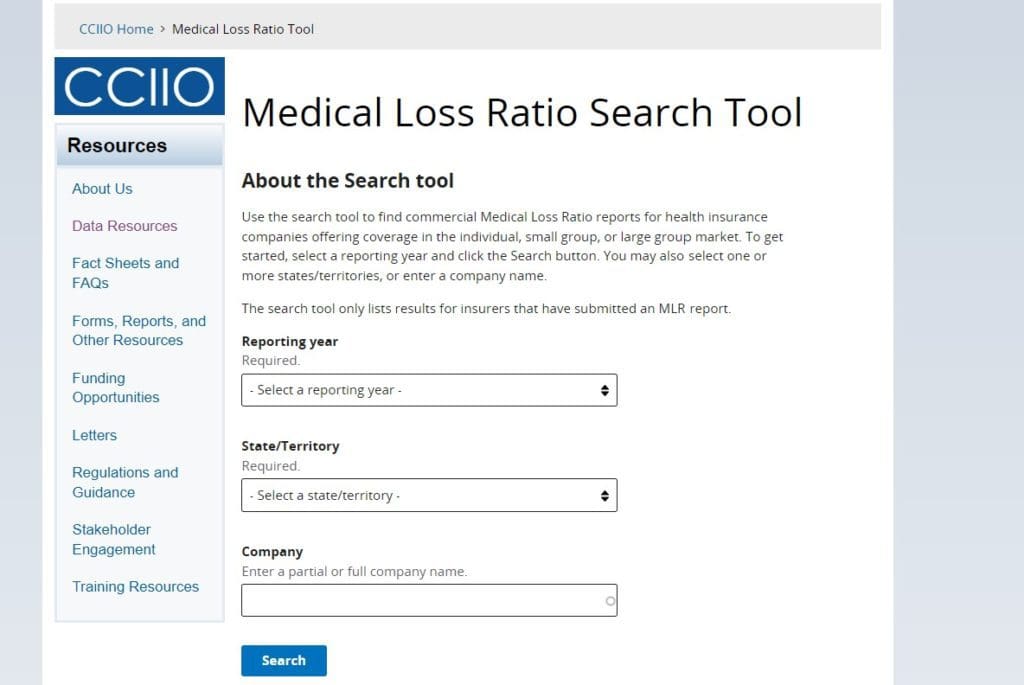 In a brief telephone interview Dr. Emanuel said he supports loss ratio data disclosure requirements (obviously) and agrees with Rawlings and Tooth, adding that ideally, loss ratio data is part of a larger picture clearly presented to consumers. There are numerous data points to consider, he said, all of which consumers should have access to. In Dr. Emanuel's world, consumers do have such access. In your dog's world, even reporters are unable to get loss ratio data for a significant portion of the products. Dr. Emanual was incredulous when I explained this to him at the beginning of the conversation. "Really?"
"MLR– how about CLR? Canine Loss Ratio?" he offers.
The Vets Hesitate
Dr. Gail Golab and AVMA general counsel Isham Jones, who represent the American Veterinary Medical Association on the Working Group, offered a more reserved – indeed vague – position, although still worth pointing out that the AVMA provided a comment which seemed to be almost enough to constitute a position.  Spokeswoman Lisa Howard, who, when we followed and asked if there was any reason at all the AVMA would oppose disclosure of loss ratio data, said " Unfortunately, Dr. Golab and Mr. Jones have not had the benefit of hearing the discussion that has taken place to date around these proposals. For this reason, while the AVMA supports transparency that improves pet owners' ability to make an informed decision regarding purchase of a policy, they are not able to comment on the specifics of what is being considered….We appreciate that the NAIC is thoughtfully considering what the best approach might be to achieving such transparency."
We will, of course, continue to come back to the veterinarians who have, in past NAIC discussions, taken stronger positions on behalf of consumers.
"Essential"
"I think it would be essential for evaluating the scope, growth and performance of the pet insurance marketplace," one of two NAIC-appointed consumer representatives to the Working Group Brendan Bridgeland (Center for Insurance Research) said when asked about overhauling the disclosure requirements and especially loss ratio data reporting.
"Loss ratio data can help consumers distinguish between contracts that provide real protection and junk insurance in which the vast majority of premiums goes to commissions and expenses, while only a few pennies of every dollar goes to pay claims," Bridgeland added.
---
Update: PET INSURANCE INDUSTRY REPS WEIGH IN, SORT OF
As we went to press, we received the following from NAPHIA spokeswoman Kristen Lynch:
NAPHIA has a consensus position in support of dedicated financial reporting for pet health insurance. However, It is important to recognize that the challenges for this type and level of reporting will have wide ranging implications among our member companies, which is why an industry position on the specifics of these matters takes time to determine. 
Regarding MCAS, this issue has never previously been proposed and with 26 'industry' member companies, NAPHIA's regulatory committee has not had an opportunity to fully assess a NAPHIA position. As an industry we value transparency with regulators and consumers: for anyone that has followed NAPHIA's work with the NAIC throughout these past several years –  during the process to establish a model law – it is evident that NAPHIA has consistently been a proponent of disclosures and transparency.
Note also that pet insurance is not being singled out by the NAIC here, the MAP and MCAS processes regarding certain line-item reporting are over-arching matters of the NAIC who are considering multiple lines of insurance coverage. As these topics have just come forth (and are being inserted at a late date into the Model Law process) the details and their implications for our industry are still in discovery. We hope that the call with the NAIC WG today will provide some insight into this. 
Finally, last month Gavin Friedman Trupanion's EVP, People & Legal (General Counsel) and John Fielding, CHUBB's Senior Vice President & General Counsel, Global Government and Industry Affairs agreed to Co-Chair our Regulatory Committee. Rick Faucher CEO of The Connected Pet Company, (our past Regulatory Committee Chair and President of NAPHIA's Board of Directors) will remain actively involved as well.