New Jersey-headquartered Freshpet (FRPT: NASDAQ) is recalling Select Small Dog Bite Size Beef & Egg Recipe due to suspected Salmonella contamination, the U.S. Food and Drug Administration announced Sunday.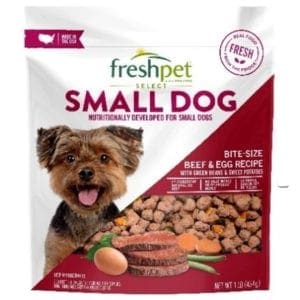 Freshpet, founded in 2006, was one of the earliest pet food companies to market non-traditional pet food diets to consumers.
"Freshpet has a single-minded mission," its website says, "to improve the lives of dogs and cats everywhere through the power of fresh, natural food. Fresh pet foods offer fresh meats, poultry, and vegetables farmed locally. The Freshpet Kitchens then thoughtfully prepare these natural ingredients and everyday essentials, cooking them in small batches at lower temperatures to preserve key nutrients."
Freshpet brands include Freshpet Select, Dog Joy, Vital, Nature's Fresh, and Dognation. So far, only a single lot of Freshpet® Select Small Dog Bite Size Beef & Egg Recipe Dog Food (1 LB bags), with Sell by Date 10/30/2021 has been recalled due to potential contamination with Salmonella.
"Our Freshpet Team had designated this single lot for destruction, but it was inadvertently shipped to retailers in limited geographic markets between June 7 to June 10, 2021," the company said in its announcement.
The company says while there have been no reports of illness or injury to date, a "limited number of impacted products may have been sold at: Publix in Florida, South Carolina, and Georgia, and at limited Target locations in Arizona and Southern California."