As one of the most controversial public policy debates in the animal world looms – whether dogs should be allowed to be defined by breed – new data shows that dog bites are happening less often but at a higher cost. This has led to a new world of lobbying efforts on the part of animal welfare organizations to stop insurance companies from dropping pit bulls and other breeds from homeowner coverage. In November 2020, a large body of groups published a white paper urging insurance regulators to stop legislation from moving forward that would disallow insurance companies from singling out dogs based on breed.
There were fewer dog bite insurance claims in 2020 than in 2019, even as so many Americans confined themselves together at home and went on a dog-owning rampage. However, the average cost per dog bite claim grew significantly more expensive for the insurance industry, thus indicating the unlikelihood of insurance companies removing breed from the algorithm, or excluding certain breeds outright.
New data from the Insurance Information Institute and State Farm shows dog bite claims decreased by 4.6%, which is especially remarkable considering that twenty-one percent of Americans brought home a dog in 2020. In fact, there were more dog bite insurance claims in the U.S. in 2003 than in 2020.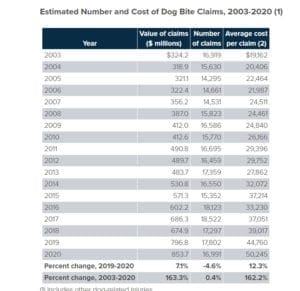 Put differently, there was no increase in the population of dogs that bite, even over nearly two decades. But the claims were a lot more expensive in 2020 than ever. The average cost per claim surged by 12.3% from 2019 to 2020, from about $45,000 to almost $51,000.
The Insurance Information Institute reported that insurance companies paid $853.7 million for 16,991 dog bite and injury claims in 2020, an increase of 7.1% in cost from 2019.
Even Dog Bite Prevention Week Has Its Critics
Every year in April, the American Veterinary Medical Association, through a National Dog Bite Prevention Coalition, produces National Dog Bite Awareness Week, a seemingly uncontroversial effort featuring discussions, public service announcements, and humane education focused on the notion that "most dog bites are preventable" by learning how to read a dog's body language as well as how to interact with dogs. There is also much emphasis on the notion that "any dog can bite" and the need to treat "dogs as individuals," not breeds.
Yet a study published by the CDC in 2000 analyzing data from 238 fatal dog attacks over a 20-year time span showed that pit bulls or Rottweilers were involved in over half of the attacks. As for the data singling out pit bulls on DogsBite.org:  "The claim that pit bull-type dogs were responsible for 65 percent of the deaths during that 12-year period is disputed by some groups as inaccurate and misleading. The American Veterinary Society of Animal Behavior, for example, says identifying a dog's breed accurately is difficult, even for professionals, and visual recognition is known to not always be reliable," R. Scott Nolen wrote in JAVMA in 2017.
A Focus On Post-Pandemic Adjustments for Dogs
"Last year at this time many people—and pets—were in the early stages of lockdown mode, and the stress and disruption of this change can be seen when we look at the data on dog bites," AVMA president Dr. Douglas Kratt declared in a media release about 'Dog Bite' week 2021. Dr. Kratt added: "This year, as we begin to emerge from those lockdowns and isolation, our concern is making sure our dogs—many of which were adopted during the past year—are prepared for safe interactions outside of the home."
"While dog bites are a serious public health issue, the good news is that most dog bites are preventable," Dr. Kratt says later in the press release.
Colleen Lynn disagrees.
Mauled While Jogging, She Creates Bite Victims' Advocacy Organization and Website With Real Bite
In 2007, Colleen Lynn says she was jogging on a Seattle sidewalk when she was attacked by a two-year-old unaltered pit bull [whose name, it turned out, was "Bull"] that broke away from his handler and lunged at her without warning.
"I was lucky," Lynn told TCR in an interview last week, recalling the incident. Within days of being discharged from the hospital, Lynn says she decided to figure out a way to use her professional background in web design to tell the side of the story she felt was not being told. DogsBite.org describes itself as "a national dog bite victims' group dedicated to reducing serious dog attacks." Lynn's positions, such as mandatory sterilization ordinances for pit bulls, make her controversial. Yet her website is constantly sourced by mainstream news media outlets. Lynn has emerged as a force to be reckoned with.
"There's been this anti-breeder phenomenon for many years now," she says. "You know, 'adopt don't shop.' People write in to us say they're afraid to go to a shelter and then they tell me, 'I've been researching breeders.' And, I'm like, that sounds like a great plan." Lynn added: "As far as wanting to adopt, you know, a Springer Spaniel, you're probably not going to have good luck at a shelter. You're going to have to do your research and find a good breeder."