*Updated at 5 pm on 3/31/2021* The first class-action lawsuit prompted by USA Today's veterinarian-disputed  'Seresto' story was filed last Monday against Elanco Animal Health Inc. (NYSE: ELAN). The suit seems to be as evidence-free as the USA Today story– the source upon which the suit relies. In a discussion with one of the four plaintiff's attorneys (more below), Spencer Sheehan, Mr. Sheehan acknowledged that the suit relies on the article by Jonathan Hettinger. The suit comes on the heels of the March 2 story by Hettinger that continues to be amplified by national news outlets despite the fact that the story has been discredited by the veterinary community and now deemed "unproven" by fact-checkers at Snopes.
The story spread across the Internet and went viral within hours. The allegation — that Seresto collars, a product that's been on the market since 2012 and has been purchased more than 25 million times in the United States, had fatally poisoned hundreds of cats and dogs — has, not surprisingly, sent Elanco's stock down approximately 15%, a drop exacerbated about two weeks after the USA Today story when Congressman Raja Krishnamoorthi (D-Ill.) appeared in a CBS News report on March 18 that parroted USA Today's story, publicly rebuking Elanco and calling on the company and Bayer, the original manufacturer, to produce documents and recall the product. That, in turn, triggered an even larger, more amplified wave of media reports, still parroting the original Hettinger story and still apparently failing to do any independent checking.
Dr. Ahna Brutlag, the Director of Veterinary Services at the Pet Poison Helpline and President-Elect of the American Board of Veterinary Toxicology spoke with us in our earlier reporting and, along with Dr. Adrienne Bautista, another top board-certified veterinary toxicologist stood firmly behind the safety record of the collars.
A small number of news organizations have not joined the USA Today bandwagon. At Reuters, for example, two sides of the story were offered to readers for them to draw their own conclusions. 
With a few exceptions, however, the story has continued to metastasize, not only fueling consumer skepticism about Seresto collars but, in many cases, any veterinarian-recommended parasite preventives.
The plaintiffs' lawyers' unusually succinct 23-page complaint alleges that Elanco is making false claims in its marketing and advertising by suggesting that Seresto collars are safe. The evidence offered: The vigorously debunked USA Today article, oversized color photographs of the two plaintiffs with their pets, and the two plaintiffs' accounts. Missing: any veterinary voices or records or anything else that could prove the case.
The suit was filed on behalf of the two allegedly victimized dog owners using standard class action language (e.g., "all others similarly situated") in a California federal court by four plaintiff's lawyers whose records indicate that they have filed similar cases against companies selling consumer products that were the subject of negative publicity. In negative publicity cases that involve large, publicly traded companies, the most likely outcome is a settlement, regardless of facts, because corporate defense lawyers fear the impact of continued negative publicity or fear being held liable by a jury eager to penalize a deep-pocketed corporation. 
This 'heads down' defensive crouch is also helpful in understanding Elanco's behavior as far as media strategy thus far. Although the company, itself, was likely the victim in this story, its representatives have refused to comment, more or less, about legal strategy and whether the company is requesting corrections, clarifications, or any changes to the original story. The Greenfield, Indiana-based company did respond to Rep. Krishnamoorthi's comments and letter, issuing a statement on March 19 saying that the congressman's actions were "based on recent misleading media coverage." The statement underscored that the company "stands behind Seresto and its safety profile."
An Expert Waiting in the Wings
Dr. Adrienne Bautista currently serves as Secretary of the American Board of Veterinary Toxicology, the body that certifies veterinarians in the specialty. Veterinary toxicology, of course, is the subject matter that applies most directly to the questions raised by the Seresto story. We asked her to comment on the two accounts offered by the plaintiffs in the Seresto suit, including whether what was being alleged was probable or even possible.
Aitiana Vargas, one of the two plaintiffs, alleges that her 10-year-old Siberian Husky "Lolita" developed soft tissue sarcoma (tumor) because of the collar, particularly because the tumor was discovered near where the collar is located on the dog's neck.
Quoting from the complaint:
31. Plaintiff Vargas purchased the Seresto collar Products for Lolita at PetSmart, 850 South Hope Street, Los Angeles, California.
32. In early January 2021, Plaintiff Vargas observed a small lump on Lolita's neck, close to where the Seresto collar Product is located.
33. This tumor grew quickly in size, causing Lolita to bleed and pant profusely.
34. Lolita's veterinarian diagnosed this as a soft tissue sarcoma ("STS"), grade 2, which was removed following emergency surgery in January 2021.
The other plaintiff, Faye Hemsley, alleges that the sudden death of her 13-year-old terrier mix "Tigger" is the fault of the collar.
Quoting from the complaint:
38. In or around January 2020, Plaintiff Hemsley purchased the Seresto flea
collar Product for 13-year-old Tigger for the first time at a Wal-Mart in or around
Altoona, Pennsylvania.
39. Around February 19, 2020, Tigger appeared for an annual checkup at
his veterinarian's office with Plaintiff Hemsley. There were no conditions or
symptoms that gave any cause for immediate concern for Tigger's health.
40. On February 24, 2020, Tigger suddenly passed away in Plaintiff
Hemsley's arms after her son attempted to take him outside for his walk.
Dr. Bautista – who, again is one of the country's leading veterinary toxicologists — is also employed by Mars Petcare, which competes with Elanco in some categories. In other words, Dr. Bautista has the expertise but no professional or financial incentive to help Elanco – making her an impeccably credible expert defense witness in the unlikely event that this suit ever comes to trial. She offered this response to the allegation that a 10-year-old Siberian Husky's soft tissue sarcoma (tumor) was caused or partially caused by the Seresto collar:
 "There is no scientific link between the ingredients in the Seresto collars and the development of soft tissue sarcomas  The more plausible explanation is that the tumor would have occurred even in the absence of the collar, but because it was near the location of the collar the owner concluded the collar caused it.  Association is not causation." 
As for the other account in the complaint, which alleges a dog's sudden death — at the age of 13–was the result of a Seresto collar, Dr. Bautista responded:
"As for causing sudden death, the likelihood is very low.  There are many silent diseases/disorders that go unnoticed even if a dog appears healthy on the outside.  Perhaps this dog had an underlying cardiac issue or ate a medication that was dropped on the floor.  We will never know what caused this dog's death because there is no necropsy report.  I am not defending Elanco, but simply stating that all the data to date supports that this product is safe to use and effective in controlling ectoparasites in cats and dogs."
A necropsy is the examination of an animal after death. In any discussion of animal health in which there is any question or debate as to the manner and cause(s) of death, a necropsy is relied upon, along with interpretation from veterinary pathologists and veterinarians in other applicable specialties. Necropsies were among the glaringly absent key components in the USA Today story, in addition to the absence of veterinarians, themselves. 
We asked both owners who provided their stories to USA Today's Hettinger if they would be willing to provide veterinary records to corroborate their accounts: both declined. They also declined to comment when asked if they had ever been asked to provide records by any reporter.
Smoking Guns – But For The Defense
The veterinary community may be surprised to learn, as TCR was in recent days, that necropsies were, in fact, performed on the dogs of one of the owners whom USA Today interviewed, although it's not clear to what extent because we were not given permission to speak with the veterinarians who treated the owner's dogs. Yet, Mr. Packard, the owner, was apparently never asked to provide these records by Mr. Hettinger or any other reporters.
It's also likely that USA Today author Hettinger found Mr. Packard through a 2019 Facebook post, which is also public and in which Mr. Packard discusses the necropsies of his dogs, his veterinarian's findings, and offers that his veterinarian told him the necropsies did not indicate any link with the collars.
"Dear Bayer : makers of Seresto flea & tick collar

The vet told us he could not rule out the collars from causing these symptoms in our beloved pets Danny & Dominic. My regular vet of the Abington Animal Hospital where we bought the collars. He basicly said it's like hitting the lottery it's possible the collars may have caused it. Both vets said what are the odds of 2 dogs 1 month after putting these collars on them having seizures 15 hours apart from each other."
Don't look for countervailing evidence from experts in the lawyers' complaint. There isn't any. The complaint reads like the USA Today story elongated with misleading and unsubstantiated accounts, and spiced with standard plaintiffs' lawyers' rhetoric about bad faith and massive damages. And as with the USA Today story, it's a veterinarian-free zone.
When we asked Packard if he would allow us to speak with his veterinarian or review medical records to verify the account he provided to USA Today — and if USA Today or any reporter had asked him the same question — he declined to answer.
"[The veterinarians] deny any of it from the collars," Packard said in a conversation through Facebook messenger. "[My veterinarian] wouldn't listen to us when we told him up front we thout the collars did it to our dogs. They all deny it because they don't want to go against bayer or other Big Pharma corps or lose their profits from the sales which they get up to 50% of the sales."
One veterinarian's response to the Seresto story especially seemed to resonate throughout the profession. Veterinarian Brennan McKenzie publishes a popular blog called 'The Skept Vet." His post-Seresto story post, which he titled "Seresto Flea Tick Collars: The New Satanic Panic," was one of 'Vet Twitter's most popular items that week. Following is an excerpt: 
Like many vets around the country, I've had a sudden wave of panicked calls and emails from clients about a dramatic article that appeared in USA Today yesterday. The article essentially claims that the Seresto flea and tick collar is injuring and killing huge numbers of dogs and some humans. Despite all the weaselly linguistic tricks to imply neutrality and plausible deniability if called out on making this accusation, no reasonable person could read this article and not get the message that this product is deadly and that the EPA is callously ignoring the danger, likely because they are in the pocket of Big Pesticide. 

This article is an example of the horrifyingly bad journalism that we see all too often concerning the safety of pet healthcare products. It is full of anecdote and innuendo and guilt-by-association, but devoid of the kind of actual data that might tell us whether the fear the author wants to incite is justified. As veterinarians, we have all been through this before. The web sites, Facebook pages, sloppy journalism, and even lawsuits claiming the pets are being harmed by Rimadyl and other NSAIDs, and Trifexis, Febreeze, Swiffer, and of course vaccines are a fact of life for anyone in pet health professions."
Dr. McKenzie has aptly identified what can fuel skepticism about science,  and there's lots of evidence that he's right. People like those quoted below who believe veterinarians are as culpable as the 'killer collars' can be found in a Facebook group called BAYER ELANCO SERESTO Collars of Death
"These vets have been bought out by big pharma and are drinking the Bayer/Elanco koolaid!" a member of the BAYER ELANCO SERESTO Collars of Death group writes.
Another member writes:
"So typical of [veterinarians] to try to make believe that counterfeits are the problem."
In short, the USA Today Seresto story seems to have exacerbated an already existing information vacuum for accurate, science-based reporting about animal health. Within an hour of the story's publication, the Internet was set ablaze and wreaking havoc on veterinarians' inboxes as they soon began receiving emails from concerned clients. 
Dr. McKenzie puts much of the blame on the journalism industry at large, which rings true here. But TCR would remind Dr. McKenzie he should not paint with such a broad brush. After all, he would not appreciate being associated with a veterinarian who mistakenly removes a kidney instead of an ovary, or with the bestiality veterinarian in Florida. 
CBS News Joins Collargate
"Attention pet owners! And…Breaking Tonight, only here on CBS News, members of " CBS Evening News anchor Norah O'Donnell read into the teleprompter on March 18.  On what's called the "lower third" portion of the viewer's screen, a bright red "Breaking News" banner appears. The story slug is "POPULAR FLEA COLLAR MAY BE LINKED TO NEARLY 1,700 PET DEATHS." Cut to b-roll of home videos of pets having violent seizures.  
The  CBS Evening News piece was assigned to Anna Werner, one of the network's more capable talents. Nonetheless, the package that aired on March 18 effectively parroted USA Today. There were no veterinarians, no veterinary records or necropsies, and the ongoing issues with counterfeit goods in e-commerce didn't make the teleprompter. The report was little more than a repeat of Mr. Hettinger's unproven claims from raw EPA data.
CBS's Werner did not return TCR's requests seeking comment about whether she or any CBS reporter independently checked the USA Today story before going on the air with it.
Here's what we asked CBS's Christa Robinson, Brooke Lorenz, and Werner:
Did a representative of CBS attempt to get the input of veterinarian (s)? If yes, why were no voices of veterinarians offered to viewers in the final pkg. that aired on the Evening News?
Did CBS News do any independent checking to determine what the USA Today story was basing its conclusions on? Did you know it was extrapolating from raw EPA data and that every veterinary toxicologist we spoke with said that the numbers were being misconstrued and not reported in a proper medical context? Given the criticism the story has received from the veterinary community, did CBS seek veterinary medical records to cross-check accounts provided by owners? Did CBS ask for necropsies? Did you speak with any of the owners' veterinarians?
Neither CBS spokeswomen Christa Robinson, nor Brooke Lorenz nor Werner would say why they were declining to comment. 
CBS repeated many of the mistakes as the editors at USA Today, except in this case, there was b-roll of violent seizures to accompany the errors. 
Like USA Today, CBS featured pet owners alleging that their dogs' demise must have been from a Seresto collar. It then followed up with a report that Congressman Raja Krishnamoorthi (D. Ill), who was interviewed by the network, was calling for a recall of Seresto collars. 
U.S. Congressman takes a flying, falling leap into Collargate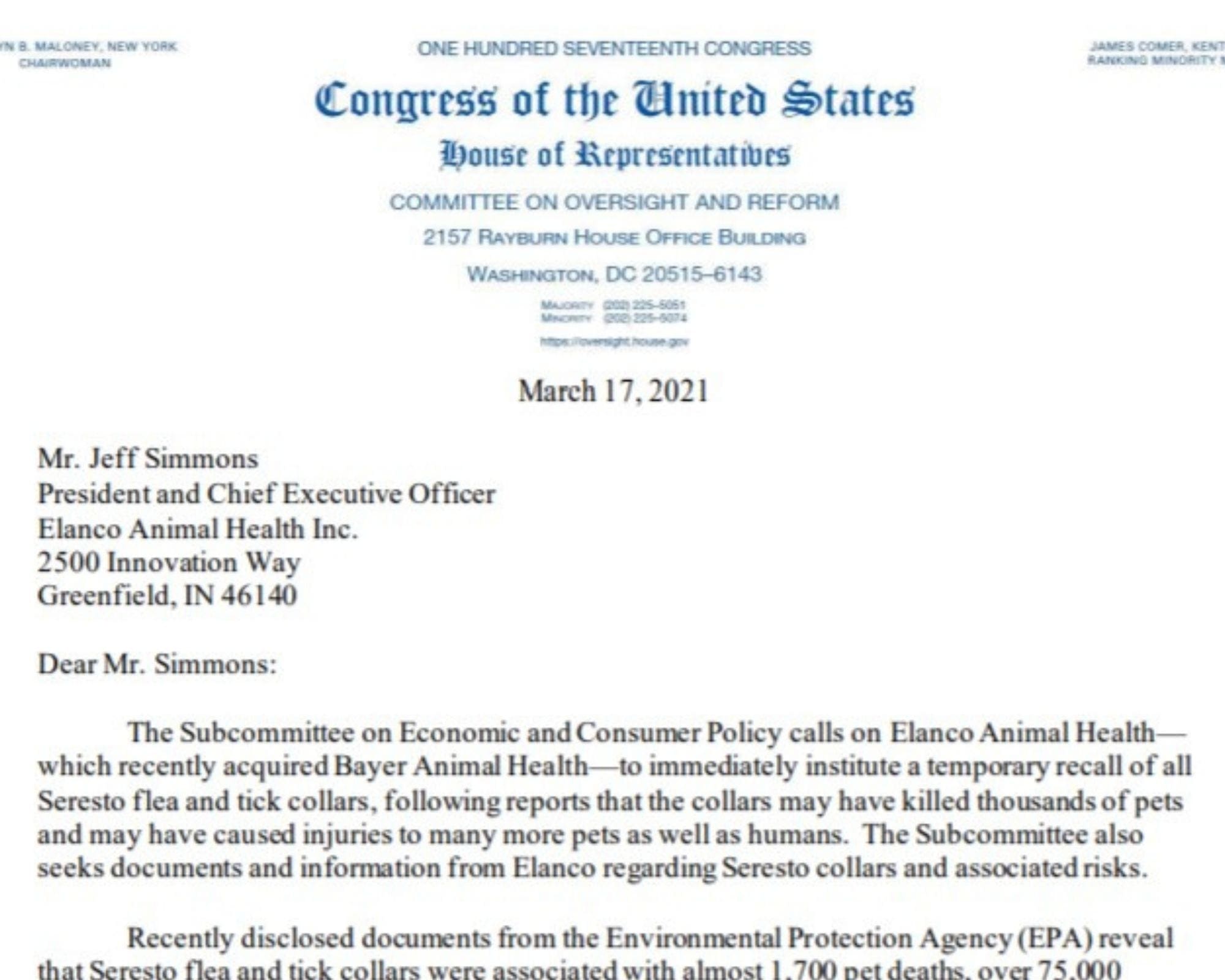 Representative  Krishnamoorthi's recall demand then generated new stories not only at USA Today, but by multiple media outlets, ranging from Alabama Public Radio to the New York Post to Yahoo to Fox Business. (The New York Post headline said that "Congress" had demanded the recall.)
Independent Fact-Checker's Verdict: 'Unproven'
All of these stories were published after Snopes, a well-regarded fact-checking organization, labeled the original USA Today story claims that there were links to the collars and the deaths as "unproven" on March 8.
Snopes concluded that the USA Today story was "Unproven":
Here is Snopes conclusion:
'"In sum, an investigation about Seresto flea collars was co-published by USA Today and Midwest Center for Investigative Reporting. EPA data consisting of 1,698 reported incidents of pets dying after they had come into contact with a Seresto flea collar figured prominently in that investigation. We reviewed the EPA data ourselves and spoke to the agency. In general, the information submitted to and compiled by the EPA is insufficient to draw a clear causal link between use of the product and the reported deaths. We have thus rated this claim as "Unproven."'
On camera, Congressman Raja Krishnamoorthi (D-Ill.) showed great enthusiasm for his new cause — condemning Bayer and Elanco, demanding that they answer questions about the "reports" of killer collars, and that Elanco recall the products.
Why not? "That's a pretty easy issue to get behind, right?" said Spencer Sheerhan, one of the plaintiffs' lawyers suing Elanco, referring to Rep. Krishnamoorthi's call for Elanco to recall the collars. "It's like supporting apple pie and the American flag," he added.
Rep. Krishnamoorthi has refused to explain or comment on any aspect of whether his staff did any research or independent checking before issuing public letters on behalf of the oversight subcommittee he chairs chastising both Bayer and Elanco and calling on them to produce documents and initiate the recall.  But the confidence in going after Elanco he displayed on camera with CBS was not conveyed in how he and his staff interacted with TCR when asked about the congressman's snap reaction to the media claims.
Over three days, Rep. Krishnamoorthi and almost a dozen members of his staff were contacted by email directly, by group, and reached through LinkedIn's message service and asked to comment on the research they did before attacking the company..
Others involved in accusing Elanco seem to have the same aversion to relying on the expertise of the doctors as the congressman and his staff. Reached by Facebook messenger for comment, one of the two plaintiffs in the case filed last Monday, Aitana Vargas, declined to comment when asked if she was planning to involve her veterinarian or any veterinarian in the litigation going forward, deferring TCR to Mr. Sheehan.
In a discussion about the complaint he filed with three other attorneys, Sheehan of Great Neck, Long Island acknowledged that the complaint relied solely on the USA Today story.
Responding by telephone to a question about whether he and his colleagues planned to introduce any evidence in addition to the USA Today story, Mr. Sheehan offered:
"You know, the way our system, I guess, legal system is that, you know, and it might seem silly and, you know, glib to say, well, the evidence comes later, you know, I guess lay person says, well, how do you file a lawsuit without evidence? Well, you really, in many instances, evidence, such as what would be relevant here is in the possession of, you know, the opposition. So a lawsuit in this case has to, you know, do enough, show enough allegations that seem, you know, like, I guess the word is used plausible and, you know, that's something that can be done without, let's say, you know, what most people would describe as evidence, meaning, you know, the documents…"
Asked, again, he or any of his colleagues had spoken with any veterinarians or planned on introducing veterinary records or necropsies as evidence, Mr. Sheehan responded, "That's not necessarily required at this early stage or, you know, the early stage and the beginning of any litigation."
We asked, again, if the lawyers had discussed the possibility of talking to veterinarians or obtaining records or necropsies.
"Well, I guess, I don't know if it's possible, I guess we'd have to dig up the, you know, um, you know, the woman's dog," Mr. Sheehan offered. "Like I said, that's not, you know, the legal standard that's required."