Today in Crisis Management:
Midwestern Pet Foods, Inc., – the Indiana-based pet food manufacturer that's been under siege in the wake of at least 70 confirmed dog deaths from fatal levels of aflatoxin, a product of black mold, in its foods – is in crisis if there ever was a crisis. And, now, the company has apparently retained at least one new hire.
On its Facebook page, where hundreds of dog owners have flocked to comment, vent, and demand answers from the company, Midwestern says: "A call center staffed with licensed veterinarians has been established for our customers and pet parents who have questions or concerns regarding their pet's health."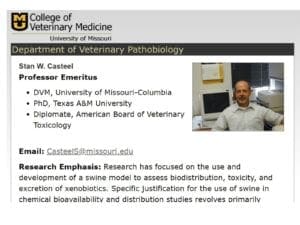 Who better for a company to hire for outreach to grief-stricken owners who feel betrayed than a respected veterinarian with ties to the academics helping to investigate the company? A veterinarian who, perhaps, can use his university bio and credentials to gain the trust of owners who may not otherwise answer emails from Midwestern requesting documents and information that might be used to undercut their legal position down the road.
Enter, Dr. Stan Casteel, who calls himself "Dr. Stan" in his new role at Midwestern, the company behind one of the deadliest aflatoxin pet food recalls in history.
Listed as a professor emeritus at the University of Missouri's department of veterinary pathology, Dr. Casteel has apparently been retained by Midwestern Pet Foods, Inc. for owner outreach.
According to the VIN News Service, it was Casteel's colleague, Dr. Timothy J. Evans, an associate professor at the University of Missouri College of Veterinary Medicine's Department of Veterinary Pathology, who first alerted the Missouri Department of Agriculture (MDA) to a problem with the food after Evans tested food samples taken by a veterinarian treating sick dogs in three different Missouri kennels. MDA was able to confirm the results and notify the FDA within days.
Through all of those fast-moving developments in December, Dr. Evans told TCR Sunday evening he was never made aware that Midwestern had hired Casteel.
"This is the first time I have heard about any possible involvement/communications by Dr. Stan Casteel associated with the Midwestern Pet Foods Aflatoxin Recall," Dr. Evans wrote in an email.
Reached by email at his new Midwesternpetfoods.com account, Dr. Stan declined to comment and referred TCR to the company's automated "media" email address.
Midwestern President and CEO Jeffrey Nunn did not return emails seeking comment about Midwestern's engagement with Dr. Stan.
TCR learned of the engagement from an owner who provided the Casteel outreach email to us.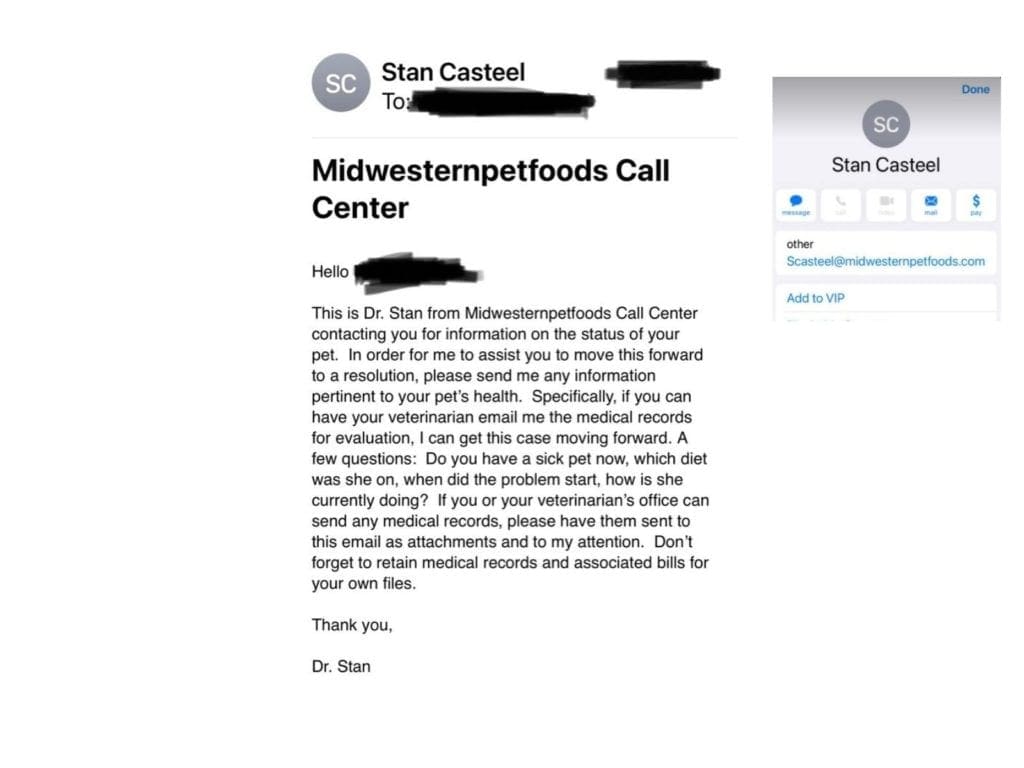 Asked to provide a slew of information over email to "Dr. Stan," she instead forwarded the email to TCR because, she said, it seemed "strange" and she found the fact that there was no contact information or last name in the signature especially odd.
This is Dr. Stan from Midwestern Pet Foods Call Center contacting you for information on the status of your pet…"
The surname in the sender's email address, "Casteel," would have to have been a remarkable coincidence. Dr. Stan Casteel is a retired professor at the University of Missouri's Veterinary Pathobiology department within the veterinary school, the same small department where Dr. Evans works, which has been assisting Missouri state and FDA investigators with the Midwestern Pet Foods, Inc. recall.
Given how closely Dr. Timothy Evans and other experts at the University have been working with Missouri and FDA investigators, and assuming the university's veterinary toxicology and pathobiology departments are relatively small, TCR wanted to know from the University what its policies are about someone consulting for a company that his or her colleagues are investigating. We also asked if Dr. Casteel had disclosed the work to anyone (Dr. Casteel did not respond from his Missouri account or from his Midwestern account).
However, Dr. Evans told TCR in an email that Casteel is, in fact, looped in on two private veterinary toxicology list servs; however, communications "only contained information which had already been made public or was in the process of being made public," he added. More of his email:
"I sent out several messages over the Holidays to the MU College of Veterinary Medicine community, of which retired faculty, such as Dr. Casteel, are members,  as well as two professional toxicology list serves to which Dr. Casteel and I both occasionally contribute.  However, these e-mails were solely intended as a means by which to more widely distribute the links to the recall notices written by FDA and/or Midwestern Pet foods and, to the best of my knowledge, they only contained information which had already been made public or was in the process of being made public."  
FDA spokeswoman Anne Norris declined comment on FDA's behalf when asked if FDA investigators were told about the consulting engagement.
SamiJo Freeman, a spokeswoman for the Missouri Department of Agriculture – the department has been working closely with FDA investigators because the tainted food was first discovered in three kennels in Missouri – would not comment on Casteel's activities, whether MDA was ever made aware of the engagement, or whether MDA was disappointed by Casteel's actions.
"To be clear," Freeman wrote to TCR in an email, "Dr. Casteel retired years ago and was given the appropriate professor emeritus title. He is not paid by the MU Veterinary Medical Diagnostic Laboratory and does not have access to the VMDL facilities or records." In another email, Freeman, the Missouri Dept. of Agriculture's spokeswoman added:  "Dr. Casteel owed us no disclosure because he has not been and will not be involved on the regulatory investigation side of this issue. As I stated earlier, we absolutely stand by the integrity of our investigation from start to finish."
Christian Basi, a spokesman for the University of Missouri, would also not take any position on Casteel's activities or whether they were an embarrassment to the University's work.
"The university has no authority over the activities of any retiree (assuming they are not employed by the university in a different capacity)," Basi explained, "To be clear, Dr. Casteel does not have any 'network privileges' that would allow him to have access to confidential information involving this investigation," he added — apparently unaware of what Dr. Evans described as Dr. Casteel's access to non-public listservs.
At press time TCR is seeking information from victimized dog owners to see if they, too, have been contacted by Dr. Casteel or others working for Midwestern.