The number of dogs fatally poisoned by contaminated food that the FDA announced was being recalled after at least 28 dogs died and eight became sick appears to be rising.
The toll had already amounted to the deadliest pet food recall of 2020, when the Food and Drug Administration's Center for Veterinary Medicine (CVM) made the announcement on the evening of December 30.
"I am aware of approximately 40 deaths [including the 28 announced by the FDA, he later clarified] that are suspected to be aflatoxin-related," Missouri veterinarian David Sikes, who owns the Lebanon Veterinary Clinic in Lebanon, MO, told TCR in a text message Friday evening, about two days after the recall had been announced.
The deaths of 28 dogs and illnesses of eight, the FDA's announcement said, were due to ingesting "potentially fatal levels" of aflatoxin. Although cat foods were also recalled, there have not been any reports of cats falling ill or dying that were eating recalled products. However, the FDA's announcement warned that the investigation was ongoing and that "case counts and the scope of this recall may expand."
Samples indicate sky-high levels of aflatoxin
"He's losing two or three dogs every single day," Dr. Sikes told the  VIN News Service, referring to a client, a breeder, whom Dr. Sikes declined to name. According to a source who asked not to be identified, Dr. Sikes provided additional data on a discussion of the recall in a closed online forum for veterinarians on VIN, including results from samples that were collected from two feed bins in a kennel with sick dogs.  One feed bin measured 525 parts per billion (ppb) and the other was measured at 380 (ppb). The FDA's legal limit is 20 ppb, which means that the sickened dogs had been eating food with an aflatoxin level between 19 and 26 times the FDA's limit.
Jeffrey Nunn, the president and CEO of Midwestern Pet Foods, Inc. (the parent company of Sportmix), did not respond to emails seeking comment about what, if any, preventive measures, including screening protocols, for aflatoxin levels are currently in place. Mr. Nunn also did not answer TCR's question about whether he was aware of any additional reports of deaths or illnesses connected to Sportmix food.  A Midwestern representative who would only identify herself as "Shawn" referred TCR to the company's press release from Wednesday evening, adding, "The situation is currently unfolding and we are making information available as quickly as we can."
Dr. Sikes, the Missouri veterinarian, declined to provide additional information. At the Animal Health Division of the Missouri Department of Agriculture, Missouri state veterinarian Steve Strubberg did not return emails seeking comment when asked about Dr. Sikes's estimate of "approximately 40 deaths."  A spokesperson for the department, SamiJo Freeman, also would also not comment and referred TCR to FDA's Center for Veterinary Medicine spokeswoman Anne Norris. Ms. Norris declined to be quoted on the record but did not confirm or deny Dr. Sikes's estimate. Ms. Norris also advised that she may be able to offer more information in the coming days.
The Canine Review spoke with pet owners and veterinarians around the country who indicated that there may be many more cases that have yet to be included in the FDA's count.
---
"We had three of our four labs die. The vet thought it had to be rat poison…"
On the afternoon of December 31, David Starnes of Fletcher, OK posted to his Facebook profile, imploring friends and family to read about the FDA's announcement. "About two or three weeks ago," he wrote in the post, "we had three of our four labs die. The vet thought it had to be rat poison. After reading this article, I went to check my bag of dog food because my one survivor won't hardly touch it and sure enough, I had the recalled Sportmix pet food with the expiration date associated with Lot 3. Please make sure you do not feed your pets this dog food," Mr. Starnes continued.
"Knowing I was basically feeding them poison makes me sick."
"I don't want anyone to lose three hunting labs like we did. It was harder than I could have ever imagined, and now knowing I was basically feeding them poison makes me sick."
Following publication, Mr. Starnes was reached by email for comment. In an exchange with TCR, Mr. Starnes confirmed that his dogs had been eating food that had been recalled and that his bag was one of the recalled lot numbers. Mr. Starnes told TCR that he had kept the original bag containing the Sportmix food and that he intended to file a report with the FDA.
Avery, 5, passed on December 4, Mr. Starnes told TCR. Hazel, 3, passed on December 6. Chloe, 11, was the last to pass on December 10. "When we got her to the vet, we had to put her down," he says. "When Avery showed symptoms, we had no clue what was going on. We brought her inside, she could barely stand or walk. This was around 11pm, she seemed fine early that day. When I got up to check on her and get ready to go to the vet, she had passed. I let the other three dogs see her before I buried her."
---
What FDA Requires
The Federal Food, Drug, and Cosmetic Act  (FFDCA) says that unsafe food, including pet food, that's contaminated cannot be sold. Thus, at least in theory, the FDA's regulatory ethos appears to require pet food companies to prevent the kind of situation that occurred at Midwestern with quality controls. There is also the Food Safety Modernization Act (FSMA), under which the FDA requires pet food manufacturing facilities to have comprehensive food safety plans.
Yet, the only actionable requirement with respect to aflatoxins TCR could find – CVM's Anne Norris declined to go on the record when asked about FDA's minimum requirements for aflatoxin monitoring in pet foods – is that the FDA requires the aflatoxin level of foods produced for human and pet consumption to be below a certain level: 20 parts per billion. How a company accomplishes that and if or how the FDA oversees any of this remains unclear.
Aflatoxins are by-products of mold (Aspergillus Flavus), pictured here.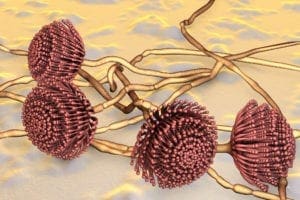 They mostly infest grains, corn, and nuts. They're everywhere and "not entirely avoidable," said the FDA's January 2018 "Hazard Analysis and Risk-Based Preventive Controls for Food for Animals [DRAFT] Guidance for Industry."
If pet food is overloaded with aflatoxin, the resulting damage to a dog's liver is often serious if not fatal because a dog is unlikely to show signs of illness until it is seriously sick. This is all apparently consistent with the case of two-year-old Border Collie "Jax."
---
"He just stopped being his normal self. He just stopped eating."
Karen Moureaux is an experienced Border Collie breeder in southern California.  On December 8 of last month, her two-year-old Border Collie "Jax" went from wolfing down five cups of Sportmix each day to refusing the food, Ms. Moureaux told TCR.
Jax had just undergone an extensive wellness exam and received a clean bill of health because, Ms. Moureaux said, she was thinking of breeding him.
Ms. Moureaux says she brought Jax home on November 1, 2020, adopting him as a young adult. Jax was the only dog in her home eating Sportmix because, she explained, it's the food he had been eating at his breeder's home. Ms. Moureaux had planned to transition him to different food, but never got the chance.
By December 10, according to Ms. Moureaux and Jax's medical records, which TCR cross-checked with the treating veterinary hospital, Veterinary Specialty Emergency Center of Thousand Oaks, Jax was gravely ill and died that afternoon.
At the time, poisoning of some kind was suspected, but neither Ms. Moureaux nor the doctors could make sense of what was making Jax sick.
In an interview with The Canine Review, Ms. Moureaux explained that because Jax was underweight when he came to live with her, he was eating a large amount of the Sportmix – about five cups of – every day.
After the sudden loss of appetite on the evening of December 8, Ms. Moureaux says Jax also missed breakfast the following day, and wouldn't eat on Wednesday night. She tried offering him fresh chicken, but he still wouldn't eat. "I checked his gums, they were pale and cold. I took his temperature, and it was 99.2, which is low for a dog. And then I took him to the emergency vet."
At the Veterinary Specialty and Emergency Center in Thousand Oaks, California (VSEC), Lindsay Tangeman, a board-certified specialist in internal medicine, treated Jax. She could not be reached because, the practice said, she was mired in emergency appointments, but speaking by phone with TCR, hospital business manager John McFadden provided some of the notes from Jax's chart from last month. According to Mr. McFadden, Dr. Tangeman wrote in her notes on December 10:
At this time, I am concerned for some type of ingested toxin causing acute liver and kidney injury with pancreatitis and gastroenteritis."
When she contacted Dr. Tangeman on Saturday by email after learning about the recall,  Dr. Tangeman returned her email with a phone call within the hour
There's nothing else that could have killed this dog. It just made no sense. It was so heartbreaking and frustrating for him to just die. It made no sense. And this makes complete sense."
"And it made sense to the vet, too," she added. "I said to [Dr. Tangeman], 'do you think this killed him? And she said 'yes.'" Ms. Moureaux added that Dr. Tangemen also informed her that she had been on "our list," explaining that the practice had recently seen three similar cases, all sudden deaths or illnesses that nobody could explain—until the recall was announced. "When [Dr. Tangeman] saw the recall, she said it triggered a 'what the hell, this needs to be investigated.' So, [Dr. Tangeman] sent an email to the other vets in their practice and they made a call list to find out [about the foods the patients were eating]. Ms. Moureaux says that she was told at least three, if not four deaths at the practice, including Jax's, are suspected to be linked to the recall.
"They go from zero to 60…"
"They go from zero to 60 in a very short period of time," staff veterinarian at the renowned Animal Medical Center in midtown Manhattan Ann Hohenhaus explains when asked about aflatoxin poisoning in dogs and what an owner should watch for. "If you're a farmer and you raised corn and you put it in storage–and, then, all of a sudden, your cows were jaundiced and sick, you'd probably be able to go and see this corn was moldy in the corn storage place," she says.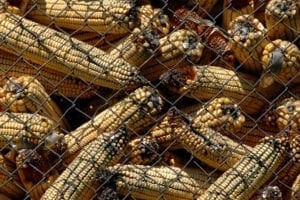 "But by the time grain gets turned into kibble…how are you going to see it?"
So, if dog owners are under the impression that they can see or smell pet food that's not safe for consumption, that's not true, Dr. Hohenhaus says. "The toxin is not mold. The toxin is there and maybe you wouldn't see the mold and you probably won't see the toxin because it's a little teeny, tiny chemical." The FDA says in its announcement: "The toxin can be present even if there is no visible mold," the FDA's announcement says.
Aflatoxicosis: Signs and Symptoms
"Initially, it would look like a sick dog," Dr. Hohenhaus says. "The dog doesn't want to eat. And then, when you take it to the veterinarian, the veterinarian may pick up that the dog was jaundiced, skin was yellow, and if they did blood tests, they might pick up that the liver tests were elevated." Unwillingness to eat is the most obvious, common symptom, Dr. Hohenhaus adds.
"Pets with aflatoxin poisoning may experience symptoms such as sluggishness, loss of appetite, vomiting, jaundice (yellowish tint to the eyes, gums or skin due to liver damage), and/or diarrhea," the FDA warned. "In some cases, this toxicity can cause long-term liver issues and/or death. Some pets suffer liver damage without showing any symptoms." Because the toxicity can cause damage without symptoms, FDA advises that "Pet owners whose pets have been eating the recalled products should contact their veterinarians, especially if they are showing signs of illness."
A 2006 JAVMA article examines one of the largest-scale pet food recalls due to aflatoxin contamination at the end of 2005, addressing the role of veterinarians in both recognizing cases as well as adequately reporting and following up: "Despite the timely recognition of the toxicity and dissemination of information, [more than] 100 dogs apparently died as a result of the toxic effects of contaminated products. This highlights the need for veterinarians to rapidly recognize adverse events involving consumption of contaminated foods; contact the appropriate groups involved (eg, retailers, product manufacturers, and regulatory agencies); and retain suitable food samples, product labels, and biological samples to aid in the identification of contaminated foods, rapid notification of pet owners, and documentation for clients."
FDA "conducting follow-up activities" at pet food facility
In its announcement on Wednesday, the FDA said it was "conducting follow-up activities at the manufacturing facility" and advised that the recall may expand. The Canine Review has filed FOIA requests for any and all inspection reports of family-owned Midwestern's facilities, headquartered in Evansville, Indiana, that have taken place since December 1, 2020.
The Sportmix brand is owned and manufactured by Midwestern Pet Foods, Inc., which is based in Evansville, Indiana. According to its website, the company has been family-owned since 1926, by the Nunn family. The recalled products were available throughout the country from a variety of online sellers in addition to brick-and-mortar retailers.
The FDA is asking veterinarians and owners who believe that their patient or pet was sickened as a result of the recalled food products to report cases directly to the FDA.
From Recall To Raw
Mackenzie Keller lives with her two dogs, Journee (Retriever) and Kaci (Doberman) in Glenburn, North Dakota. We found Ms. Keller through Facebook, where she had commented in a canine nutrition chat group about feeding Sportmix to her dogs. When asked for reaction to FDA's announcement, Ms. Keller noted that our request for comment was the first she had heard about the recall. One of her dogs, Kaci, had also been vomiting with some diarrhea. "I didn't know about the recall or anything until just now, so it kind of makes sense now." Ms. Keller contacted her veterinarian soon after she spoke with us and later informed TCR that Kaci had improved. "Kaci is back to normal. The vet hasn't said much except to keep an eye on her. He said in a blood test, it would be hard to find. I would have to send in the food to see if that bag/batch was affected. I don't have the bag anymore so I wasn't able to get the batch number."
When asked if she would be switching to a new food, Ms. Keller said that she and her husband had been thinking about switching to raw food "because it's better for everything.  If you give them salmon oil, it's good for their coat, they can have eggs and fresh meat."  [The majority of the veterinary establishment, including renowned veterinary nutritionist Lisa Freeman of Tufts, take the position that "RMBD's" (raw meat-based diets) pose significant health and safety risks to animals and to people which outweigh any possible benefits.]
Ms. Keller says that she's also considering a dog food brand called "Victor," though she's not yet sure who manufactures it. "It was on the shelf with some of the other grain-free foods," Ms. Keller explained when asked how she selected it. "I think that there's one with brown rice in it, but [Kaci is] allergic to the brown rice. She's allergic to corn and wheat and stuff like that." Ms. Keller added that a veterinarian told her that her dog had a "grain allergy." [According to Dr. Freeman, grain allergies in dogs are extremely rare; most food allergies in dogs involve protein sources such as chicken. Separately, boarded veterinary cardiologists advise against grain-free diets for dogs out of an abundance of caution due to the fact that although exactly the exact link between some diets and DCM is not yet known, there is compelling, concrete evidence that a link exists.
For pet owners in Ms. Keller's position who find themselves needing to switch foods urgently or who are interested in exploring a change of a pet's diet, the FDA encourages pet owners to consult with a veterinarian, who may recommend a board-certified veterinary nutritionist. He or she may also refer clients to the World Small Animal Veterinary Association's guidelines.