One company's leaders in the lucrative fresh pet food movement have adopted an unusual marketing strategy: target veterinarians. That's what transpired when TCR interviewed Just Food For Dogs founder Shawn Buckley and chief medical officer Oscar Chavez following the release of their new book.
For anyone who ever wondered about the origins of "real," "whole" pet food businesses like The Farmer's Dog, look no further than self-described "pet food industry disruptor" Shawn Buckley, who founded California-based JustFoodForDogs (JFFD), "the first-ever kitchen for dogs," almost exactly 10 years ago this week.
Setting aside the fact that Mr. Buckley's business and other "fresh" food businesses for dogs have attracted pointed criticism from veterinarians, few would dispute JFFD's success or the fact that the pricey pet food market, as a whole, has done well. Annual household spending on pet food increased by 36% between 2007 and 2017 according to Nielsen, with millennials in the top spending category followed by baby boomers. As a result, Nielsen reports that in 2017, the same year a $20 billion private equity firm announced that it was making a $21 million investment in JFFD,  4,500 new pet food products entered the market, a 45% increase from the previous year. The majority were labeled as "premium."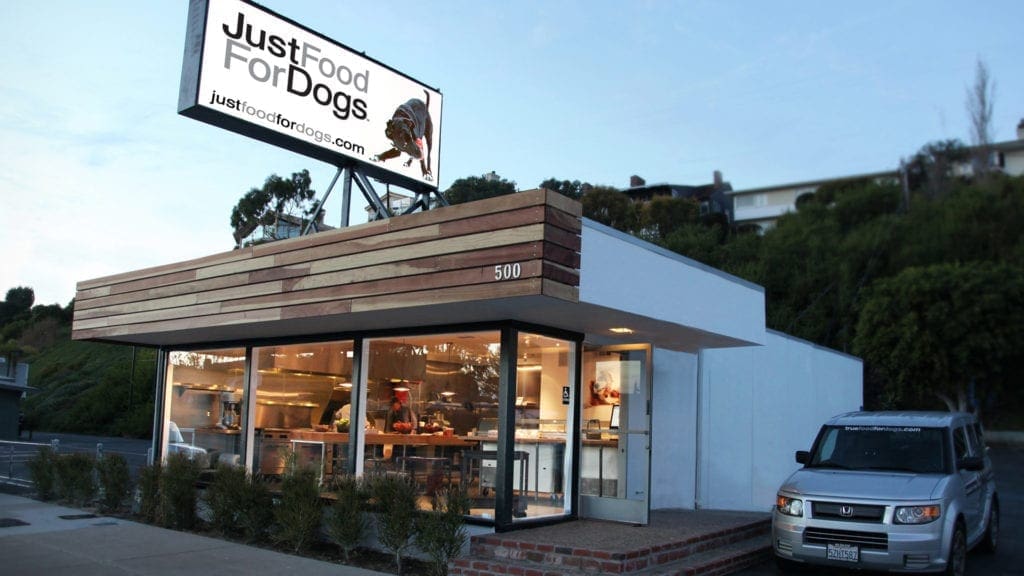 JFFD is the first direct-to-consumer "human grade" pet food service to be available through numerous channels in addition to the website itself. JFFD also continues to be one of the only pet food companies to make transparency a core value, not only with words, but with behavior: Its founding feature is open-to-public kitchens – although, as is the case for any company that packages and ships food products, many layers of the production process are not open to the public, including, as founder Buckley acknowledged in an interview with TCR, third party vitamin premixes. TCR was also unable to find details regarding the process undertaken to formulate the foods and by whom published anywhere on JFFD's website.
Mr. Buckley says the company now has ten open-to-public kitchens, including one in Petco's Manhattan flagship store in Union Square), six in California, one in Seattle, and another in Chicago. The kitchens are open seven days a week and produce about 2,000 lbs. of food each day. There are also two much larger "Master Kitchens" in southern California and Delaware which are open for tours by appointment "during non-COVID times," he says.
But JFFD's products are no longer confined to kitchens, or attended to only by JFFD employees. JFFD is also now available in "PantryFresh" meals off-the-shelf, "shelf-stable" is JFDD's term — meaning they are processed. They "can be stored unopened on the shelf for up to two years," according to JFFD's website. There are also "do-it-yourself nutrient blends" or pre-mixes that can be used for those who prefer to make the food from scratch.
The shelf-stable products are available throughout the United States in hundreds of kitchen-less Petco stores (The exact number of Petco stores to date that provide exhibition kitchen space for JFFD is unclear.) There are also, says Buckley, "70 Pantries with Pet Food Express stores in northern CA and another 60 Pantries within the lobbies …of busy veterinary clinics — some general practice and some specialty hospitals."
"As the inventor of the most radical change in pet food in decades, JustFoodForDogs is at the forefront of a new trend that is rapidly changing the industry," Petco spokesperson Rebecca Frechette said in the May 2018 press release announcing the marriage of JFFD and Petco. For Petco, the shoe fit. Petco, too, has been on a mission to rebrand as a "health and wellness" company, part of a broader strategy to compete with Chewy and attract pet owners to in-store services such as grooming, training—and now, premium nutrition.
JFFD employs about 550 people and most work full-time, according to Mr. Buckley. This includes ten staff veterinarians, according to the website. Importantly, the company recently engaged board-certified veterinary nutritionist Lisa Weeth, who is well-regarded by veterinary academics.
In April 2017, about a year before JFFD teamed up with Petco, the $20 billion consumer and branding-focused private equity firm L. Catterton announced that it was investing in JFFD. The terms of the agreement are not disclosed, but PetFoodProcessing.net reported that the initial investment was $21 million. In November 2019, L. Catterton announced that it was injecting another $68 million, bringing the total investment to $89 million. L. Catterton's brands include ThirdLove, a direct-to-consumer women's lingerie retailer; Peloton; and Lily's Kitchen, another premium pet food venture recently bought by Mars Petcare Inc.
It's clear that Just Food For Dogs now competes in a crowded niche marketplace of buzzy startups offering "fad," "human-grade," "fresh," "home-cooked" – don't forget, 'expensive' –food for dogs. And Buckley and his team are not shy about taking on the competition or any would-be critics of their branding as iconoclasts, while teaming up with established industry players like Petco. In fact, they seem to enjoy the fight that they have just picked by publishing a brass-knuckled book.
JustFoodForDogs to Vets: 'Are You Kidding Me?'
Earlier this month, Mr. Buckley and JFFD Chief Medical Officer Oscar Chavez celebrated the release of the book, "Big Kibble: The Hidden Dangers of the Pet Food Industry."  It's a scathing indictment of regulators, veterinarians, and, any company or person selling or promoting dry, processed dog food. The book is also an unabashed promotion for JFFD, which is the entity to which every other business discussed is compared.
But beyond the authors' examples of what they argue is a "broken" industry, including the 2007 melamine recalls, perhaps the most surprising and controversial part of the book is the finger-pointing at veterinarians and veterinary schools.   And, in an interview with The Canine Review, the authors double down on their criticism.
The most frustrating part of his job, Just Food For Dogs chief medical officer Chavez says, is an "easy" question. Convincing "veterinarians," he continues, "who have a biological education and understand physiology that real food…real chicken; real broccoli; real rice is healthier than a little ultra-processed brown ball of feed-grade kibble that is shelf-stable at room temperature for two years in a bag. You know, it's like, 'Oh my God, are you kidding me?'"
Mr. Buckley happily joins in the attack: "I could ask my doctor. I could ask my dentist. I could ask my chiropractor what my diet should be. And none of them would recommend a highly-processed diet and nothing fresh."
"The mainstream veterinarian needs research and proof that real food is healthier, and that just boggles my mind," Dr. Chavez adds. "We're the last healthcare profession that is recommending an ultra-processed daily sustenance. It's just crazy."
For all the vitriol the co-authors hurl at veterinarians during our interview, in follow-up email exchanges, on their website, and in Big Kibble, there are also several unexpected moments in which the authors seem to want to have it both ways, much the way they want to attract both Petco off the shelf customers and visitors to its kitchens. They extend olive branches and insist that they respect and admire the profession.
On the company's website, for example, is an entire recruitment page addressing veterinary professionals and, also, a description of "anti-veterinarian" tactics of other companies.
"From the day we opened our doors, JustFoodForDogs has considered itself "vet-centric," the website declares. "After the pet food recalls of 2007 scared thousands of Pet Parents, many new pet food companies grew overnight by ignoring veterinarians and marketing directly to the consumer. Some companies and stores went so far as to be anti-veterinarian, claiming to have better advice than vets and casting doubt on your knowledge of nutrition! JustFoodForDogs is proud to establish our most meaningful partnerships with veterinarians…."
Whether Buckley and Chavez intend to disparage veterinarians or praise them, they appear to be aware that what they're saying in our interview and writing in the book is incendiary.
"It's risky for us to come out with a book like this. We're challenging the very industry that we're in. We're not making friends," Chavez says.
Indeed, overall, the book nurtures a version of themselves almost as crusaders against an evil empire, portraying JFFD as a righteous crusade or movement. In Big Kibble, they present two opposing world views, or "camps," of veterinary nutrition. Everyone is in one camp or the other. Everything is binary. Bad or good. And they are on the good side. It's an aggressive marketing strategy rolled out between the covers of a book.
Veterinarian and prominent blogger Brennen McKenzie, best known for his blog "The SkeptVet", has been following JFFD – and criticizing the company – for years. He rejects the authors' suggestion that veterinarians are antiquated or out of touch. In 2014, reacting to a JFFD press release, Dr. McKenzie wrote:
"[They] equate conventional commercial pet food with what is typically called 'processed food,' though they are entirely different thing..Human snack foods and other processed foods are laden with excessive sugar, salt and fat and generally nutritionally poor. Commercial pet foods, if properly formulated and manufactured, are nutritionally balanced to a greater degree than our haphazard diet of whatever looks appealing in the moment…."
In other words, the suggestion that dry dog food (kibble) is analogous with junk food for people, he says, is baseless.
Of course, the most offensive attacks on veterinarians from the authors are arguably the insinuations that clients are unable to rely on them. The authors offer a full chapter on veterinary academic conflicts of interest, detailing the history of major contributions to veterinary schools by pet food companies – "Big Kibble" companies such as Purina and Hill's –and suggesting that veterinary student debt as well as the profession's rising suicide rate make veterinarians more susceptible to influence by what their book calls "kibble cash." It's worth noting here that the book, according to the authors, was professionally fact-checked. The problem isn't so much what's presented but what's omitted.
"This is schoolyard-level taunting…."
The "kibble cash" argument infuriates veterinarians like Jennifer Larsen, who is a prominent veterinary nutritionist at UC Davis.
Asked for reaction, Dr. Larsen wrote in an email:
"The continual insinuation of an unholy alliance between the pet food industry and vet schools is so tiresome and is most often made by people who have no idea how these relationships work. Pet food companies do not tell me what to recommend and how to practice my discipline, to say the least. That is insulting and would be very unethical. That is not how it works at all. The false narrative is continually pushed to dismiss our expertise while promoting their own. Some people like to think of themselves as rogue visionaries, but the hypocrisy and irony is not lost on those of us in academia!"
Asked to respond to Dr. Larsen's comment about the "kibble cash" chapter, Mr. Buckley tried to walk the chapter back a bit. "We have the greatest respect for the veterinary community," he emailed, echoing the website's praise of the community. "We routinely work with those in academia and have enjoyed a meaningful relationship with some for many years," he continued." If someone has read this chapter," he adds, referring to the chapter about veterinarians and "kibble cash," "as a 'false narrative continually pushed to dismiss our [veterinarians'] expertise' then there is a serious misunderstanding or misstatement somewhere. That is not how we feel."
However, Dr. Chavez's response would suggest otherwise: "She's the captain of the Big Kibble side of ACVN," he said, referring to Dr. Larsen and the American College of Veterinarian Nutrition, adding that she "has quite the reputation for being particularly unpleasant and overbearing with her opinions."
Asked to respond, Larsen emailed: "This is schoolyard-level taunting and not professional in the least. The response says more about this individual and this company than I ever could, really.
[Editor's Note: Generally, TCR does not publish a quote that attacks another individual personally if what is said offers nothing substantive related to the subject we are reporting. However, we decided that because the JFFD leaders' attitude toward, and treatment of, credentialed veterinarians is one of the key issues this story is raising, it was appropriate to quote Dr. Chavez.]
As for the insinuation from Dr. Chavez that Dr. Larsen is "the captain of Big Kibble," Dr. Larsen responded: "I will point out that the VAST majority of what I do professionally is homemade diet formulations, a fact conveniently ignored when it does not fit the narrative. I am unclear on how this fact makes any sense or fits with my new title of 'captain of Big Kibble'. I am also not an employee or consultant for pet food/treat/supplement companies, although I am asked regularly to do this. There is a huge demand, but it is simply not my interest. However, my salary is paid by UC, not by any entity in the pet food industry, and does not change regardless of which brands I do or don't recommend."
Dr. Larsen added that she, like many in academia, earns speaking and consulting fees. She also shared with TCR with the disclosure statement she says she provides whenever she is speaking or writing for a public audience: "Dr. Larsen is an investigator in clinical trials sponsored by Royal Canin and Nestlé Purina PetCare. She develops educational materials for Brief Media, Mark Morris Institute, and Healthy Pet magazine. She participates as a speaker or attendee in continuing education events sponsored or organized by Royal Canin, Nestlé Purina PetCare, and Hill's Pet Nutrition."
Co-authors Buckley and Chavez respond to Dr. Larsen's criticism by attempting to discredit her.  "Lisa Freeman, Jennifer Larsen, et al. vs Raditic, Barges, and forward-thinking vet nutritionists," said Dr. Chavez in an email. "I have been told there have been shouting matches at their meetings – and Jen Larsen has quite the reputation for being particularly unpleasant and overbearing with her opinions."
More efforts to discredit vets from the book: "One reason veterinarians don't warn pet parents about Big Kibble is that they generally trust it. Veterinary curriculums have historically not offered extensive courses in canine nutrition. Big Kibble, meanwhile, has been long on the funding of veterinary programs. Big Kibble supports everything from student scholarships to discounts on pet food. This combination can leave veterinary students, who then become veterinary professionals, with very positive feelings for Big Kibble."
Beyond the fact that this chapter was not especially helpful in warming relations between the authors and veterinarians, there is also a glaring omission. Although the "kibble cash" chapter implicates veterinarians as sell-outs, most veterinary academic institutions and publications as of 2012 have conflicts of interest and disclosure policies similar to those of most medical schools. There is nothing unusual about wealthy donors supporting higher education. The issue is disclosure, and just as the medical academic universe was transformed in the 2000s with new policies about conflicts and disclosure, veterinary education also now has strong conflicts policies, similar to those you might find at a medical school or journal.  Of course, conflicts can be abused in every profession, and disclosure doesn't eliminate such abuses; the medical profession has suffered its share of such abuses. There are entire websites and teams of reporters who only report on conflicts of interest in health care. This issue is not unique to veterinary medicine. It's an issue with star law professors and at business schools. "The bottom line," Dr. Larsen said, responding to the authors' comments about her relationship with "Big Kibble, "is that this is a movement to discredit the opinions of experts so that they can sell more food. It is so tiresome and lazy, and this technique has been thoroughly discredited."
Veterinarian Brennen McKenzie, the publisher of the popular veterinary blog "The SkeptVet" recently wrote: "I think it is telling that the promotional reviews are from celebrities, with no veterinary nutrition experts at all. JFFD has a problematic history [discussed in previous articles], and while their foods are now nutritionally balanced since they hired a nutritionist consultant [referring to Lisa Weeth] to fix their formulations, their marketing claims are completely untested and unproven ideology, not science. I would not be surprised if the same turns out to be true of the book."
Criticism of JFFD's Marketing Tactics
Much of the flak JFFD has faced, both from veterinarians and from lay persons – pertains to marketing tactics.
Veterinarian Brian Evans of Coastal Animal Hospital in California was inspired to deliver a seven-minute YouTube takedown declamation, effectively debunking claims on a JFFD flyer, which he says was being distributed to veterinarians at a conference.
"They really are aggressive with their marketing," Dr. Evans begins. He then holds up a sheet of paper which he says is "marketing material" that [JFFD] was distributing "to other veterinarians at a recent conference." [Dr. Evans subsequently told TCR that this occurred at a Fetch conference in San Diego 2019.] "It says here that their food is proven healthy and that it boosts cells of the immune system," he says. "So, the marketing claim is that if you feed this diet, your dog's immune system is going to be so robust and healthier than any of these other sucker dogs on kibble," he continues. "That's what I take issue with and what I want to show you is that the fact that they're even claiming this probably isn't very good because the study is a little embarrassing, actually….Um, and the study actually showed that there was an increase in white blood cells on these dogs being fed this diet. .Now white blood cells are your immune system. They are your immune cells, but there's certain white blood cells that have certain effects. And the two types of white blood cells that were elevated in this study were the granular types. Granular types are neutrophils and eosinophils. Neutrophils are what make up pus. So, when you have a lot of pus, that's all neutrophils. Those cells increased with dogs being fed this diet. The other type of cell is the eosinophil. And that gets elevated when you have things like parasites or allergies and that white blood cell also increased. So, the two white blood cells that increase are your puss white blood cell and your allergy white blood cell. That's not a good thing. If you're trying to say that this diet is healthier, it means it's creating more inflammation in the body than actually boosting the immune system….And so, just food for dogs, if you should probably kind of tone down on bringing up this study again, cause it's kind of embarrassing, like stop talking about it, make it go away."
"JFFD is very likely a healthy diet," Dr. Evans later wrote, replying to a viewer in the "Comments" section.  "We are just calling out their questionable claims that aren't supported by the research they performed."
Dr. Larsen was similarly concerned about the company's marketing tactics. "When they came to talk to our students, they showed photos of roadkill, implying that this is what is in kibble and canned foods…..  There is no evidence that commercial homemade style (or home-cooked diets) are better in any way," she wrote.
Grain-Inclusive and Grain-Free
Many of JFFD's recipes are grain-free/high-pulse, which means that they meet the criteria for diets suspected of putting dogs at increased risk of dilated cardiomyopathy (DCM) or heart disease, ultimately leading to congestive heart failure.
Dr. Chavez disputes this. He says the issue is not about "grain-free" but, rather, about "formulation." The problem is, he doesn't proceed to explain the steps the company takes to develop its formulations. "I believe the mainstream veterinary profession is doing an industry-wide, 'professional' version of: 'HAHA I TOLD YOU SO' with respect to 'Grain Free Diets.' I believe that bias is clouding the judgment of cardiologists and some vets…. Fast forward to 2017/2018 and the FDA gets reports of an uptick of DCM from select foods. Many of them grain free, and many of them fitting a specific profile (dubbed BEG by Lisa Freeman). She 'published' an opinion piece in JAVMA (shame on JAVMA!!) titled "Dying of a Broken Heart" disguised as "research." The rest is history. Since then, the veterinary community (and cardiologists are the worst offenders) have been saying a collective I TOLD YOU SO – GRAIN FREE IS BAD. …We believe there was an uptick in DCM due to badly formulated recipes…Sure – we could "cave" to perception and add grains for the sake of doing so and selling more food – but that's not us. We keep our formulations as they are because we know they are properly formulated…"
Recently, the company retained Lisa Weeth who is a respected, board-certified veterinary nutritionist. Although Dr. Weeth is listed only as a consultant, some stock can be added to statements the company makes about formulations with Dr. Weeth now on board. However, there's not much if anything provided on the company website or in our interviews to substantiate claims about formulations, including the people behind the formulations.
Mr. Buckley's founding vision of a pet food company with open kitchens and transparency as a core principle deserves credit, especially given the fact that few if any other pet food businesses, including other "fresh" and expensive businesses like The Farmer's Dog [when TCR profiled TFD, founder Brett Podolsky declined to provide the name or location of the company's manufacturing facility for the record] are known to open any part of its production process to the public.
Still, when we asked Dr. Larsen if the open kitchens made her more confident about JFFD's products, she wrote that while she agrees that the pet food industry lacks transparency, "watching someone chop and boil carrots is not solving this. It is more a marketing move that feels/sounds good but doesn't tell anyone anything about the millions of details involved in formulation, ingredient sourcing, food analysis, quality control, etc."
For pet owners interested in researching an alternative diet, start by arranging to speak with your primary veterinarian, who will likely insist that you consult with a board-certified veterinary nutritionist.  Your veterinarian may also refer you to this list of questions to consider when evaluating a pet's diet from the World Small Animal Veterinary Association.