Fake meds disable at least one dog, TCR has learned–and Amazon declines to say how many more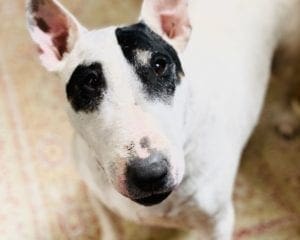 On September 25, Amazon emailed Janay Rittgers of El Paso, Texas with alarming news. The over-the-counter ear solution she had been buying from the e-commerce giant for at least the past six months to help treat her ten-year-old bull terrier Zoe's now acutely infected ears was counterfeit.
Ms. Rittgers told The Canine Review that by the time she received the email from Seattle-based Amazon, Zoe's ears were so infected, that veterinarians at East El Paso Animal Hospital could not get an instrument inside her ear canal. She was partially deaf in one ear, she added, and there was "a waxy, black discharge" coming from both ears.
The matter-of-fact wording of Amazon's email hardly reflected the reaction it triggered:
As part of our ongoing efforts to ensure that you can shop with confidence in Amazon's stores, we recently learned the product you received from Amazon is likely not an authentic ZYMOX product. We're sorry for any disappointment or inconvenience this might have caused."
"I was horrified. I will tell you. I was horrified," Ms. Rittgers told us Thursday afternoon, speaking by telephone. Upon learning that she had unknowingly been administering counterfeit medication to her dog, Ms. Rittgers rushed Zoe back to her vet — a place where she and Zoe had become frequent guests over the past several months, as Zoe's ear canals grew more infected and began to close, and as Ms. Rittgers was unknowingly applying defective, counterfeit products from Amazon to her dog's ears starting as early as December 2019 that apparently made Zoe's condition worse.
Now, suddenly, Zoe's acute, painful, and unrelenting infections in both ears were starting to make sense. "That [email] just scared me. I couldn't understand it. It was just frustrating. I didn't know what I was doing wrong," says Ms. Rittgers, who says that she and her husband have owned bull terriers since 1996.
2020 has been a year of unprecedented financial and medical challenges for millions of Americans, but El Paso, Texas, where Ms. Rittgers and her husband live has been especially hard hit by the pandemic.  "We're at our worst numbers ever, or close to the highest numbers ever right now in our city," Ms. Rittgers says. "It's just been really bad here."
For that reason, Zoe's veterinary practice, East El Paso Animal Hospital, like so many veterinary practices throughout the country, has stopped allowing clients to accompany pets inside to meet with doctors face-to-face. Instead, Zoe's veterinarians work on a "curbside" system whereby pets are met by staff outside of the building and brought inside the practice. Owners then communicate with doctors and staff by phone. "We couldn't go in and actually have a conversation," she recalled. "You get two minutes with your vet. It just seems like that's the way it is. So, I just say, 'I'm not real happy about her ears' and she goes, 'Well, just keep flushing.' And, of course, my dog was just going crazy."
By August, Ms. Rittgers says, she realized that Zoe could not hear her. "I told my husband, 'I don't care if we have to wait four or five hours. We gotta get her in,' I said, 'because she cannot hear, this has gone far enough.' I was so frustrated with it all."
According to Ms. Rittgers, once she was able to call attention to Zoe's ears, a veterinarian remarked, "She's got some of the worst ear infections I've ever seen." To treat Zoe's ears, Zoe was given steroid shots, Ms. Rittgers says, "because her ears were closed and they couldn't even see if she had an eardrum. We still don't know because she could barely get her scope down it this last time and this is after weeks of treatment."
"It's terrible because she was put on steroid shots, and now, her liver numbers – – I told the vet she was acting weird and, I said, please do a blood panel on her and make sure everything's okay – – and [Zoe's vet] came back and said, probably because of the steroids, her liver count is up. So, now she's on Denamarin for that…which she would have never been on if she hadn't had the steroid shots. This whole thing has just gone on and on."
The problems with Zoe's ears began in February, Ms. Rittgers says. The refunds Amazon issued to her for the counterfeit product (along with that September 2020 emailed explanation) covered six purchases, which had begun three months earlier, in December 2019.
An Amazon spokesperson would not comment when asked if she believed that notifying customers by email, with no name or telephone number attached, that they had been purchasing counterfeit medication could have been handled better. The Amazon spokesperson also declined to provide the total number of customers who received emails from Amazon informing them that they had been purchasing counterfeit Zymox.
Asked to comment specifically about Ms. Rittgers' dog, the Amazon spokesperson wrote, "I appreciate you sharing this information. I've passed this along to the team. If there is anything more I can share with you, I'll be sure to let you know."
Ms. Rittgers says Zoe has seasonal allergies, for which she takes prescription medication (Apoquel).  Additionally, like so many experienced dog owners, Ms. Rittgers says she has been buying Zymox products for years. The counterfeit product Ms. Rittgers had been ordering for nearly one year from Amazon was Zymox ear drops, frequently recommended by veterinarians. It is manufactured by Pet King Brands, a small, independently owned pet health products company that celebrated its twentieth-anniversary last year.
An employee of Pet King, who asked not to be named, told The Canine Review in a telephone interview that they started receiving complaints from Amazon customers about defective products beginning in April 2020. The employee, who declined to estimate the number of complaints the company has received, explained that eventually, a pattern started to emerge: Amazon was the listed seller for each complaint the company was receiving. It was also notable, the employee explained, that the complaints seemed to be about the same issues: faulty bottle caps, strange odors, and strange consistency of the liquid, itself. The employee says Pet King Brands, not Amazon, ultimately determined that Amazon was selling counterfeit products and brought the issue to Amazon's attention, after which Amazon issued the September 25 email to customers who had been purchasing the counterfeit products.
In other words, for everything Amazon says about its quality control measures and efforts to combat fraud and counterfeit products, all of that apparently failed and failed repeatedly for at least six months – longer, if we apply Janay Rittgers' timeline.
The employee at Pet King Brands says Amazon has not yet offered any explanation for how the error occurred, and Amazon declined several requests to comment when TCR asked Amazon to explain how something like this could have occurred.
In fact, an Amazon spokesperson told TCR, "We have no indication of any safety issues and are continuing to work closely with the brands involved."
According to the Pet King Brands employee who asked not to be named, lawyers for Amazon have been meeting regularly with PKB's counsel. One critical question PKB has been anxiously awaiting an answer on is what the contents of the counterfeit products were. The employee TCR spoke with at PKB said the company had obtained samples of the counterfeit products and had sent those products to a laboratory for testing, the results of which were pending, the employee said.
The Amazon spokesperson declined to comment when asked about the contents of the counterfeit medication.
"Customer safety is a top priority for us and we take counterfeit issues very seriously," the Amazon spokesperson wrote in an email that included this additional boilerplate language about programs such as Amazon's Brand Registry.
In order to detect bad actors and potentially counterfeit products, we make significant investments in machine learning and automated systems. We employ dedicated teams of software engineers, applied scientists, program managers, and investigators to operate and continually refine our anti-counterfeiting programs. Amazon's systems automatically and continuously scan numerous data points related to selling partners, products, brands, and offers to detect activity that may indicate a potentially counterfeit product and immediately block or remove it from our store. 99.9% of all products viewed by customers on Amazon did not have a valid counterfeit complaint. In 2019 alone, we invested over $500 million and have more than 8,000 employees protecting our store from fraud and abuse. We also stopped over 2.5 million suspected bad actor selling accounts before they published a single listing for sale and blocked more than 6 billion suspected bad listings before they were published to our stores.
Ms. Rittgers has already been to her veterinarian four times since receiving the email from Amazon and she's due back again soon to recheck Zoe's liver and ears
Until her most recent visit to her veterinarian, nobody could say for certain if Zoe's ear would ever reopen, or if she would be permanently deaf.  But Zoe now seems to be recovering. "The vet said that this last time she had real improvement. So, she is getting better. The ear is opening. She said she could put her scope partially down her ear canal for the first time, but we still don't know if she has an eardrum. So, you don't know. I mean, who knows with that kind of pressure. You really don't know."
"I'll stand with Zymox" Ms. Rittgers said, "because I know it's an excellent product. I've used it for years and I have nothing but good things to say about it because it's really helped our dogs with seasonal allergies and their ears. It's just fabulous. And I'm just disgusted with the whole thing."
Pet King issued a press release late last week about what had transpired, noting emphatically that PKB, not Amazon, detected the issue first, and that the defective products "were not manufactured by Pet King Brands nor supplied directly to Amazon by Pet King Brands," the PKB announcement said.
The PKB announcement added: "Amazon as a business entity is not an approved authorized seller of Pet King Brand products," PKB said in the release. "As a precautionary measure, Pet King Brands recommends consumers who have purchased one of the Zymox Ear products directly from Amazon and not from one of the authorized sellers on Amazon to immediately discontinue use and contact Pet King Brands with any questions regarding these products or any other Zymox products purchased directly from the Amazon storefront."
The Pet King Brands employee says that Amazon has always had the option of being an authorized seller of Zymox and buying the product directly from them, as opposed to purchasing the product through third-party sellers, which is how this all could have been avoided in the first place. However, Amazon would also be asked to pay a higher price to purchase the products directly from the manufacturer. Chewy.com, for example, is an authorized seller of Zymox products, the PKB employee explained, which is why the counterfeit products are an Amazon issue, not a Zymox issue.
Asked if Amazon will now buy the product directly from the manufacturer, the Amazon spokesperson would not comment.
"My little dog suffered for months," Ms. Rittgers said. "And here I was, trying to help her and I was harming my baby. And I love my dogs like kids! I was a big Amazon shopper. And after that, I dropped my Amazon, everything. My Prime. I dropped everything. I just shut them off. I don't even go to Whole Foods anymore."