Tracey McNamara is a renowned veterinary pathologist who is widely regarded as having identified West Nile Virus in 1999 while leading the pathology program at the Bronx Zoo. Dr. McNamara says she's not surprised to see what appears to be history repeating itself because America has not made any significant structural changes to its health surveillance capabilities since her West Nile work: "The flip side of preventing pandemics is looking at animals," she explained. "Yet, the United States does not have a comprehensive animal health surveillance network. That's a stupefying, critical, and ultimately remediable lapse."
More than one month after Buddy, the first dog in the United States to test positive for SARS-CoV-2 (the virus that causes COVID-19 in humans) was euthanized, information about that case and similar cases continues to be confusing and sparse. Testing for animals in the United States has been extremely limited, and the messaging about our dogs and cats from public health officials includes repeated caveats about "limited available information." Yet those same officials are discouraging or all-together blocking that information from being gathered.
It's a contradiction that a renowned veterinarian — who made her name identifying the link between animal disease and human disease when another deadly virus struck in 1999 — finds 'stupefying.'
As of August 27, SARS-CoV-2 or antibodies for the virus have been confirmed in only 15 dogs, 11 cats, two minks, four tigers, and three lions. Of those 35 known and confirmed animal cases, "six (17%) died or were euthanized [five dogs and one cat]," the U.S. Centers for Disease Control and Prevention's Casey Barton Behravesh told veterinarians at an online convention for the profession late last week.
Dr. Barton Behravesh directs the One Health Office, which is part of the CDC's National Center for Emerging and Zoonotic Infectious Diseases. According to its website, CDC's One Health office works "at the local, regional, national, and global levels – with the goal of achieving optimal health outcomes recognizing the interconnection between people, animals, plants, and their shared environment."
"Robust investigations have taken place to identify the spectrum of disease, comorbidities, and underlying conditions of these animals," a bullet point on a slide in Dr. Barton-Behravesh's presentation reported. But, for now, the findings of those 'robust investigations' remain mostly off limits to reporters, academics, and anyone else who is wondering about the details of any of the cases in which dogs infected with SARS-CoV-2 did not survive, or even about cases in which they did survive. A reporter for National Geographic managed to find the owners of Buddy, the seven-year-old German Shepard in New York City who became the first confirmed case in the country, but the National Geographic story also surprisingly did not offer readers any primary documents (e.g. bloodwork, radiographs, contemporaneous notes, other records).
Nonetheless, with enough digging, the 'One Health' section of CDC's website does offer an impressive menu of archived live webinars, including Zoonoses & One Health Updates (ZOHU), which are monthly calls in which any individual with an internet connection can participate. These monthly briefings, which are not totally scripted, are helpful for anyone wishing to understand more about what Dr. Barton Behravesh and her colleagues have gleaned.
State public health departments have been less helpful and responsive. They have refused to release information even as basic as the gender and breed of the dog in North Carolina, for example. As a result, because CDC is not releasing details about the few known animal cases until it concludes all of its investigations and publishes a paper on those investigations, the animal world is left in an information vacuum.
However, the information vacuum that has persisted since the early days of the pandemic may soon be at least partially filled. In a telephone interview last week, Dr. Barton Behravesh and colleague Dr. Ryan M. Wallace, a veterinary epidemiologist for CDC, confirmed to TCR that they are in the process of producing a paper that presents the findings and long-awaited case details of pets that experienced "severe outcomes:" five dogs and one cat that did not survive.
"The document is intended for publication as a case series in a scientific journal," Dr. Barton-Behravesh and Dr. Wallace later wrote in an email. The report is being prepared in collaboration with state veterinarians in the states where dogs experienced the most severe outcomes: North Carolina, South Carolina, Georgia, and New York.
Veterinarian who identified West Nile sounds her alarm, again
The paper from the CDC One Health team will be a welcome addition of science and data into a dialog that has so far seen little of either. But for renowned veterinary pathologist Tracey McNamara, it is far from sufficient. It was Dr. McNamara who is credited for being first to identify West Nile virus in North America despite being repeatedly brushed off by the CDC. Now, she is sounding her alarm again. Dr. McNamara's story of making the connection between what she was seeing on the ground at the Bronx Zoo (a lot of sick and dead birds), where she was head pathologist in 1999, and reports she was reading of people in the New York area falling ill, is worth revisiting. "The West Nile story is important," Brian Resnick wrote in The Atlantic during the 2014 Ebola outbreak. "It is also the story of avian flu, rabies, MERS, HIV, SARS, anthrax, and Ebola. The common thread: These are all illnesses that can be passed from animals to humans."
'a stupefying, critical and ultimately remediable lapse'
"Three-quarters of all emerging diseases are zoonotic, meaning they originate from contact with animals," Dr. McNamara, now a veterinary pathology professor at Western University of Health Sciences College of Veterinary Medicine, explained  in an OP-ED for The Hill in May. "Our efforts to handle COVID-19 have understandably been human-centric," she continued. "However, the flip side of preventing pandemics is looking at animals. Yet, the United States does not have a comprehensive animal health surveillance network. That's a stupefying, critical and ultimately remediable lapse."
That absence of a monitoring system needs addressing now, McNamara said in an interview with TCR. Asked about the work of CDC and its One Health Office, McNamara paused:
What can I say about One Health? In the United States, there has been a lot of talk about One Health for 21 years. What there has NOT been is any change in how we do surveillance. It's done from an agency-based approach. CDC does humans. USDA does cows, pigs, chicken…It's been politicized. It's not good science."
Information in drips
The paper that CDC's Barton-Behravesh and her colleagues are preparing will be a good start, but Dr. McNamara's concerns are focused not so much on the fact that CDC has been sitting on the investigation details of the small number of cases they've confirmed in companion animals, but more on the fact that there are so few confirmed animal cases in the United States and, therefore,  the problem of "limited" data.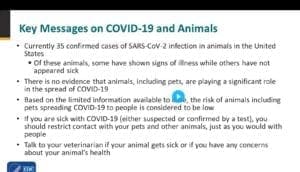 "Based on limited data available…."
The favorite phrase appearing in literature distributed by the CDC about animals and SARS-CoV-2 – that it is "based on limited data available" – is, of course a reasonable caveat.
It is important to define the boundaries of the information government officials are offering, especially when it's related to a public health crisis. But one aspect of CDC's current COVID-19 guidance to veterinarians – that "routine testing is not recommended" — is what forces that caveat to be used. Moreover, a veterinarian needs to obtain permission from 'One Health partners' to be able to submit something for testing.
For Dr. McNamara, that produces a kind of Catch 22. If there is "limited data" and "we are still learning about this virus," why not encourage more testing to facilitate more research," she explains. "I've never heard of anything like that before," she says of the CDC and USDA's updated August guidance to veterinarians which instructs them to obtain permission in order to move forward with SARS-CoV-2 testing. "The decision to test an animal, including companion animals, livestock, and wild or zoo animals, should be agreed upon using a One Health approach with the appropriate local, state, and/or federal public health and animal health officials," the guidance to veterinarians says. "Veterinarians are strongly encouraged to rule out other, more common causes of illness in animals before considering SARS-CoV-2 testing."
Dr. McNamara says there's a much more intelligent way that public health officials could have approached the issue of resources and balanced it with the need for more research: "You know, if they had said, 'Well you know, there is such a shortage of pipettes and we're dealing with a human health crisis right now…' But I think, instead of telling people not to test, they should have said, 'We want to serum bank every animal that comes into a veterinary practice.' Let's just start banking serum samples so at some point in time, we can actually have enough data to be able to make an epidemiologic conclusion. They keep saying, 'We don't have enough data to really say…' Well, yeah! That's because you're not letting us get the data!"
"They keep saying, 'We don't have enough data to really say…' Well, yeah! That's because you're not letting us get the data!"
Sorry State of the States
CDC's Barton-Behravesh and her team do seem to be making an effort to make their work accessible with regularly scheduled presentations and online Q&As. In fact, TCR had an easier time contacting Dr. Barton-Behravesh than it did trying to contact many public health officials at the state level.
GEORGIA
In Georgia, where one of the dogs that tested positive for the virus and did not survive was from, we were told that a necropsy was performed, but that its contents were confidential, even though the necropsy was cited in the state's press release and in emails to TCR. "The only new information I have is that the final necropsy (an autopsy for an animal) results confirm the dog's cause of death was a brain tumor. The other dog in the home is not ill and tested negative for SARS-CoV-2," the state's Department of Public Health spokesperson Nancy Nydam wrote.  Neither the state veterinarian nor the assistant state veterinarian would return repeated request for comment.
NORTH CAROLINA
"Due to patient confidentiality, no additional information about this case will be provided."
One of the CDC's "ongoing investigations" involves the dog that was the focus of a press release in North Carolina issued by that state's Department of Health and Human Services earlier this month. The dog "was demonstrating signs of respiratory distress with onset earlier that day," the press release announced. "The dog, unfortunately, succumbed to its acute illness." The press release did not offer a name for this "acute illness" or any additional information about symptoms, history, or underlying conditions. An investigation was "ongoing," the press announcement noted. However, a necropsy had already been completed. What did the necropsy find and conclude? Before answering that question, TCR had hoped Dr. Carl Williams, the state veterinarian for North Carolina, might provide more basic information such as the age, breed, or gender of the dog. Dr. Williams has not responded to our requests for comment and our public records request for relevant materials in the case, which is nearly two weeks old, has yielded only an acknowledgment that the request was received.
And this was after we struck out with North Carolina Department of Health and Human Services spokesperson Kelly Haight. When asked about the age, breed, and gender of the dog, Haight wrote, "Due to patient confidentiality, no additional information about this case will be provided." Asked about the necropsy (which McNamara says should be standard operating procedure for animals that test positive for the virus, performed at no cost to the owner, and organized by state health departments) cited in the press release, Haight wrote: "The death investigation determines the animal's state of health at the time of death, but the cause of death is still underway and is not finalized at this time. We are attempting to collect as much information as possible to determine what, if any, illness or pathology may be associated with the finding of SARS-CoV-2 in the dog. This is the first dog identified with a confirmed infection in North Carolina, so identifying dogs that are infected with, or transiently colonized by, SARS-CoV-2 appears to be very rare.  As such, we do not believe that dogs represent a significant risk factor for infecting humans and other dogs."
SOUTH CAROLINA
We were, however, able to speak at length with Boyd Parr, the state veterinarian in South Carolina, about the shepherd mix that tested positive for the virus. Asked about the scarcity of details, Dr. Parr said, "We all want to learn what we can learn about something that's new….The initial presentation raised questions…Once we got the COVID tests, we would have loved to have done more research; the questions that you're asking are questions that all of us have. The questions are valid…But you can't go on 'it might have.' You need to be able to prove it," Dr. Parr concluded, referring to the role of the virus in the death of the dog in his state.
NEW YORK
According to a report in National Geographic, the owners of seven-year-old male German Shepherd "Buddy" elected to euthanize him after his health declined for several weeks. National Geographic also reported that records provided to the magazine by Buddy's owners "indicate that Buddy likely had lymphoma when he died. CDC's Barton-Behravesh and her team did email TCR to add, "Extensive review of medical records revealed that the most likely cause of this animal's death was unrelated to SARS-CoV-2."
On July 11, the day Buddy was euthanized, Donna Barbagallo Marchese, the sister of Buddy's owner, posted an announcement about Buddy's passing which included a rant about the CDC: "The CDC was aware and put it out there that a Shepard from NY was diagnosed with the Human Covid 19 virus. You would think this would be a reason for the CDC to step up with testing! I'm writing this to let everyone out there know that the COVID 19 VIRUS is very serious to not only humans health but your loving pets. Since the CDC hasn't put it out there yet for whatever reasons, I will!"
Asked about the family member's comments, the CDC's Barton-Bharevesh said in an email from herself and Dr. Wallace: "Local, state, and federal health authorities have extended an exhaustive amount of effort to control this pandemic," she wrote in response to the family's criticism. "Health authorities that typically are tasked with investigating zoonotic disease events in animals are now asked to take leading roles in this response, including managing large teams of contact tracers, managing diagnostic services, and converting veterinary laboratories into human COVID testing facilities. The One Health collaborations displayed during this pandemic have gone beyond expectations.….        Extensive review of medical records revealed that the most likely cause of this animal's death was unrelated to SARS-CoV-2."
According to the account in National Geographic, New York City and New York state public health officials seemed indifferent at times to Buddy's owners. Buddy's owners also say, according to the magazine, that no individual ever informed them about the option of a necropsy; in fact, they did not learn of the possible lymphoma diagnosis until the day of Buddy's death, according to the account in National Geographic.
Asked about that account, New York State's official veterinarian, Alexandra Newman, would only say, through spokesman Jonah Bruno, that, "Decisions about diagnostic testing, care and treatment of animals should be made by the family in consultation with the attending veterinarian. Dealing with an ill pet, like an any ill family member, is difficult and fraught with emotion. Our hearts go out to Buddy's family and all the families who have lost loved ones to this pandemic."
"Really?" Dr. McNamara shot back when asked about Dr. Newman's comments. 'And should the treating veterinarian pay for the necropsy, too? Should the owners?' Dr. McNamara says that she suspects part of the problem is that nobody wants to be left with the bill.
Meantime, while the CDC may be more forthcoming than state officials with the press, its messaging about companion animals continues to baffle veterinarians like McNamara. It's precisely the kind of guarded approach she and her co-authors objected to in a widely read paper in an academic journal that chronicles her efforts to warn high-ranking officials at the Department of Homeland Security and other agencies.
"I'm sure I ruffled feathers, but wrong is wrong," she told TCR.
'The Flip Side of Preventing Pandemics is Looking at Animals'  
As the United States approaches six-million confirmed cases of COVID-19 and a death toll of 170,000, there has been no lack of effort or speed to amass research, science, data, and learn all there is to know about how the novel coronavirus affects humans. Information gleaned is released expeditiously, if not simultaneously. Whether through academic journals, presentations, webinars, press releases, or talking with members of the news media, public health officials and physicians involved in researching and treating human COVID-19 patients all seem to be willing and eager to share anything learned when they learn it.
That same level of transparency has been avoided by veterinarians and public health officials involved in confirmed cases of cats and dogs.  Case details have been few and far between. South Carolina state veterinarian Boyd Parr says he supports and agrees with the guarded messaging strategy of the One Health team. Dr. Parr, who was also widely quoted this summer when a dog in his state was confirmed as positive for the virus (the dog was also euthanized) explained that there's no cover-up or conspiracy to withhold information; however, he worries about issues like context and messaging. The concern, Parr elaborated in an email, is "a belief, unfounded at this time, [that] pets can transmit SARS-CoV-2 to people would likely result in an increase in pet surrender or abandonment is widely held." Parr added that he believes information has continued to be released "in accord with the laws and regulations in their respective jurisdiction that included what could be proven and rightfully have avoided public speculation not backed up by significant data."
"The worst thing that could happen is that people could jump to conclusions," Dr. Parr said in a telephone interview. "We want the facts to get out, but we don't want people to run off with part of the information and interpret it incorrectly in a way that would motivate them to harm their animals," he added.
That fear of how pet owners might react is what Dr. McNamara —  now a veterinary pathology professor at Western University of Health Sciences College of Veterinary Medicine — believes is responsible for blocking her efforts
"Nobody wanted to go near [research on whether animals could infect people] with a ten-foot pole"
McNamara says she begged for funding, insisting that there was a critical question that needed an answer urgently: "We know that dogs and cats can be infected. The question is, are they capable of infecting people? I begged for $300,000 to be able to do very, very small experimental transmission studies. We're talking six cats, six dogs.  But you had to have that answer. And, nope. No funding was made available."
Not everyone appears to be struggling for funding for that kind of research. Michael Lappin is a professor of infectious diseases at Colorado State University and, also, arguably the Anthony Fauci of veterinary medicine. Reached by email, Dr. Lappin wrote, "I am in the middle of many things in relation to SARS-CoV-2 in animals both nationally and internationally." He added, "CSU has embraced the study of this virus in animals and looks forward to sharing many things in the coming months." Dr. Lappin also said that he found 'some interesting points for sure' in Dr. McNamara's paper. 
BOTTOM LINE: THE HUMAN EQUATION
In her widely read article, "A Critical Needs Assessment for Research in Companion Animals and Livestock Following the Pandemic of COVID-19 in Humans," Dr. McNamara explores ways in which the absence of veterinary research could impact everyday life: "The U.S. government spends millions of dollars to train bomb-sniffing dogs…" She raises an interesting question, which is, "What happens if working dogs lose their sense of smell [one of the known side effects of the virus observed in humans]?" She continues: "Unfortunately, the only susceptibility study published on dogs (Shi et al. 2020a) did not include histopathologic evaluation or immunohistochemical staining of the nasal passages in the experimentally SARS-CoV-2-infected dogs that were necropsied, so this remains an important but unanswered question."
'Doing Their Best'
CDC's Barton-Bharevesh and Wallace say the paper is a 'top priority and its publication will mark an important starting point. However, for doctors working on the front lines like McNamara, the paper is hardly enough. It sounds like "they're trying to do their best," McNamara says when asked about CDC's answers to TCR's follow-up questions about the upcoming paper and about the One Health Office's work more generally. "But they can't keep saying, 'we don't have enough data' and not have testing."