The Mountain View Voice is reporting today that although California veterinarian Tejpaul Ghumman's license was revoked by the state's Veterinary Medical Board (VMB) earlier this month along with his 'premise license' to operate Alta View Animal Hospital,  which he  co-owns, Alta View Animal Hospital continues to be open for business and Ghumman is continuing to work there.
Ghumman and Alta View is the kind of case that helped inspire TCR's veterinary hospital reporting project. A graduate of the consistently #1-ranked veterinary school in the country, University of California, Davis, School of Veterinary Medicine, Ghumman, as well as two other doctors in the practice, Michael J. Sterns and Suji Gurushav, have  already  been  issued  numerous  citations  by  the  VMB for falsifying  medical records, fraudulent billing,  withholding  critical  medical information  from  owners,  and more. The complaints against Ghumman span years and come from multiple pet owners, "Ghumman's attorney, Michael Firestone, said the location remains open for business under another entity, and that Ghumman is still working there — albeit only in back office operations," the report added.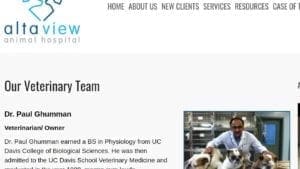 Stay tuned for more reporting on this from TCR, including reaction to the status of the hospital and reports that Ghumman is continuing to work there from the licensing board.