Last week, high-end specialty and emergency veterinary hospital network BluePearl announced in a press release that, based on data from all ninety of its hospitals throughout the United States, there had been a 70% increase in canine parvovirus cases during the COVID-19 pandemic compared with the same period in the previous five years. "Canine parvovirus is a highly contagious virus that commonly causes GI [gastro-intestinal] disease in young, unvaccinated dogs," Dr. Alex Gallagher summarizes in the Merck Veterinary Manual.
BluePearl declined to provide any of the data and spokeswoman Laura Fourniotis noted in an email that the data has not been released to any member of the public.  "Our researchers are still in the early stages of their investigation," she wrote in an email when asked if TCR could see the data. "We are…looking for possible causes of the increase and determining what the implications are for this and other preventable companion animal diseases," chief medical officer Dr. James Barr wrote in the media release. Dr. Barr declined to be interviewed.
     Manhattan, Too
Although BluePearl apparently does not know what to make of its own data, other members of the profession had some insight to offer. The Animal Medical Center in midtown Manhattan is the largest veterinary nonprofit hospital in the world—and it is also home to one of the world's busiest veterinary emergency departments. Staff doctor Ann Hohenhaus has worked at AMC since 1986. Asked about BluePearl's announcement and what she had been seeing at AMC in recent months regarding parvovirus cases, Dr. Hohenhaus outlined recent observations at the hospital that make her certain that cases are on the rise.
What is the basis for her conclusion that parvo cases are up this year? The AMC overnight admission log, she explained to TCR.
'Two pets admitted [in a single night for parvo] that were not from the same family is another thing that makes me think [the number of cases is] up"
"Every morning at AMC, around 5 o'clock, there is a list sent out to everybody in the hospital that says what got admitted overnight. And there has been parvo on the list. It's unusual to see parvo on that overnight admit list because the reality is, we don't see that much parvo in New York City—at least not in the Animal Medical Center neighborhood." She added, "I would be willing to bet that most of the parvo cases come in on emergency because your dog is acutely, critically ill. You don't make an appointment for that. You just show up. So, that's why I think the overnight admission list is probably a good reflection of that."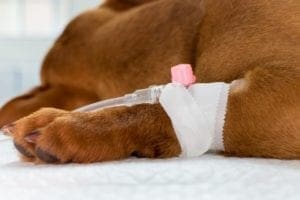 "There was one [recent] particular morning when the overnight admission list had two pets with parvo. We will often see that because people will get two puppies from the same litter. But, when I looked, the last name of these two pets was not the same."
"The fact that I'm even seeing parvo on that admission list tells me that it's up," she added. "And the fact that in a single night there were two pets admitted that were not from the same family is another thing that makes me think it's up." (Update: Following publication, Dr. Hohenhaus informed TCR through a spokeswoman that AMC had another parvo case admitted last night.)
In fact, Dr. Hohenhaus, who is a certified veterinary journalist, warned her own readers last week on AMC's popular blog – as New York City dog parks reopened as part of Phase 3 –  of the risk of exposure to parvovirus and other infectious diseases. She felt that many pet owners, including even her own clients (as she said in her interview with TCR) had missed important vaccination deadlines during the pandemic: "In many healthy adult dogs routine vaccinations were delayed because of the pandemic. If you have not had a chance to update lapsed vaccinations, I suggest you delay a trip to the dog park," she wrote on the AMC blog.
Asked what she thinks might be causing the increase in parvo cases, Dr. Hohenhaus says that she believes it is a confluence of more people getting puppies during the pandemic and, at the same time, less visits to veterinarians for vaccinations either because people are reluctant to go out of their homes or because general practice veterinary care may be limited (in vacation towns, for example) due to the pandemic.  "There are veterinarians in vacation communities where everyone has gone to their vacation home and is working from there and people can't get appointments for their new puppies," Dr. Hohenhaus explained.
                            Up 30% in South Carolina
The Charleston Veterinary Referral Center (CVRC) is the only veterinary hospital in South Carolina – and one of about fifteen nationwide (AMC is another) – to hold a Level 1 Veterinary Emergency Critical Care Society (VECCS) certification. CVRC hospital director Michael Parks, who is a licensed veterinary technician, says that based on his own analysis of hospital data, "this year is up 30% in suspect/potential parvo cases compared with average over the last 6 years (Jan-June time period)." He added, "There have been years that were similar to current, but on average, it's a 30% jump."
Insurer Not Seeing It
There is probably no better source for data about small animal health and hospitals than pet insurance provider Trupanion. Trupanion is unique in that unlike any other insurer, Trupanion directly integrates 'with [veterinary] practice management software,' chief executive officer Darryl Rawlings explained in an interview with TCR for an unrelated story in March.  Trupanion, therefore, is able to pool an enormous amount of data for its business intelligence, drawing not only on claims and invoices, but also on data about uninsured pets at any practice where Trupanion is integrated into the veterinary practice management software.
Asked about the sharp increase that BluePearl is reporting and if Trupanion has seen an increase in parvo-related claims in 2020 versus previous years, Trupanion spokesman Michael Nank said, "They [Trupanion's Business Intelligence team] looked into the data and they are not really seeing any increase in parvo-related claims in 2020 versus previous years. Compared to the last two years, April was slightly elevated, but given the volatility of the volume, and the fact that March and May weren't unusual, they wouldn't conclude that we are seeing anything out of the ordinary."
D.C. Hospital Not Seeing It
Echoing Trupanion, Sara Crosman, a spokesperson for Friendship Hospital in Washington D.C.'s posh Tenleytown neighborhood, says, "Anecdotally, we have not noticed a change," with the caveat that she was not drawing on "specific numbers or reports. Just a casual observation."
It Can't Be Killed with Soap
Still, Dr. Hohenhaus points out that, unlike Covid-19, which can be killed with soap and water, parvovirus is much more resilient. Parvovirus can live on the ground for up to two months, she warns.
Although there does not appear to be a consensus about whether parvovirus cases are on the rise compared with previous years, anyone who works in the veterinary industry knows that a parvovirus vaccine costs less than $20; however, the cost to treat parvovirus often requires hospitalization and can be thousands of dollars. Moreover, many pet insurance policies, including even Trupanion – the company that appears to provide the most straightforward, reliable insurance coverage based on our own reporting –   excludes claims arising out of illnesses that result from the owner's failure to provide basic wellness and preventive care, an exclusion under which parvo-related claims would most likely fall, assuming the dog was not current on its vaccine.
"There is a period in time," Dr. Hohenhaus cautions, "and how long that window is probably varies from puppy to puppy, but there is a period in time when puppies are at risk for getting parvo, even if you vaccinate them once. Once might not be enough," she added. "To be THE safest, dogs need a parvo vaccine after sixteen weeks of age. That's when what the momma has given the baby [the antibodies] has worn off and that sixteen-week vaccine will work. Probably works before then, but sixteen weeks is, 'Now we're really sure we're safe.'"