It has been two weeks since a family dog in North Carolina named Winston became an overnight celebrity when the media declared that Winston was positive for Coronavirus. However, Winston's test results remain unconfirmed by U.S. officials.
"BREAKING NEWS: FIRST DOG IN U.S. TESTS POSITIVE FOR CORONAVIRUS," NBC Nightly News reported in one of the opening packages of the network's 6:30 broadcast with Lester Holt.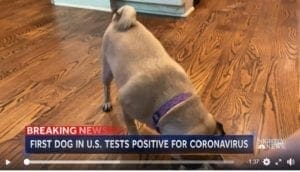 At CBS News, Vladimir Duthiers told CBS's viewers, "A new report finds a dog in North Carolina has tested positive for Covid 19…."
Nowhere in Duthiers' report does he mention that animal cases of the virus need to be confirmed by the U.S. Department of Agriculture's National Veterinary Services Laboratories (NVSL), which had not yet received samples at the time of his and NBC's reports, as we first reported after reaching out to the U.S.D.A.
Winston also made appearances on ABC World News Tonight, and on Good Morning America.
Lyndsay Cole, a spokeswoman for the U.S. Department of Agriculture's Animal and Plant Health Inspection Service (APHIS), which oversees the government laboratory responsible for confirming animal cases of the virus, told The Canine Review last Tuesday that test results were expected "toward the end of the week." Late last week, we were told that results were not yet available. On Monday morning, Ms. Cole declined to comment when asked about the reason for the delay, but did write in an email, "NVSL has shared that testing is still not completed. We hope to have results in the next few days."
We reached Dr. Heather McLean, Winston's mom, who told us that she had not been made aware of any final test results.
Dr. Chris Woods, the lead researcher on the Duke University study who was presumably responsible for the original testing on Winston, and for announcing those test results to the media, has not returned our requests for comment, including if he is aware of possible discrepancies between his test results and those at U.S.D.A. We also asked Dr. Woods if a veterinarian was involved in his study's coronavirus testing on Winston. He has not yet responded.