What kind of prepping and primping goes on backstage at the world's most prestigious dog show? How much work goes into getting these dogs ready for their close-ups?
Grandmother and granddaughter duo, Karen Duprat and granddaughter Brielle Duprat, respectively, spoke with us about their Havanese champions, Fenway and Moose. Brielle, 12, was missing school for Westminster Week. "A lot of people are watching her," grandmother Karen told us, beaming. And this is not Brielle's or Karen's first time at the superbowl of dog shows. Karen has shown in Westminster over a dozen times, she tells us, and this is Brielle's third time at Westminster.
But Brielle has never shown outside of the junior track before today. Today will be her first time showing in the regular competition. Asked if she was nervous, she responded "No" without blinking.
Asked how much time they spend getting the dogs ready, Karen said that the blowdrying takes "about an hour."
Brielle showed us some of the hair products they use on the dogs, as well as the dogs' traveling hair salon.
TCR had the privilege of meeting the fabulous Siba and watching as she prepared to take the stage for her first competition of the week. We enjoyed watching her go from the humble beginnings of Best in Breed champion, all the way to Best in Show. Congratulations, Siba!
And across from #Siba, we met a white standard poodle, four year-old Gilette and his owner, Ron, from Boston, along with an entourage of four groomers who answered questions about Gilette's prep process…..
We met Chow Chow siblings Quin and Reigning Queen of Diamonds from Coco Beach, Florida. This was their first time at Westminster. We doubt it will be their last..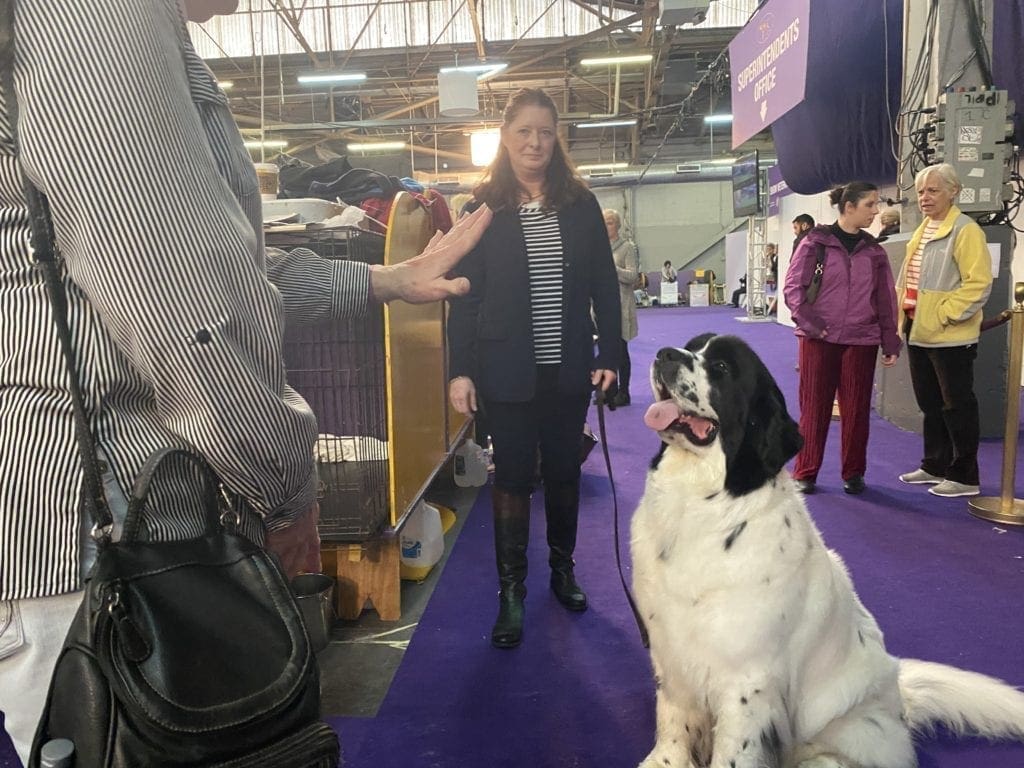 We met Newfoundland breeder Lynn Anderson and two year-old "Harry" (full name "That's Some Bad Hat Harriet"), a black and white lanceer from Anderson's kennel, Threeponds in Amsterdam, NY. Anderson says she's attended the Westminster dog show "probably 25 times" won Best in Breed "multiple times" with lanceers and blacks. "Lanceers" are the term for variety-colored Newfoundlands.
Sitting next to "Harry" is black Newfoundland "Taylor," 3, whose owner tells us it took about 2 1/2 hours to get him ready, including 1 1/2 hours for the blowdry. "My dad is from Newfoundland…I grew up listening to him tell me how his parents had Newfoundlands…I always wanted one," she told The Canine Review.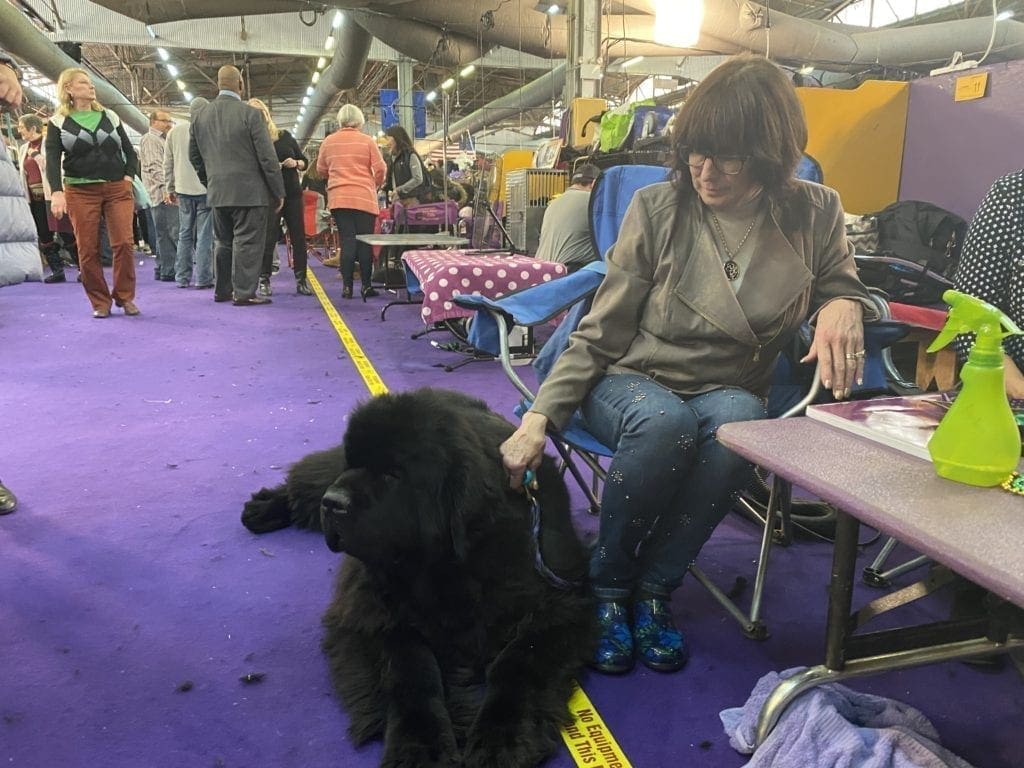 It wasn't until Anderson was 35 when she got her first "Newf." "I had bred horses, shown horses, had my own farm," Anderson continued. "Horses are very expensive, I was working full-time and I got to the point where I really couldn't do both. So I cut back on the horses and at the same time, I had a Newf. And the Newf I got, the guy said, well, we'd really like to have him shown. And eventually we'd like to breed him..So that started the whole thing. A couple of years later, I had my first litter and I went down the line with the Newfoundlands. I was always into animals and animal husbandry and horses taught me how to evaluate pedigrees and how important what the parents and grandparents were and did. So, it just kind of fell in place."
We met Kathy and "Jiggy" a Chinese Crested.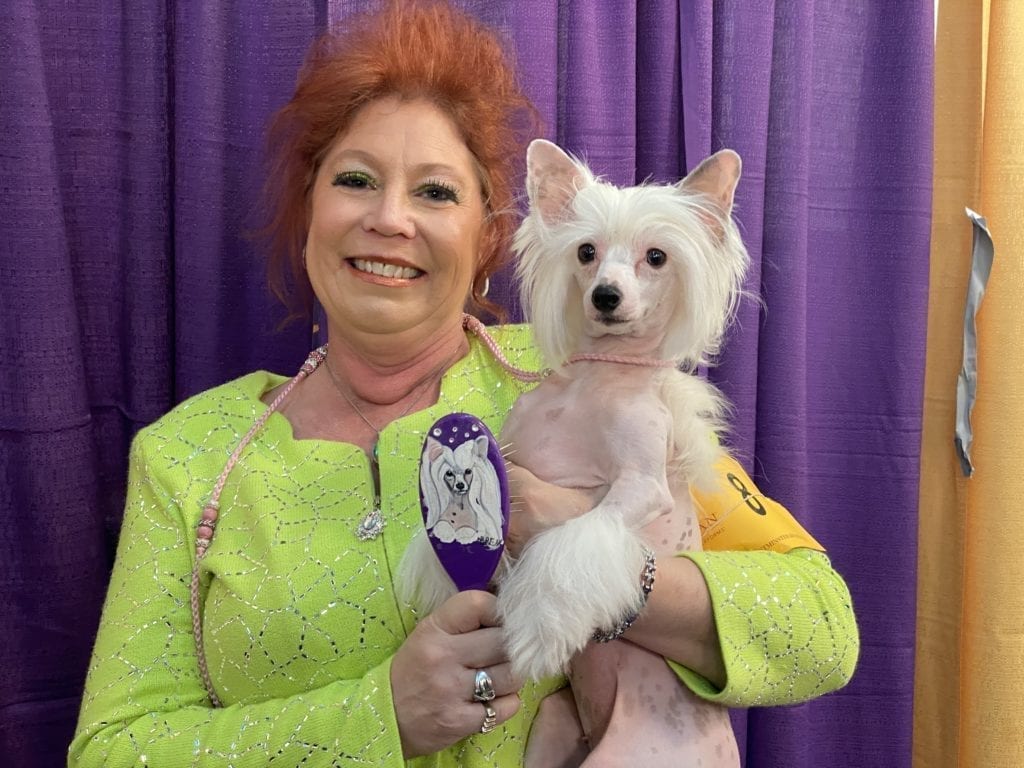 Winky from Best in Show makes a cameo
"Daniel" the Golden Retriever, the audience favorite, wins the sporting group
In the media pit before the final night heats up
Simone the Irish Water Spaniel and owner are ejected from the show after Simone refuses to allow the judge to approach.
The Final Night of Westminster 2020
Gorgeous Newf "Harry" of Threeponds, bred by Lynn Anderson
There were so many goldens that they had to have two best in breed competitions, one in the morning and another in the afternoon…. "Daniel" was the winner of them all.
Owner and handler Kathy with "Jiggy" age 4. "This is the Jiggy brush!" Kathy tells us, holding up Jiggy's personalized, hand-painted brush. Asked about how much time it takes to get Jiggy ready for a show, Kathy says, "For her, because she's got a lot of body hair, 45 minutes, maybe," she says. "I bathe her, then I use a blowdryer," Kathy adds.
Cosmopollyton the Scottish Deerhound of Canada prepares to take the stage.
Grandmother, Grandaughter, and havanese dogs