Humane Society of Fairfax County
HSFC
4057 Chain Bridge Road, Fairfax, VA 22030
Fairfax, Virginia – The Humane Society of Fairfax County (HSFC) has been taking in dogs, cats, rabbits, birds, and even horses since 1965.
The shelter has two locations in Fairfax County – a central location in downtown Fairfax that houses cats, small animals and the organization's administrative offices; and an idyllic farm location in Centreville for dogs and horses.
The Canine Review visited the shelter's farm location in July. First impressions revealed huge kennels, ample outdoor space, and strict adoption processes.
The facility
The 23-acre farm site includes a large main kennel building, quarantine kennels, a barn for the horses, and several large, grassy fenced fields.
The main kennel, which was built around 2010, houses dogs who are currently available and on view for potential adopters. It has a collection of 20 small, medium, and large kennel spaces.
Depending on how the dogs get along, some of the larger kennels are home to more than one animal. Dogs will only share kennels after they've gone through an extensive trial period and staff feels comfortable that the match is safe, according to Michael Sweeney, operations manager of HSFC's farm site.
Regarding the average stay for dogs at the shelter, it ranges from two weeks to more than a year. Sweeney said HSFC will shelter the dogs indefinitely until they are adopted.
Outside of the main kennel, the farm has five quarantine "houses" for dogs recently admitted or who pose a health threat to other animals.
When The Canine Review visited, the shelter was recovering from a Parvovirus outbreak, and all of the quarantine houses were filled. There were no fatalities, Sweeney said, and the shelter had the funding to treat all impacted animals quickly.
The shelter recently built an additional eight quarantine dog houses adjacent to one of its horse fields. Each of the new structures, which will house quarantined or sick animals, has air conditioning, heating, lights, speakers for music, a private patio and a private yard. The yards are enclosed in 10-foot fences to ensure no animals break out – or into – the houses.
The farm site also has several fenced-in fields where volunteers take the dogs to play off-leash and to practice walking on-leash.
"We are very different from a lot of other rescues," Sweeney said. "We do offer these guys ample space and ample amount of yards."
Sweeney said the dogs get plenty of outside time each day. Each kennel has a door flap that leads to a small, fenced-in area. The dogs are free to move from inside to outside during shelter hours, which are 8 a.m. to noon and 4 to 7 p.m. daily. In addition, volunteers and staff usually take the dogs out for walks and play time multiple times a day, Sweeney said.
The organization is largely volunteer-run. At the farm site, there are seven full-time staff members in addition to Sweeney, four kennel staff dedicated to the dogs and three barn staff members who work with the horses. There is also a full-time veterinarian on call.
At its farm location, HSFC has an average of 80 active volunteers per week, although that number fluctuates, according to Sweeney.
One of the unique features of the HSFC is its spay-neuter van, which The Canine Review visited.
About eight years ago, a donor endowed an RV-turned-veterinary-clinic-on-wheels.
The van includes a large operating table that allows the veterinarian to perform minor procedures, dental work, vaccinations, as well as spays and neuters for dogs weighing less than 50 pounds.  When it's not serving the community, it is parked at the farm just outside the main kennel.
Intake procedures
HSFC is not an open admission shelter. It is not required to take in any animal since it is not funded or operated by any county, city, or state. As such, the shelter's intake processes are different from open admission shelters. In 2018, the shelter got most of its dogs from a high-kill shelter in Nelson County, Virginia, according to shelter data submitted to the Virginia Department of Agriculture and Consumer Services in January 2019.
The second highest source of animal intake is owner surrender, according to the data. Because the shelter is not open admission, owners wishing to surrender their dogs must fill out a questionnaire with details about the dog, including age, reason for surrender, and vaccination record.
When the shelter takes in a dog, it is quarantined for at least two weeks while it undergoes behavioral and veterinarian tests.
The shelter has a relatively low euthanasia rate, with only one dog euthanized in 2018, one in 2017, and four in 2016.
"We don't want to euthanize any of our animals," Sweeney said. "So basically, what happens is once we intake a dog, they will stay with us until they are adopted regardless of length of time."
Sweeney said that because of the amount of funding the shelter gets from donors, it is more willing to take in animals with medical conditions than some other shelters.
"We understand because of some of our policies in place, we don't have a large adoption number throughout the year and we're perfectly okay with that," Sweeney said. "We do like helping out specific animals in need. Say a dog needs a specific surgery. We are definitely willing to help out dogs that are more likely to be passed over by other organizations due to medical conditions."
Adoption procedures
As a limited admission shelter, and therefore taking in less animals, HSFC's adoption policies are stricter than most, Community Outreach Coordinator Gina Lynch explained. The result is a longer and more difficult adoption process.
However, the thorough vetting processes are responsible for a low return rate for adopted animals, Sweeney said. Shelter staff pride themselves in being "match-makers" for dogs and adopters.
"We take more time and effort finding the right person," Lynch, said. "If you go to some of the rescue groups, they [say] 'Do you like this dog? Okay.' And they adopt it. … We don't care how many dogs we adopt. We want to make sure it's the right fit for everyone. Because these dogs have been given up once already. We don't want them to then come back and traumatize them."
The adoption process involves an online application, veterinarian check, phone interview, shelter visit and home visit.
Before prospective adopters can even visit the shelter, they must fill out an application for the dog they're interested in. Pictures, descriptions and other information about the dogs are available on the HSFC website.
Once the application is submitted, HSFC's adoption coordinator will contact the potential adopter to do a veterinarian check.
"We'll come in contact with their vets if they've had dogs before to make sure they're up to date [on vaccinations], make sure nothing weird or suspicious happened with their animals," Sweeney said.
Following the vet check, HSFC conducts a phone interview to learn what the adopter is looking for in a dog, as far as age, energy and size. If the dog the person applied for doesn't meet their description or lifestyle, staff will recommend other dogs.
After a phone interview, prospective adopters are given the opportunity to visit the HSFC's farm location, which the organization does not post publicly, to visit the dogs in person.
"We try to keep this as private as possible just so we don't have miscellaneous people dropping off animals that we don't necessarily have space for," Sweeney said.
If everything has gone well up to this point, staff will conduct a home visit to make sure the adopter's lifestyle and other pets will be a good fit. If approved, the person can then adopt the dog.
"Some people say it's easier to adopt a child than an animal from a rescue group, but I say, well, it should be," Lynch said. "The dog can't pick up the phone and say, 'I don't like it here. Come get me.' We only have a very limited time to determine, is this going to be a good fit or not? So that's what we're looking for."
All dogs who are adopted out are spayed or neutered, up to date on vaccinations and microchipped. Dogs are $350, regardless of age or breed. If the adoption doesn't work out for any reason, the adopters can return the animal for the duration of its lifetime.
By the numbers
In 2017, HSFC sheltered a total of 180 dogs –with 24 already there as of Jan. 1; 55 surrendered by owners, 98 transferred from Virginia shelters and three from other sources. By Dec. 31, 2017, the shelter had 27 dogs on hand, 150 dogs had been adopted, one had died while in custody and one was euthanized.
In 2018, HSFC sheltered a total of 191 dogs, 173 of whom were adopted. One dog was euthanized in 2018.
According to the shelter's 2017 Tax Form 990 Filing, the latest publicly available, the shelter's total assets were $10,253,072, up $1,148,326 from the previous year. Its total expenses were $1,472,581, about $100,000 more than the previous year, and its revenue was $2,178,151, up almost $700,000 from the previous year.
The HSFC offers various programs for the community throughout the year. One of its most successful programs is the Pet Pantry. Once a month, 165 people who are on financial assistance programs are able to come to the shelter to get food for their pets, Lynch said.
"We're trying to really be a community resource," Lynch said. "Whenever there's a particular need, we're right there helping. … Our donors have been very generous, and we want to put it back in the community."
2018 Number of full-time employees: 8 full-time farm staff
2018 Number of active volunteers: average 80 per week
2018 Total number of animals at max capacity: Varies. The shelter has 20 kennels and 13 quarantine sheds, but sometimes multiple dogs are housed in the same kennel.
Staff to Animal Ratio: 8/33
Total Expenses: $1,472,581
Total Revenue: $2,178,151
Using ASPCA's formula, The Canine Review calculated HSFC's 2018 ASPCA Live Release Rate as follows: Live Outcomes [173 (adopted) + 0 (reunited with owners) + 1 (transferred out) =174  / All Intakes =  [191] = 174/191=91%
 2018 ASPCA Live Release Rate: 91%
Using ASPCA's formula [Live Outcomes /All Intakes ], The Canine Review calculated HSFC 2017 ASPCA Live Release Rate as follows: Live Outcomes d/ Total Intakes d = [150 (adopted) + 0 (reunited with owners) + 1 (transferred out)] =151 / 55+98+3  = 151/156=97%
= 2017 ASPCA Live Release Rate: 97%
Number of dogs who died while in shelter's care:
2018: 1        2017: 2
Total Number of Animals (all species) at Capacity:
20 small, medium, and large kennel spaces
Number of Full-time Employees:
8 (four who work with the dogs/dedicated kennel staff and three who work with the horses) + Sweeney, the director
Number of Active Volunteers:
80
Full-time Veterinarian on Staff?
1 full-time vet on call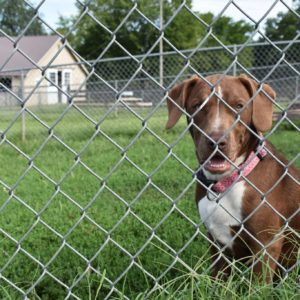 Photo by Missy Schrott – Mindy, a puppy under one year old, sits in her outdoor kennel space.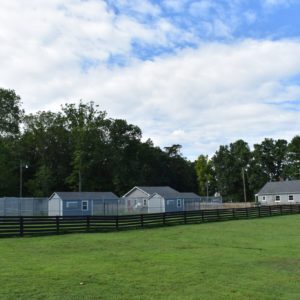 Photo by Missy Schrott – All dogs can move freely between their indoor kennel space and outdoor yard space when the shelter is open between 8 a.m. and noon and from 4 to 7 p.m.
Photo by Missy Schrott – The main kennel has 20 small, medium, and large kennels.
Makes outcome data available on request:
Yes
Address
4057 Chain Bridge Road, Fairfax, VA 22030