New Year's Eve 2020: My Violent Altercation With A Tree
I thought I would list some of my favorite memories from 2020, like this gash under my eye from a New Year's Eve hike! Isn't this so 2020?  I was having so much fun with my dog walker, Katy, and her Westie, Layla.  I guess I got carried away. All of a sudden, out of nowhere — well, okay, they're everywhere, but this was different — a tree levitated and proceeded to rape my eye.
I have a high profile. I can't go around looking like this. The other dogs are calling me "Fender Face." There should be a way for dogs like me to buy insurance for their faces the same way human models insure their noses. Does Trupanion cover plastic surgery if the reason is accident/illness? Seriously, though, this is so totally the most super perfect way to close out 2020.
My mother has been cleaning it with betadine per Dr. Duffy's instructions. I'm supposed to see her in a few days and, okay, maybe the issue is more about looking like Scarface but it could be medical, too. It's causing a lot of anxiety.
Who knows a good plastic surgeon?
*Update: Saw the girls, Donna, and Dr. Duffy for a checkup [yes, Trupanion, you're off the hook for now, but don't underestimate me….you think your algorithm is so clever…] and Dr. Duffy said I have a laceration. That sounds pretty medical to me. And it was definitely an accident. I'm gonna give it a little more time to heal, but if it's not gone by March, it needs to be 'treated' obviously. And I thank my insurance provider in advance.
The Social Event Of The Year: My Double Birthday Party 
My brother, Rocky, is almost fifteen. He's my brother who raised me.  One of the greatest days of the crappiest years was my party (and Rocky's) to celebrate me, primarily, but I put Rocky on my invitations, cake, and party favors because I needed an excuse to double the size of my cake. Also, I love my brother and not everyone is lucky enough to be born in mid-July.
Here are some highlights from the party:
A Big Family Get-Together For Thanksgiving 2020
Grandma and Grandpa decided to ignore Governor Cuomo and have a big Thanksgiving get-together.
Thanksgiving 2020 wasn't as exciting as my birthday party, of course, but it was nice to have the whole family together. Aunt Sophie and her boyfriend, Philip (very good about sharing his food and playing tug) came with a small white fur creature named "Jack." I think it's a dog. He's very small and wears clothing indoors. Uncle Sam and Aunt Lindsay came with Cousin Luna, my other half, and we played every hour until they left. I'm what's called a "field labrador" and Luna is what they call an "English labrador" (also "chocolate" which I thought was "No!") but she seems to have a lot of my personality. Very skilled at trolling for food and poop, restless, playful, not stupid. Took her some time to appreciate water, but now, like me, we can't keep her out of the pool. In terms of physical traits, we're very different. She's got the blocky, stocky English lab look whereas I am more slender and stealth for the birdies. Anyway, so not all English labs are like cats. You just have to get lucky, I suppose.
Every New York Home Needs A Peeping Cuomo
After our Thanksgiving festivities, we added a "Peeping Cuomo" to the kitchen window to kick off the rest of the holiday season. Every self-respecting New Yorker needs a "peeping Cuomo" in their window. I've seen a few especially creative "Peeping Cuomo's" in people's car windows and might get one for Grandpa.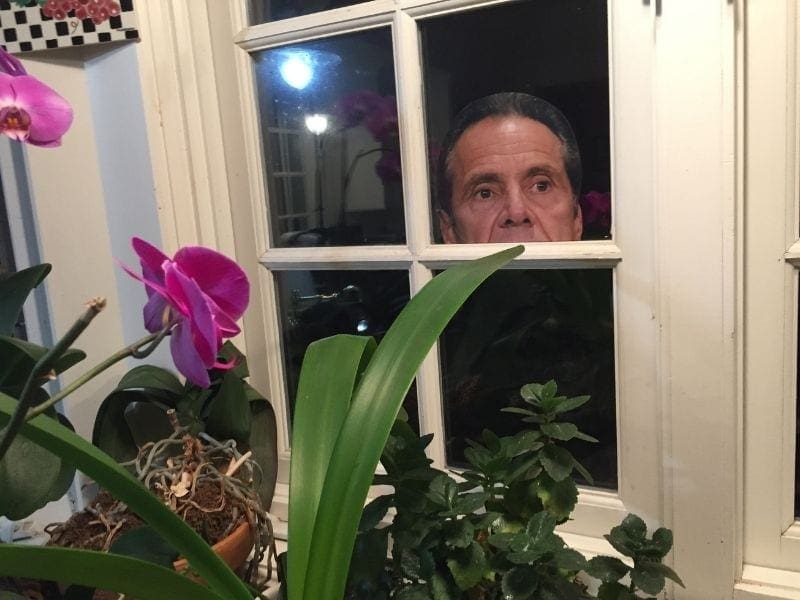 Rocky Returns
Over Thanksgiving, my big brother Rocky collapsed. It was awful. He was rushed to the emergency room at KBVC, my second home (although I haven't been there in a while, I mean, not to Emergency anyway…). The doctors later determined that he was having dizzy spells. Grandma was fearing the worst, that we were going to lose him that night. He's almost fifteen, but apart from acute osteoarthritis and terrible gingivitis, Rocky doesn't have any health problems. Long story short, Rocky was in the emergency room, where I've spent so much time, for a little over an hour getting checked out and, I think they gave him what they usually give me when I eat a tin can or a package (like, the actual package): fluids and anti-nausea drugs. Soon after, he was home.
But here's the best part: One week later, he was back on the trails hiking with me. The morning he came back out on my morning walk with Piper (Katy came too) was one of my best memories of the year. I know Rocky won't be with me forever, but it's awesome that he came back to us and that we were given more time with him, and even trail walks. He actually seems better than he did before he went to the hospital.
Interning for Eve and Stephie at AMC and learning about "runners"
On Saturdays, when AMC isn't on COVID lockdown, I go there for physical therapy. My mom can't wait inside with me right now and prefers not to hang out downstairs [Marisol and Alissa are gone and sometimes, it looks like a scene from One Flew Over The Cuckoo's Nest when we pull in, but at least Karry Ann is there ….and Terrence is also good with the cookies] so mom drops me off to intern for Eve and Stephie before physical therapy, and she goes to Citarella to shop for me.
I've been learning all kinds of things, like Cornerstone, triage, runners, and what to do in that rare situation when you have a client who won't listen to Eve, Stephie, or Karry Ann. The vast, vast majority of AMC clients are very, very nice and feed me.  You do have a few outliers. Mom says I have to remember that most New Yorkers were borderline nuts before COVID. Living in Bedford, I never know what to make of that behavior. I try to be understanding because I'm a yellow lab and all I do is try to understand, although it's mostly so I can manipulate you into feeding me.
KBVC Fridays!
I love my family, but they don't show give me the attention I deserve. If I could stay with the girls at Katonah Bedford, I would totally let them adopt me as their office dog because they never ignore me, always feed me; plus, if I eat a tin can or encounter an angry tree, it saves me the trip.
On the bright side, I get to visit every Friday afternoon for b12 shots for my GI issues, and the best part is that Trupanion pays for it.
Christmas and toys for me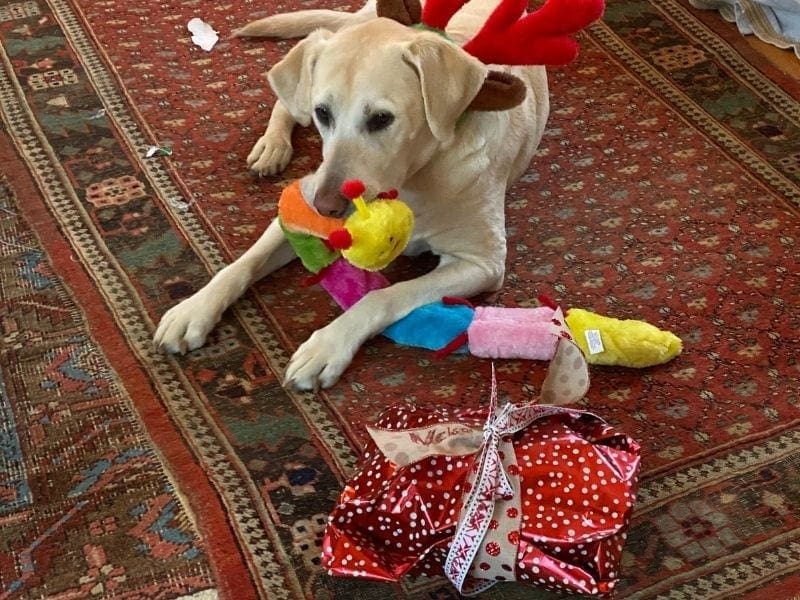 Happy 2021!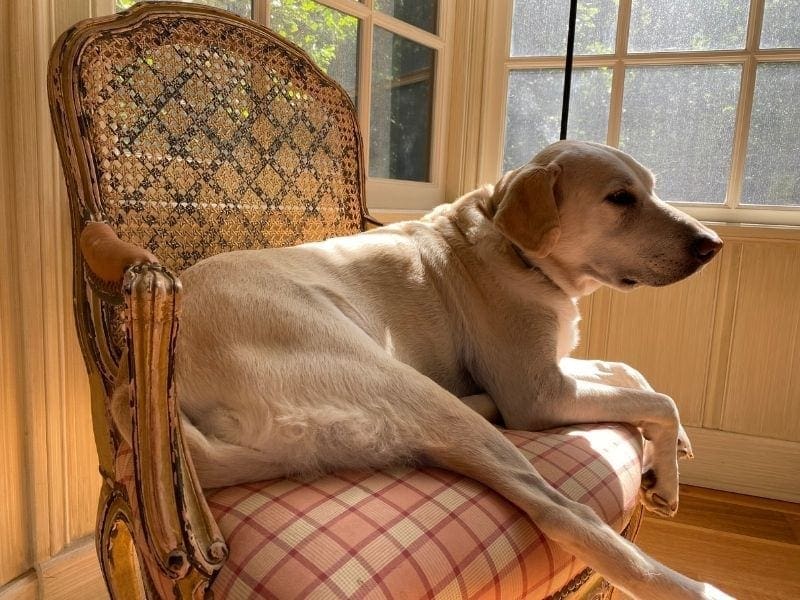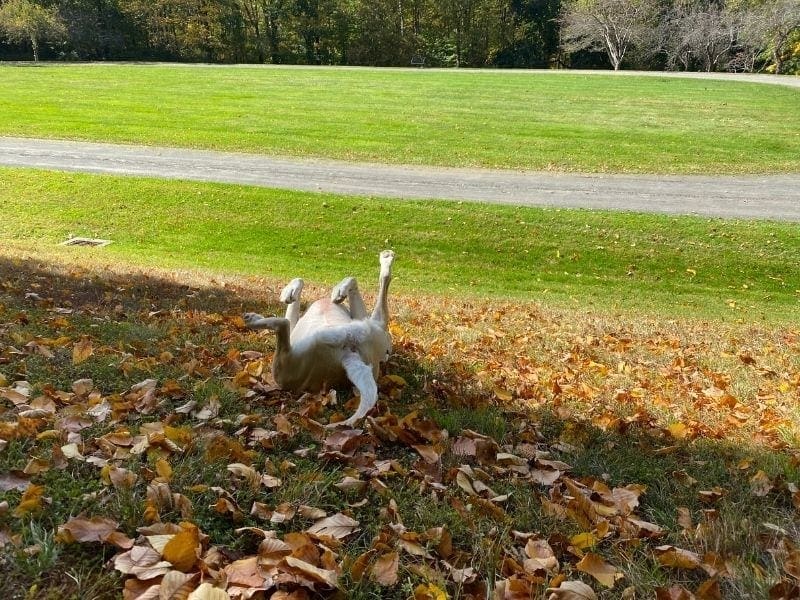 Happy 2021 to all of you fans of my gorgeous face! xoxo Nellie