I have been excited for Halloween since January, when my corgi puppy, Charlotte, entered my life, and I decided that she would make the perfect Baby Yoda from the Star Wars series, "The Mandalorian." Something about those big ears and innocent puppy eyes…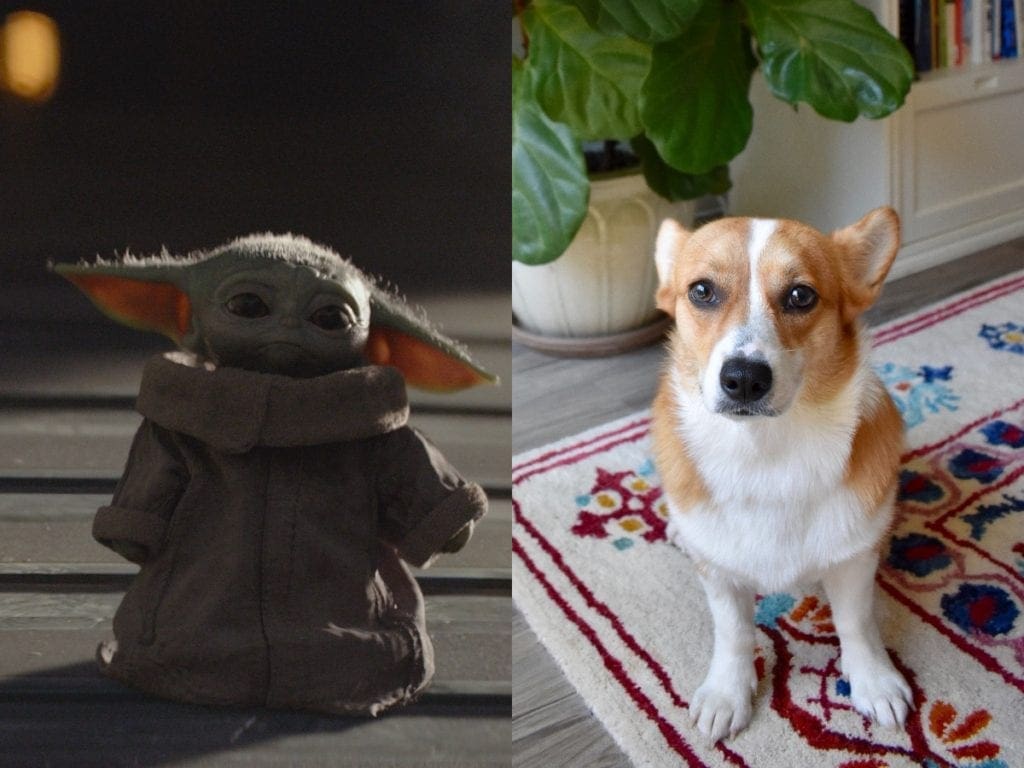 This Halloween will be Charlotte's first, like so many of her 'firsts' in this most unusual year. Now, as Halloween draws nearer and it comes time to carry out my Yoda vision, I am realizing that a lot of planning goes into finding the perfect Halloween ensemble for your dog.
Could I buy a Baby Yoda outfit? Would I need to sew a little tan robe myself? Would Charlotte even wear the costume?
Halloween is the perfect excuse to show your neighbors and Instagram followers that your fur baby is, truly, the cutest dog in the world. However, there are a few things you will want to consider as you search for the perfect ensemble:
 First, how much "dress-up" can your dog tolerate?
If your dog is the canine Carrie Bradshaw and happily owns enough garments to fill a walk-in closet, Halloween is your day. Dogs that enjoy fashion have more options. If they're not going to fight you–or sulk, or shred their costume once it's on — go all out and put them in a full-body wardrobe.
I discovered that a costume might not be so easy for Charlotte. Charlotte has always been a bit skittish. She still nervously ducks low when it's time to put on her harness, and the first time I put her in her doggy lifejacket, she was so spooked by the sound of the buckles that she peed.
Some dogs simply do not enjoy wearing clothing, and that's okay! But it doesn't mean that they can't celebrate Halloween. This brings us to a second point to consider:
Not all costumes need to be a full-body experience.
There are a variety of Halloween-themed bandanas and festive collar-adornments available at pet stores and online. On a recent trip to PetSmart, I found a black and orange frilly collar with pom-poms that Charlotte had no problems trying on. She even seemed to enjoy modeling it:
Another simple, noninvasive costume that's gained popularity in recent years is a red "Ty" tag, which you attach to your dog's collar to make them look like a life-size Beanie Baby.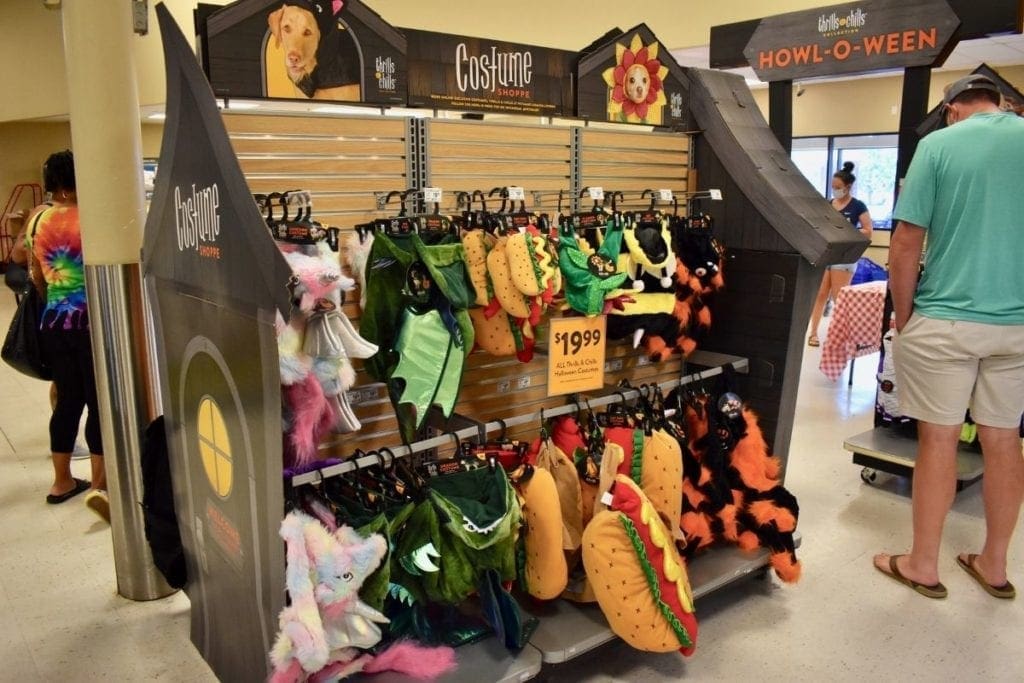 A third consideration: Do you want to make or buy a costume?
This comes down to how much time and money you're willing to put into your dog's Halloween costume.
If you're crafty and want your dog to have a truly unique costume, making your own doggy Halloween costume can be a fun activity to do this fall. Pinterest has tons of cute, clever, and downright funny ideas. I'm loving this homemade "poop factory" and DIY chia pet.
Making your own costume also can also allow you to match your dog. Think Shaggy and Scooby, Beauty and the Beast, or Little Red Riding Hood and the Big Bad Wolf. I still have hopes of carrying out a Mandalorian/Baby Yoda duo with Charlotte, but we'll see how that goes…
If you don't have the time or sewing skills to make your own costume, have no fear. There are tons of pet costumes available online and at local pet stores. Most fall within the $10 to $30 range, depending on what you're looking for. I can't get enough of the costumes that make dogs look like tiny humans, like this UPS delivery driver suit from California Costumes.
Finally, be sure to keep your pup comfortable and safe.
No matter what costume you end up choosing, make sure it's safe and comfortable for your dog.
If you're buying a costume, make sure it's the right size; you don't want something so tight that it's uncomfortable or so loose that they're tripping over it. If you live somewhere warm, don't put your dog in a costume that will overheat them. If your costume involves body paint or hair dye, be sure it's nontoxic.
TCR's mantra is that when it comes to your dog, your go-to authority is always your veterinarian; not the Internet and not even TCR. It might be worth asking your vet about a costume idea if you're having any doubts about safety.
No matter what you decide to do – whether you're simply adding a bowtie to your dog's collar or dressing them up in a full-on Chewbacca suit – be sure to have fun with it, and tag us in your photos on Instagram!
#thecaninereview #tcrhalloween #tcrlife #tcrstyle #tcrgear