Easter Weekend 2019: In Happier Times
Brunch With Mom at Le Charlot
Showing off my Easter outfit in the park…
Reservoir Loop, Park Avenue Tulips 2019
Dear NYPD, I miss our games of 'What is a leash?' I can't wait to play again.
Central Park bridle trail across from the Guggenheim Easter weekend 2019 . I miss my adventures.
I am totally on a leash right now, officer. It is a remote leash. Also, I am on official Central Park bird patrol.
Central Park Easter Sunday outfit
Life before the virus involved a lot of public humiliation. Here I am last year on Easter in pink bunny ears, crossing Park Avenue.
Easter 2019: stopping traffic, admiring the tulips
The last several weeks have felt like that time I had to fast for bloodwork.
Still, having Grandma, Grandpa, Aunt Sophie, and Mom with me and Rocky 24/7 has its advantages. For starters, there is always someone to play with and entertain me. Here I am playing the "Cookie!" "Quiet!" game with Grandma and Grandpa in their kitchen while mom is at work. I bark to let them know I want a cookie, and then they yell "Quiet!"
I've been going on a lot of hikes with Mom.
Practicing my social distancing.
Happy Easter! #viraleaster2020
My brother Rocky makes pink look good. #viraleaster
Easter 2020 – #ViralEaster
This is my driveway and when mom and i aren't hiking, we are walking up and down, and up and down, and up and down. #quarantinedlife
Heading on to the trail and leading the way. Another hike….
As I sit here, taking it all in in these uncertain times, I know how lucky I am to have birds, toys, my health, and more birds. I just miss so many of the little things, like pretending that I am on a leash for the NYPD in Central Park. And here I am after rolling in poop to get attention last year. Now, I have too much attention. They never leave.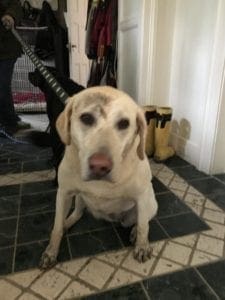 Rocky and I are never alone.  Strange times, we are in.
Easter 2020 – #ViralEaster
My brother Rocky makes pink look good. #viraleaster
Happy Easter! #viraleaster2020