In an industry swirling with recalls and warnings, one dog food company seems to have found a way to distinguish itself.
NEW YORK—Recent headlines linking certain types of dog foods to canine heart disease and other illnesses have made owners more attentive to and wary of what they feed their dogs. The result has been an increased demand for safer, more reliable dog foods.
One company that is capitalizing on that demand is The Farmer's Dog, a subscription-based dog food service that makes what it promises are fresh, human-grade meals for dogs that are shipped directly to the consumer's door. Founded in 2015 by two men in their twenties at the time, the company has received about $49 million in venture capital so far. Ads for the food have saturated social media, television, and even New York City subways.
In a wide-ranging telephone interview with The Canine Review, Brett Podolsky, 32, who made himself available for an interview and several follow-up phone calls from his personal cell phone, explained that he and co-founder Jonathan Regev founded the company because the two had been unable to find an adequate food to feed their own dogs.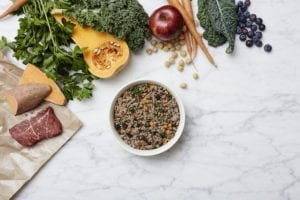 Podolsky's Rottweiler, Jada, suffered from stomach issues. "For two years, I was searching for a solution, but I couldn't find anything that worked for her," he explained. "Finally, my vet recommended I try home cooking for her, and it was magic. All her symptoms disappeared…"
The Canine Review pressed Podolsky on the extent to which The Farmer's Dog food is marketed as "human-grade." On the company's website,  for example, they say: "We're using quality and safety standards never before seen in the pet food industry — and the result is food safe enough that humans could eat it, but perfectly nutritionally balanced for dogs." Podolsky explains that although he and Regev started the company in their own kitchens where they created the mixes, they struggled to keep up with demand and reluctantly made the decision to use a manufacturing facility.
"I used to be the one who made the food; I was involved in every step of the process," said Podolsky. "Now, we are in one larger location. The facilities are USDA [United States Department of Agriculture] inspected. We have a third-party co-manufacturer and the USDA is there actually watching them cook our food."
Podolsky provided the name of the co-manufacturing facility for The Canine Review's internal use only to verify its USDA status, which it did. The reason, he says, for declining to make the name of their co-manufacturer public is that he worries about competitors learning where they produce their food and attempting to use the same facility.
Asked if he regularly reviewed factory inspection reports, Podolsky explained that he was also concerned about hurting his relationship with the co-manufacturer, whose teeth he says he had to pull to convince them even to consider taking The Farmer's Dog as clients because they are a human-grade factory that would not normally "even touch pet food."
"We have the best cooking partner ever and we don't want our direct competitors trying to get our cooking partner to work with them," Podolsky maintained. "So, when it comes to sourcing capabilities, we share a cooking space with other human food companies, some of the largest human food companies in the world. Their sourcing power is unbelievable, and it allows us to get things at a price that is obviously better than if we were buying it ourselves."
Podolsky also provide The Canine Review with a "certificate of analysis" produced by an in-house testing lab and which he explained is a layer of quality control for "every single batch of food" cooked, indicating the date it was prepared and its product code. This kind of quality control, he explained, is not done for pet food. It's another reason, he says, The Farmer's Dog is in its own league.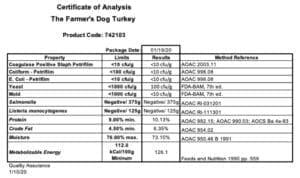 "This lab testing is done on all batches that we make. Before we let any food leave our kitchen the food is lab-tested and held until we get the results," Podolsky added.
Podolsky says he has not toured the facility recently, but he has visited. (We asked if we could take a tour, and that request was declined.)  "When you get there, first of all, they have two sets of clothes, two sets of boots for you," said Podolsky.  "One is for the raw room and the other one is for the cooked room. You never go the raw room first; you go to the cooked room first. If you're going to do a tour, which is very hard to get, they give you the full gear, head to toe, and you have to go through several washing stations. They literally sanitize you. They have the crazy scrubbing machines going around your feet. The floor of the facility is covered in foam that that is a sterilizer. If you're really into food safety, it's one of the most unbelievable experiences you can have. It feels like you're going into an operating room."
After cooking, a random sample is removed, flash-frozen and held in quarantine in large freezers for several days until approved as safe by the testing lab, Podolsky said. Flash-freezing is a process where food is frozen at an extremely low temperature with cold, circulating air that insures all of the nutrients and juices stay inside the meat until the product is defrosted.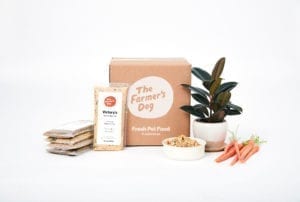 Those meals, usually turkey, beef or pork along with vegetables like spinach and broccoli, are the core product for a business that now employs 100 people and delivers millions of meals monthly, according to the company's website.
Meals are customized to each dog's size, age and activity level after customers fill out forms online and receive selections that match their dogs' nutritional requirements. Even the calories on the packaging are customized to the dog's breed, weight, age, and activity level.
One major downside to The Farmer's Dog is cost, which typically ranges from $2 to $12 a day depending on the size of the dog. As with dried food, it cost less to feed an 8-lb Pomeranian than it does an 80-lb Golden Retriever. After a trial subscription, the cost to feed the Golden Retriever is $64 a week, while the Pomeranian would cost $20.33 per week.
The Farmer's Dog has five fulfillment sites across the country that ship the frozen food directly to consumers in insulated cardboard boxes to ensure the food goes no more than two days in transit. It also has the unique distinction of having never appeared on the FDA's pet food recall list.
"When I couldn't find a brand I could trust, I decided to build one," said Podolsky. "That's really who The Farmer's Dog is. We are the trust-worthy brand I wish existed for my dog."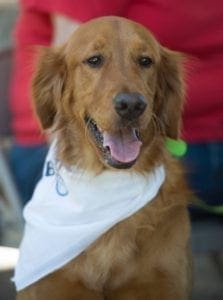 BOX:
Sample of The Farmer's Dog Turkey Menu for Chase, an 80-pound, 5-year-old Golden Retriever:
Ingredients:
USDA Turkey, parsnips, chickpeas, carrot, broccoli, spinach, fish oil, Vitamins & Minerals [tricalcium phosphate, sea salt, vitamin B12 supplement, taurine, zinc amino acid chelate, iron amino acid chelate, vitamin E supplement, copper amino acid chelate, thiamine mononitrate, riboflavin, potassium iodide, pyridoxine hydrochloride (B6), vitamin D3 supplement, folic acid]
Nutritional Info
| | |
| --- | --- |
| Crude Protein | 9% min |
| Crude Fat | 5% min |
| Crude Fiber | 1.5% max |
| Moisture | 72% max |
Calorie content
1236 kcal per kg / 280 kcal per 1⁄2 lb (calculated)
Chase's personalized portions: 804 calories per day