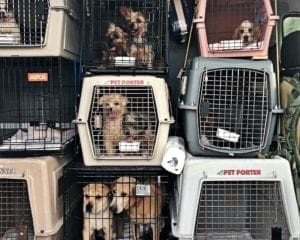 If there is any state in America where a retail pet-sale ban would be expected to sail through with minimal opposition, it's Colorado. The state epitomizes what happens when the "adopt, don't shop" message wins hearts and minds. According to state officials, Colorado pet stores import only about 4,000 pups from other states to fill consumer demand each year. By contrast, Colorado's rescuers and shelters import about 35,000 dogs to meet the demand they see for adoptions.
And yet, on February 3, legislation called the Colorado Humane Pet Act that would have banned pet store puppy sales was defeated in a shocking vote, keeping the pet-store business model intact and leaving Colorado's animal-welfare advocates at each other's throats.
This was not how things were supposed to go. Animal advocates had all planned to support the proposed statewide ban on pet-store puppies—right up until three days before the committee hearing, which was scheduled for a Monday. But at 6 o'clock the preceding Friday, the Colorado chapter of the Humane Society of the United States put up a Facebook post that splintered the coalition into sharp-tongued adversaries.
Less than a month after the legislation had been introduced, the Humane Society of the United States (HSUS) wrote, the bill's sponsor would be making "significant amendments." One of them would altogether remove the proposed ban on selling puppies in pet stores, substituting provisions that would have required pet stores to get puppies from breeders who had, among other things, no more than 25 dogs.
"Please understand that this was a very difficult decision for us, and we know that many of you will be disappointed," the Humane Society explained. "It has been a hard week for us while we sort this out and make these compromises."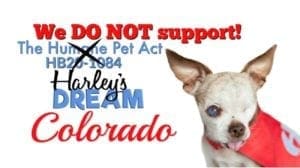 But among the bill's supporters, there was little understanding about the need to compromise. Harley's Dream, a prominent Colorado-based nonprofit that lobbies for retail pet-sale bans, issued a tweet with a giant X through the words Humane Pet Act and withdrew support. Talulah's House, a Colorado-based nonprofit that describes itself as a sanctuary for "senior puppy mill survivors," also withdrew support, writing on Facebook: "These are bad compromises and will not make changes for the dogs suffering in hell hole puppy mills."
Many of the comments directed at the Humane Society and state lawmakers dripped with disgust. "Shame on everyone involved in this gutting of the Humane Pet Act," one woman wrote. "This is so disappointing that people who have the capability to make a positive change refuse to do so."
Another wrote: "There is no compromise when it comes to abuse. This is saying a little bit of cruelty is better than a lot of cruelty."
By the time the Rural Affairs & Agriculture Committee convened at 1:30 Monday afternoon in Colorado's Old State Library—amid a snowstorm expected to drop 6 inches on metro Denver—it was unclear who might still show up to support the bill at all.
Colorado's First Gentleman Marlon Reis, the partner of Governor Jared Polis and a cheerleader for the ban, turned out to be a last-minute no-show. The Humane Society sent its Colorado director and its director of public policy to testify in support of the amended bill, but they ended up on a lead-off panel whose star witnesses included a third-grader telling lawmakers that he thought puppy mills were bad.
The opposition at the hearing so overwhelmingly outnumbered supporters that committee members ultimately stopped asking the supporters any questions at all. The shift in mood was so easy to read that, after public testimony ended, Rep. Monica Duran—the legislation's author—actually apologized to the frustrated pet-store owners whose business model she had originally tried to make illegal.
"I know there are a lot of great pet store owners, and the intent of this bill wasn't to belittle them in any way or to say that they aren't," Duran told the committee. "I am grateful for what they do. This bill has nothing to do with the pet stores themselves."
And with that, the committee voted: five yes, six no. One lawmaker who voted no—a third-generation cattle rancher—outright lectured supporters about the need to change their attitudes. "Commercial breeding is not a dirty word in the cattle business, and commercial breeders are not dirty dog breeders," he said. "There is a huge disconnect in our society. Most of you don't understand what animal husbandry is."
The majority of the committee sided with him. Not just the retail pet-sale ban, but the entire Colorado Humane Pet Act, with provisions that would have affected the business models of pet stores and rescuers alike, had gone from promising to dead inside of three days.
The Great Undoing
On paper, it made perfect sense for the Humane Society to target Colorado in its nationwide campaign to ban the retail sale of puppies, given that people who are pro-rescue tend also to be vehemently "anti-puppy mill." The Humane Society has long promised lawmakers from coast to coast that if pet stores can no longer sell puppies, then "puppy mills" will have no retail distribution and will lose their most important revenue stream. A retail pet sale ban, the Humane Society logic goes, is a way to combat "puppy mills."
However, there is no evidence that this Humane Society marketing pitch has ever been true. Retail bans having been enacted in hundreds of municipalities in the past 14 years and, supporters cannot name a single "puppy mill" that a ban has ever shut down—a fact to which opponents of bans often point in testimony before lawmakers nationwide.
Yet, the messaging usually works with dog-loving lawmakers, especially when they have no personal experience in the animal business, and particularly when Democrats control a state's government. That's the case in Colorado, where Democrats now lead the Senate, House of Representatives, and Governor's Mansion.
All of which made losing the February 3 committee vote on the Colorado Humane Pet Act such a startling slap of reality for supporters.
Similar Bill Sails Through New York Committee
As if to emphasize the surreal outcome, the Colorado defeat happened on the same day that a proposed statewide ban sailed through a committee hearing across the country in New York, collecting even more co-sponsors and support in the process. Lawmakers there parroted talking points from the Humane Society and other advocacy groups, with the backgrounds of the bill sponsors standing in stark contrast to those on the Colorado panel.
The senator sponsoring the New York bill is a Harvard Law School graduate whose areas of expertise include immigration, criminal justice and transportation. On the Assembly side in New York, the sponsor is a resident of Manhattan's Upper East Side who has spent more than two decades working in the government.
In Colorado, things went differently, not only because some of the lawmakers have more hands-on backgrounds with animals, but also because Colorado has moved beyond New York in being a place where people hope that a rescue ethos can dominate the marketplace for pet dogs.
Instead, Colorado is a place already living with the consequences of rescue ethos domination, and is starting to see outcomes that are not always good.
"We watched [the Humane Society] spin their story and try to take possession of the situation, but when the time was right, we countered them," says Linda Hart, who testified against the ban on behalf of the Colorado Federation of Dog Clubs. "We came up behind them and told the legislators the truth, the facts and the figures. Instead of looking at pet stores and commercial breeders, they needed to see where the real problem is: Rescues and shelters are a real serious problem."
The Rescue Reality
While supporters of the ban wanted the hearing's focus to be on pet stores and breeders, lawmakers raised concerns more than once about the state's rescuers and shelters. Nick Fisher, the administrator for Colorado's Pet Animal Care Facilities Act (PACFA), which regulates all breeders, shelters and other dog-dealing entities, testified that in the past five to six years, it has been the rescue business model that he's seen becoming more and more about profit.
"I thought at some point we would have market saturation in Colorado," he told lawmakers, "but demand is there, and the amount of animals coming in is increasing."
Recent news reports had highlighted PACFA and investigations into one of Colorado's multimillion-dollar nonprofits, National Mill Dog Rescue in Peyton, which faced accusations about everything from lying about dogs' origins to  having an executive director who practiced veterinary medicine without a license. Last September, PACFA hit National Mill with what Fisher called the highest fine he could recall in his tenure, for bringing rescue dogs into the state without the required vaccinations and paperwork, failing to produce medical records, transporting dogs and cats without a license, and more—all of which National Mill stipulated that the state's case was based in fact.
That nonprofit's business model—which included buying dogs from pet-store breeders at auctions in Missouri—led to a provision in the Humane Pet Act that would've banned shelters and rescues from buying dogs from breeders at all. Going forward, if the bill had gotten passed, shelters and rescues would have only been allowed to collect breeder dogs for free.
To pet store owners, that incremental provision about rescuers seemed minimal in the face of a total ban on their own business model. The pet stores and rescuers like National Mill were all getting puppies from breeders—literally dipping in and out of the same supply chains—which made it seem unfair to the pet store owners that they should be subject to provisions that they felt were so much harsher.
What was going on in New York added to the Colorado pet store owners' argument. While lawmakers in the Empire State wholeheartedly bought into the idea that banning puppy sales in pet stores would stop "puppy mill" dogs from entering New York at all, Coloradans felt that they knew better. National Mill Dog Rescue has long used its Colorado base of operations to supply puppies to New York's North Shore Animal League, which is on Long Island, New York, and is routinely promoted as North America's largest no-kill shelter. While the Colorado pet store owners were arguing that they do their best to work only with better breeders, some of National Mill's regular suppliers were on the Humane Society Horrible Hundred list of the worst breeders in the country.
The approach that opponents of a ban in Colorado took makes it easy to understand how they got the ears of their lawmakers. "One-tenth of the puppies coming into the state are coming in for pet stores," Hart says, emphasizing that rescuers were doing much bigger business, and that the rescue business wasn't always on the up and up. "That's what we focused on and told the legislators. We told them HSUS was taking them in the wrong direction."
Who Gets a Say?
Other opposition to the Colorado legislation came from no less than the Colorado Veterinary Medical Association, which came out against the Humane Pet Act even before the hearing. The CVMA called the legislative declarations "not fully accurate," decried some stipulations as "not consistent with research-based healthy breeding practices for female dogs," and said the legislation would undercut PACFA's ability to protect animals.
"The bill as written will likely have unintended consequences and contains many unenforceable provisions," the CVMA wrote, adding to the chorus of opposition from pro-breeding organizations such as the American Kennel Club and the Cavalry Group.
While all of those experts and organizations were piling statistics and research into lawmakers' minds, pet store owners were lobbying in person. They had seen, all across the country, the Humane Society convince lawmakers that people like them were in the cruelty business, protecting "puppy mills" to make a profit. They disagreed with that assessment and they set out to help lawmakers understand their perspective.
Dustin Haworth, who owns Pet City in Colorado Springs and testified against the ban, says that for the better part of a decade, lobbyists have been urging him and others to invite lawmakers to their pet stores. They didn't listen until now: 10 owners representing 11 pet stores invited lawmakers for tours. Five lawmakers, Democrats and Republicans alike, took them up on the offer, he says. One even went beyond the stores to see how the dogs were being treated in a breeding kennel that's used as a puppy supplier.
"We brought them in and showed them around. We showed the pictures and videos of our breeders and how we take care of the animals," he says.
Those visits, along with the way breeders, pet stores, and others were excluded from the legislative process, contributed to the bill's downfall. Ali Mickelson, public affairs adviser for the Denver Dumb Friends League (whose president testified in support of the ban), said assumptions were made that the bill would be "a slam dunk and easy to pass." Those exclusions, coupled with the lopsided number of people who showed up to testify for each side, were the bill's death knell, she says.
Roland Halpern, a board member with Colorado Voters for Animals who testified in support of the bill, agrees.
"I think because people decided not to show up and testify, because they were unhappy with the proposed amendments, the lawmakers didn't hear from the people who bought the sick puppies and incurred the medical expenses," Halpern says. "A lot of those stories are emotional and heartfelt. These people spent thousands of dollars trying to save these puppies and they died anyway. We hear those stories again and again, and unfortunately, nobody was there to tell them."
Going forward, both sides say they plan to fight on. Supporters of a ban on retail puppy sales say they can't believe what happened; Governor Polis himself commented on Facebook that "Colorado is a state that values the humane treatment of animals, and while that basic value may not have won out today, it will."
Hart says that opponents aren't stopping anytime soon either. What they learned, she says, is that the way they organized and lobbied is a winning playbook of cooperation that the rest of the nation can follow. She says that Colorado's breeders and legitimate rescuers have worked together for several decades, since they first created PACFA as an agency focused on breeders, pet stores, shelters and rescuers alike, to regulate everyone who deals in dogs and keep the focus on animal welfare, as opposed to choosing industry sides. They do not always agree on everything, she says, but they will work together to stop any forces they see as bringing an agenda into Colorado that they don't like.
"PACFA is seen as the model for the country, and we did that. We did that together," Hart said the day after the committee vote. "Now, we're going to expand on what happened yesterday. We don't need these people coming into our state and forcing things on us that are bad for the animals."