merry christmas,
happy new year!
DEAR ADORING FANS!
Let's start with the lede, which is that I made it through the rest of December without another trip to the vet. Okay, well, not counting my weekly physical therapy sessions.
I hope I'm not jinxing myself by celebrating this accomplishment on December 30th. Tomorrow is New Year's Eve, but I never end up in the ER on real holidays, apart from my birthday, which is the most important day of the year.
I never told you how things ended with the metal can, or where the metal can ended (?). To recap, I ate a can (the actual can + the food) of rx dog food during the snowstorm in early December. I chewed everything so thoroughly, I "passed" the tiny pieces! (well, they were tiny after I chewed them). I dodged a bullet, although my insurer, Trupanion (God Bless Them) did not. 
Now, one downside to eating something so obviously not edible in December and landing your canine ass in emergency on the night of a blizzard is, of course, your standing with Santa. After my can incident, things were really iffy. I tried to be on my best behavior:
And guess what? Santa bought it!
He brought me an entire sleigh full of new toys. My favorite toys right now are Fluff 'n' Tuff's. They're well-made with all kinds of embellishments that make the animals seem real. My mom got me, what else, but a Georgia gator!  Mr. Monkey was sold out, so I'm a little upset and feeling like calling the animal abuse hotline. I love my Lamb Chop, octopus,  sting ray, turd, worm, rabbit, and snow bear.  I love any plush toy with multiple limbs. Great for chewing and tug-of-war games. The more limbs, the more excitement. Also lasts longer.
Just as exciting as the toy is the thrill of unwrapping my presents and the sounds i make a i rip and shred the paper all over the family room floor for grandpa to clean up. 
And, oh yes, earlier in the month, my mother made me wear reindeer antlers everywhere, even to physical therapy, even on the underwater treadmill. Seriously? On the plus side, the antlers made begging for food much easier because everyone felt sorry for me. 
Another highlight of Christmas Vacation is the decorations. Of course, I get to choose the tree and supervise the installation. I am also responsible for outdoor Christmas lights. This is my favorite time of year to be outside because rabit sh*# freezes in the grass, and it's everywhere. It's like caviar. Mom has tried everything to stop me from eating it, but I think she's finally given up.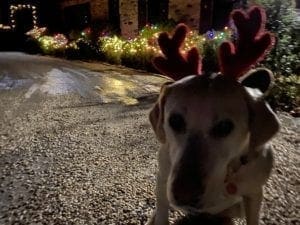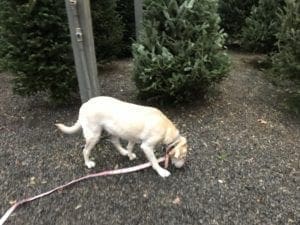 Here i am, picking out our tree (not that tree – too small) and supervising the installation.
Next year – I've asked for it every year though – I want a ferret, bunny, or bird in a cage for Christmas. My first choice would be a bunny because the chase would be the most entertaining. The bird in the cage would be fun for a rainy day, I suppose.  Wishing everyone a very happy New Year! Cheers, Nellie
Christmas 2019
nellie-2019-perenniel-tree
I dragged everyone to Perenniel Garden to find the perfect tree to collect all of my presents until the big day. Grandpa started coming here for the tree decades ago. Amazing that I am the third generation of the family to tree shop.
nellie-tree-2019
A few days later, the guys arrive with the tree I picked out. I am in charge of the installation, of course, but they bring the muscle.
nellie-tree-2019
Unfortunately, I overestimated the width of the spot where Mom and I usually place the tree. It's a good thing these guys measured before they brought the tree inside. I have more decoration photos somewhere, unless I ate them.
nellie-elf sweater-2019
This is animal cruelty, or the closest my mom has come to it. It is an Elf Sweater she bought for me from a company called Chilly's that specializes in canine humiliation. I also own a "moose" sweater….
nellie-treadmill-antlers-christmas-canine-review02
And speaking of humiliation, my mom and some of my friends at Animal Medical Center, where I go for physical therapy every Saturday, apparently thought it would be really funny to take my picture in my antlers on the underwater treadmill without the water in the tank.
nellie-treadmill-antlers-christmas-canine-review01
Why is everyone laughing?
canine-review-nellie-amcny-antlers
On the plus side, humiliation makes it easier to beg for food because everyone feels sorry for you.
canine-review-nellie-amcny-antlers-lobby
canine-review-nellie-amcny-antlers-lobby
rocky-antlers-2019
Here's my older brother, Rocky. He has his own antlers. I think he wears them better.