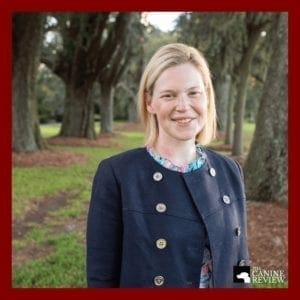 Emily Brill is the executive editor and founder of The Canine Review.  The Canine Review combines her two lifelong passions: dogs and journalism. 
My love of journalism and knack for business and policy reporting had taken me to Silicon Valley, back to Manhattan, to Seoul, then to Beijing, and back home to New York. Maggie, the fiercely loyal Labrador who was with me through it all, passed within weeks of my return from China over the winter holiday 2014/2015. I knew that I couldn't continue to live without dogs and that my reporting had to involve them from now on. As I toiled over how to do this, a high-energy, strong-willed puppy named Nellie entered my life.
My reporting career began in fourth grade with The Brill Family Times and only because I was told that I was too young to start taking assignments from my school newspaper and would need to wait until ninth grade. Instead, I started the BFT and decided I would start spending time at the offices of Court TV and The American Lawyer, where my parents worked.
I ended up helping the producers develop educational programming with Linda Ellerbee (remember Nick News ?). We called it Teen Court TV.
The BFT lasted through middle school after which I joined the high school newspaper. At my boarding school, I was editing the front page by the spring of my sophomore year and realized that I absolutely loved it, even as my stories enraged the administration. In fact, often, copies of the paper were confiscated by the school in order to prevent visiting families and prospective students from reading my stories. It was invigorating.
I graduated from Brown with a degree in history after which I freelanced in New York for several years in a variety of mediums, including radio, television, online startups; my reporting was published in The Daily Beast as well as in the Columbia Journalism Review. I also worked at CNN, Fox, and Charlie Rose.
Ultimately, my interest in northeast Asia as the world's next biggest business/policy story brought me to graduate school in Seoul, and then to Beijing where I worked for CBS News's Beijing Bureau (also CBS's hub for all of its Asia reporting).
My reports were published in the New York Times' China Edition, Buzzfeed, and on ChinaFile.com.
When I came home from Asia and lost Maggie, Nellie was in my life almost immediately after. Maggie and Nellie, both yellow field Labs, are distantly related and Nellie is named for "Nellie B. Good", a common ancestor. 
Because I had been living overseas, much of what I experienced with Nellie, who is TCR's one and only blogger, was almost like being a first-time pet owner; you can read more about Nellie and all of the time she spends at the vet on her blog: https://thecaninereview.com/about/team/nellie-brill/
As I rediscovered pet ownership and encountered novelties (at least to someone who had been living overseas) like pet insurance, I realized I'd found my calling. And even as the idea for TCR started to form, I discovered more about pet healthcare and insurance with each emergency Nellie presented – and there were many.
The pet industry is one of the largest, fastest-growing sectors of the American economy. But it lacks the kind of regulatory safeguards found in goods and services for people and especially for children. And it has not yet been faced with the kind of accountability that strong, independent journalism brings.
TCR's mission is to provide the most comprehensive, original, fair, and unvarnished reports related to dogs to our subscribers, most of whom are animal health professionals or fanatical dog owners. 
TCR is subscription-based, which means we serve readers. Some of you have asked about specifics of our business model: I am financing 100% of the startup costs. Bedford Dog, LLC is my company that owns TCR. I personally receive at least 2-3 serious proposals every week from companies and individuals expressing interest in affiliate partnerships and/or clickbait deals, which I turn down. 
If and when we take on investors, the terms on which they invest will include language that walls off any ability for them to influence editorial content. Our readers will always be informed about who we are and who pays.