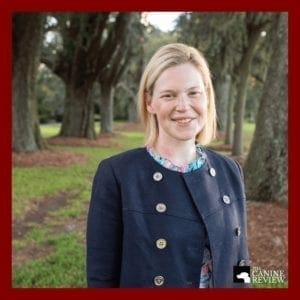 I'm a lifelong reporter and news junkie. I worked in a variety of mediums when I was starting out in Manhattan, where I grew up. I worked as an anchor producer at MSNBC, CNN, Fox News, as well as The Charlie Rose Show. While I was working at Charlie Rose, two major world events happened: The Arab Spring and Fukushima. I became convinced that northeast Asia was the world's next biggest business/policy story. I enrolled in graduate school in Seoul, in an international affairs master's program and then moved on to Beijing to study Mandarin while I worked for CBS News's Beijing Bureau (also CBS's hub for its Asia reporting). My reports were published in the NYT's China Edition, Buzzfeed, and on ChinaFile.com.
Industrial pollution was great reporting material, but my plan to become a fluent Mandarin speaker and tough out the pollution for a dream foreign correspondent gig changed when my yellow lab Maggie became very sick almost days after I came home to New York over Christmas. We lost her a few weeks into the new year, and it took the wind out of me, although the pollution might have played a role, too. I decided to stay stateside. A new Labrador, Nellie, was in my life soon after I lost Maggie. Because I had been living overseas (my parents had taken care of Maggie for the past three years) much of what I experienced with Nellie felt like being a first-time pet owner. As I rediscovered dog ownership and encountered novelties (at least to someone who had been living overseas) — like pet insurance–I realized I'd found my calling. And even as the idea for TCR started to form, I discovered more about the pet industry, veterinary medicine, and insurance with each emergency Nellie presented – and there were many. I should say, there are many.
The pet industry is one of the largest, fastest-growing sectors of the American economy. But it lacks the kind of regulatory safeguards found in goods and services for people. And it has not yet been faced with the kind of accountability that strong, independent journalism brings. TCR's mission is to be that accountability and change. I launched TCR in late 2019 and I am financing all start-up costs. If and when we take on investors, the terms on which they invest will include language that walls off any ability for them to influence editorial content. Our readers will always be informed about who we are and who pays. Until then, TCR's sole revenue source is our growing list of paid subscribers.